The Loop
Noted global-warming skeptic Donald Trump appears to be dealing with the effects of global warming at Doonbeg
The Irish Examiner reported Donald Trump will be visiting his new Doonbeg Resort, where winter storms have wreaked havoc on the seaside course: Significant erosion has caused the fifth green and 14th hole to be relocated, and cliffs have become exposed. The reason this is particularly problematic is because if the dunes near these cliffs collapse with people nearby, there's a good chance those people are going to get hurt.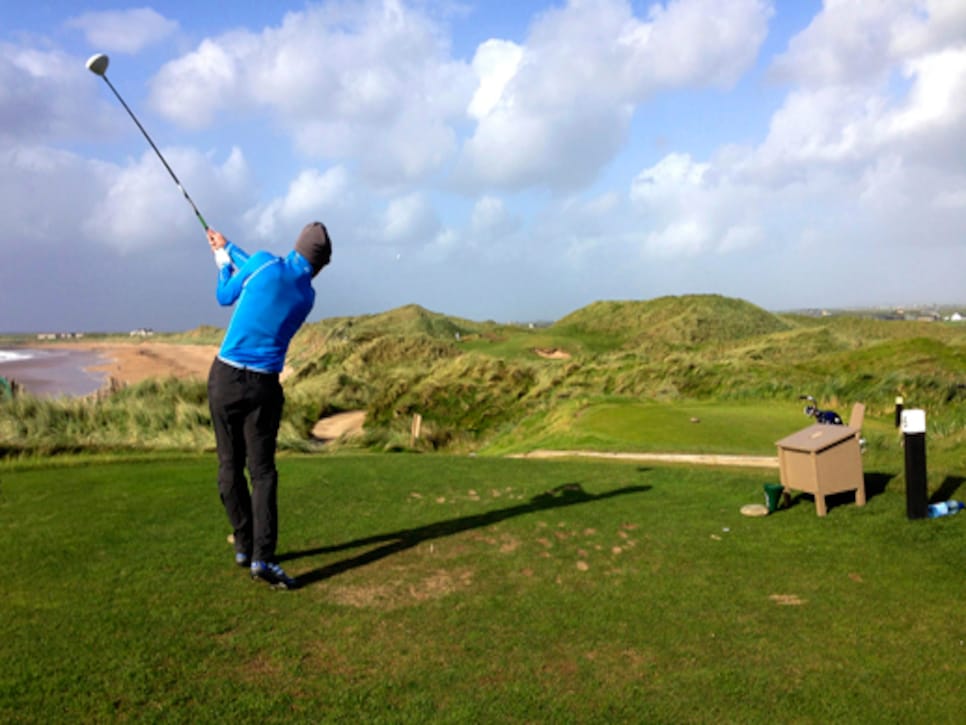 Pitched against the coast in County Clare, Doonbeg's cliffs have been eroding because of heavy winter storms. Photo by Sam Weinman
During his short visit, Trump will work on plans to put up coastal protection on four holes and the bigger issue of rebuilding the 14th green. Trump has hit a few environmental road blocks on his way to resurrecting sections of the course -- the biggest being the tiny whorl snail. The snail was a protected species, so Trump couldn't use the land the snail was on. After many conversations with environmental groups, Trump has gotten the go ahead to use the land he wants. He has big plans for the course, saying he will be "doubling or tripling" his $20.5 million investment in the resort.
Obviously, Trump has a keen interest in salvaging this new investment, which he purchased in February and will rename Trump International Golf Links Ireland. But this situation is perhaps a little ironic because the storms that caused the erosion were (arguably) a product of global warming. While Trump hasn't said anything about climate change in regards to the Doonbeg erosion, he's made clear he doesn't believe in global warming.
The concept of global warming was created by and for the Chinese in order to make U.S. manufacturing non-competitive.
This very expensive GLOBAL WARMING bullshit has got to stop. Our planet is freezing, record low temps,and our GW scientists are stuck in ice
— Donald J. Trump (@realDonaldTrump) January 2, 2014Do we know for sure global warming caused these storms? For an answer, I reached out to environmentalist and author Bill McKibben, who steered me toward a few guys in the U.K. who seem to believe these global-warming claims are true.
Regardless of whether or not you believe Trump is battling climate change, he's still battling for golf. And we certainly appreciate that.