The Loop
True to recent form, Woods opens with a 70
ABU DHABI, United Arab Emirates -- If three rounds of golf can be simultaneously fascinating yet predictable, then these were those. First there was Rory displaying his usual range of attack and adventure, birdies and bogeys. Then there was the latest version of Tiger: hitting 17 of 18 greens, but, significantly, failing to make the putts he once took for granted. And then there was little old Luke, the occasional dodgy drive his only departure from the straight and narrow -- the rest, as ever, steady as she goes.
In other words, they played, funnily enough, just about as you'd expect them to play.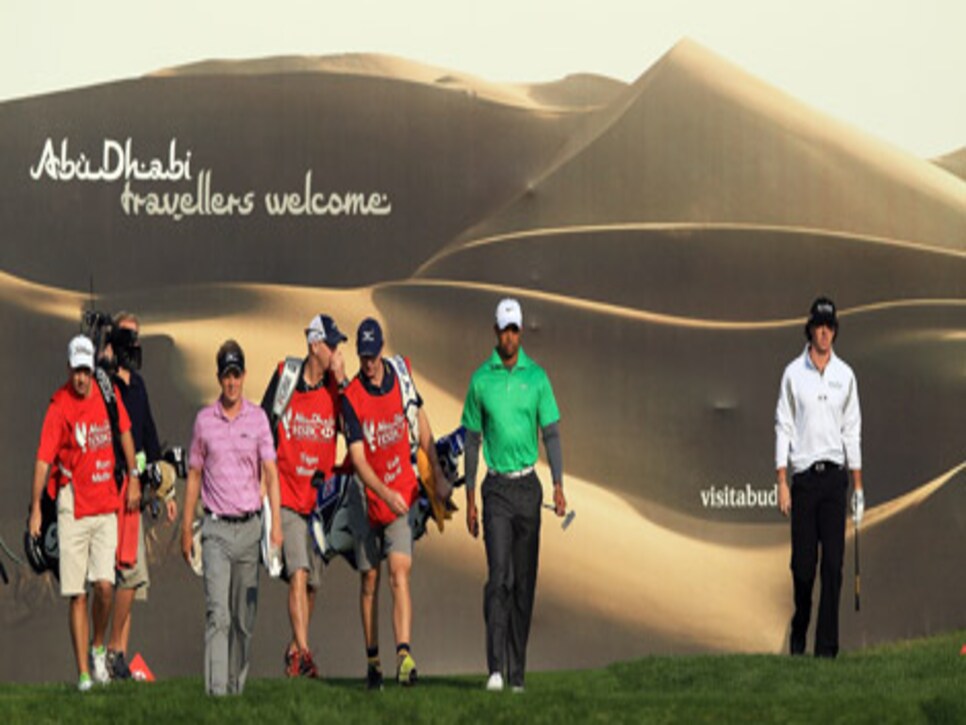 *McIlroy was the low man in the group with an opening 67. Photo by Getty Images.
The scoring wasn't bad, either. All three broke par over the 7,600-yard Abu Dhabi GC course: McIlroy's five-under 67 three better than Woods, who outscored Donald by one. Understandably then, it was the U.S. Open champion who was in the best fettle of the three, even if he "didn't feel like I played that good."
"I'm very pleased with my start and hopefully I can keep it going," said the 22-year old Ulsterman. "Scoring better than I played is something I felt like I improved a lot last year. When I played really bad I was able to turn 74s into 70s. And when I played average like I did today, I turned a 70 into a 67. It makes a huge difference."
It wasn't all grinding though. Still only 22, McIlroy had some fun out there, too. Once or twice he found time to indulge in a little point-making exercise with Woods. Once or twice he found himself trying to out-drive the 14-time major champion.
"That crossed my mind a couple of times," said McIlroy with a smile. "On the 16th for example, Tiger took it way left off the tee (across the right-to-left dogleg). I was like, I'm not sure I can take it down that line. But I tried to anyway and ended up hitting the fairway way to the right, miles behind him. So yeah, when I see a guy out in front of you hitting it out there, you want to try and keep up with him."
Woods, as you'd expect, was more circumspect in his analysis of a round that contained 35 putts, nine more than McIlroy, who made one of his seven birdies via the hospitality unit ("the ball is probably in someone's lunch") left of the 18th green and another courtesy of a chip-in at the 7th.
"I controlled my ball all day and just had a hard time getting a feel for these greens," said Woods. "They were grainy, which made it difficult and my speed was off."
In truth, the difference between McIlroy and Woods on the greens was as wide as their respective world rankings (three versus 25). Where the former's routine and stroke displayed an easy and attractive flow, the latter's had a ponderous look, both before and after impact. Where one was letting things happen, the other was preoccupied with making them happen, the classic mistake made by one trying too hard for his own good.
Tiger's explanation for his struggles contained none of the above, of course. As usual, the act of balls missing holes was not down to any technical deficiencies on his part. Oh no, don't be silly; it was the putting surfaces. " I hit a lot of good putts," he claimed, albeit unconvincingly. "But overall I got fooled a lot on my reads."
Far more encouraging was his ball-striking. Noticeably longer than he was during most of 2011, Woods' shots had a pronounced zip to them.
"(Coach) Sean (Foley) is getting me in positions where I can put more speed into it," said Woods. "It's nice. I don't really feel like I'm hitting it hard, but my shots are flying better and farther. All of those things are very positive."
Certainly, McIlroy was more than impressed by the play of the 36-year old Californian. "He's swinging really good," was his succinct and sincere tribute.
As for Donald, the world No. 1 was, as is his way, somewhat overshadowed. Incapable of participating in any long-ball competitions, the Chicago-based Englishman played a solid round of golf that -- like Tiger's -- could have been lower had he come close to displaying his normal level of expertise on the greens. Between them, the pair must have tapped in more than 20 times.
"It was a lot of fun," insisted Donald, whose characteristically steady round consisted of 15 pars, two birdies and a lone bogey. "We all played pretty well. We hit the ball nicely. And Rory took advantage of a few more opportunities than Tiger and I. But a solid day for all of us."
Again, just about what you'd expect really.