Wins by one
Trish Johnson prevails in battle of Brits, wins U.S. Senior Women's Open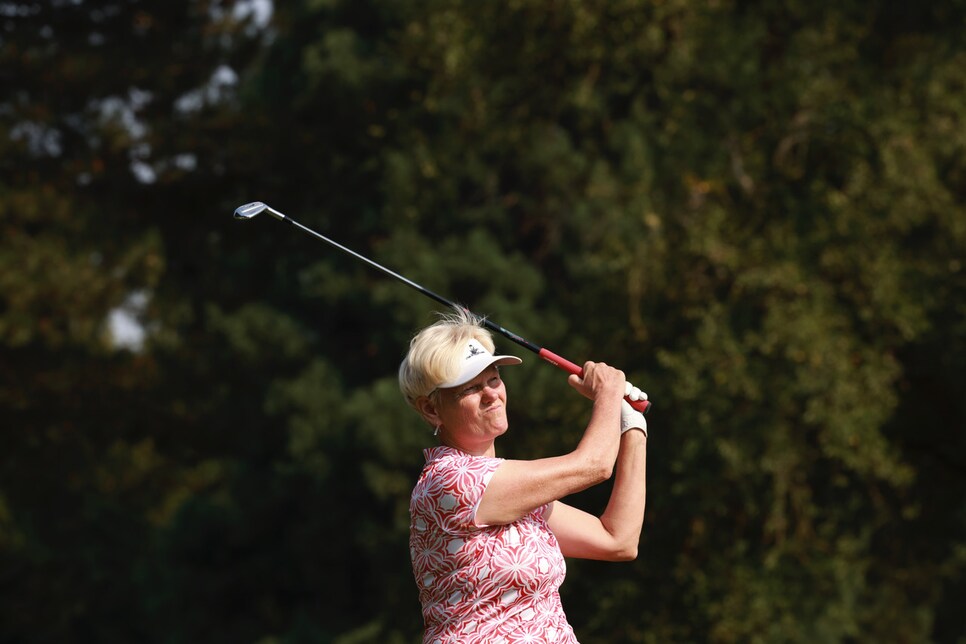 A British flair took over the U.S. Senior Women's Open on Sunday, turning the final round edition of this national championship into a virtual match-play situation eventually won by a "knackered" Trish Johnson.
It came down to the final hole at the historic Waverley Country Club in Portland, Ore., Johnson clinging to a one-stroke lead over friend Catriona Matthew. Johnson won with a tap-in par at the par-5 18th, while Matthew mangled her second shot, leading to a bogey that dropped her to third, a stroke behind American Leta Lindley.
"I am so knackered," Johnson said in the immediate aftermath of her victory. "I've got to be honest. Just amazing, honestly. Yeah, it's something I've always wanted to do, any USGA event. Never even came close in a regular U.S. Open. Maybe I had a bit of a chance when Alfie [Helen Alfredsson in the inaugural Senior Open] won, but apart from that never even in with a shout, but today after the front eight holes I thought, here we go again."
Johnson made three bogeys in a four-hole stretch (holes 4-7), but maintained her composure. "Rallied a bit and hit some decent shots coming in. Beany [Matthew] got a bit unlucky a couple of times coming in, and here we are."
Johnson, 57, was a five-time winner on the LPGA and also won 19 times on the Ladies European Tour. She also won two Senior LPGA Championships, and previously had second and third-place finishes in the U.S. Senior Women's Open.
She and Matthew largely went unchallenged until a late bid by Lindley. Johnson and Matthew were tied through 14 holes, but Johnson birdied 15 and 16 to go two-shots up, then gave one back with a bogey at 17. At the par-5 18th, Johnson hit the green in three, while Matthew pulled her second shot into an ugly side-hill lie, leading to a bogey that dropped her two back of the winner and one behind runner-up Lindley, who birdied 18.
The victory earned Johnson $180,000, plus a 10-year exemption into the championship as well as an exemption into the 2024 U.S Women's Open.
Johnson closed with an even-par 72 and a 72-hole score of four-under 284. Matthew, 54, who won four times on the LPGA, including the Women's British Open in 2009, finished with a one-over 73.
Lindley, 51, shot a one-under 71 to finish second for the second time in this event.