The Loop
Trip Report(s): Myrtle Beach
A few weeks ago two colleagues -- Eric Lebowitz and Alex Myers -- were members of a buddies trip to Myrtle Beach. I asked them to share their thoughts on the courses they played:
Last month I took my first buddies getaway to Myrtle Beach. The trip featured six rounds, all on different courses, in five days on the Grand Strand. Here are my rankings of the six courses we played: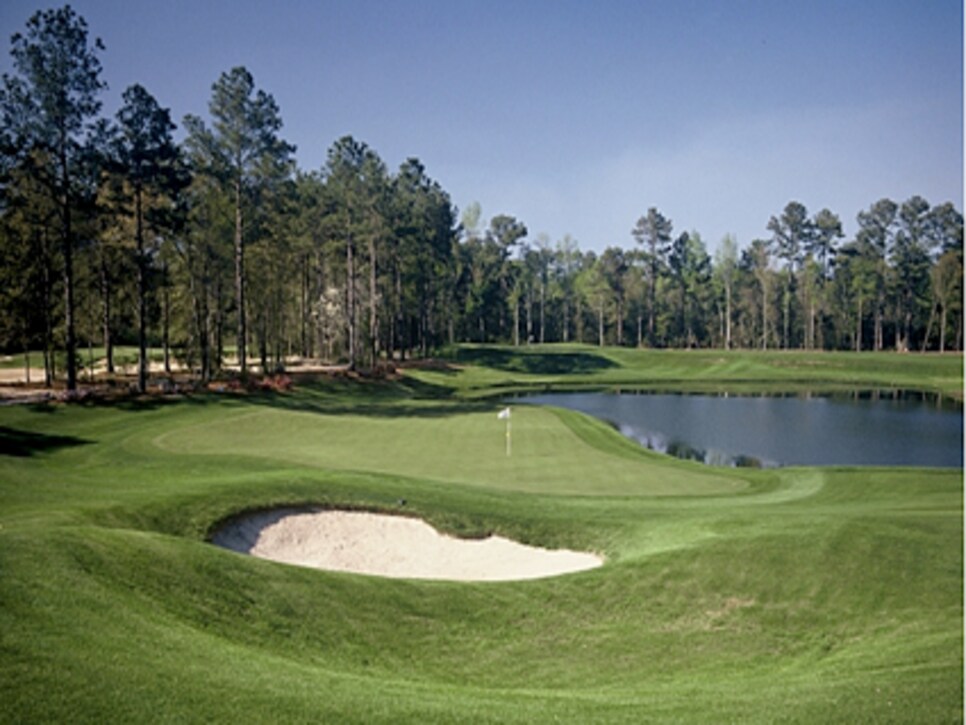 1. Caledonia Golf & Fish Club (pictured): Two rain delays, mosquitoes biting the entire round, and still I'd have to put this in my Top 5 courses I've ever played. Caledonia's holes are interesting without being gimmicky, and the course is in immaculate condition. It is a course that requires consistent shotmaking and is challenging but fair to players of all levels. Additionally, the course is visually stunning, with fairways carved out of towering pines. As if that wasn't enough, the road leading from the property's entrance to the clubhouse is reminiscent of Augusta, with Oak trees forming a tunnel all the way. Whether you're going to Myrtle Beach for two days or two weeks, Caledonia is a must. Simple as that.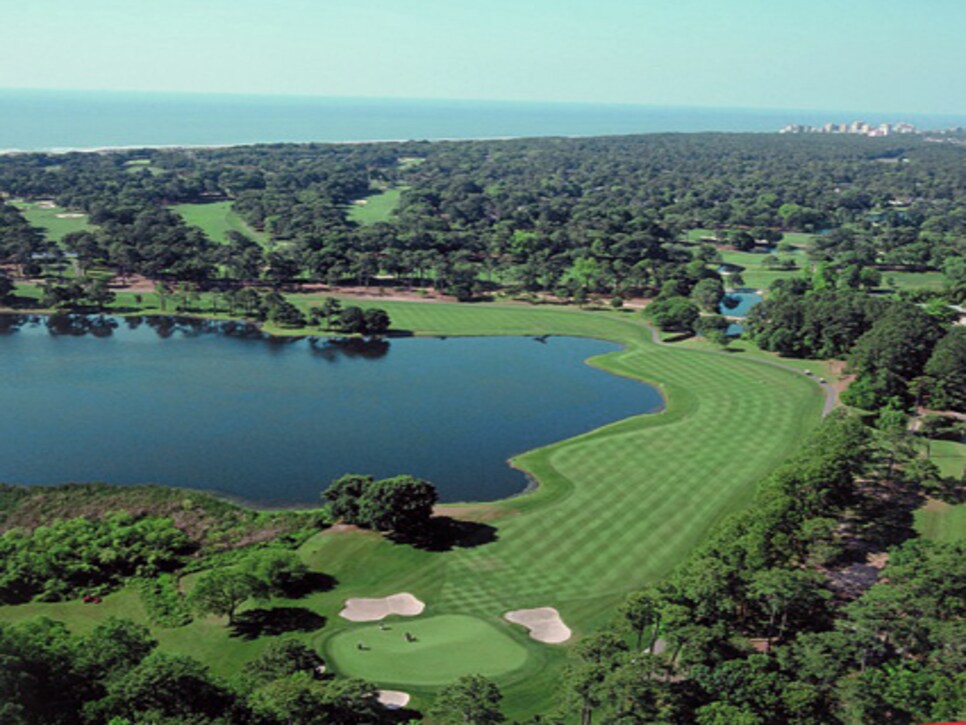 2. The Dunes Golf & Beach Club: Probably the most difficult course we played on the trip. The Robert Trent Jones layout features some of the designer's signatures, with elevated greens, plenty of water hazards and bunkers, and gorgeous landscaping. The Dunes' signature hole is the Par-5 13th (pictured), a sweeping dogleg right with Lake Singleton lurking up the entire righthand side. "Waterloo", as the hole is named, was the source of some disagreement among those I've spoken to who have played it. I found it just plain cool, while others found it a little silly. Either way, I thoroughly enjoyed the golf course.
3. Barefoot Resort & Golf (Love Course): I had a lot trouble deciding whether to put this track just ahead or just behind The Dunes. The Love Course features generous landing areas, which I Love (See what I did there?). The collection areas around the greens are an interesting, fun feature that test your ability to hit a variety of short-game shots. I thought the condition of The Dunes was just a hair better than the Love Course, which is why I slid DL3 to No. 3. Still, a fabulous golf course.
4. Tidewater Golf Club & Plantation: Visually, Tidewater was as good or better than any course we played. I just felt the conditions were not quite as good and the holes were not quite as interesting as the top three on this list. Putting it behind Caledonia, The Dunes and Barefoot (Love) is far from an insult, however, and I'd still recommend Tidewater to anyone heading to Myrtle.
5. Legends Golf & Resort (Heathland): This might very well have been the most wide open golf course I've ever played. Not coincidentally, I came to the 18th at Heathland needing bogey to break 80 for the first time in my life. Alas, nerves got the best of me and I carded a double-bogey six. Nevertheless, the 80 was one shot better than my previous low score, and as such Heathland will always have a place in my heart. Heathland was a blast to play, with practically no tee shot too far offline to find.
6. Legends Golf & Resort (Parkland): Again, an enjoyable course that was a cut below Caledonia, The Dunes, Tidewater and The Love Course. Chipping, pitching and putting on Bermuda grass takes some getting used to, and I found Parkland's greens to be a little slow and bumpy. If I went out and played this course on a random Saturday I'd probably have a different impression. But the Legends courses just did not stack up to the other four in terms of condition, scenery or quality of holes.
This was my third trip to Myrtle Beach as part of a buddies trip that I've gone on now for 11 years. Our director of travel (yes, we have official titles) described it as a "best of Myrtle" tour. While a couple tweaks will be made for the next journey to the Grand Strand, I think we came pretty close to accomplishing just that. Here's how I ranked the courses in our rota:
1. Caledonia Golf & Fish Club: Despite my previous trips to Myrtle, this was just my first time getting to play this Mike Strantz gem. Certain parts of the property are Augusta-like in appearance and condition, most notably in the stunning drive up to the clubhouse where you feel as if you're travelling down Magnolia Lane and on the beautiful par-3 11th. As a result, despite having two delays for thunderstorms and leaving with more mosquito bites than I can count (Is there a bigger scam going than bug spray?), I instantly declared this course in my all-time top five.
2. Barefoot Resort & Golf (Love): OK, so I'm a little biased having shot a career round here, but there's no denying this course's likeability based on its great variety of holes (The driveable par-4 fourth and the treacherous par-5 eighth come to mind right away). It also speaks to the resort as a whole. With four highly-rated courses (I've now played Love, Dye and Fazio, but not Norman) on site, this will almost certainly be where our group stays the next time we take a trip to Myrtle.
3. Tidewater Golf Club & Plantation: My third trip to this course didn't disappoint. With a solid mix of inland and coastal holes, Tidewater is sure to provide you with a challenging, yet fun round. Two holes that encapsulate this best are the par-312th hole heavily guarded by water and sand and the par-4 18th, which wraps through marshland. Expect all aspects of your game to be tested.
4. The Dunes Golf and Beach Club: This Grand Strand Classic has been on my hit list for a long time. While it's clearly a strong and formidable track, I think I built it up in my head a little too much. The Robert Trent Jones design had a little too many straightforward, long par 4s with well-guarded, elevated greens for my liking. I think playing it again would help me appreciate it more, but I'd rather play any of the first three I listed or other highly-regarded area tracks like TPC Myrtle or True Blue before I tee it up there again.
5. Legends Golf & Resort (Heathland): There's wide open and then there's wide open. On this course, it seemed like as long as you kept your tee shot within the confines of South Carolina, you would have a reasonable look for your second. For me, a lot of the holes were too spacious, though I found the back nine much more interesting. The demanding closing stretch of 16-18, including the 230-yard, par-3 17th (Which into the wind, had me reaching for my driver) leave a favorable lasting impression.
6. Legends Golf & Resort (Parkland): Probably the weakest of the three courses at the resort, we played it as a practice round. It got the job done, but there's nothing too memorable other than deep fairway bunkers that you can find if you hit a wayward shot or get an unlucky bounce. If you're looking for a relatively inexpensive and fast round, especially in the afternoon, this is a good option.
Overall, I'm sad to say but our group was a little disappointed with the Legends Resort, where I have now stayed three times. While the price is still right, the whole place seemed a little past its prime. To be fair, we did take the trip in late July (something a flight attendant who lives in the area mocked our group for as we made our initial descent), but the other courses we played seemed to hold up much better in the heat. Which brings me to my main point about Myrtle: there's something for everyone. You can keep things cheap or you can go all out and only sample the best courses the area has to offer. Sprinkle in an abundance of options for the going-out crowd in your gang, and it will always remain a favorite buddies trip destination. Even if you're dumb enough to go in the middle of the summer.