The Loop
Trip of a lifetime: The tales of three heroes
Editor's Note: Golf Digest's Roger Schiffman is on a golf trip to Ireland with wounded U.S. veterans.
The past three days were the most gratifying of this entire odyssey of links golf, Irish hospitality and incredibly emotional stories from our band of 11 wounded veterans-turned-golfers and their spouses or friends. By day we experienced truly great golf at Portmarnock on the outskirts of Dublin and Pat Ruddy's European Club about 45 minutes south. By night we were treated to a bit of Jameson or a pint of Guinness or Smithwicks, some local music and the soldiers' harrowing tales of battle scars, heartbreak, and selfless heroism.
In Dublin, we're staying at the classy Merrion Hotel, which, as have all the hotels, treated the soldiers to a gourmet dinner as well as full Irish breakfast each morning. The trip, created by Golf Digest Irish Tours' Linton Walsh, is being sponsored by a grant from the Irish Tourist Office (Failte Ireland) and Aer Lingus. Titleist donated 22 dozen logoed ProV1s, and Kartel provided raingear, headwear and other apparel. TaylorMade offered rental clubs. The soldiers were identified through the Salute Military Golf Association and the Folds of Honor Foundation.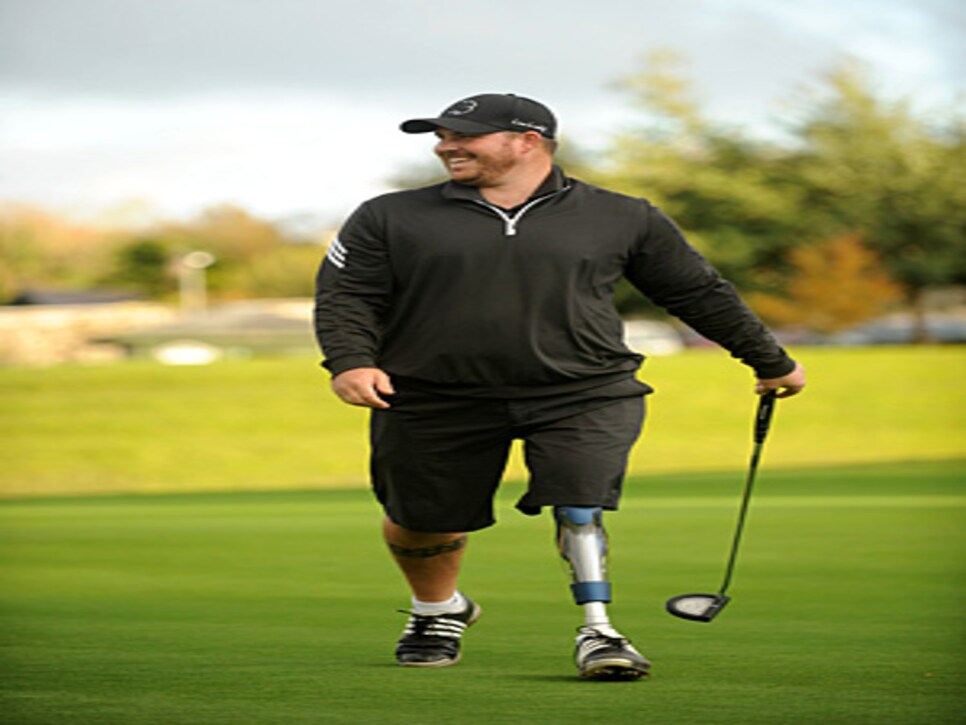 The weather held for us at Portmarnock, a typically gray Irish day with little breeze and temperatures warm enough to require only a layer of UnderArmour and perhaps a sweater. I had the privilege of playing with Chad Pfeifer (left), who is missing his left leg and has played golf only four years. I predict he will make it to at least the Web.com Tour one day, and it might be fairly soon. A self-taught player who can't put weight on his left foot -- only the heel of his left golf shoe touches the ground throughout his swing -- he posts over his right leg throughout his action and has a full and complete arm swing. His prosthetic under his left knee seems to keep him stable, resulting in crisp contact every time, a gentle fade off the tee and a barely perceptible draw into the greens. Did I mention he plays to a plus-2 handicap and drives it 280 down the middle seemingly at will? Chad's ultimate goal is to make it on tour.
Chad is also a supremely nice guy, very mellow, no highs, no lows. Nothing seems to bother him on the course. He lives in the Phoenix area with his wife, whose brother, Mark McGee, was along on the trip as Chad's partner. Mark told me that Chad's acceptance of his injury, which occurred in Iraq five years ago, is remarkable. If he's bitter or sad, you'd never know it. He's turned all his emotions into becoming a phenomenal player, hitting 500 balls a day. He shot 75 at Portmarnock, which is a very difficult course from the back tees. If you miss a fairway, it's almost a certain bogey. And the recently aerified greens were slick and bumpy.
At the European Club the next day, I played with Lieutenant Colonel Carolyn Fota, who suffers from a traumatic brain injury incurred in Haiti. She was hit on the side of the head with the butt of an AK-47 by a young soldier who she says was simply scared. Today, she is on serious medication and suffers from epileptic seizures if she forgets to maintain her equilibrium. Which is why her method of teeing the ball requires her to kneel on all fours, put the tee in the ground, then place the ball on the tee, then slowly get back to her feet. She started playing golf a year ago as part of her rehabilitation. Others would be frustrated by the length of time her brain needs to focus on a simple five-foot putt, but she is undaunted. Her golf swing is getting better, and she plans to take lessons with Jim Estes, the teaching pro who has worked with more than 800 wounded veterans at Walter Reed.
Fota's loving husband, Frank, a nuclear regulatory expert, is also on the trip. He's clearly devoted to her and her well-being. He doesn't play golf -- yet -- but Carolyn is talking him into it. She played with rental clubs everyday, which only compounded the stress of learning an already difficult game. When she gets properly fitted clubs and starts taking lessons with Estes, she'll be on her way to rapid improvement.
Carolyn is one of three women veterans on this trip. One of the others is Danielle Green, who was a standout basketball player at Notre Dame about 15 years ago. (We played on the smaller course a few days ago at Royal County Down.) Danielle grew up in a very tough, drug-infested environment in Chicago. She vowed at age 7 to escape by getting good grades, working on her basketball skills and playing for Notre Dame. And she succeeded. She also dreamed of going into the military. Which is what she did after five years at Notre Dame.
She was one of the first women to get injured in Iraq. She was hit by an RPG (rocket-propelled grenade) while policing the roof of a building. The explosion instantly severed her left arm, sending a burning pain throughout her body. Yet she remained conscious. Despite the pain and shock, she managed to help others who were also in danger before she was dragged to safety by her buddies. Then she realized she had been wearing her wedding ring -- she had gotten married just seven months before. Her buddies went back onto the roof under enemy fire and retrieved her arm and her ring.
Today, Danielle, who was awarded a Purple Heart for her bravery, has two Masters Degrees and counsels other wounded veterans. She has been playing golf for six years, using her immense athletic ability to hit long, if not always straight, drives. A natural left-hander, she had to re-program her brain to do everything right-handed, including writing and playing sports, a long, tedious process. And sadly, Danielle's husband died suddenly of a heart attack just a year ago. But she actually smiled more than anyone on this trip, a tribute to her perseverance and what golf can do for you.
How Danielle and these other veterans manage to pick themselves up and get through life every day with such a positive attitude is beyond me. But one thing is for sure. They are using golf -- and everything the game has to offer -- to give them focus, stay upbeat and keep forging ahead.
Next up? Our final stop: Dromoland Castle. . .