The Loop
Trip of a lifetime: 'I was hit five times'
*Editor's Note: Golf Digest's Roger Schiffman is on a golf trip to Ireland with wounded U.S. veterans.
After a long drive -- on the road in a coach bus from Old Head toward Dublin, not on one of the rolling links fairways so common in Ireland -- we stopped at the Blarney Castle, where most of us climbed to the top and kissed the Blarney Stone, giving us the "gift of the gab." These wounded veterans might be missing legs or arms and are probably dealing with mental demons, but one thing is for sure: they are tough and "can't" is not in their vocabulary. It's not easy climbing to the top of the castle on two good legs, and you have to somehow get to the top to kiss the Blarney Stone. There are no elevators.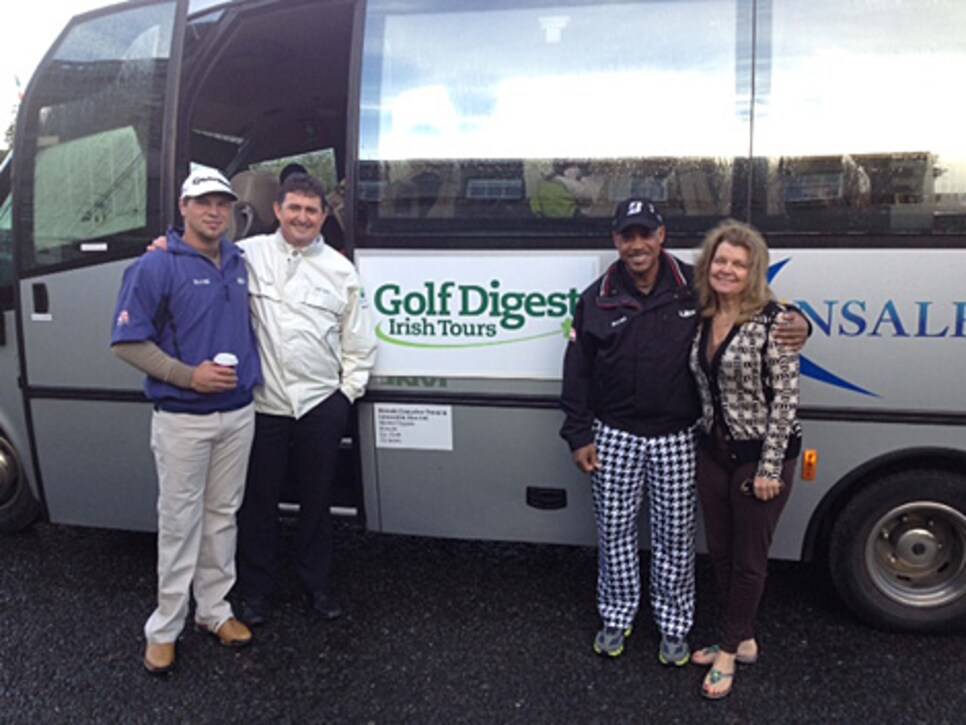 On the road in Ireland with (from left) disabled veteran Tim Lang, our bus driver, Purple Heart recipient Charles Eggleston and Patricia Donnelly. Photograph by Roger Schiffman
A few hours later, the entire group of wounded veterans, spouses and friends were treated to a fantastic dinner at the Angler's Restaurant just outside of Dublin, about a 20-minute drive from Carton House, where we stayed for the night. Carton House is a 5-star resort hotel with a strong parkland golf course, spa, and fishing retreat. It's the site of next year's Irish Open. And it's represented by local Irish golfer Shane Lowry, who just happened to win the Portugal Open last Sunday, so the Irish pride was flowing.
At the dinner, which was preceded by lots of Irish "Craic," which means music, drink and general revelry, we really got to know one of the service members who is on the trip. Charles Eggleston's motivational talk after the meal was second to none. You see, he doesn't have a "live day," the anniversary of the moment when he should have been killed in combat. He has a number of "live days" as he was hit on five different occasions over the course of six years. Needless to say, he has received the Purple Heart, the highest honor bestowed upon a soldier.
The stories he told were harrowing, and I'll only give you the barest details here: Right side of his face blown away, multiple back and shoulder injuries. But the way he told them was so positive and uplifting because somehow he jokes and laughs and remains so very upbeat. He talks about the others he met in Walter Reed who he said were less fortunate. And he recounts how golf gave him a purpose in life, and his goal now is to, along with Jim Estes, introduce the game to as many other wounded servicemen and women as he can. But mostly he worries about the other soldiers who fight "the war after the war." Meaning what they deal with when they get home. Many, he says, can't deal with life, and tragically they take their own.
Not only is Eggleston a good friend of Major Ed Pulido and Dan Rooney, founder of the Folds of Honor Foundation (the main veterans group represented on this trip), he advises President Obama on various issues regarding the Veterans Administration and how to make the government's policies more equitable, more sensitive, more sensible. He says progress is being made, however slowly. He showed me photos of himself with Michelle Obama (a huge supporter of veterans projects), General Colin Powell, Joe Theismann, Tiger Woods. You get the picture ... he's a celebrity in his own right.
Sometimes, life just isn't fair. Which is why this trip is so important for these heroes. Two days ago when we played Old Head, these wounded veterans were in awe the minute we drove across the cliffs out onto the small peninsula, just wide enough to hold an 18-hole golf course. If you're afraid of heights, this course is not for you. But what a spectacular place it is.
The weather has turned wet and cold, but tomorrow promises to be a great day -- we have another long drive north, with our next destination Royal County Down, ranked the No. 1 course in Ireland. More to come...