The Loop
Trip of a Lifetime: An Ultimate Experience at RCD
Editor's Note: Golf Digest's Roger Schiffman is on a golf trip to Ireland with wounded U.S. veterans.
I've played Royal County Down three times now -- well, three-and-a-half. The first was 28 years ago on my honeymoon. My wife and I arrived at 4 p.m. after driving four hours from Sligo to find a calm sea, warm sunshine and maybe the most perfect golf experience in the world. The second was two years ago when we were on a golf tour through the northern part of Ireland. After our round, we loved the place so much we talked the caddie into another nine holes as the sun was setting.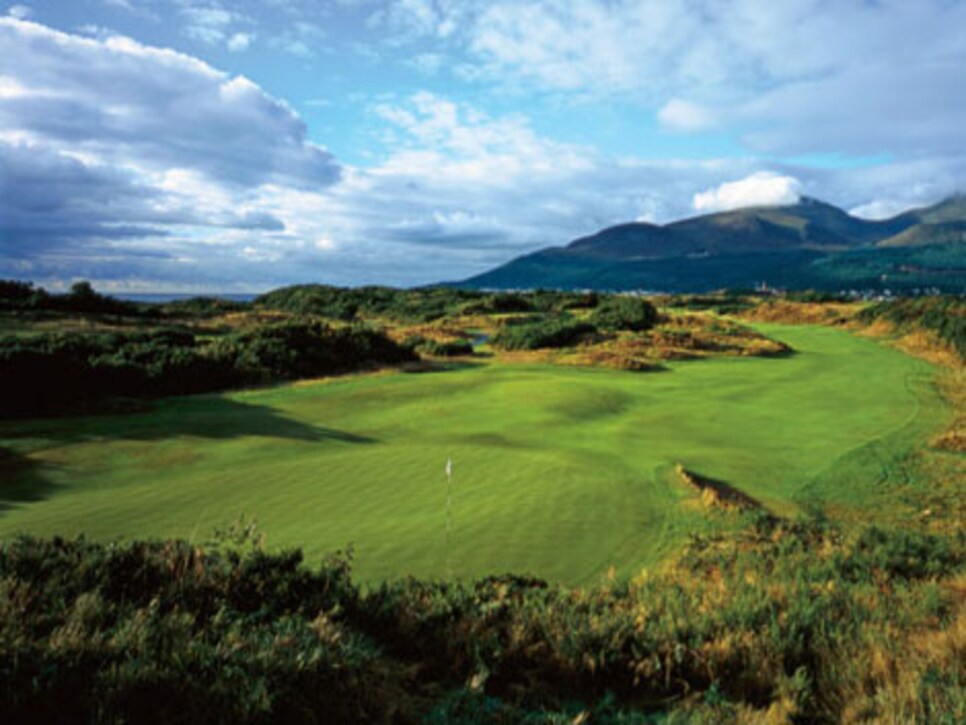 Those were great experiences, but nothing compared with the round we played last week in the company of two wounded veterans -- Tim Lang and Brian Donarski, better known simply as "Ski." They've had more than 50 surgeries between them, and using golf as rehabilitation thanks to Jim Estes and the Salute Military Golf Association (SMGA.com), Tim carries an 8-handicap and Ski a 5. And they can play to them.
After all-night rains that rendered most courses throughout Ireland closed last week, the skies broke about 9 am and we were treated to the most blissful weather Ireland has to offer. In the middle of the round, it was 70 degrees and sunny with nary a breeze at Royal County Down, ranked No. 1 in the UK by Golf Digest Ireland, which is sponsoring this trip, along with Aer Lingus, the Irish Tourist Office and several Irish Hotels, including the 4-star Slieve Donard next to the course. (Royal County Down was also ranked as the best course outside the U.S. by Golf Digest.)
Tim Lang was awesome. Until then, he had never walked even one hole on a golf course, always using a cart due to the fact that his right leg is missing. But carts are simply not allowed at Royal County Down, no exceptions. Tim wanted to play the course so badly that he decided to try it. With his stump blistered from overuse on this trip, and lathered up with Lidocaine and antibiotic ointment, he walked all 18 holes of a long, tough, hilly golf course. Twice, we flagged down the ranger, who gave him a ride between holes.
Grimacing between shots but never complaining -- Tim is a marine, after all -- he shot 79 that would have been even better if not for an unlucky break on the long par-3 13th hole, when his flop shot from deep rough rolled just over the green and into a deep, water-sogged pot bunker, and he took three shots to get out.
Tim's injuries are too many to recount here. But not only did he lose his leg when he was "blown up" (his words) in Iraq, he was sent 75 feet into the air, landing on pavement, breaking his back in four places. During his lengthy recovery at Walter Reed, he developed a horrible infection -- probably due to the dirt and bacteria that entered his body when his leg was blown off, causing him to lose so much weight that his friends and family no longer recognized him. He went from 225 pounds to 109 before doctors finally got him on the path to recovery.  That's when he met Jim Estes, who got him to try golf. "Golf was a sissy sport," says Lang, who was a star football player in high school. But Estes convinced him to swing a golf club. As soon as he got a shot airborne, he was hooked. He started hitting 500 balls a day. It's been less than four years, and he shoots in the 70s often.  He weighs 190 today and looks strong.
In fact, he is strong. He averages about 290 off the tee, and hits his 9-iron from where I hit my 5. Today, Tim is a sweet guy. He would do anything for you. He lives in Michigan with his wife, and is working toward a college degree while in demand for motivational speaking jobs. I'd hire him in a heartbeat.
Next stop, Dublin and the Portmarnock Golf Club…