Approach Shots
Trick Shots Can Make You A Better Golfer. Here's How
When you think of trick shots, it's easy to think of them as clever, or entertaining, or cool, but not in an, Oh wow that's really good for your golf game, kind of way. But Wesley Bryan of the famed Bryan Bros. trick shot duo has proven that people who practice trick shots can actually be doing a lot of good things for their game. He won two Web.com Tour events in the span of four weeks, a feat that has locked in his PGA Tour card for next year.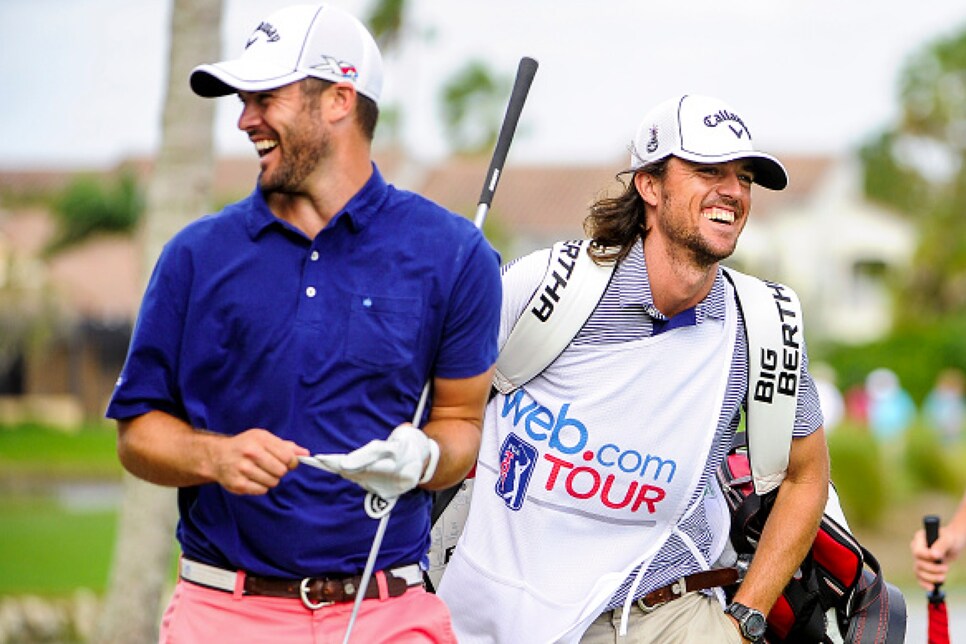 While Wesley certainly gets a lot of 'typical' practice in, all of his messing around with trick shots has benefited his game, too.
Luke Benoit, one of our Golf Digest Best Young Teachers out of Interlachen Country Club in Edina, Minnesota, says one of the benefits of practicing trick shots is it teaches you adaptability.
"Even the best players in the world routinely miss a third of the fairways on tee shots," says Benoit. "If they weren't able to adapt to challenging situations, they wouldn't be able to score. In a nutshell, this means being able to hit any shot, from any situation, at any time."
Of course, practicing a few trick shots isn't going to magically turn you into the best shotmaker at your club, but it can help you get yourself out of some difficult situations.
Instead of grinding out a classic practice session beating balls at the range, Benoit suggests you play around a little. Try hitting shots high over a tree, or low under it. Learn how to curve the ball by trying to hit around it.
"Train yourself to hit from uneven lies, deep rough, and wet sand. You'll find you build a 'swashbuckler's' mentality that allows you to escape from bad situations more often than your playing partners," Benoit said.
Benoit has two trick shot drills you can try to achieve this level of scrappiness in your game.
Pick a target. With your 6 iron, see if you can hit a hook (or draw) at the target. Once you execute the shot, try to hit a slice (or fade) at the target. Repeat until you get it right, and then go back to the hook. Keep alternating for 10 minutes. If you add this little drill to your regular practice, it won't be long until you have the most relevant of all "trick shots" in your bag: being able to work the ball.
You've seen this one, Tiger made it famous almost two decades ago. It's the one where he's juggling the ball on his wedge a few times, and then nails it mid-air, down the range. Since that video came out, everybody's tried this trick. You should, too. Your coordination and wrist/hand strength are going to improve in the process!
Check out some more of the Bryan Bros best trick shots here: