Equipment
Trending on Tour: How classic-looking, old-school kicks can look cool if worn correctly
Oxford-style saddle golf shoes have been a mainstay in the sport since the early 1900s. Though premium leather looked good and proved durable, its lack of flexibility and comfort enabled the development of golf shoes that were designed to replicate sneakers. Taking it a step further, fashion-forward hybrids and high-top shoes have become increasingly popular on tour and on courses around the country. And yet, not everyone has left the traditional golf shoe realm.
With constant innovation in golf shoes, companies are incorporating old-fashioned looks in more high-tech ways than ever—a trend that was evident at last week's Valero Texas Open. En route to his first PGA Tour victory, Andrew Landry sported the classic-looking FootJoy Icons at TPC San Antonio. The 30-year-old sported shoes with a simple, white leather in the base, laces and saddle of his shoes, while still having some fun with the accents. His first- and third-round shoes were accented with navy, and when paired with navy trousers, the shoes looked sharp and didn't clutter his ensemble.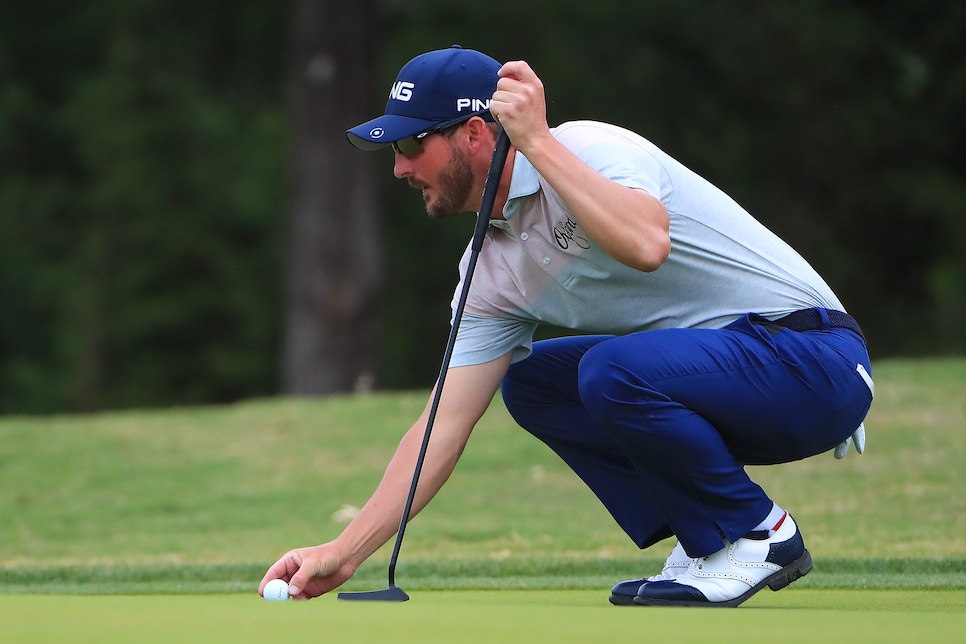 During the second round, the Texan's clean white shoes were accented with the ultra-traditional brown tips. This two-toned, wingtip style was made popular by Walter Hagen in the 1920s.
Carrying Landry through the final round were a version of Icons adorned with a silver fish-scale patterned leather. After a closing 68 propelled him to a two-shot victory, the former Arkansas Razorback traded those shoes in for a presumably less comfortable pair of cowboy boots shortly thereafter.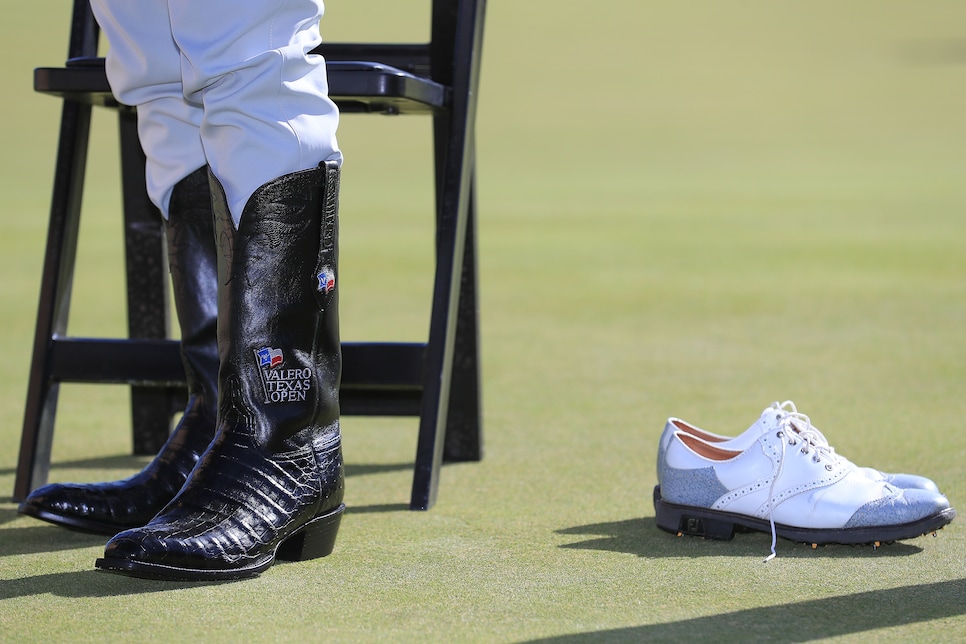 Zach Johnson also shared the classic-looking shoe style with Landry—in addition to the 54-hole lead—in the final pairing. With an opposite approach his pair of FootJoy DryJoys Tours were duo-tone, meaning the saddle was a different color than the rest of the shoe. It's a look that was wildly popular in the 1920s through the 1950s among the teenage, Jitterbug dancing crowd.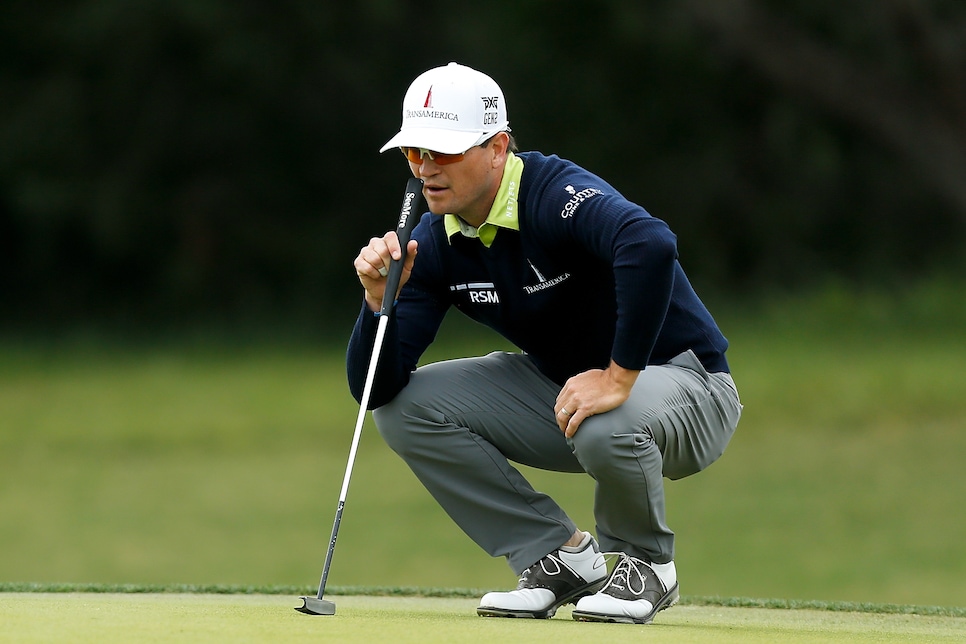 Unlike Landry's toe-and-heel variety and Johnson's saddle coloring, Billy Horschel's FootJoy Icon Shields played with the base color of the shoe as he opted for white details against a navy base. In saddle-style shoes, the base of the shoe only shows in the midsection, or vamp, and collar (near the ankle) of the shoe. Again Horschel, who finished T-11, kept the rest of his outfit simple and classic to avoid clashing.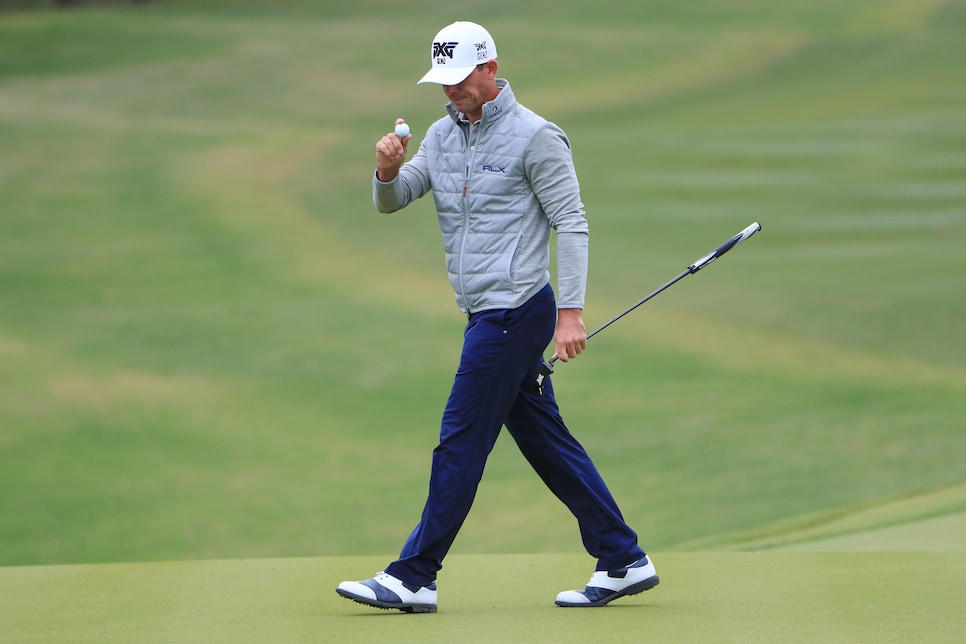 Also sporting the look were Graeme McDowell, Billy Hurley III and Ethan Tracy.