The Loop
Trending: Move over Tiger, Rory's got Sergio
Uh-oh, Tiger. Try not to get too jealous, but it looks like your latest "bromance" is two-timing behind your back -- and with one of your non-cuddle buddies to boot.
With the Ryder Cup still three days away, Tuesday's biggest news story from Medinah revolved around a picture of Rory McIlroy and Sergio Garcia getting awfully chummy during a practice round. The only thing missing from the image was the two sharing some milk and cookies. See for yourself: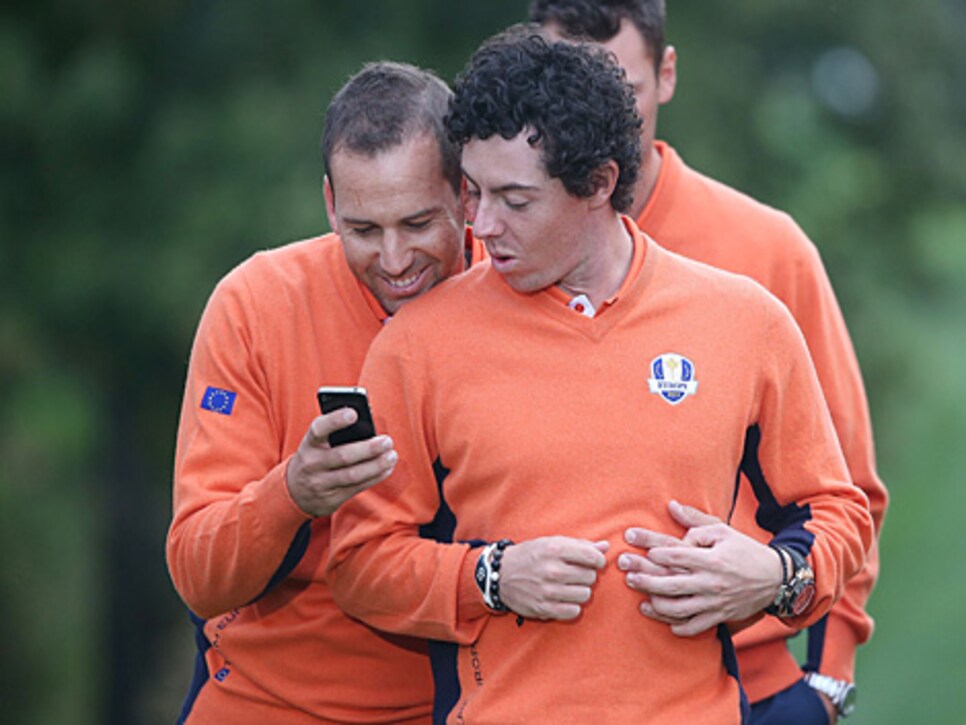 Photo by Andrew Redington/Getty Images
In recent weeks, the blossoming (very) friendly rivalry between Woods and McIlroy has become one of golf's big storylines. Of course, this isn't to suggest that that relationship won't still exist, in particular, after this week that pits Americans versus Europeans. But the timing of Rory holding hands with someone else not named Caroline Wozniacki -- especially someone with whom Woods has had a somewhat strained relationship -- seems too funny to not mention.
Apparently, you agree. Here's a link to Golf World's Facebook page, which asked readers to provide captions for the image of the cozy couple and has already received plenty of responses.
There could actually be some potential real news here too. Might this be an indication that McIlroy will team up this week with Garcia, a noted Ryder Cup pest? Anything is possible, though McIlroy looked pretty comfortable being paired with fellow countryman Graeme McDowell during his first Ryder Cup two years ago at Celtic Manor.
As for Woods, it seems Captain Davis Love III will pair him with Steve Stricker due to the duo's recent success, most notably at the 2009 Presidents Cup. But of course, everyone is clamoring for him to square off with golf's new No. 1 in singles come Sunday. Not that Woods would need any added motivation to win that marquee match-up, but this picture may have just provided it. . .