The Loop
Travis Mathew parked a party trailer on the PGA Show floor
ORLANDO -- The entrance to the Travis Mathew booth at the PGA Merchandise Show is like the entrance to a nightclub. Walk past the employees out front, through the dark curtains, under the disco ball and you'll see the huge trailer to your right.
There's a fold-out patio, a bar inside, couches and a rooftop hangout with TVs. The patio and inside can hold about 20 people, and the rooftop can handle 50. It's unlike anything else at this year's PGA Show.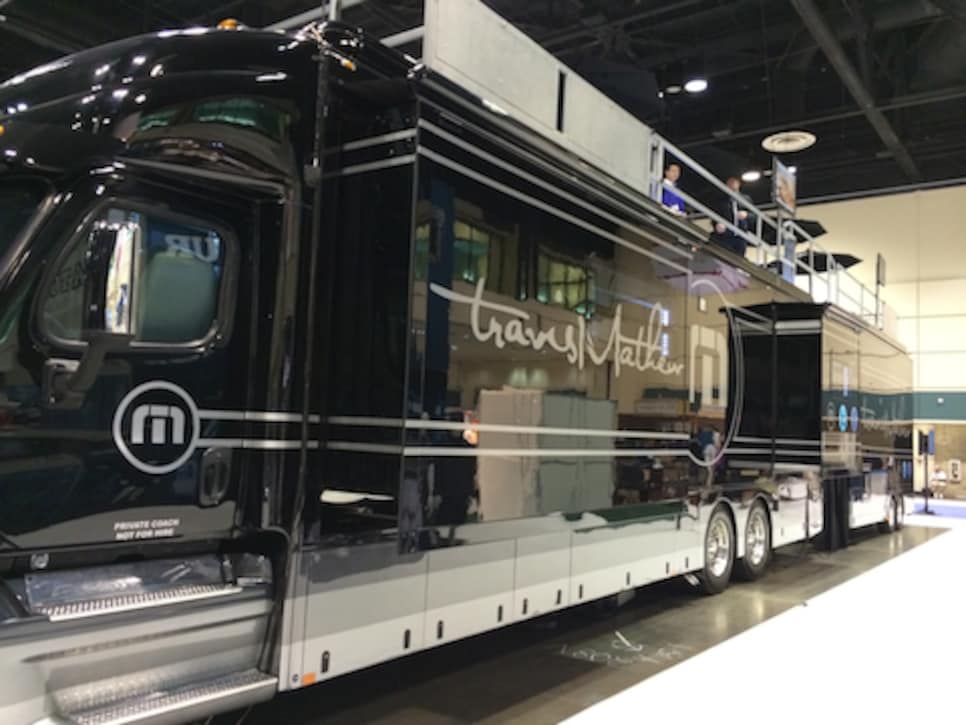 Drinks were being served -- in Travis Mathew-logoed solo cups, of course -- music was playing and the pace of everything seemed to slow down. The PGA Show is huge, exciting and hectic. Step into the Travis Mathew party trailer, and you're there to hang out. Their goal of creating their own atmosphere is immediately achieved.
The $700,000 trailer gets rented out to clubs for member-guests and other big tournaments. In 2013, 42 clubs rented the trailer, and they're already booking into 2015. If you rent the trailer, you're spending north of $12,000. Renting the trailer also means you're renting the Travis Mathew golf cart, too. The ranger or pro of the club can drive around in the logoed cart to check on pace of play.
A clothing rack folds out off of the patio to display tee gifts. Players in the event look at the Travis Mathew samples, choose their favorite shirt, and the company ships them their size. The TVs on the outside of the trailer are often used to show live scoring during the tournament. There's an outdoor beer tap next to the TV on the ground level, perhaps to help lessen the pain of watching your name slip down the leader board.