Takeaways
A weary Rory still shoots 62, Xander's new focus and Spieth can't stop talking (to his ball)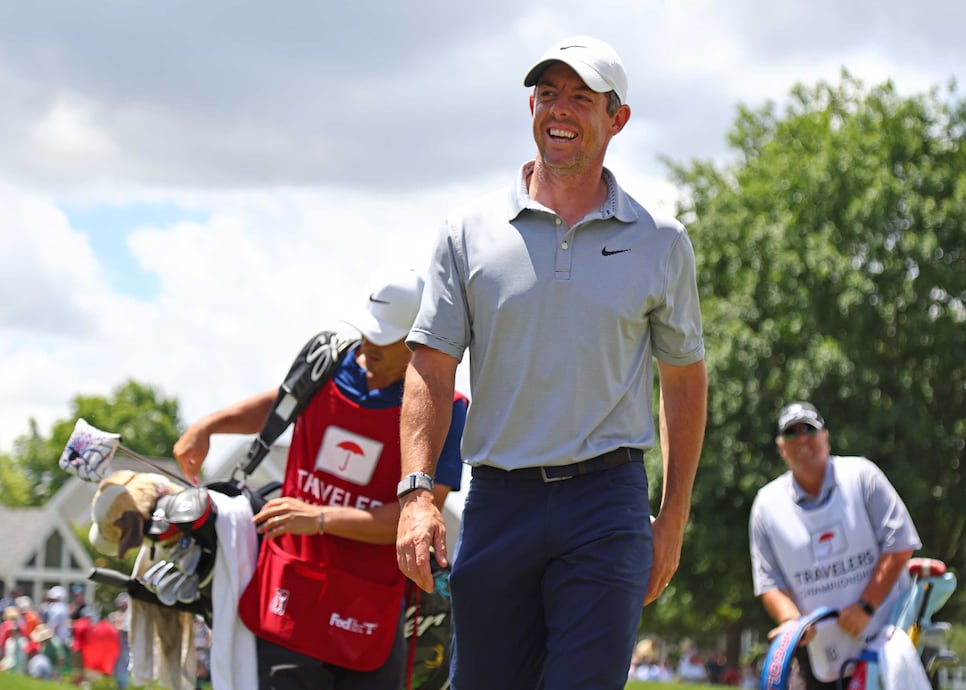 Rory McIlroy smiles as he closes out a 62 in the opening round of the Travelers Championship.
Michael Reaves
If you thought Rory McIlroy might be flagging just a little, following a run of terrific form interrupted only by his regular vociferous defenses of the PGA Tour in the face of the LIV Golf threat, well ... you'd be right. He's under the weather, he's tired after a punishing U.S. Open and he's looking forward to his time off starting Monday, when he'll start his preparation for the Open Championship at St. Andrews. We could be forgiven for thinking that he might not set the world on fire in his last stop before the big rest at the Travelers Championship.
Guess what? He set the world on fire.
With a scintillating 62 at TPC River Highlands, McIlroy seized a share of the opening-round lead with the lowest Day 1 score he's ever shot in a PGA Tour event. And he did it with very little preparation.
"I didn't hit any golf balls Monday and Tuesday," he said. "I flew back down to Florida for a day, spent the night in my own bed, flew back up Tuesday, didn't come to the course, and then yesterday playing the pro-am in the rain wasn't really great preparation, but … I played well at Brookline. I'm not going to lose it in two days. I knew my game was good."
It started out just modestly good, with an opening nine that felt "slow, in a way," at least to McIlroy. His first birdie came at the 13th, his fourth hole of the day, when he buried a 31-foot birdie putt on the par 5. He followed with another birdie on 15, and finished off his opening with an approach to nine feet on 18 that he converted for a third birdie. It was at that point that he truly did the "caught fire" thing, making five more birdies on the front to post a 30. The most impressive of the bunch may have been this bomb from 47 feet on 7:
He finished his round with a 332-yard drive on the short par-4 ninth, and a simple 44-yard pitch nestled inside two feet, setting up his eighth and final birdie in a round with no bogeys. Coming off Brookline, the performance felt like a breath of fresh air.
"It's like the anti-U.S. Open here," he said. "It's like U.S. Open rehab coming here. You're like, 'oh, I can actually make some birdies. This is nice.'"
McIlroy also continued what has started to seem like his second full-time job: backing up the PGA Tour. When asked for comments on Jay Monahan's press conference and the new PGA Tour schedule, he seemed sincerely pleased.
"Some of the things that he said yesterday I think are great," he said. "Some of the changes that were made to the schedule, to … I think Webb [Simpson] was talking about it, it'll make the regular season much more competitive. Everyone starts at zero at the start of the year. Everyone has the same opportunity to make the big events with the big prize funds and whatever. I think it'll make it more competitive and make it a more compelling product, honestly. I think it'll be good."
Meanwhile, here are four other takeaways from Day 1 in Cromwell, Conn.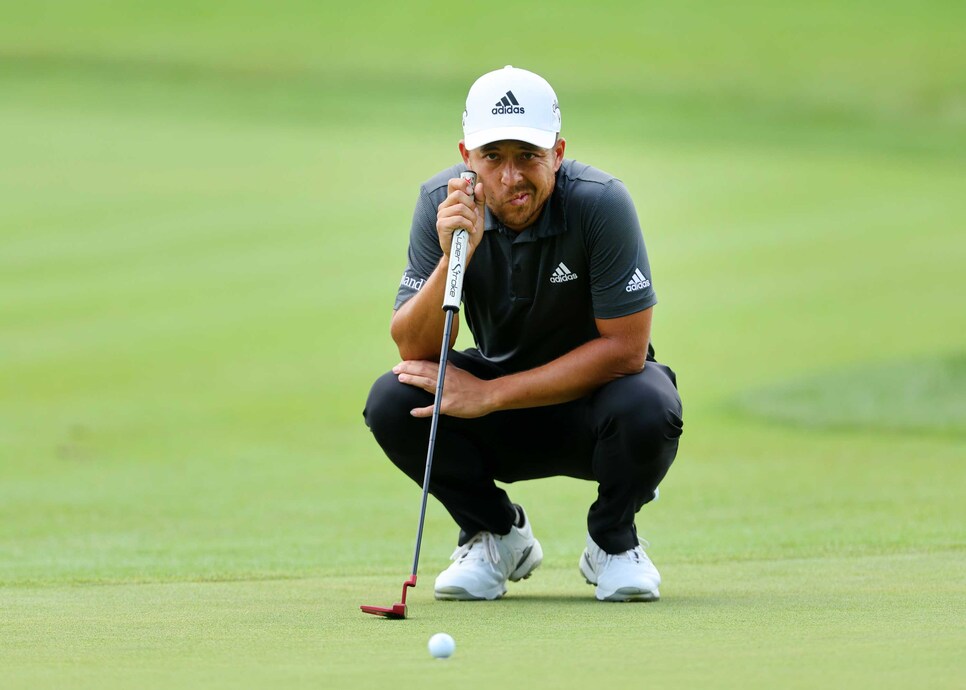 Rory shared the first-round lead with J.T. Poston, who was on #59watch after making the turn in six-under 29 on the front. Just behind them is Xander Schauffele, who carded a seven-under 63 to finish one off the lead. And he did it with some panache, going a perfect 18 of 18 in greens in regulation.
"It's been really solid," he said of his game. "I've just been talking to my dad. He thinks I'm tinkering too much. He wants me to do what I did today … focus a lot on land numbers, just numbers in general versus me trying to tinker with my golf swing too much. It kind of made me hone in on targets. I've been playing pretty solid, just haven't really gotten over the hump this year in terms of putting a string of tournaments together that are really good."
On one hand, Schauffele has made 10 of 12 cuts on the year and is constantly in the top 20. On the other, he's only had three top-fives, and has faded outside the OWGR top 10 for the first time in more than a year.
When asked if he had ever hit 18 greens before, he said yes, with a catch—he's done it in practice. As he acknowledged, though, that's a different story than a perfect GIR round on tour. And unfortunately for him, there's no respite—it's a crowded leaderboard at the top, and as history has shown us, you can't afford to tread water at this course.
Martin Laird matched Schauffele with a 63, while the group at 64 includes a duo of big names in Webb Simpson and Patrick Cantlay. Harris English, the defending champ, stayed close with a 66. This helped.
Please, give us more of the handshake celebrations
There's something so funny about a player and his caddie shaking hands after a good shot. It's probably because if you were creating a stereotype of a stuffy golfer, this is what they would do, and it kind of subverts that in a hilarious way. It's also just extremely funny to turn what should be a fist-pump moment into something so proper and casual. Watch Scheffler and Ted Scott master the form after Scheffler's chip-in:
Scheffler finished with a 68, still theoretically within shouting distance of the lead.
Click here for FREE Spieth-talking-to-his-ball content!!!!
Even when it's simple, we can't get enough of this:
It's the second best genre in golf, trailing only Spieth-talks-to-caddie-Michael Greller. Unfortunately for Spieth, a disastrous finishing stretch consigned the 2017 Travelers winner to a five-over 75, which isn't very far from the absolute bottom of the leaderboard. Beyond the begging, there was a lot of this.
Joaquin Niemann is top of the flops
One more video for you, because there hasn't been a successful flop shot yet that wasn't beautiful to watch. Here's Niemann, working with very, very little green:
Chef's kiss, Joaquin. Never stop floppin'.