PGA Tour
Chase Koepka on his COVID fiasco and playing in Brooks' shadow
The 'other' brother returns to the Travelers after qualifying a year ago only to give up his spot in the most unfortunate of circumstances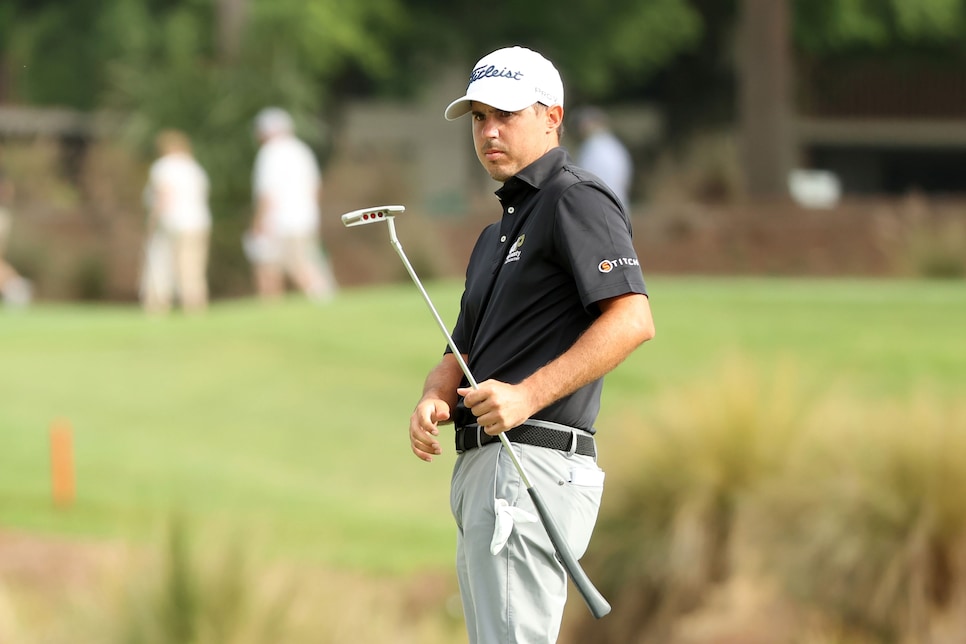 Out of the corner of his eye, Little Bro caught a glimpse of Big Bro shaking his head in disgust. Chase Koepka had just left a 20-footer for birdie a good two feet short—never a great outcome, but especially irksome on the final hole of a Monday qualifier—and Brooks did not approve, for he thought Chase needed a birdie to have a chance at getting through. He was wrong. Chase had chipped-in for birdie on 17, and the ensuing par got him into in a five-for-two playoff for a spot in the 2020 Travelers Championship.
Chase managed to get through that playoff, with Brooks and Brooks' caddie Ricky Elliott watching along.
"We had to walk back up this hill, from the green to the clubhouse," Chase says, "and the joy of that 15 minutes of walking up the hill and getting to the car was the coolest experience."
The latest videos from Golf Digest
Understandably so. Like his older brother, Chase played college golf in Florida before heading overseas to make his bones on the unglamorous Challenge Tour. Unlike his brother—a four-time major winner who, at last week's U.S. Open, posted his 11th top-seven finish in his last 15 major starts—the European sojourn did not springboard him to stardom. At least not yet. After gaining his European Tour card and then losing it, Chase returned to the U.S. in 2019 to try to get Korn Ferry Tour privileges through qualifying school. He made it to final stage but opened with 72-71, two flat rounds at the worst possible time. A T-68 finish yielded crummy conditional status, and he was staring at a full year of the Dreaded M's: Mondays and Minitours.
That is, if he had different parents. Chase, now 27, had already played in five PGA Tour events when he qualified for the Travelers—but all those came as a product of his last name. Brooks had tapped him as his partner in two Zurich Classics, and he'd received sponsor's invites into three other events. But this? This was all his work. There are no shortcuts in Monday qualifiers, no friends-and-family discount. Chase had played his way into a PGA Tour event by himself.
"And that meant a lot to me."
Two days later, he was heading back home to South Florida to begin a CDC-mandated quarantine.
Chase Koepka never contracted COVID-19. He wants to make that clear, because headlines bleed together, and he doesn't want anyone to get the wrong idea. What happened was this: after Chase qualified for the 2020 Travelers, he tried unsuccessfully to book a hotel room for that Monday night. His housing for the week would not be ready until the following morning, so he headed to Brooks' house for a meal and a sleep. The two also played a nine-hole practice round on Tuesday, as brothers do. That evening, Elliott received news that Graeme McDowell's caddie, Ken Comboy, had tested positive for COVID-19. Because Elliott had been a close contact of Comboy's, he took a test himself on Wednesday morning. Positive. That implicated the Koepkas, and Brooks promptly withdrew.
That was no biggie for him, then the No. 4 player in the world. He could play any golf tournament he likes. Chase enjoys no such flexibility schedule-wise.
"The tour called me, and we ran through every scenario—playing by myself, playing with a mask on," Chase says. "But after thinking on it for a while, I decided the best thing for me to do was withdraw. We didn't know in that moment whether they would have to shut the tour down. So I just figured if I didn't play, maybe I'd be keeping someone else safe, and help the tour keep going."
"Obviously, I've been given a few opportunities that other guys might not have through my brother's success and the popularity of my name in the golf world. And that part of it is awesome. But it comes with a lot of people not being very happy about it."
Chase Koepka
This, remember, was the early days of the COVID restart. After two drama-free weeks at Colonial and Harbour Town, the positive tests piled up at the TPC River Highlands, and there was legitimate concern the whole playing-through-a-pandemic experiment would have to be shuttered. From a karmic perspective, Chase felt good about his decision. As a competitor, it was a crushing blow—he'd earned a spot in that field, and he gave it up for something out of his control.
"It was [tournament director] Nathan Grube. He thanked me for what I did and offered me a spot into the field for next year," Koepka says. "I honestly couldn't believe it. They didn't have to do that. They like giving sponsor's invites to college kids who've just turned pro, so I'm sure it was a very tough decision. For him to give me a spot that early and that quick, it showed that he truly cared and appreciated my gesture."
And so this week, Chase Koepka will get his crack at the Travelers after all, if only a bit later than expected—and, technically, on a sponsor's exemption rather than his own play. This week will mark Chase's 10th career start on the PGA Tour, all of which have come via invitation. Right after he cleared CDC protocols last summer, he got a spot into the Workday Charity Open and shot 80-81. Two weeks later, he closed with 63 for a T-26 at the 3M Open. Earlier this year, he finished T-30 at the Honda Classic and T-63 at the Valspar Championship.
"Obviously, I've been given a few opportunities that other guys might not have through my brother's success and the popularity of my name in the golf world. And, that part of it is awesome. But it comes with a lot of people not being very happy about it."
Sponsor's exemptions are a snag in golf's reputation as a meritocracy. They're seldom given to the most "deserving" player, if that's measured strictly by on-course results. If that were the case, the invites would go to the alternates who just missed getting a spot on their priority ranking. Instead, they go to recognizable faces who are either past their prime or in a slump. They go to hotshot up-and-comers. And, it must be said, they often go to guys with famous last names. Dru Love, son of Davis Love III, is a popular punching bag for those lamenting the buddy-buddy landscape of the sponsor's invite world. One crucial difference between Dru and Chase, though: Dru has made the cut in just 3 of his 19 career starts, while Chase is 7 for 9.
Chase and Brooks Koepka have teamed twice at the Zurich Classic …
Chris Graythen
… and been in the same field at the European Tour's Dunhill Links.
Richard Heathcote
Seven made cuts, but few exciting finishes. His lone top-20 on tour came at the 2017 Zurich, when Brooks did his share of the heavy lifting. Chase's career earnings on the PGA Tour are $306,396—nearly $200,000 less than his brother made for his T-4 at Torrey Pines.
"There's a lot of guys that aren't happy seeing my name getting these invites," Chase says. He misses the camaraderie of the Challenge Tour, when he was simply one of the guys, trying to save every last dollar like the rest of them.
"What I've always said is, if someone handed you a PGA Tour start, I don't think anyone would turn it down.
"If I were missing the cut every week, I wouldn't be accepting sponsor invites. I know I am good enough. I struggled my year on the European Tour, I struggled for 18 months, but I'm finding my game. I'm improving. If I have a good week, I can win out on the PGA Tour. Hopefully, this week can be my week."
Chase and Brooks are distinctly different golfers, despite their facial resemblance. Chase stands 5'9" and hits it moderate distances; Brooks is 6'0" with biceps stretching his shirtsleeves. Chase will never have Brooks' physical gifts—he caught the wrong end of the genetic lottery, at least as far as height is concerned—but leans on his brother a great deal for something that can indeed be learned.
"If it wasn't for him, my mental game wouldn't be where it's at. I feel like when I get to learn from him, I get to learn from the guy who is mentally tougher than anyone since Tiger. If you take out Tiger from the equation, because he's not human, I think my brother probably has the best mentality out there. He is just so, so strong up there. It's an unbelievable thing to be able to learn from him."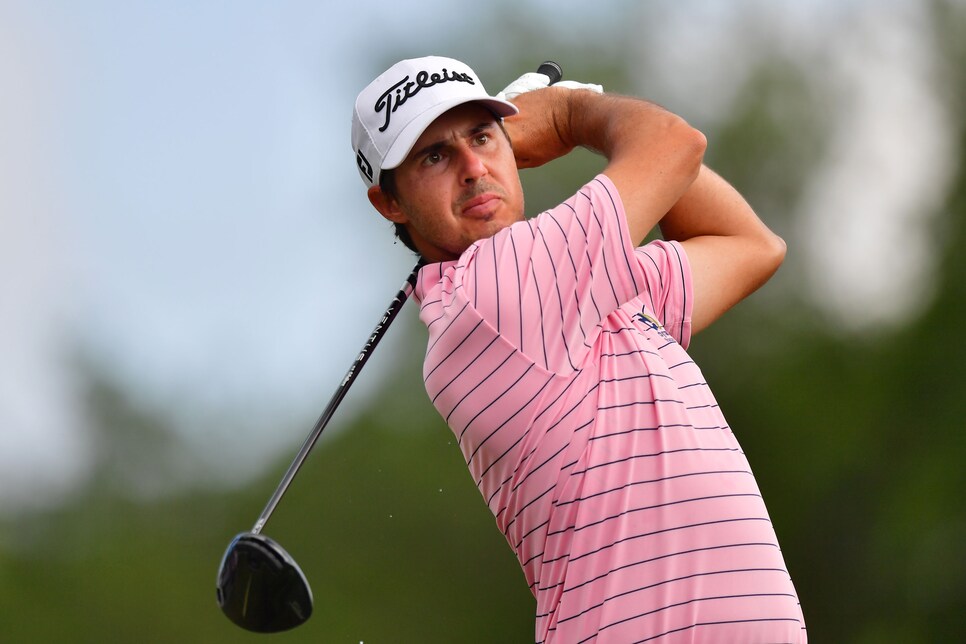 Chase is at his most comfortable when going by his first name so he can be judged for himself.
Julio Aguilar
Brooks is also playing in the Travelers, and the two will play a practice round and perhaps share a meal or two. But they will not stay together, nor was Chase part of Brooks' crew that flew privately from San Diego to Connecticut on Sunday evening. Chase arrived earlier that morning and checked into his own accommodations, preparing for a week that means way more to him than his brother.
"I'm not really into the private jet lifestyle," Chase says with a laugh. Perhaps because he can't afford one?
"That's very true. I can't really be into that lifestyle when I can't afford it. I like doing my own thing. He's got his stuff, I got my stuff. I don't want him to feel like he has to drag me along. I can figure out my own ways.
"A lot of people think I ride his coattails. I'm trying to do my own thing, it's just very hard with the last name that I have. I get recognized everywhere. When I introduce myself, I try to say only my first name and not my last name. If I say Chase, they'll judge me for me. They'll see my true character when I meet them. But If I say my last name in a golf setting, I get looked at a little bit differently."
Chase, as he'd like us to call him, hopes to finish high enough this week to qualify for the Korn Ferry Tour Finals, where he could secure a PGA Tour card or at least improve his KFT status. If that doesn't happen, it's back to Q-School this fall. Until then, he's going to follow the PGA Tour around, playing in virtually every Monday qualifier. If he gets in, great. If he doesn't, he'll head to the site of that week's Forme Tour event, which is replacing the PGA Tour Canada this year as a result of COVID travel restrictions.
Models and bottles, this is not. But remember: Chase is not into the private jet lifestyle. At least not yet.