Branded Content
Charity Funds Generated by Travelers Championship Prove Critical for Community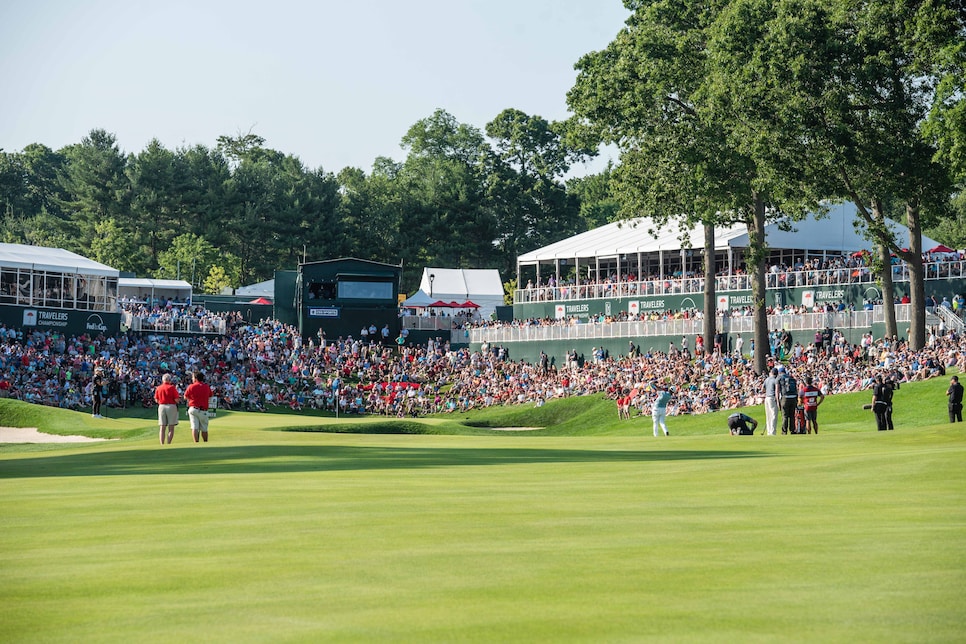 Geoffrey Bolte / Clarus Studios Inc.
Over the years, professional golf has seen many prominent tournament sponsors come and go. That's not the case in Connecticut, where Travelers remains one of the PGA Tour's longest-standing supporters, a fact that has helped the annual Travelers Championship at TPC® River Highlands grow in popularity and prestige each year.
Further illustrating its commitment to the event and the community, in March Travelers extended its sponsorship of the state's only PGA Tour event through 2030. The extension will make Travelers, the event's title sponsor since 2007, the longest-serving title sponsor in the tournament's nearly 70-year history. It's one of only four tournaments on the PGA Tour schedule with a sponsor agreement signed through 2030.
"The Travelers Championship fits with our charitable efforts at Travelers and it raises awareness and funds for hundreds of nonprofits across the region," said Andy Bessette, Executive Vice President and Chief Administrative Officer at Travelers. "We've seen the impact this event has on our community and how people benefit from the charities that receive financial support from the tournament. By extending our title sponsorship through 2030, we made sure that legacy will continue for many years to come."
That impact was clearly visible this past February after a devastating fire destroyed four buildings at The Hole in the Wall Gang Camp, the tournament's primary beneficiary.
Days after the fire, Travelers and the Travelers Championship quickly pledged to match up to $1 million in donations to help the Camp recover. Within one week that number was reached, providing funds that will allow the Camp to rebuild bigger and better than ever.
Started in 1988 by actor Paul Newman, the Camp provides a "different kind of healing" to seriously ill children and family members. In the years since the Ashford, Connecticut-based Camp first partnered with the tournament, it has grown significantly and now serves more than 20,000 children and family members annually. That growth is thanks in part to its partnership with the tournament and title sponsor Travelers.
A year ago, the Travelers Championship faced the unknown as COVID-19 restrictions led to cancellations, postponements and general uncertainty around professional sports. When the PGA Tour season did resume, the Travelers Championship was the third tournament to be played as part of a revised schedule – albeit without fans in attendance.
Despite being a TV-only event, the Travelers Championship was able to generate more than $1.6 million that was distributed to 115 charities, bringing the total to more than $20 million for nearly 800 local charities since Travelers became title sponsor 14 years ago.
This year's tournament, scheduled for the week of June 21-27, will welcome fans back on-site at a limited capacity. Players will compete for a purse of $7.4 million, including $1.36 million for the winner.
"We're incredibly excited to welcome our fans back to TPC River Highlands for this year's tournament," said Travelers Championship Tournament Director Nathan Grube. "They create such an electric atmosphere that makes an impression on the best golfers in the world. It'll be great to see – and hear – our fans supporting the tournament and cheering on another world-class field."
This year's field will feature many of the game's top players, including defending champion Dustin Johnson, the world's No. 1-ranked golfer, three-time tournament winner Bubba Watson, No. 4-ranked Bryson DeChambeau, four-time major winner Brooks Koepka (No. 7), 2018 Masters Tournament champion Patrick Reed (No. 8), and two-time tournament runner-up Paul Casey.
For fans who can't make it on-site, all tournament rounds will be televised by the Golf Channel Thursday-Sunday, while CBS will broadcast late-round action on Saturday-Sunday.