PGA Tour
The No. 1 junior in the country is making his PGA Tour debut this week, and he hails from ... Connecticut?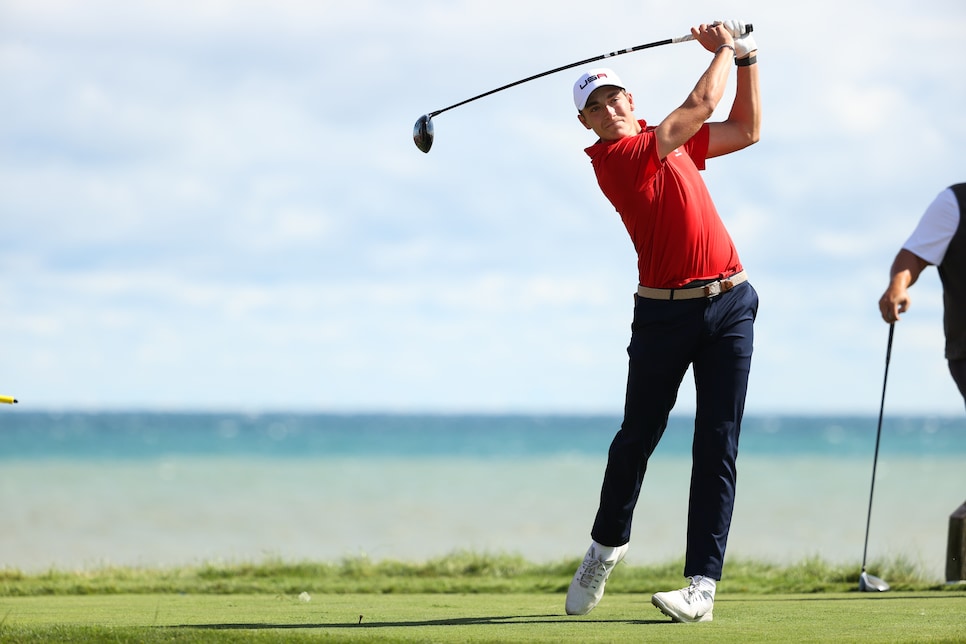 Maddie Meyer/PGA of America
Elite junior golfers seem often to be bred in warm weather places. California, Texas, Arizona, the Carolinas—those are the states you expect to see when you look at the makeup of the national junior golf rankings. But right now, the player who sits atop the Rolex AJGA and Junior Golf Scoreboard Rankings breaks the mold: 19-year-old Ben James hails from Milford, Conn., a small coastal city in New Haven County. Just weeks after graduating from Hamden Hall Country Day School, James will play in this week's Travelers Championship at TPC River Highlands—his first PGA Tour event with the fitting backdrop of his own home state.
Milford is no Orlando or Scottsdale. Temperatures fall to single digits in the winter, and the outdoor golf season typically starts in late March if you really layer up. So how did James do it? How did the soon-to-be University of Virginia Cavalier get so good without playing all year round? The answer rests in a variety of factors, but raw talent was certainly one of them.
When James was about 4 years old, his father, Don James, took him to Great River Golf Club, a semi-private Tom Fazio-designed course nearby in Milford. James' grandfather worked as a starter there for eight years and introduced Don and Ben to Tom Rosati, the course's head pro. Like most kids who go on to play the game at a high level, James was hooked right away.
James' competitive golf bid strangely began when the entire family was on a vacation at Pinehurst Resort, coincidentally during the same week as the U.S. Kids World Championships. Don, curious about the event, asked if his son could play. When the family was informed of the rigorous qualifying rounds juniors have to play in to reach the prestigious championship, Ben started crying, as 4-year-olds do—he just wanted to play golf. But the entire family was determined to get back to Pinehurst, and this time, as more than just resort guests. James helped them do just that.
"Everything hit me at the 2013 U.S. Kids World Championships at Pinehurst," said James. "I won it when I was 10 years old. I realized I could win against the best kids that were my age, and that was the whole world. That's when I knew I could do this."
Every year for five years—beginning the year after the James family's pivotal vacation—Ben qualified for Worlds. His victory at 10 years old sent him up the ranks of junior golf. Next came the Connecticut PGA events, then Challenge Cup, then the elite AJGA (American Junior Golf Association) circuit. Selections to the U.S. Junior Presidents Cup team and the Junior Ryder Cup team followed shortly after. A commitment to playing golf at the University of Virginia happened somewhere in between.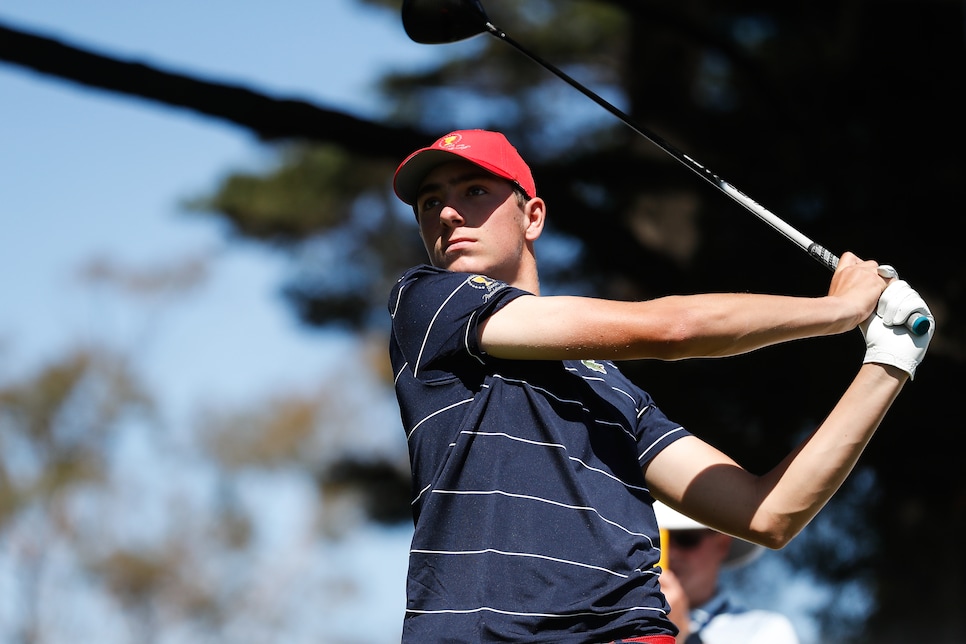 James tees off on the on the 12th hole during the first round morning four-ball matches of the Junior Presidents Cup.
Con Chronis
It was during those pivotal pre-teen and teenage years that James had to get creative with his winter practices. Unlike a lot of families of top junior players, James and his parents didn't make the move down to Florida for the colder months. They only visited the warmer golf haven for a vacation and tournaments. Fore Seasons Golf Club, a dilapidated indoor facility in Bethany, Conn. and SportsCenter of Connecticut, which had indoor-outdoor mats and a range with heated bays, were James' saving graces.
"Fore Seasons, you'd have to see it to believe it," said Don. "It used to be an indoor tennis facility, and it's owned by a character. He converted it into a golf facility, but the place is a time machine. There's stuff from the '50s in there. Makeshift bunkers. Now they have simulators. But you've got a roof over your head."
In the springtime, James played for the Hamden Hall varsity golf team. Although high school tournaments weren't necessarily up to his competitive caliber, the team practiced at New Haven Country Club, and James appreciated any time he could get on such a stellar Northeast golf course.
James reached a high point in his game about a year and a half ago, around the same time he started working with his current swing coach Matt McCullough. That maturation—in both his swing, body, and mental game—lead to a winning run. James won four out of six AJGA invitational events in his 2021 season. According to his coach, a stunningly low driver ball flight, ultra-consistent wedge play and strong putting define James' game.
"There aren't many kids his age that are going to beat him," said McCullough. "He's just better than everyone at this point."
James may be accustomed to competing at the very top ranks of junior and amateur golf, but he's also managed to live a normal teenage life. Last week, the recent graduate was able to cut out one day from his practice regimen to attend his senior prom, followed by a prompt departure to the Sunnehanna Amateur, where he tied for 38th. He played basketball at Hamden Hall on top of golf, making the varsity squad when he was just a freshman. A crowd that shares James' Connecticut roots will come out to TPC River Highlands to support him this week as he makes his PGA Tour debut.
"Having friends, family, even my high school math teacher [who is also the golf coach] come out and support me is awesome," said James. "To be in Connecticut, where I was born and raised a true Connecticut kid. It's so special."
The Travelers Championship is known for inviting top young talent to debut as sponsor's exemptions in the annual tournament. In 2011, Patrick Cantlay—then 19—famously broke the course record, shooting 60 in the second round as an amateur. That's a tough tale to top, but with James' recent success and home-state advantage, you can't rule out a storybook result.