The Loop
Travel Report: 99 holes in Ireland
*Ashley Mayo is not just a colleague, she's a close friend and co-leader of the social media strategy for Golf Digest and Golf World. Mayo just completed Columbia's Graduate School of Journalism, and among other things, she carries a 4 handicap and an infectious laugh. Which is to say: you'll have a good time with her on the golf course as she's taking your money, squishing your ego, and then tweeting out pictures and the results to her thousands of followers. (No, I'm not still bitter about a recent round at Bethpage Black.)
Anyway, Mayo is just back from a bucket-list trip to Ireland, and she's eager to share anecdotes and images to the readers of this blog. Enjoy. *
The first hole at County Sligo Golf Club is a straight par 4. Standing on the tee, I can see a narrow fairway guarded by three bunkers, a large, inviting green and, on a hill behind that green, a dozen sheep. The hole is out there for the taking, but it's not easy. A prevailing wind whipping off Sligo Bay makes it play more like a sharp dogleg right.
Deception defines golf on the northern coast of Ireland. What you see isn't what you get. And what you get are rounds of golf that are on seemingly untouched land, complete with ocean vistas, all four seasons of weather and sand dunes that have formed naturally over hundreds of years.
In one week at the end of June, I played six links courses on the northern coast of Ireland and Northern Ireland. Every one of them hugs either the Atlantic Ocean or the bays that feed into it, but they offer distinct personalities.
Here, I'll recap my experience in photos and captions.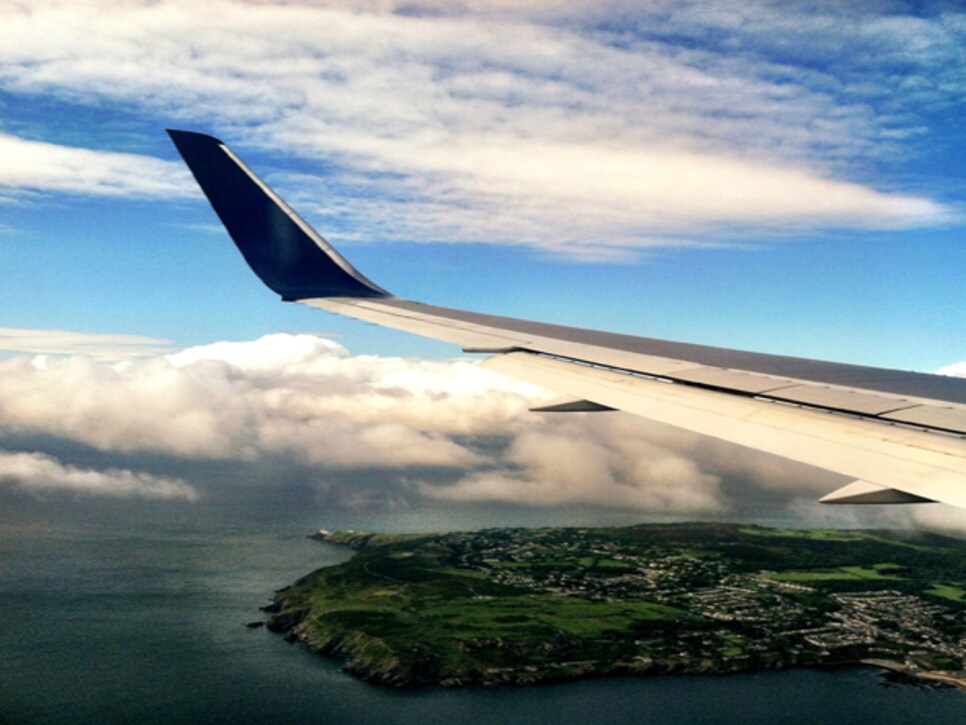 I flew into Dublin (shown) and drove three hours west, to County Sligo.
__County Sligo Golf Club at Rosses Point ($150)__: Known locally as "The Point," this 6,970-yard layout is largely a Harry S. Colt design. As I ate lunch in the Tudor-style clubhouse, Donnell, a red-haired Irishman who's been a member at Rosses Point for more than 30 years, crouched down onto the first tee box with a scorecard and a pen, writing tips for our foursome on playing each hole. He looked like golf's version of Albert Einstein, calculating the wind and factoring how the course would play. (Donnell's actions epitomize the warmth many Irishmen bestow.)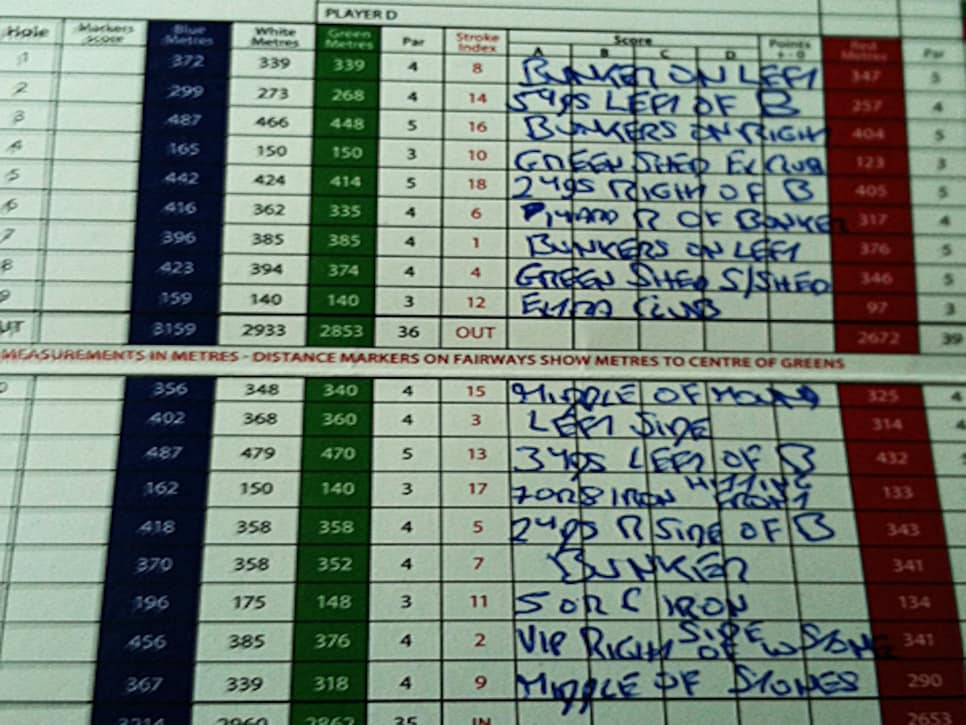 Who else would spend 25 minutes writing down tips for a complete stranger?
Donnell's directive for the par-3 fourth hole: "Green shed, extra club." The green shed was left of the green, and the pin was right. I acted against his advice and paid the price. My shot started at the middle of the green and ended up about 20 feet right of it. I should've trusted local knowledge.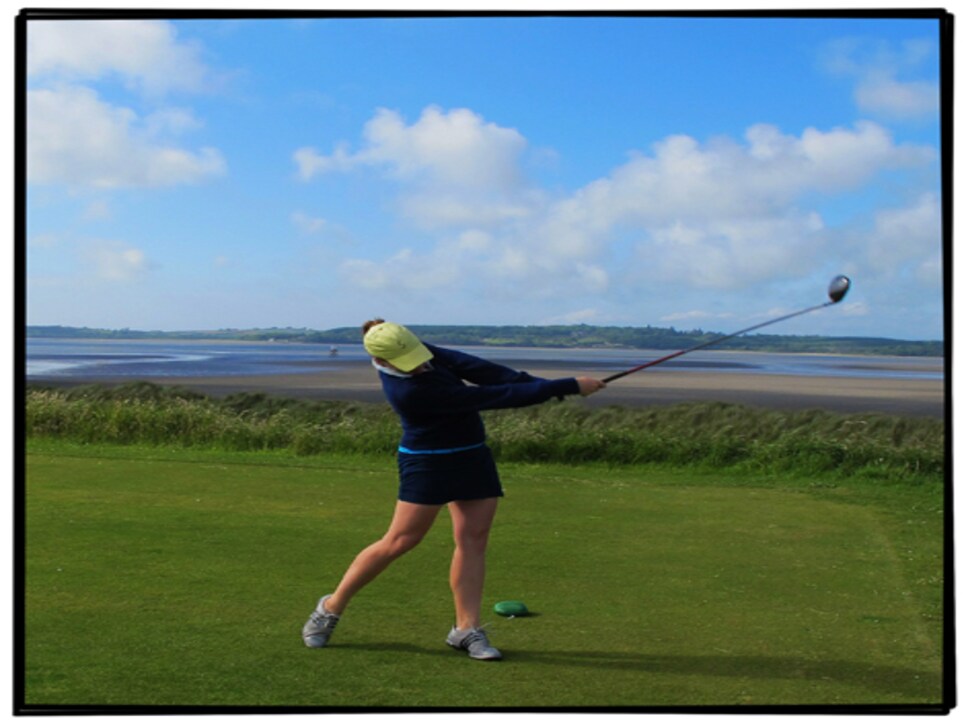 The 10th hole at County Sligo hugs a beautiful beach.
Anton Murphy, a member of 36 years, joined our group on the 18th hole and enlightened me with his wisdom: "Colt designed this course so it plays from left to right. If you hit it right, you'll need to hit high shots that get caught up in the wind. If you play up the left side, you can hit low, linksy shots and manage pars." Thanks, Anton, for sharing that on the 18th fairway.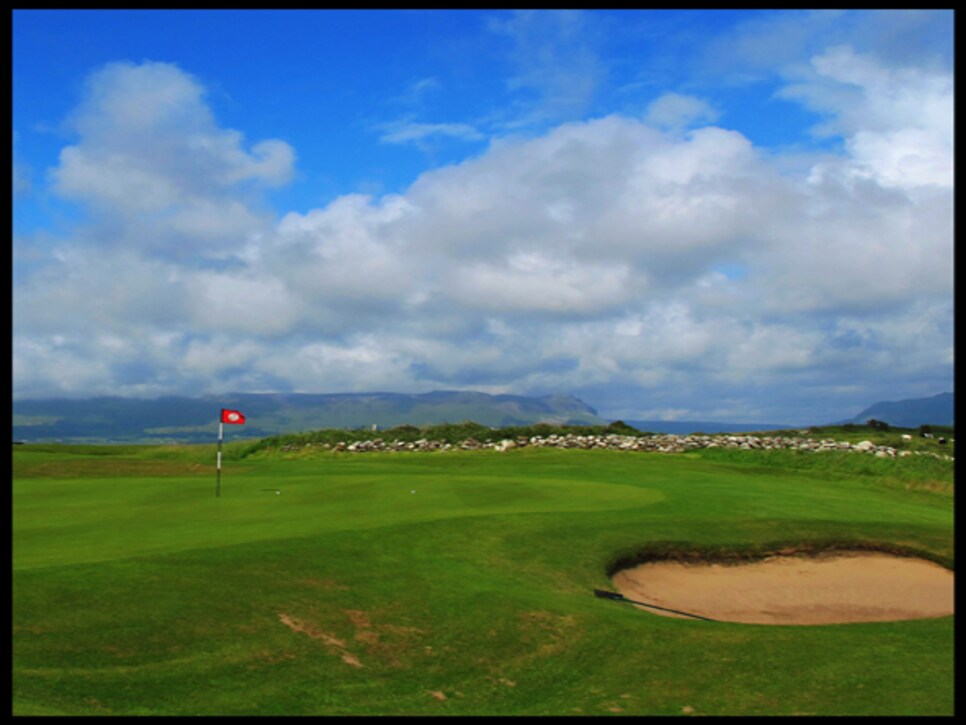 The ninth hole at County Sligo offers a view of Benbulben Mountain.
Donegal Golf Club at Murvagh ($110): The 7,440-yard layout (par 73) makes Donegal one of the longest courses in Ireland and Europe. While the vistas of many coastal courses can overwhelm the experience, the fairways of Donegal (and their many bunkers) demand all of your attention.
Standing on the tenth green, looking down the fairway.
The first five holes play on marshy terrain along Donegal Bay, and the remaining holes of the front nine run along the Atlantic. The back nine, which remains close to the ocean, features plenty of sand dunes and rolling terrain that are tricky to maneuver.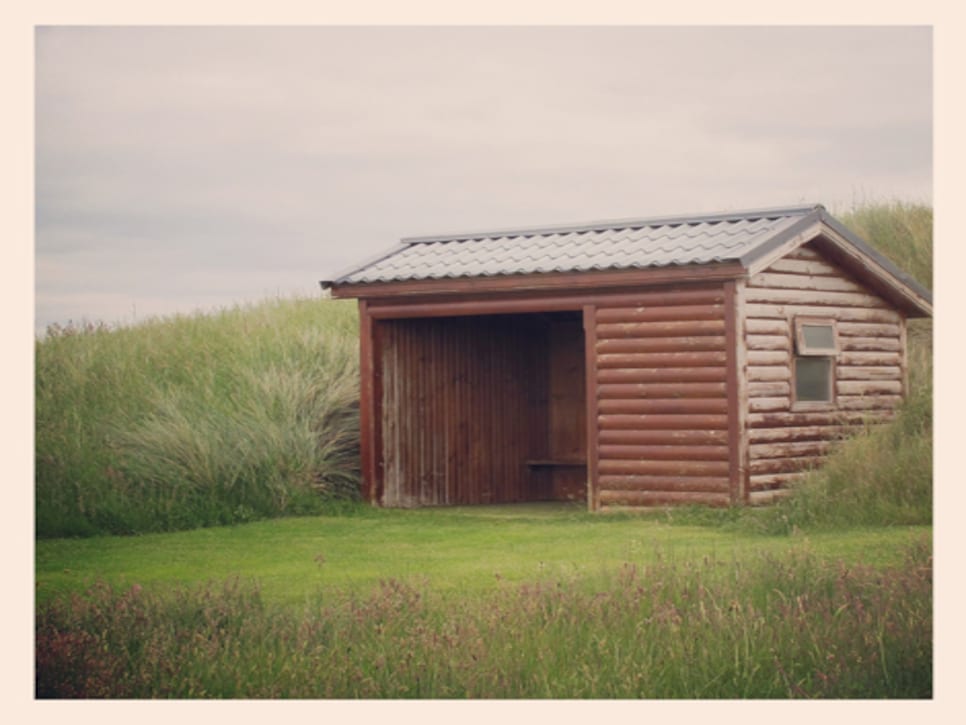 Tons of rain/wind shelters are scattered around Donegal Golf Club.
Unlike Sligo, which plays much easier down the left-hand side, trouble can exist on either side of a hole at Donegal. So Leslie Robinson, a Dongel pro, offered the following advice for keeping the ball in play: "You have to keep the ball low out here, and there's a very simple way to do so: take one extra club, grip down on the shaft and abbreviate your swing. It's that simple. Practice it a week before you get here, and you'll have fun."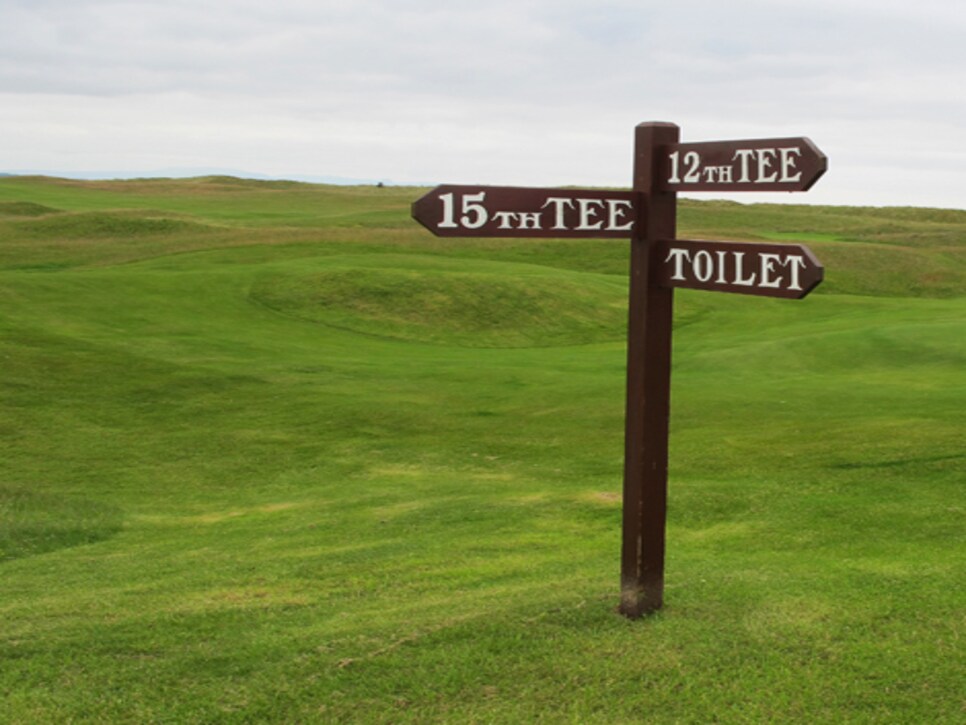 I wouldn't mind living with these three things alone.
Rosapenna's Old Tom Morris ($125)__: This course's back nine, referred to as the "Valley" nine, is among the greatest stretches of holes I've ever encountered. The nine-hole series is as close to an original Old Tom Morris design as you'll ever get, which is flat-out thrilling, and wide fairways make it fun. (Morris designed the "Valley" in 1893.)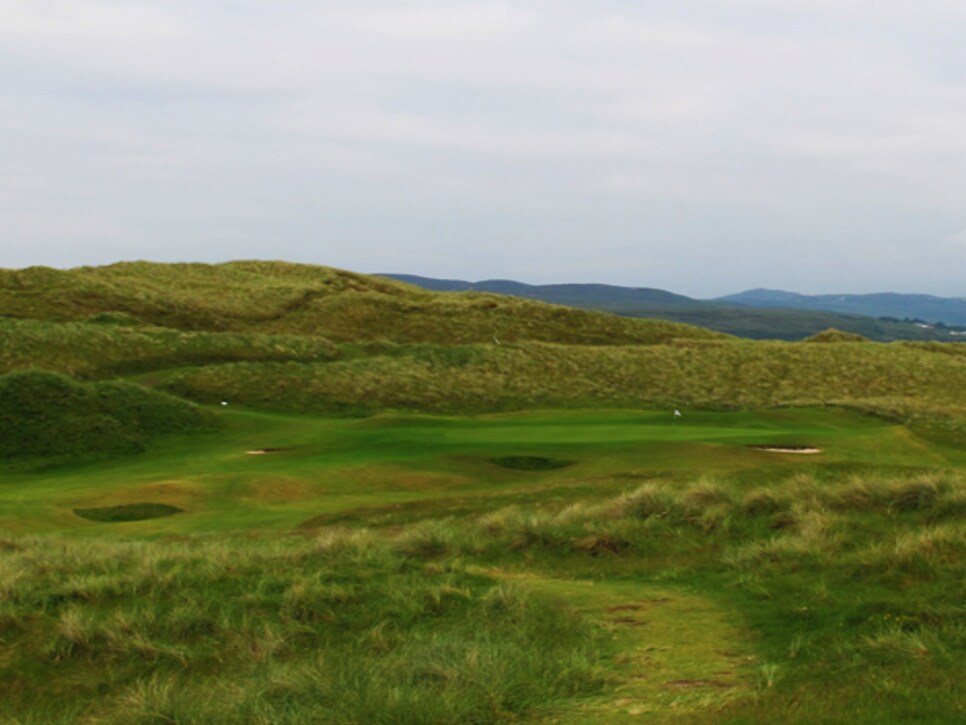 The breathtaking 14th hole at the Old Tom Morris.
Although the first few holes run alongside Tramore Beach, large sand dunes protect them from blasts of too much wind. Holes 16 through 18 head back to Rosapenna's large clubhouse and a bronze statue of the great Old Tom Morris, a beautiful reminder of how special these holes are.
Rosapenna's Sandy Hills ($125): The only modern links course I played (it opened in 2003), this track winds through large sand dunes that are dressed with marram grass. The naturally formed dunes transform the course into both a hearty walk and, since they make narrow fairways seem deceptively wide, a demanding challenge. My advice? Stay away from the 7,177-yard blue tees. The 6,383 white-tee yardage is plenty challenging. (Yes, even for you, Mr. Bomber.)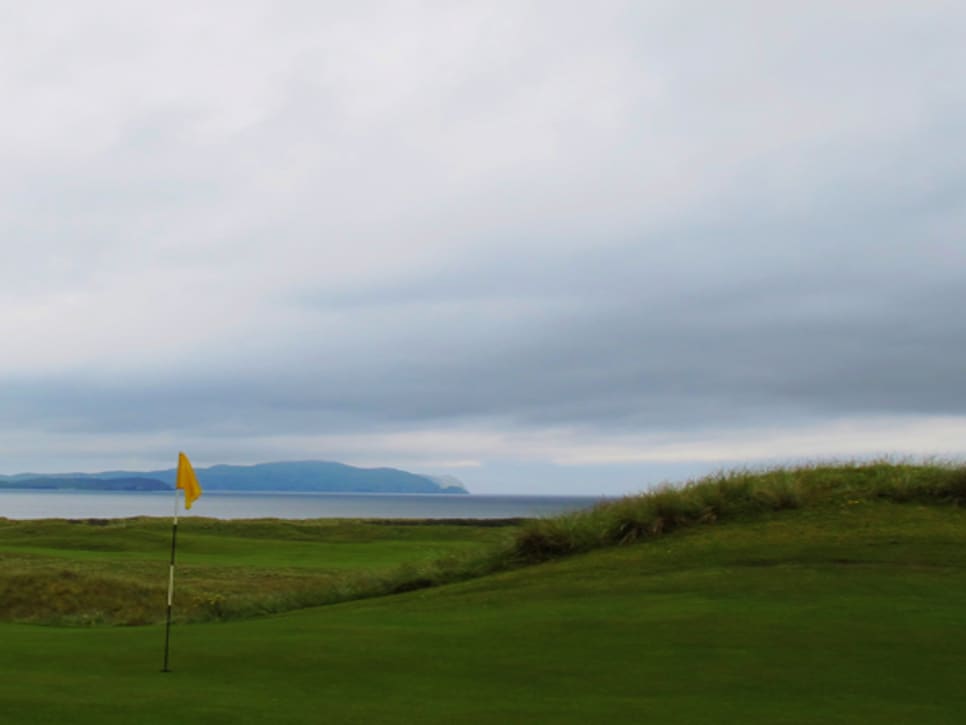 Standing on the fifth green at Sandy Hills.
Many tee boxes at Sandy Hills are elevated, offering views of Sheephaven Bay, then play down into lower fairways and, in most cases, up again to higher greens. Perhaps my favorite hole on the course is the par-4 fourth, a short dogleg right that requires premium placement off the tee and into the green. A close second-favorite hole, however, is the par-4 sixth, which is located on the southern tip of Sandy Hills. A drive over a ridge down the middle of the fairway exposes a stunning view of Tramore Bay and Muckish Mountain. It also initiates a dramatic stretch of holes that run inland, into a labyrinth of large dunes. Simply, perfect.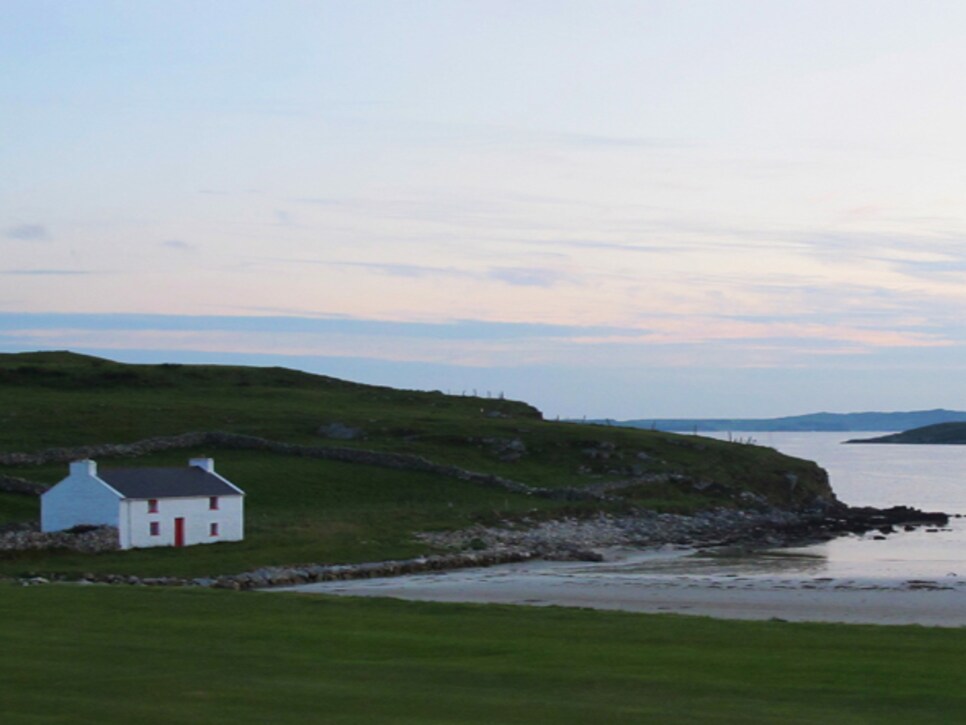 The view from my balcony at the Rosapenna Hotel & Golf Resort.
Royal Portrush, Dunluce Links ($250): This 7,143-yard course is among the most stunning I've ever experienced. Striking scenery and winding terrain make it a dramatic setting for golf, and since I played it during the Irish Open pro-am, it was in perfect shape. I also got to experience the energy of 14,500 spectators, most of whom were excited, knowledgeable and respectful.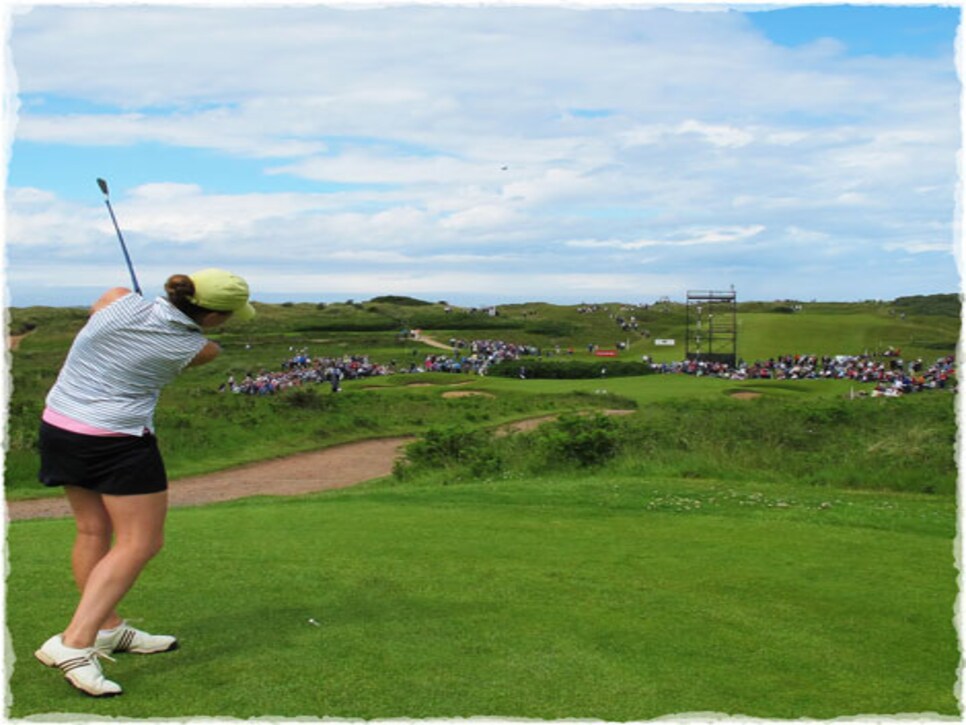 I played Royal Portrush for the first time in front of 14,500 spectators. (Not all of them were there to see me.)
More than a week after playing Portrush, I haven't forgotten a single contour. Among my favorite moments was teeing off the fifth hole, which plays downhill to a green that sits high above the beach. The approach into this green offers a view of Dunluce Castle (or, rather, the castle's 13th Century ruins), making it impossible to keep your camera in your golf bag.
Standing on the fifth green at Royal Portrush's Dunluce Links.
The halfway house, located just left of the tenth tee, houses an array of strong Irish whiskeys, which is perhaps the best way to prepare for the 14th hole, known as Calamity Corner. This par 3 demands more than 200 yards of carry -- any shot short or right is gone. Indeed, Bobby Locke intentionally missed left during all four rounds in the 1951 Open and made par every time. Smart man.
Often overshadowed when discussing Portrush is the club's second 18-hole track, the Valley Course ($75). Although I didn't get to play it, I saw a lot of it from the 14th green at Dunluce Links, and it truly looks like a hidden gem.
Royal Portrush hosted the 1951 Open Championship, and it's no secret that the club wants to host another Open. Since many consider last week's Irish Open a resounding success -- for the first time in European Tour history, tickets for all four days were sold out -- it seems Portrush has a good chance of achieving their goal. The first available date to host another Open Championship would be 2017.
The morning spectators began to gather around the 18th hole on Thursday of the Irish Open.
Ballyliffin Golf Club, Glashedy Links ($140): This 7,220-yard layout was the most challenging course I played all week. Located on the Inishowen Peninsula, the northern-most tip of Ireland, it plays alongside Pollan Bay and delivers a variety of wild weather.
The first hole instantly demands length and precision. A long, straight par 4 with a narrow fairway, all the yardage book can say is, "Keep it on the fairway from the tee and avoid greenside bunkers left to start with a par." Gee, thanks. The next two holes are just as long and just as demanding, with the first legitimate birdie chance coming at the short par-5 fourth.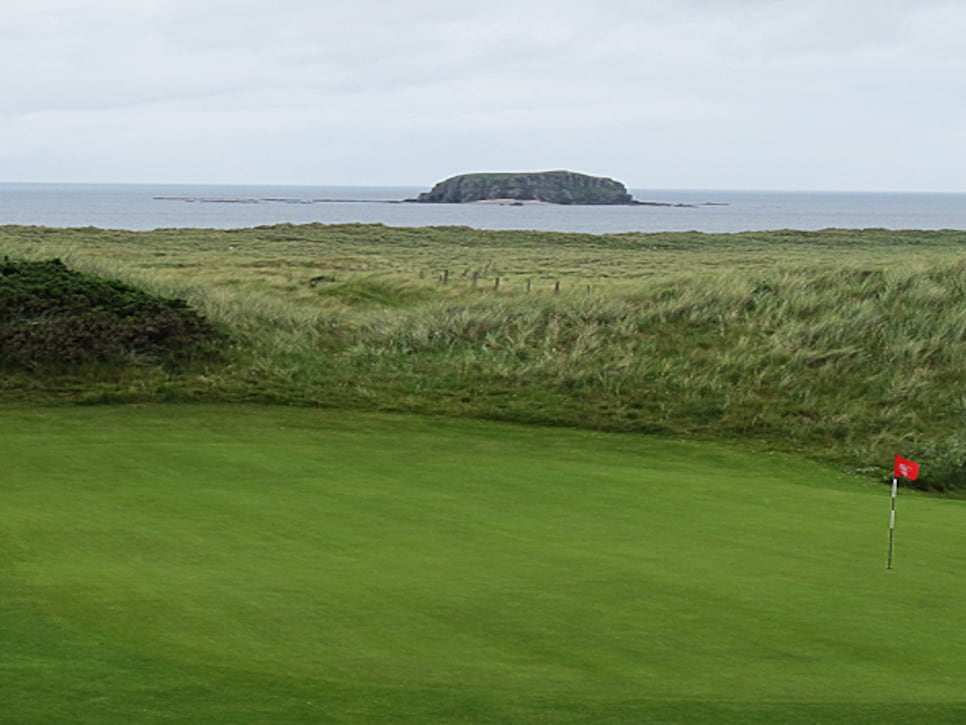 Standing on the fifth green.
The par-3 fifth offers the first view of Glashedy Rock, which sits about a mile off shore, in Pollan Bay. And since many holes are elevated high above ground, this rock remains visible from various spots throughout the round. It seems the highest point on the course is the seventh tee box, which sits at least 100 yards above the green.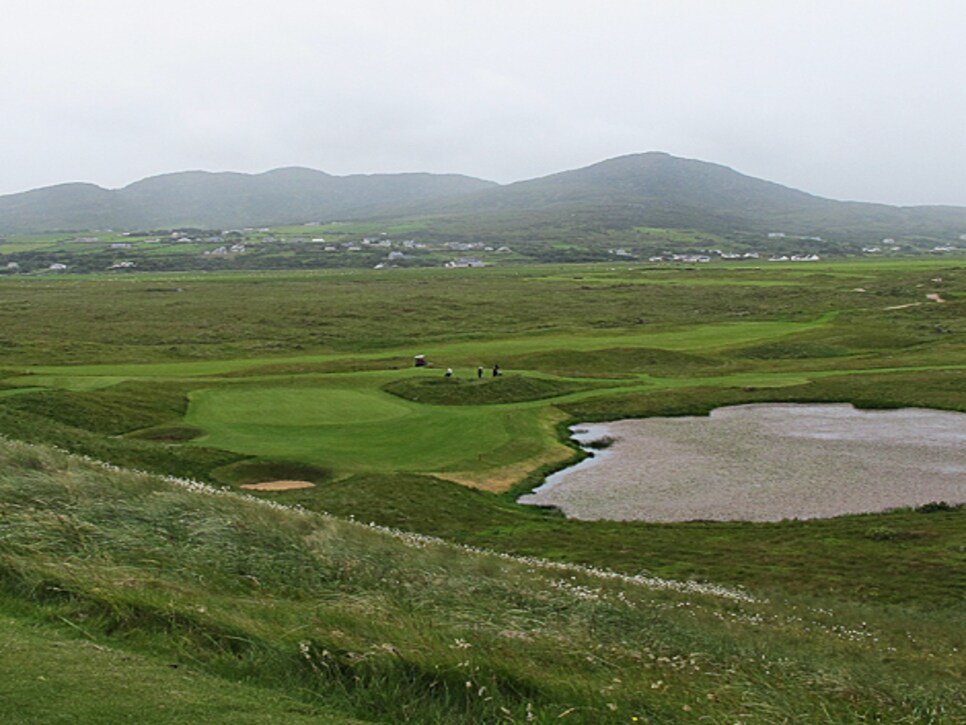 Standing on the seventh tee. It. Was. Raining. Hard.
The 18th hole is a short dogleg-right par 4 that bends through a corridor of grassy sand dunes.  And just as this final green is large and two-tiered, most greens on Glashedy Links play appallingly smaller than they appear.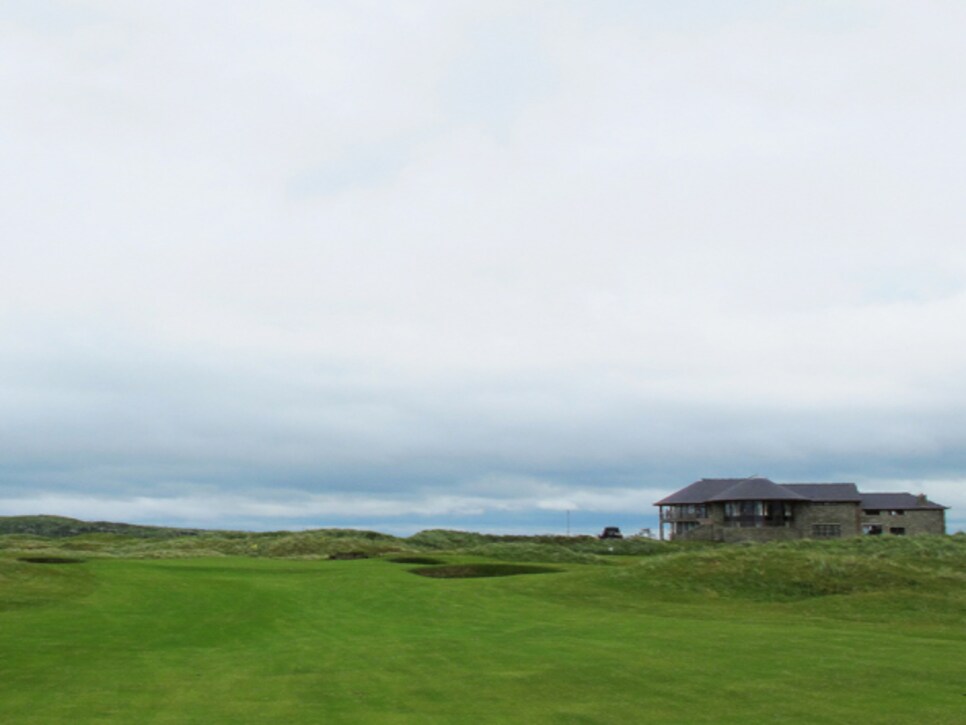 Approaching the 18th green.
Although I didn't play Ballyliffin's second 18-hole course, the Old Links ($125), I saw it from Glashedy a few times. While the fairways seem far more rumpled, they are wider and give way to more generous greens. It seems this gentler course provides relief on windy, rainy days.
It took me too many holes to learn the following: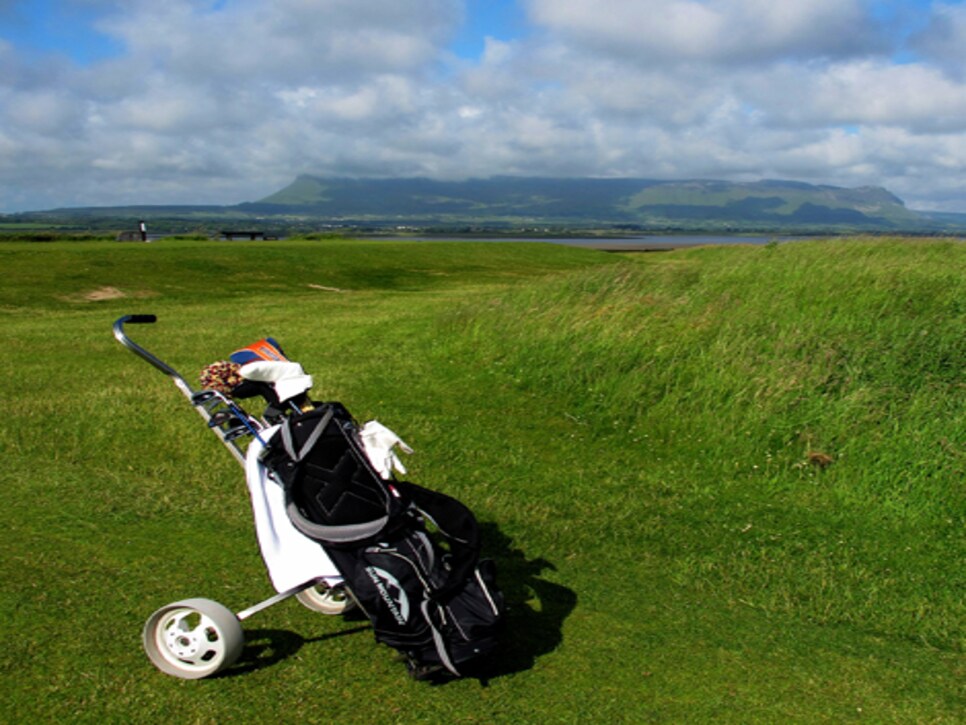 Surely, there are risks in flying more than 6,000 miles to play golf. But the complexities and uniqueness of the courses I encountered in Ireland exceeded my high expectations. The 99 holes I played gave me 99 reasons to ask myself: "Why did I wait so long to play golf in Ireland? And when am I going back?"