The Loop
The (almost) perfect 5-step plan for getting away with playing golf on your honeymoon
Let me start by saying I love my wife -- but she doesn't love golf. And that's fine. I'm new to this whole being married thing, but from what I've heard, it's good to have some separate interests from your spouse. So when I booked our honeymoon months ago, I curtailed my hopes of playing golf. Especially after deciding on a destination, St. Lucia, that has just one 18-hole course on the entire island. And even more so when it was not-so-gently hinted that this wasn't going to be my third golf trip of the summer. That's OK, I thought. Ten days without golf won't be so hard when you're staying in a tropical paradise with your lovely new bride. And it isn't.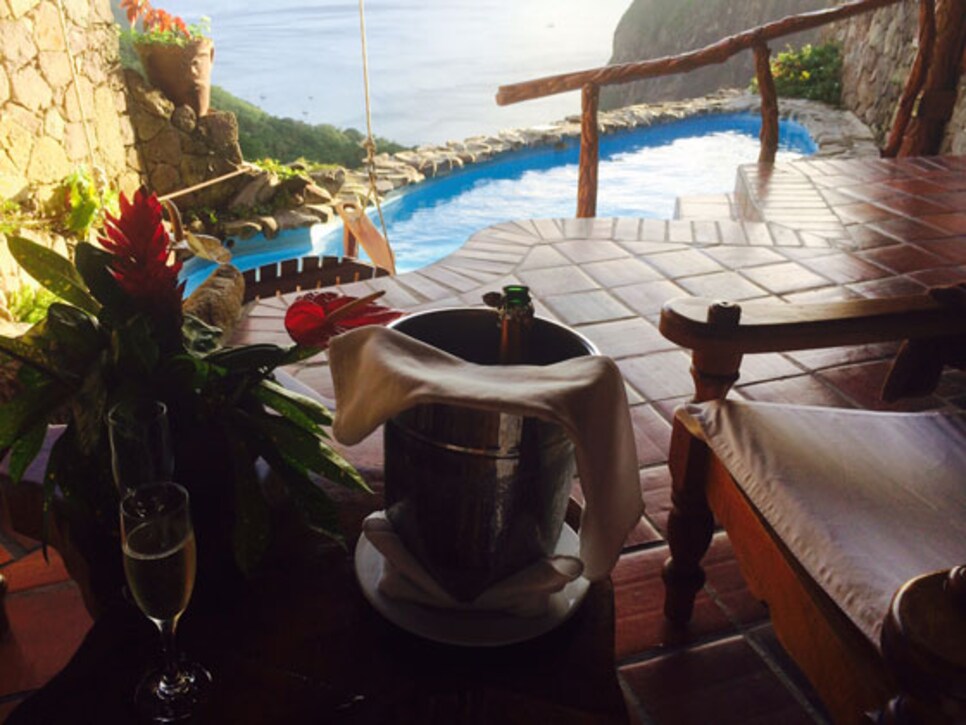 But what if you spent 10 days in a tropical paradise with your lovely new bride and one of those days included playing golf? Wouldn't that make the vacation of a lifetime even better?
If you find yourself in a similar situation with your honeymoon, here are the steps I took to subtly get golf in the mix. And it worked. Well, almost.
1. Take wedding photos in a golf cart
Don't wait until you're on your honeymoon to start this process. Get it going early, but don't be too obvious. Just because your significant other doesn't like playing golf, doesn't mean she won't like riding around in a golf cart. EVERYONE likes riding around in a golf cart. Since we were lucky enough to have perfect weather on our wedding day, Michelle and I took some photos on the golf course at our reception venue. Despite having already taken about 1,500 photos, we were both re-energized by the change in setting and from the first push of the pedal, Michelle kept talking about how fun it was to zip around in the cart. Seed planted. This is important because above all, including your spouse in the honeymoon golf -- even if she's literally just along for the ride -- is the key to getting to play honeymoon golf and ensuring she won't request a seat change on the flight home.
2. Spend a lot of time at the beach
Even if you're not the biggest fan of the beach like myself, this is not very difficult. Basically, you just relax. And if you're at a nice place, the beach is easily accessible and not crowded. More importantly, if going to the beach is something your spouse likes -- and it probably is since most people love going to the beach as much as golfers love playing golf -- she'll appreciate it and be more apt to do an activity of your choosing.
3. Treat yourself to a couples massage
Again, not difficult. I'd never had a massage before, but I quickly learned I -- in particular, my shoulders -- had been missing out. And apparently, all a "couples massage" means is you and your significant other get a massage in the same room. This makes it a "romantic" experience even though you totally forget about anyone else the moment the masseuse digs her glorious hands into your back. Speaking of romance. . .
4. Treat yourself to a candlelight dinner on the beach
This shows thoughtfulness. It shows sensitivity. It shows you're willing to spoil your spouse. And again, the beach. They LOVE the beach.
__5. Do a bunch of activities
__ This was pretty easy since we spent most of the trip at a Sandals. We visited a volcano. We checked out a waterfall. We ate. We went snorkeling. We played ping-pong, pool and shuffleboard. We ate some more. We went on a boat tour. And we even went on a shopping tour. Make it clear you want to experience everything your destination has to offer. Why? Because subconsciously, she'll realize golf is part of that complete package.
After signing up for that shopping tour, it was Michelle, not me, who brought up golf. Would I want to? I played it cool. "No, we don't have to." Are you sure? "Well, it might be fun . . . remember how much YOU liked riding in a golf cart?!" Boom. I even sweetened the deal by suggesting we make dinner reservations at a nice restaurant near the course for after. At this point, Michelle was practically begging me to go play golf. So we moved some activities around, found a day this would work and set it up. I had pulled it off!
When the big day came, we boarded the shuttle to the Sandals with a golf course and . . . the rain came. And then it rained some more. And even more. By the time we pulled up to the course, it was flooded. Thanks, Mother Nature. If you're able to control the weather, Step No. 6 is to make sure it doesn't rain the one day you plan on playing golf.
Things didn't get better. Away from our resort and now stuck inside waiting for a dinner reservation, what did we do? Michelle found a "Sex and the City" trivia game to keep us occupied. I wish I was kidding.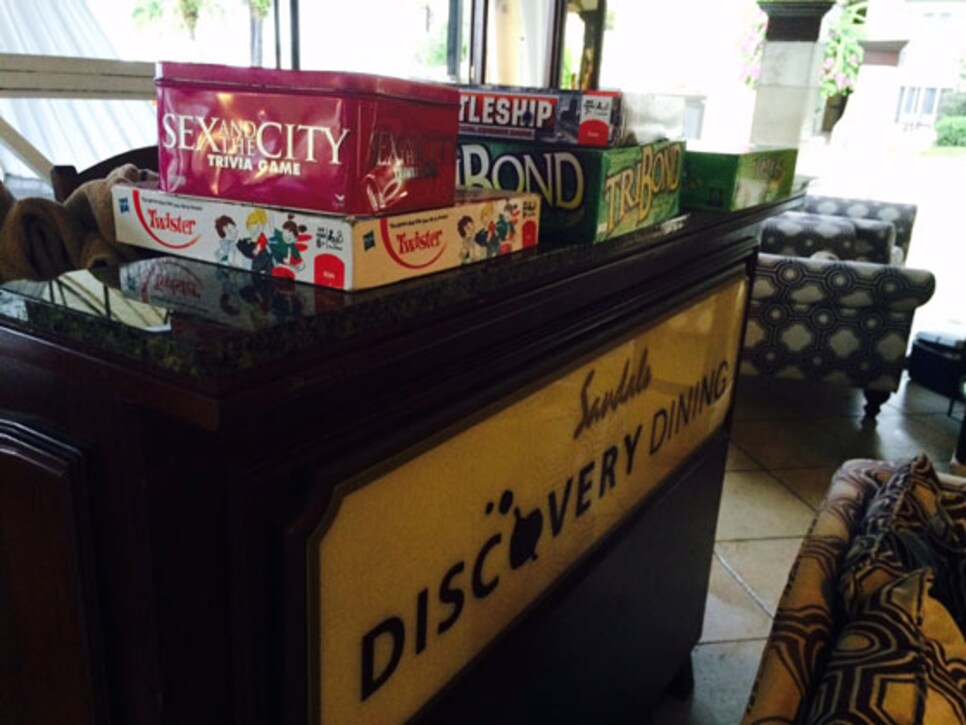 Yep, in what can only be described as a disastrous turn of events, we played a "Sex and the City" trivia game on our honeymoon instead of playing golf. Well, we "played" it, I should say. This was a more one-sided activity than the golf would have been. On the bright side, my brilliant plan should have worked. And you have to figure playing that game earned me at least an extra nine holes on our next trip, right?