The Loop
Tracking Tiger's third round
AUGUSTA, Ga. -- A popular theory about Tiger Woods' self-imposed hiatus is that his aura would dissipate upon his return. The thought already seems ludicrous.
Shortly before 2:20 Saturday afternoon, after Woods' swing coach Hank Haney and caddie Steve Williams emerged from the clubhouse door and headed toward the putting green, a path formed in their wake, all in anticipation of seeing Woods shoot through the same door and travel the same route. There were no ropes, but there might as well have been, and for several minutes, a path some 100 paces long from the door to the green sat untouched, waiting for Woods.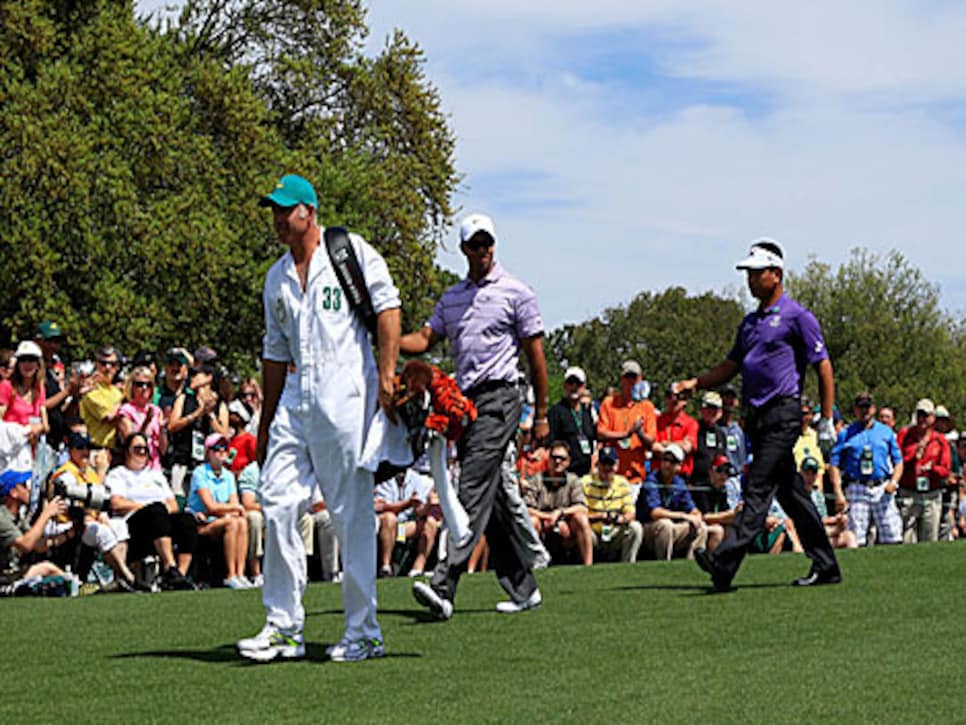 Finally, Woods appeared, wearing sunglasses and a lavender shirt, with the crowd offering a gentle applause as he made his way to the green. He struck his first putt from 45 feet and watched it stop on the lip, then watched the next putt from the same spot dive into the hole.
Apparently, this week really is all about second chances.
Moments later, Woods was on the tee alongside K.J. Choi, ready to begin his third round of the Masters. Will he be another step closer to history when it's over? Stay tuned.
Update, 2:42 p.m.:__ Woods wasted no time making a statement. After sending his opening drive to the left side of the fairway, he dropped his approach to 20 feet. At first his birdie putt appeared to hang on the lip, but it disappeared at the last moment. Woods pumped his fist in celebration and moved to within a shot of the lead.
__Update, 3:09 p.m.:__Failing to build on the momentum, Woods sends his drive into a fairway bunker and is forced to lay up as a result. He sends his third shot to 14 feet, but misses the birdie putt. At seven under, he is now two shots behind Lee Westwood.
__Update, 3:18 p.m.:__After a disappointing par on No. 2, Woods drains a 30-foot left-to-right swinger on No. 3 for birdie to move to 8-under and into a second-place tie with Phil Mickelson and Ian Poulter.
__Update, 3:44 p.m.:__Woods gets up-and-down from the front fringe on the long, par-4 fifth, making a downhill 10-foot curler for par to remain at 7-under.
Update, 3:49 p.m.: __Woods makes his first verbal bogey of the week, or at least the first one we've heard. After sending his tee shot left of the pin, Woods unleashes a string of profanities that are picked up by a CBS microphone. For a guy who vowed to show more respect for the game, he apparently suffers a relapse.
Update, 3:54: It gets worse. Woods sends his birdie putt racing past the hole, leaving himself 15 feet for par. His attempt squeaks by, dropping Woods back to six under.
__Update, 4:10 p.m.:__Woods makes another bogey when his five-footer for par slides by on the low side. After the hot start, he is now 1-over through seven holes and 5-under overall.
__Update, 4:24 p.m.:__Woods rights the ship for the moment, making a four-footer for birdie on the par-5 eighth. He gets back to even for the round and 6-under overall.
Update, 4:46 p.m.: A pushed drive, but a valiant recovery from out of the pine straw. Woods knocks his approach to 20 feet below, but as soon as soon as he strikes his birdie putt, he begins walking after it. Woods remains five shots behind Westwood at the turn.
__Update, 4:54 p.m.:__We appear to be seeing our first signs of rest, or mental fatigue, or whatever you want to call it. On 10, Woods misses his birdie putt by five feet, then misses that one as well for his fourth bogey in six holes.
__Update, 5:15 p.m.:__Woods saves par on both No. 11 and No. 12. On 11, he two-putted from 50 feet and on 12, he found the front bunker, but got up-and-down to remain at 5-under.
__Update, 5:32 p.m.:__Woods makes a two-putt birdie on the par-5 13th to get back to even on the day and 6-under overall.
__Update, 5:43 p.m.:__Woods may have fallen back, but he is by no means out of it. On No. 14, he hit his approach to three feet behind the hole and then raked in the birdie putt to move back into red figures for the day.
__Update, 5:59 p.m.:__Woods hits it over the green in two on No. 15, but gets up and down by draining a slippery 10-footer for birdie. With three straight birdies, Woods is now back to 2-under for the day and 8-under overall.
__Update, 6:10 p.m.:__Woods narrowly misses his third straight birdie on No. 16 when his 25-footer slides by the left side of the hole. He remains at 8-under, currently three shots behind co-leaders Phil Mickelson and Lee Westwood.
__Update, 6:27 p.m.:__Woods makes an untimely bogey to stop his momentum. After a wayward drive, he scrambles to set up a 10-foot par putt, but lips it out on the high side to fall back to 7-under.
__Update, 6:42 p.m.:__Woods rebounds by flagging his approach on No. 18 from 175 yards to three feet. He holes the putt for a closing birdie to shoot a second-straight 2-under 70 and heads into the final round at 8-under.
(Photo by Getty Images) *