The Loop
Track all the action from the final round of the 2015 Masters
Tiger says he popped his bone back in after injuring it on the ninth hole?__
__This is so Tiger. Finishing up his round and mystifying the golf world by saying he popped his bone back in after injuring his wrist at the ninth hole?
Here's the exchange he had with CBS' Bill Macatee in his post-round interview:
Tiger: "I felt my bone pop out. The joint kind of went out of place but I just put it back in."
I just performed minor surgery, no big deal. Just went behind a tree and replaced the wrist bone with some extra tail bone.
Tiger Woods on his injury: "I popped it back in." Apparently, he's a 14-time major champion and a chiropractor. Amazing.
"A bone popped out but Mr. Miyagi rubbed his hands together really fast and I was able to keep playing."
The most animated the media center has been all day is in reaction to Tiger talking about his bone popping out. Classic.
Think tiger fist bumped a kid on the way to 10 tee to pop the bone back in. #bigcat
Jordan Spieth is closing in on the scoring record
__After a birdie on the par-5 13th, Jordan Spieth got his score for the tournament to 18 under. If he holds on, he'll match the scoring record set by Tiger Woods in 1997. If he birdies one of his final four holes, which seems likely considering how he's playing, he'll reset the record.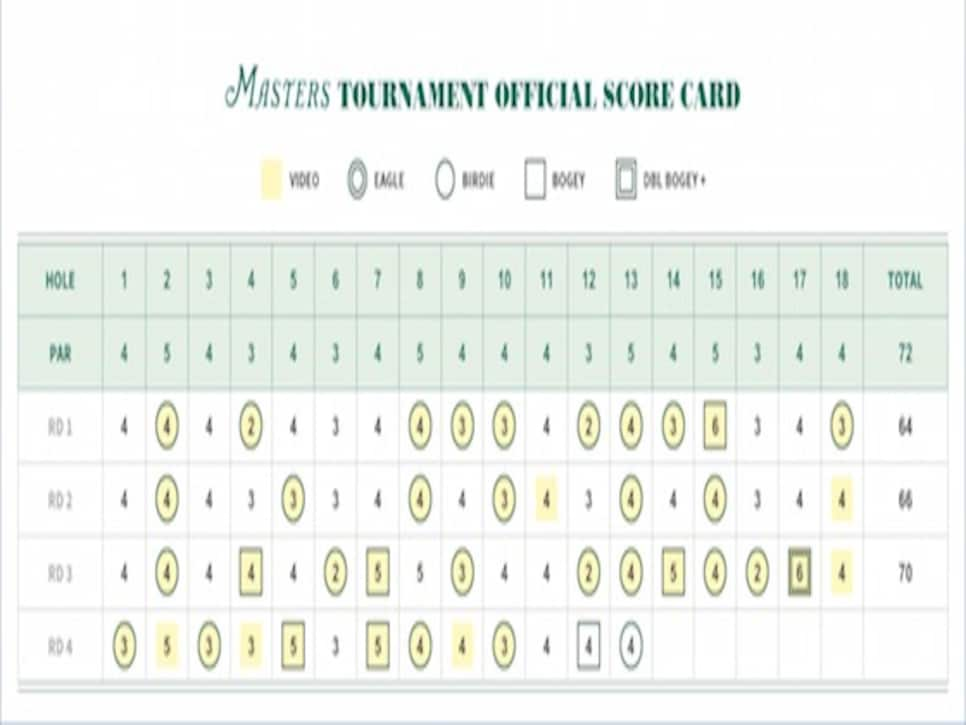 Start the Tiger Woods injury watch, thanks to tree root at No. 9
__We almost got through 63 holes without talking about an injury affecting Tiger this week.
Then a tree root got in his way.
The 14-time major champion connected with a tree root on his approach shot from the pine needles on No. 9. Sounded like it really hurt.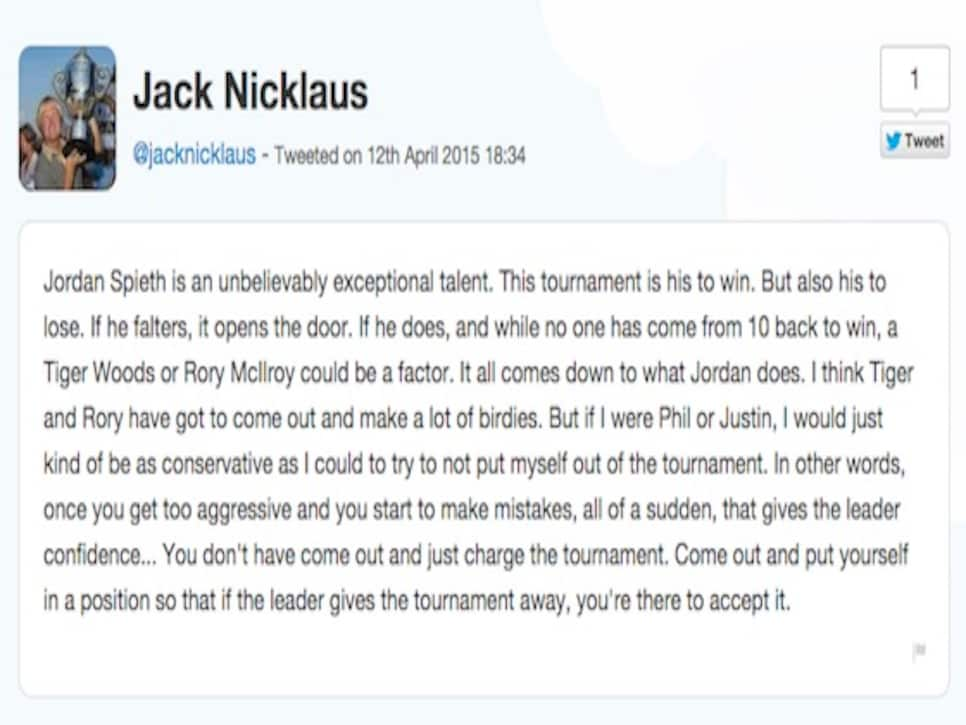 Tiger hit a weak 3-wood out to the right on the 10th hole. Pretty good evidence this wrist injury won't be easy to shake off today. Injury watch is officially back for Tiger.
The Jordan Spieth-Justin Rose group is a birdie-fest so far__
__Thought a par on the par-5 second hole had Jordan Spieth looking rattled? Think again.
It's a four-shot lead once again for Spieth after a 17-foot birdie putt at No. 3. Justin Rose has now started birdie-birdie-par and hasn't gained anything on Spieth today. Amazing.
**Update: They both just parred No. 4.
Jordan Spieth's so rattled by sleeping on the lead that he's birdied two of the first three. Just wait until he regains his composure.
That makes 24 birdies in 57 holes for Jordan Spieth. He's birdied 42.1% of the holes around Augusta National so far.
To think Spieth would still be in school is crazy. Now he's schooling the greatest players of this generation.
With every player on the course, now seems an appropriate time to run through a crackpot theory i've been hawking for a while: Phil Mickelson has won five majors, and during those majors he's gone visor-hat-visor-hat-visor. Mickelson has made a big deal about the color of his shirt recently, but he's missing the point. As long as he wears a hat, he has a chance.
It's not about the shirt. Phil's won his majors going visor-hat-visor-hat-visor. Needs a hat in a big way tomorrow. pic.twitter.com/i3naZwDJKj
— Luke Kerr-Dineen (@LukeKerrDineen) April 11, 2015 And in case you were wondering, Lefty showed up wearing a hat on Sunday...__
Yea, he's still a beast.__
Rory's tee shot on No. 1 went 352. His drive on No. 2? 357.
Jack Nicklaus offered his take on what the players need to do to catch Spieth on Sunday. Guys: might be a good idea to listen to the six-time Masters winner.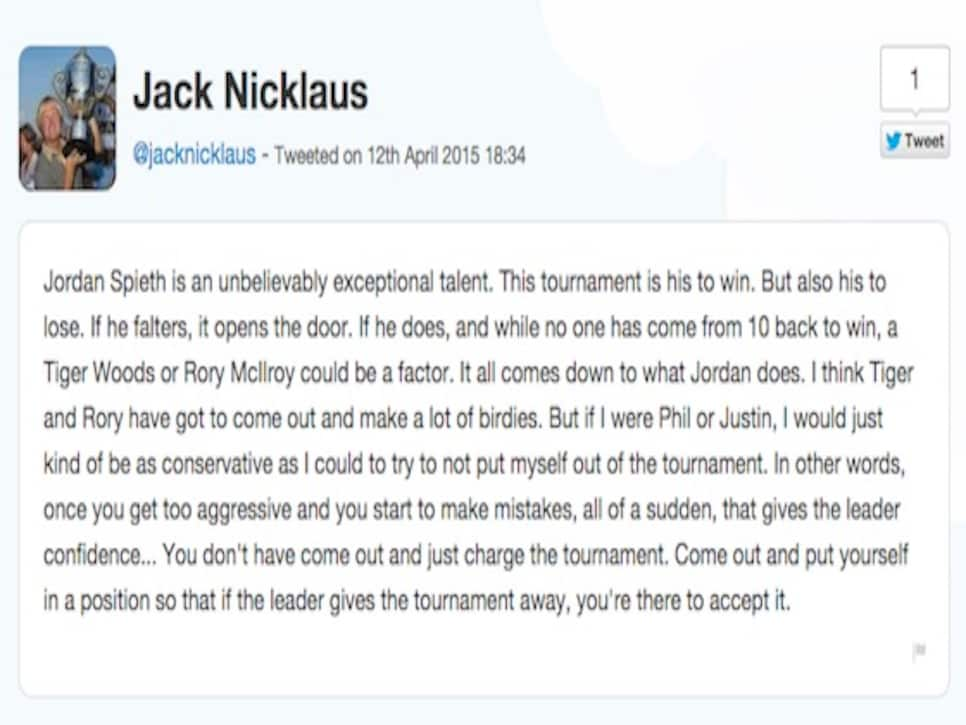 This guy is pulling out all the stops for Masters Sunday.