News
TPC Sawgrass viral photo of a submerged Island Green is a fake
During the aftermath of Hurricane Harvey, Jesse Watters of Fox News ran a photo on "The Five" of a shark roaming down a Texas freeway. "I've seen some amazing things out there just looking at television over the weekend ― alligators on people's back doorsteps," said Watters. "I saw a shark on the highway swimming in the water." It became national news, but not for the right reasons: the photo Watters and the channel ran was fake.
We get it. Thanks to the continued evolution and improvements of programs like Photoshop, creating life-like illustrations are easier than ever. And for all of social media's marvel, it's as disorderly as the Old West, creating a veil of ambiguity that allows charlatans to pass as trusted sources. Worse, with a 24/7 need for content, fact checking often falls through the cracks.
Which could explain why this photo of TPC Sawgrass' famed Island Green made the rounds on Twitter, Reddit and even a few major websites and news stations on Tuesday: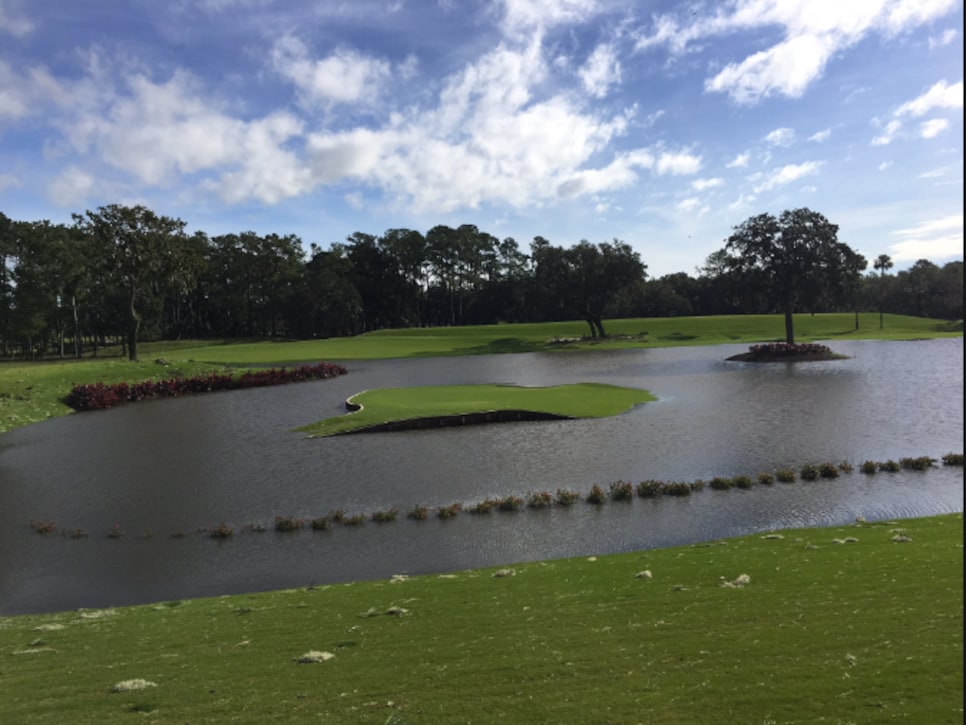 One slight problem: it isn't real.
We thought something was amiss, as Golf Digest's Alex Myers remembered a similar photo made the rounds after Hurricane Matthew. Moreover, the photo shows a clear sky in Ponte Vedra Beach; it hasn't been sunny in the area for a week. Also, the photo's original origin? A "SawgrassTPC" Twitter handle, which is decidedly not "TPCSawgrass."
For proper verification, we reached out to the good folks at TPC Sawgrass, who assured us that, at this time, no images of the damage have been taken. Here are their additional comments:
TPC Sawgrass was impacted by the storm and has initiated cleanup efforts across the property. We will provide a full assessment and updates as we progress, including tentative re-opening dates as they become available. Tournament officials are optimistic that there will be no major impact for THE PLAYERS Championship in 2018. For the most up-to-date information, please follow us online at TPC.com/Sawgrass, as well as on social media. We appreciate your understanding and patience during this difficult time and look forward to reopening as soon as possible.
There you go. Here's hoping for a safe and quick recovery for the course, and more importantly, those in all communities affected by the storm.