The Loop
Tour Wife Diary: Having a PGA Tour event in your backyard isn't as easy as it sounds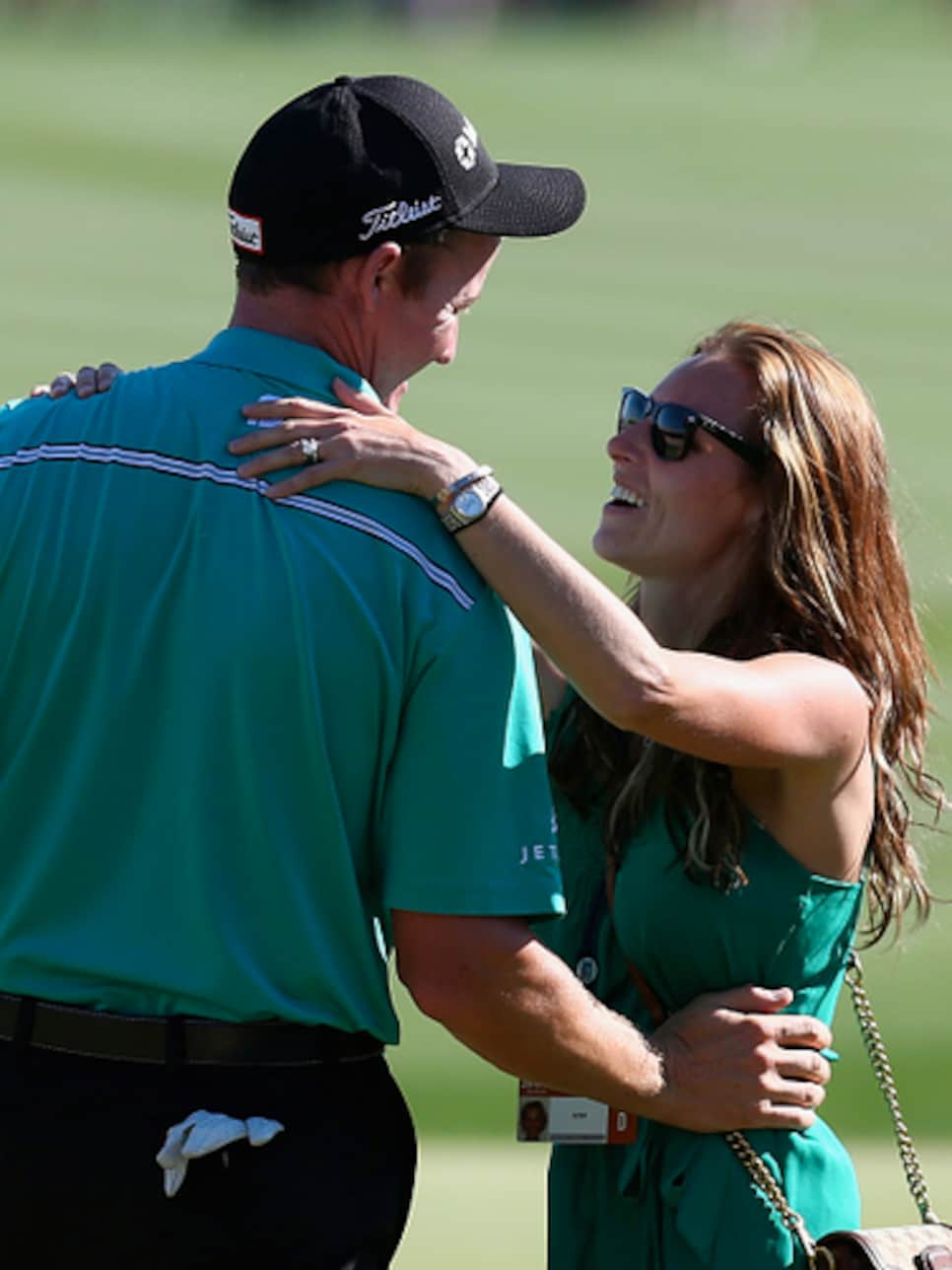 Erin Walker is the wife of PGA Tour winner and Ryder Cupper Jimmy Walker. Erin shares her perspective of life on tour through her popular Twitter handle, @tourwifetravels, and she's taken the time to tell us all about her family's fun, but hectic week during the Valero Texas Open.
We travel 30 full weeks a year. That's 30 weeks in different cities, different states, different beds, different pillows. But for one week a year we get home court advantage, if you can call it that, for the Valero Texas Open.
Being home in Boerne, Tex., is not routine for us. It comes with a whole different set of challenges. It's a delicate balance of entertaining friends, family, players and sponsors, attending events and trying to keep Jimmy, who is the defending champ, rested and ready for golf. Last year we had a big champagne and pizza party after Jimmy's win. We are hoping to repeat that this year except I have to take our oldest back to the dentist at 7 am Monday morning. Life just keeps moving when we are at home!
For example, on Monday night we attended Game Night hosted by the PGA TOUR Wives Association and the Valero Texas Open. The night benefited charities in the San Antonio area as well as the Wives Association and for a first-time event, it was a great success. For us to be able to hop in our own car, drive to town and attend an event, and drive home is great. Funny enough, we were the tardy ones because as everyone with a family knows, you are pulled in a million different directions when you are at home, especially when you are about to walk out the door!
On Tuesday night of tournament week, it has become an annual tradition for us to host the Titleist staff for dinner (fajitas and margaritas) at our house. Titleist has been Jimmy's longtime equipment sponsor and we wanted a way to thank them for all their hard work and everything that they do for us. We built a house two years ago in Cordillera Ranch and it's fun for us to be able to welcome people into our home.
On Wednesday morning, Jimmy got up and relaxed with our 3-year-old son Beckett while I took our older son to a dentist appointment. I assure you, this is not normal for us during a tournament week and definitely not during a pro-am morning. We coordinated schedules and he was walking out the door as our son and I were walking back in. A quick kiss, a high-five and off he went to play a rain-shortened pro-am and do some last minute adjusting to his game before the real golf starts on Thursday.
My parents are in town from Utah. We have plenty of room for them and they are a huge help with the crazy week. We have a big chipping and putting area in the back of the house and we sit out at night and hit balls on to the green. It's fun and relaxing and the dogs retrieve the golf balls.
With Jimmy being the defending champion and the "hometown boy," there are a lot of expectations for the week. We are all trying to manage those expectations the best we can. And as we both have learned, no expectations are usually the best.
He is excited for the week and for the chance to play in front of the local fans. We usually end up getting a huge stack of tickets from the tournament - about 100 or so - and by the end of the week we are all out. We hope the rain stays away and at the end of the week our name is atop the leader board on Sunday, but no matter what, it's going to be a great week because we get to spend it with people we love -- at home.