The Loop
Tour pros celebrate Gary Player's 82nd birthday by making the rest of us look incredibly unathletic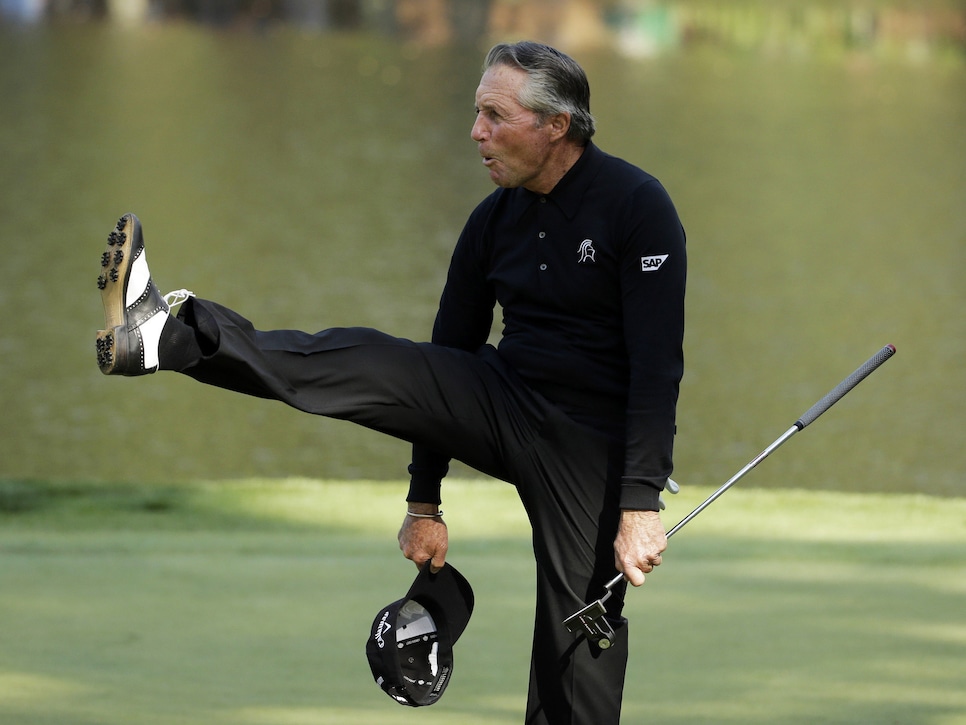 Chris Carlson/Associated Press
It was Gary Player's 82nd birthday on Wednesday, or as I like to call it the day most of the golf public finds out how physically unfit they are (me included).
As has been the case the past few years, Players' PR group has been encouraging fans of the Black Knight to offer their "Happy Happys" to Gary on Nov. 1 by planking for 82 seconds. I'm all for honoring Player, who I have had the pleasure of talking to on a few occasions. (We had—warning: gratuitous occasion drop—breakfast at the Masters last April, where he shamed me without even knowing it into passing over a bagel for some yogurt and fresh fruit.) However, here is my problem with this whole campaign. While he keeps staying fit as he's getting older, the rest of us aren't, and then each year we have to add one more grueling second to that once-a-year gut-busting planking routine. Maybe Gary can put a cap on this thing at 85 because we all know he's going to live well past 100 and I'm not entirely sure I can do anything really for 100 seconds.
Of course, golf actually has tons of athletic people in the sport who can pull off Mr. Player's request will little trouble. We've collected a smattering of these social-media posts to guilt us back into the gym honor their efforts.
Here's Rory, bad back (?) and all:
Martin Kaymer gets in the act.
We always knew Camilo Villegas' little pinky could do 1,000 pushups on its own, so this is no surprise.
Fellow Gator Billy Horschel stopped mourning the loss of his alma mater's football coach to offer his well wishes.
The guys weren't the only ones having "all the fun." Here's Lexi Thompson.
Props to Blair O'Neal for finding a more novel setting than a gym to tip her cap.
Rising LET player Carly Booth gets into the act too.
No truth to the rumor that Gregory Bourdy was told this would help him get on the European Ryder Cup team.
And even a "fellow" senior (and his dog!) got in the act in Scott McCarron.
Quick question: Will all this planking help me do the patented Player kick move? That's the feat of Player's athletic prowess that still boggles my mind.