The Loop
Tour players come out to support ALS at Travelers Championship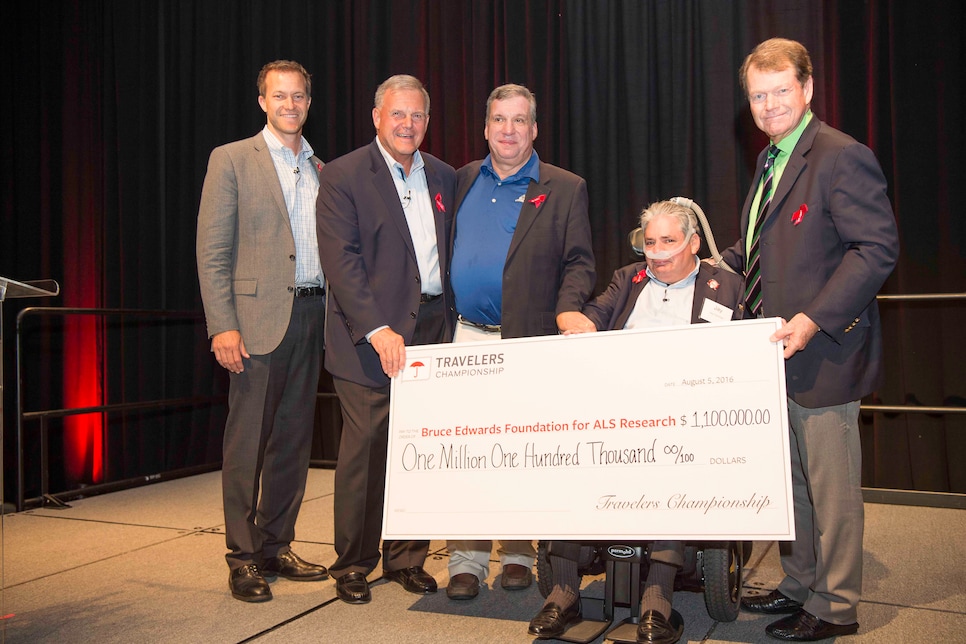 HARTFORD, Conn. -- One by one they came. Bubba Watson. Matt Kuchar. Zach Johnson. Jim Furyk. Padarig Harrington. Hunter Mahan. Too many to name them all. Caddies, too.
Never mind that tee times had been moved up the following morning at the Travelers Championship because of impending bad weather. Tour players can be a fickle bunch, particularly in the face of their routine being re-routed, but it didn't matter on this night.
Jason Day, Rory McIlroy and Dustin Johnson aren't in the field, but they provided signed pin flags to be raffled off. PGA Tour Commissioner Tim Finchem, Hall of Famer Tom Watson, CBS' Jim Nantz, Connecicut Gov. Dannel Malloy and best-selling author John Feinstein, who emceed the evening, were also on hand.
The words were emotional but the actions spoke louder, a show of support for a man who has been afflicted with a crippling disease, even if that man insisted the $10,000-a-table dinner wasn't about him.
Travelers executive chairman Jay Fishman was diagnosed with amyotrophic lateral sclerosis, better known as ALS, in 2014. The 63-year-old whose company helped save a dying tournament a decade ago is mostly confined to a wheelchair to get around these days and in need of a non-invasive air ventilator to help him breathe, but what his body can't do (simple things like being unable to scratch his head when it itches, for example) he makes up for in spirit and drive.
"Other than a little touch of ALS, I'm doing great!" he cracks before sitting down with Tom Watson prior to dinner.
Watson, whose longtime caddie Bruce Edwards died from ALS in 2004 and has a foundation of the same name that was the host of Friday night's event, said it was a "somber evening."
To everyone but Fishman that is.
In between well wishes Fishman was checking his phone for scores of the tournament to see what the cut was, noting how bunched the leaderboard was and how much of a shootout the weekend would be. A few minutes later, Watson was telling him what a raw deal he got. Nonsense, Fishman insisted.
"I met plenty of patients in their 30s and 40s, young kids," he said. "They got a raw deal. This is how mine comes to an end. But it has been a real full ride. I don't have anger. I swear to you I don't.
"You stay engaged or you stay in bed. That's it. There is no alternative. I've got a lot of people helping me stay engaged. The disease stinks. It really does. When you get past that, what are you going to do with your time? And how are you going to make it worthwhile?"
In that department, Fishman has, with the help of the Travelers Championship, Bruce Edwards Foundation, the tour and others, done more than just "carry on," a phrase Edwards used throughout his career that was resurrected Friday night.
Friday night's dinner brought in more than $1.1 million in less than a year, which included $100,000 donated by Bubba Watson earlier this week. And as Fishman noted, it's not just about the amount of money raised but where it goes and how it is spent -- the Packard Center at Johns Hopkins, where more than 150 scientists from Johns Hopkins, other universities and biotech companies from around the world have taken a collaborative approach to research to help find a cure for the incurable.
"To have this kind of event held in Bruce's honor, raising money that will help us treat and hopefully beat ALS, is inspiring," Tom Watson said. "Bruce would be very proud of what we've been able to accomplish, coming together and putting the focus on finding a cure for such a terrible disease."
And in turn everyone was proud of if not inspired by Fishman and the way he has dedicated himself to the fight. Carry on, indeed.