Equipment
Tour Edge Exotics EXS Pro metalwoods come 'straight from the tour'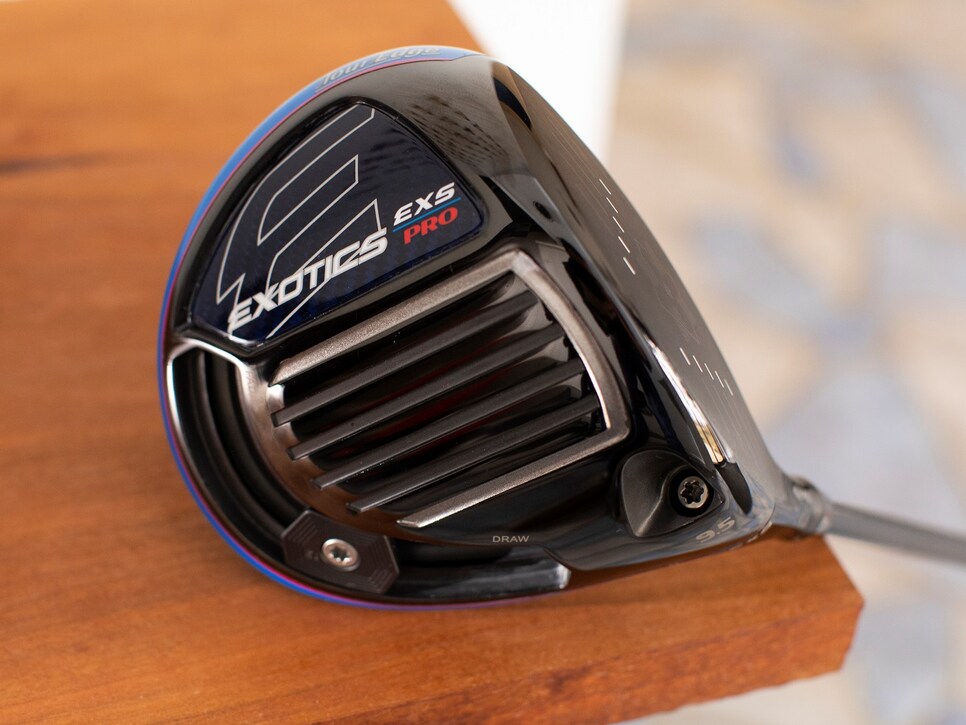 The Tour Edge Exotics EXS Pro lineup of metalwoods may not be the club for most golfers. It might not even be the club for most elite golfers. But that just means this limited run of drivers, fairway woods and hybrids designed specifically for players on the PGA Tour Champions is exactly emblematic of what the company's high-tech, high precision Exotics brand of clubs has been about since it was launched in 2006.
Built in response to the company's developing player roster on the PGA Tour Champions and its recent launch of the EXS 220 metalwood lineup, this "straight from the tour" collection features compact, traditional shaping, low-forward center of gravity design and an overriding emphasis on low-spin performance. While the visuals may appeal to a broad audience, company founder and chief designer David Glod classified these metalwoods as "pretty much reserved for the tours." Except, of course, now you can buy them, too.
"These really follow in the footprint of what's played on the tour," Glod said, admitting though that several senior circuit players had put the EXS 220 metalwoods in play already this year. "We were getting the EXS Pro ready for the tour. This is clearly our best-player stuff. I guess you could say this line is really a throwback in philosophy in terms of size and shaping. But that's what this player has been looking for."
Still, Glod believes the audience of players who can benefit from the performance aspects of these designs isn't limited to those with their names on their golf bags.
"There's more people that are going to be in this 'need low-spin' category than we might have first thought."
That group clearly is the focus with this line, and it starts with the EXS Pro driver, which builds on the construction elements in the EXS 220 line. Those include a weight-saving carbon composite crown and toe panel, a low-density titanium body and the distinctive grid of 33 individual diamond-shaped variable thickness patterns on a beta titanium face. What's different in the EXS Pro is a sliding weight channel in the rear sole (stock weight is six grams) to provide varying draw or fade bias, and, of course, a compact shape that helps push the center of gravity lower and more forward for a lower-spinning ball flight.
That low, forward CG position is also the result of greater face height and a steeply sloping crown. While the EXS 220 featured one of the highest moment of inertia measurements for drivers today, the EXS Pro is more in line with where most of the drivers in the market today are, said Matthew Neeley, Tour Edge's vice president of product development.
"This driver just offers a little bit more workability for that player that wants to feel and manipulate the clubhead," he said, adding that Tour Edge's internal robot testing showed about 400 rpm less spin for the EXS Pro compared to the EXS 220. "We've seen even lower spin numbers for our players with higher swing speeds and steep angles of attack. This driver really fits them well."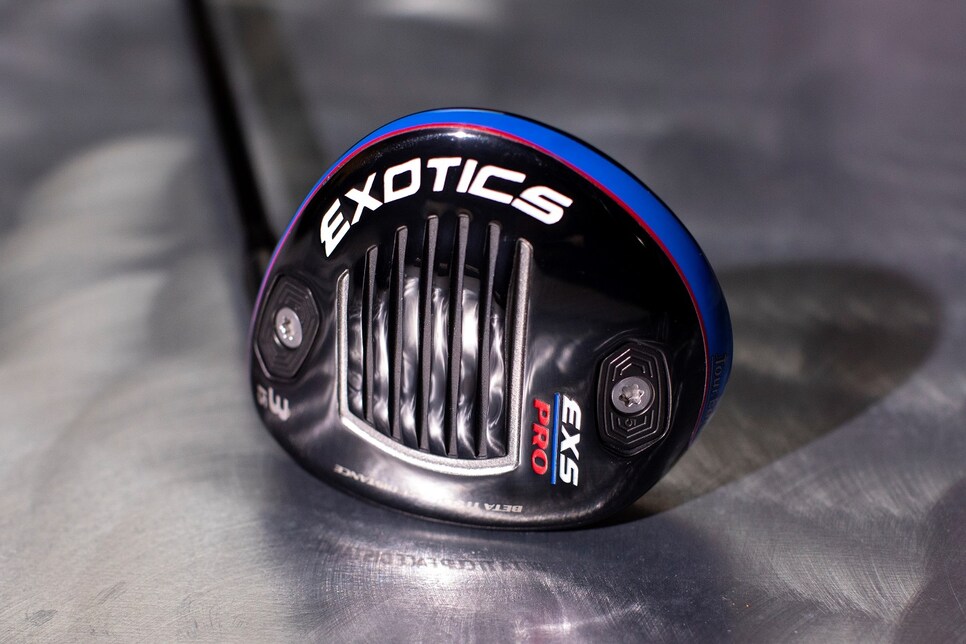 That same thinking is behind the EXS Pro fairway wood, which employs a beta titanium cup face that is combo-brazed to the heavier steel body. Designed with adjustable 10-gram and five-gram heel and toe weights, the smaller head (170 cubic centimeters on the 3-wood) is geared to players who want the ball to not go left. The weights can be flipped to even give the head fade bias.
Like all Exotics fairway woods since 2013, the sole features a waved-ribbon pattern ("slip stream sole") to improve turf interaction across a variety of lies. Its leading section is curved to improve entry into the turf and the deeper face is in line with recommendations from the tour, Neeley said.
"We slimmed out the profile, reduced the front-to-back and heel-to-toe measurements by about 12 percent compared to EXS 220," he said. "The beta titanium cupface gives us a lot of extra horsepower, makes the whole face very forgiving and also saves us a lot of weight that we can put really low and that helps us out from a spin standpoint."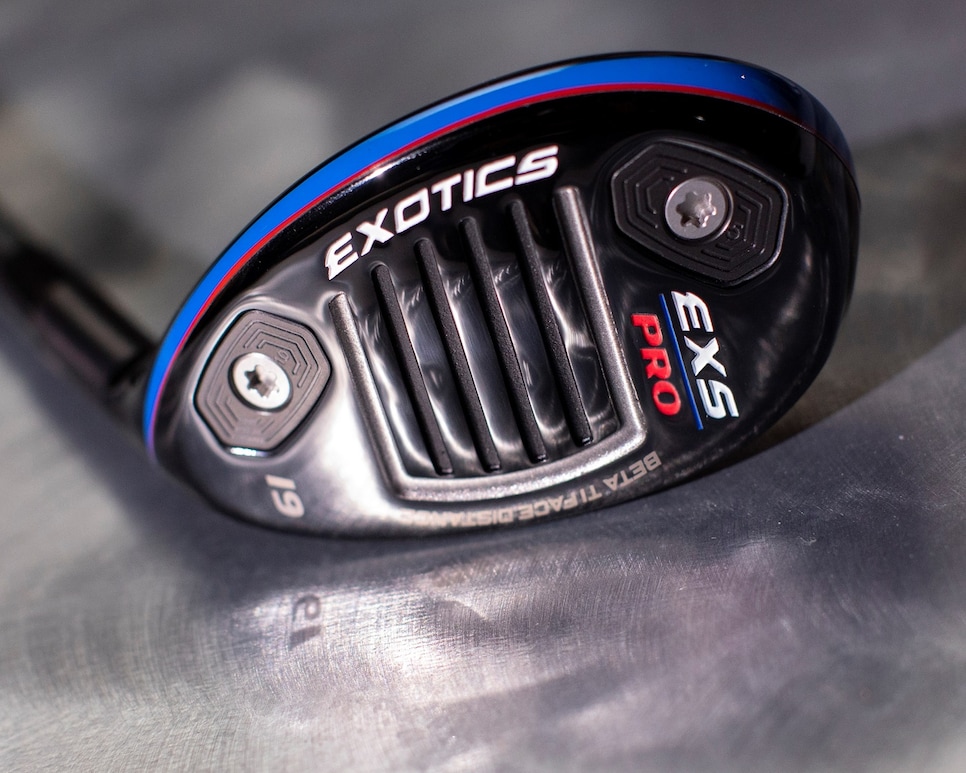 The final piece in the EXS Pro's better-player focus is the ultra-compact hybrid, which is geared not so much as an iron replacement but as a specific-yardage replacement. Toward that end, the EXS Pro is being offered in six lofts between 16 and 22 degrees. Like the fairway wood, it features beta titanium in the face (this time as an insert), as well as the interchangeable 5- and 10-gram heel and toe sole weights and the slip stream sole pattern.
The EXS Pro metalwoods may come straight from the tour, but the pricing is not elite. The driver ($400), which also features an adjustable hosel that features eight settings that can add or subtract two degrees of loft, is available in 9- and 10.5-degree lofts. The fairway wood ($300), which features a fixed hosel, comes in four lofts (13.5, 15, 16.5 and 18 degrees). The hybrid ($250) is offered in six lofts (16, 17, 18, 19, 20 and 22 degrees). The EXS Pro line will be at retail June 1.