Tour Edge Exotics EXS driver, metalwoods continue tech-rich tradition, but move to more affordable price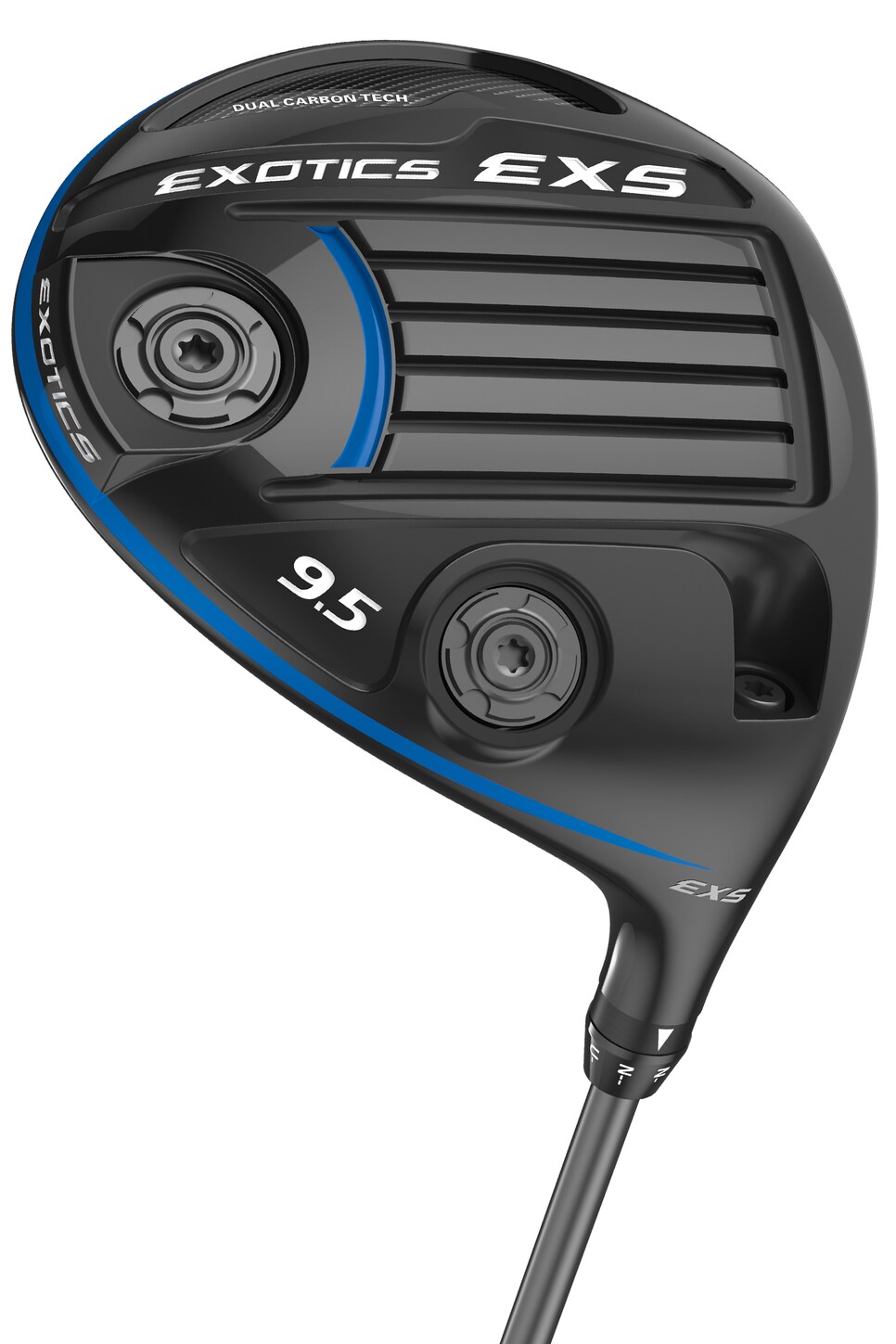 Tour Edge's Exotics EXS line is something different. But given the heritage of the Exotics sub-brand, that's not a remarkable statement. Initially famous for its unique technologies—like "combo-brazing" lightweight titanium cup faces to steel bodies in its tour-popular fairway woods from nearly a generation ago—the Exotics line always has been about doing something technologically dramatic and usually part of that story involved a dramatically higher price.
What's different about the new Exotics EXS line is that while it brings a tech-rich line of metalwoods to the market again, it's now doing it at a price point at the affordable end of the premium range, including a $300 adjustable driver with carbon composite sections. That's a price break of as much as $200 compared to some current products in the market.
"This is the most technology we've ever been able to fit into a design, and each one works in concert with the other," said David Glod, Tour Edge president and master club designer. "We're really excited about this driver. Just the basics of look, sound and feel, it's really solid, but then when you add all the technology we've put in here, it's really special."
That tech sheet includes two moveable sole weights of nine and three grams, the light weight in the deep middle and the heavier in the heel. There's a unique Japanese TSP 910 beta titanium face, first used by the company in its Exotics EX10 driver nearly two years ago. The variable-thickness face also features a section in the toe with more bulge and roll to help open-face toe shots curve closer toward the center line, Glod said.
In addition to lighter titanium 8-1-1 in the body, the design also is fueled by a weight-saving and center of gravity-lowering carbon composite crown and a carbon fiber section in the sole that further saves weight. It's part of a plan to improve the golfer's ability to deliver the clubhead to the ball.
"It's a little bit draw-enhancing at the get go, especially replacing the weight in the toe with with carbon chip," Glod said. "So we're trying to move a lot of the weight into the heel area to get a real heel bias, a fast toe if you will, so the clubhead accelerates through impact."
Glod added that the adjustable sole weights provide flexibility for players who want less draw bias by switching the heavier weight to the middle port and the lighter weight to the heel port. As well, a kit with 6-, 11- and 14-gram weights is available for separate purchase for increased fitting options.
Add in the most adjustable hosel in the company's history, which moves loft by plus or minus two degrees, and Glod believes the EXS driver's technology-price combo will occupy a unique spot in the market. While other companies and luxury brands have pushed driver prices to $500 and beyond, Glod thinks the average golfer looking for those multiple material, adjustable weight, adjustable hosel drivers might find a unique choice. Currently, there is not a driver at that introductory price that features a carbon crown, adjustable hosel and adjustable weights.
The Exotics EXS driver comes standard with a Mitsubishi Tensei Blue shaft and is offered in 9.5-degree and 10.5-degree lofts.
The EXS line also includes new fairway woods ($230) and hybrids ($200) that continue the advanced materials and construction Exotics theme. There's a high-strength Carpenter 460 steel cup face on the fairway woods, which also borrow the adjustable sole weights and carbon toe chip from the driver. The hybrid uses a high-strength steel cup face, too. Both fairway wood and hybrid position the center of gravity slightly closer to the face to reduce spin.
The Exotics EXS metalwoods will be in stores Nov. 1.
You are using an unsupported version of Internet Explorer. Please upgrade to Internet Explorer 11 or use a different web browser.