News
Tour Championship 2018 Sunday Live Blog: Tiger Woods completes wire-to-wire win for first victory in five years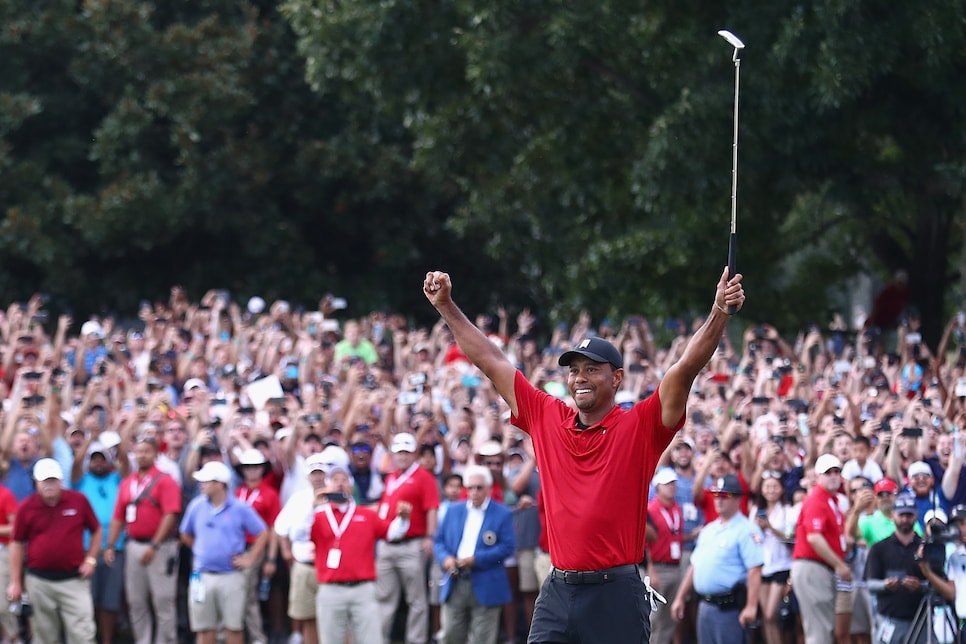 Tiger Woods gave himself plenty of chances to win this season, but after another near miss at the BMW Championship, the reality that career win No. 80 would have to wait until next season began to set in.
But then he opened the Tour Championship with a first-round 65 that included a loud eagle at East Lake's 18th hole to grab a share of the lead. It was by far one of his best opening rounds of the season, and he backed it up with rounds of 68 and another 65, which put him ahead by three shots over Rory McIlroy and Justin Rose through 54 holes. Playing in the final group with a lead on a Sunday is a spot he was once very familiar with, but it's been a long time since he's given himself this big of an opportunity to get back in the winner's circle.
How will Woods respond? Will he cruise to a stress-free victory like the Tiger of old? Or will McIlroy, Rose or someone else challenge him from behind and apply some pressure? It will be fascinating to watch, and we'll have it all covered here in our Tour Championship Sunday live blog. Woods will tee off alongside McIlroy in the last group off at 2:05 p.m. ET. Keep it right here for all the important updates.
5:59 p.m.: And there it is!!! Tiger Woods pars the 18th hole for his first victory in more than five years and the 80th PGA Tour title of his career! WOW!!!
5:55 p.m.: The crowds broke through to follow Tiger as he made his way to the 18th green. It's bedlam in Atlanta right now.
5:53 p.m.: But who cares about the FedEx Cup right now, really? Tiger Woods is moments away from winning for the first time in more than five years after a perfect tee shot on 18 and a second shot into the greenside bunker.
5:50 p.m.: And Justin Rose wins the FedEx Cup with a lag putt to finish in a three-way tie for fourth! ELECTRIC stuff! No, seriously, congrats on the $10 million bonus, Justin. And is the PGA Tour sure they want to tinker with this system? Just sayin. . .
5:45 p.m.: Justin Rose is also breathing better now after his second shot on No. 18 takes a fortunate hop forward and onto the green. Rose just needs to two-putt for birdie to claim the FedEx Cup.
5:43 p.m.: Phewwwwwww. Tiger hits a deft pitch to about four feet — after backing away because of a camera — and drains the clutch par putt. Woods will walk to the 18th tee with a two-shot lead over Billy Horschel.
5:40 p.m.: And things just got a little tighter. Woods' pulls his 3-wood on No. 17 and a divot lie in the rough makes things worse. He flies the green with his second shot. Oh boy. . .
5:30 p.m.: Tiger coaxes his par putt to tap-in range. It's another bogey and now the lead has shrunk to the smallest it's been since early in the third round. Working in Woods' favor? He's got a relatively easy par 4 and a par 5 to finish. Still, his margin for error closed up quickly in the past 20 minutes, huh?
5:27 p.m.: Tiger certainly isn't making this easy. After bogeying 15, it looks like he's going to make at least bogey on 16, a hole that's given him fits all week. A bad tee shot forced Woods to lay up to 90 yards on the par 4, but his third shot sailed long. Fortunately, it spun back out of the deep stuff and onto the fringe, but he'll have an extremely fast putt for par.
5:22 p.m.: And all of a sudden, Tiger Woods might just win the Tour Championship AND the FedEx Cup. Rose's bogey on No. 16 drops him into a tie for sixth, which means at this moment, Tiger is projected to finish No. 1 in the FedEx Cup standings. It's looking more and more like this will come down to what Rose does on the par-5 18th hole. Craziness.
5:18 p.m.: Tiger fails to get up and down on the par-3 15th, but again, he avoids a big number. Up ahead, Billy Horschel's eagle putt on 18 slides right, but the birdie all but wraps up a runner-up for him. And at nine under in the clubhouse, he at least gives Tiger something to think about over the final three holes.
5:10 p.m.: Tiger's final truly scary shot is safe. BARELY. Woods' 6-iron juuuuust clears the water on the peninsula-green, par-3 15th. It will be a difficult up-and-down, but at least he avoided a potential disaster. For now. Up ahead, Dustin Johnson lips out a five-footer for birdie on his final hole. What's the big deal? It just might wind up costing him that $10 million bonus. Stay tuned. . .
5:05 p.m.: After two picture-perfect shots on the difficult par-4 15th, Woods' birdie putt from 18 feet just hangs on the edge. Still, pars at this point — especially on this hole — are all Tiger needs.
4:50 p.m.: BANG!!!!!! Tiger drills his 15-footer for birdie, walking the putt in to move back to 13 under with just five holes to play as everyone fires off Vince Carter "It's Over" GIFs. Wow. Wow. Wow.
4:43 p.m.: In FedEx Cup drama, Dustin Johnson inexplicably tops his second shot on the par-4 16th. But he recovers with an incredible bunker shot and a 10-foot putt. And now Justin Rose yanks one off the tee on No. 13. That $10 million bonus is still very much up in the air. FedEx Cup! Catch the fever!
4:40 p.m.: Make that a four-shot lead. And have we been looking at the wrong challengers all day? With a rare birdie on the par-3 15th, Billy Horschel moves to eight under. The surprising 2014 FedEx Cup champ is now the surprising nearest pursuer of Tiger Woods. Wow. . .
4:37 p.m.: Tiger stuffs his approach to eight feet and. . . misses the chance to really put the nail in the coffin. Still, a tap-in par leaves him five shots ahead with six holes to play. Not too shabby.
4:27 p.m.: Woods runs his birdie putt past the hole a bit farther than he wanted to, but he makes the three-foot comebacker for par to stay at 12 under and ahead by five shots. A striped 3-wood on the 12th hole has him in great shape.
4:22 p.m.: After a lengthy wait, Woods plays a safe shot to the center of the green on the par-3 11th and picks up his tee while his ball is still in the air. With a five-shot lead on the back nine, he knows he doesn't need anything fancy at this point.
4:20 p.m.: Tiger picks up a shot as he waits on the 11th tee. Up ahead, Rose makes bogey and he needed to hole a four-footer. Back up by five.
4:15 p.m.: Hold the Tiger Woods victory coronation for now. After a blocked 3-wood, Tiger pitches out and fails to get up and down from about 70 yards. It's Tiger's first bogey of the day to go with that opening birdie as he drops back to 13 under. Woods still has a four-shot lead over Justin Rose.
4:02 p.m.: Tiger happily takes a two-putt on the par-3 ninth to stay at 13 under. That's a 34 on the front nine with an opening birdie followed by eight pars. Playing partner Rory McIlroy finally makes a par again, but it's a disappointing one after a great tee shot within 15 feet. He turns in 39, eight shots back at Woods. Tiger will take a five-shot lead to the back nine looking for his first PGA Tour win in more than five years. Wow.
3:57 p.m.: Tiger is safely aboard on the long par-3 ninth. He'll have about 30 feet for birdie from a similar position where Rose just three-putted.
3:55 p.m.: And just like that, Tiger's lead is back to five. Justin Rose birdied the eighth hole, but after a solid shot on the par-3 ninth, a costly three-putt drops him back to eight under.
3:53 p.m.: After a great effort to find the green from the fairway bunker, Woods hits a solid lag putt and walks away from No. 8 with a par. Meanwhile, McIlroy makes another bogey as his free-fall continues.
3:43 p.m.: Justin Rose isn't crumbling, however. After a sketchy patch, he birdies No. 8 to get back to nine under and to within four shots of Woods. And Woods is in a tough spot on No. 8. . . so. . . this isn't over yet by any means, folks.
3:40 p.m.: Tiger gets past the tee shot on No. 8, but it's not a great result. Woods finds a fairway bunker and it looks like he'll be near the lip. At least, he's dry, though. And at least he's not as far right as Rory McIlroy, who is completely crumbling right now. . .
3:37 p.m.: After a long wait, Tiger misses his birdie putt, but taps in for par. Meanwhile, McIlroy makes a five-footer. . . to save double bogey. Wow. After beginning the day three shots behind Tiger, Rory has fallen to seven back. Justin Rose remains Tiger's closest chaser at five back. Click here for full scores. Up next, one of the two scariest shots on the course: the tee shot on the par-4 8th. . .
3:34 p.m.: Tiger and Rory are taking forever to play the seventh hole. Or rather, Rory is taking forever. After an awful drive, he took a penalty drop then failed to punch back to the fairway. His fourth found the green, but he'll have a 20-footer for par. Meanwhile, Woods is waiting on his birdie attempt from a similar length.
3:26 p.m.: After a birdie on No. 6, Rory goes "Fore, right!" on No. 7 with driver. Tiger takes 3-wood and stripes one down the middle. Up ahead on the green, Justin Rose makes a fantastic par save to stay at eight under, five shots back.
3:24 p.m.: DeChambeau finds the water on the par-3 15th, a huge blow to his FedEx Cup chances. However, he gets up and down from the drop zone to avoid a double bogey. As of now, Justin Rose would be the FedEx Cup champ even if Woods closes this out.
3:20 p.m.: Tiger makes a disappointing par on No. 6, but it could have been worse. Faced with a difficult pitch, he got a little cute and left it in the fringe. His birdie putt came up four feet short, but he converted the ticklish par putt. He remains five shots clear, but it's now of two players as playing partner McIlroy makes his first birdie of the day to get back to eight under.
3:15 p.m.: Tiger drops his club in frustration with his second on the par-5 sixth, but it's an absolute laser that nearly hits the flagstick before running through the green into the rough. Man, his expectations have really gone up since the start of the season.
3:12 p.m.: Rose gets up-and-down for par on No. 6, but it's still a disappointing score for him on East Lake's second-easiest hole. Meanwhile, Bryson DeChambeau is coming for that $10 million. The FedEx Cup leader has birdied five of his past six holes. Could we see a backdoor FedEx Cup?! Exciting stuff!
3:06 p.m.: After smoking a driver, Woods' approach came to rest about 18 feet from the hole and he just missed his birdie putt. He's still at 13 under, five ahead of Rose and now six ahead of McIlroy, who made another bogey as his Sunday struggles continue.
2:53 p.m: McIlroy hit his bunker shot fat and left himself with a 12-foot par putt that he gunned past the hole. Ugly bogey for Rors and he drops to eight under. Tiger showed why he's leading the field in scrambling and putting this week, hitting his long bunker shot to 10 feet and burying the par putt to stay at 13 under, four clear of Rose.
2:47 p.m.: Both Rory and Tiger missed the fairway off the tee and paid the price, each knocking their approaches in greenside bunkers. Up and down pars would be pretty good here.
2:35 p.m.: Rory's wedge game continues to leave a bit to be desired as he puts his approach nearly 30 feet from the hole and then misses the putt. He's going to have trouble catching Woods with birdie looks of that length. Meanwhile, Tiger's approach was all over the flag but a bit deep and it didn't spin. From 18 feet he plays a ton of left to right break and misses on the low side, settling for par. McIlroy saves his par as well.
2:30 p.m.: Woods goes with iron off the tee at the 391-yard par-4 third and stripes one right down the middle. McIlroy hits iron too, but lays way further back than Tiger. He's looking for his fourth birdie of the week at this hole.
2:25 p.m.: Tiger's tee shot at the second left him almost 40 feet for birdie, and he lagged it up there nicely for a tap in par. McIlroy, who missed the green, up up and down for par to remain four back in a tie for second with Justin rose.
2:18 p.m.: BANG. Tiger holes his birdie look to get to 13-under. Off to a flying start.
2:15 p.m.: From 164 yards out, Tiger sticks one to 10 feet at the first, closer than any player had put their approach in the field all day. McIlroy yanked his badly, but still found the green about 30 feet from the hole.
2:09 p.m.: Can't ask for a much better start if you're Tiger. Woods pipes one down the middle and twirls the club as the crowd goes wild. Rory follows suit, landing his drive past Tiger's ball. This should be fun.
1:55 p.m.: By the way, for those wondering if Woods can win the FedEx Cup with a win today, here's the convoluted way it could happen. Amazingly, he's actually in really good shape at the moment.
1:44 p.m.: In case you thought anyone had a real chance to catch Tiger today, here was how the 14-time major champion made his arrival:
Game over. Thanks for playing everybody!