News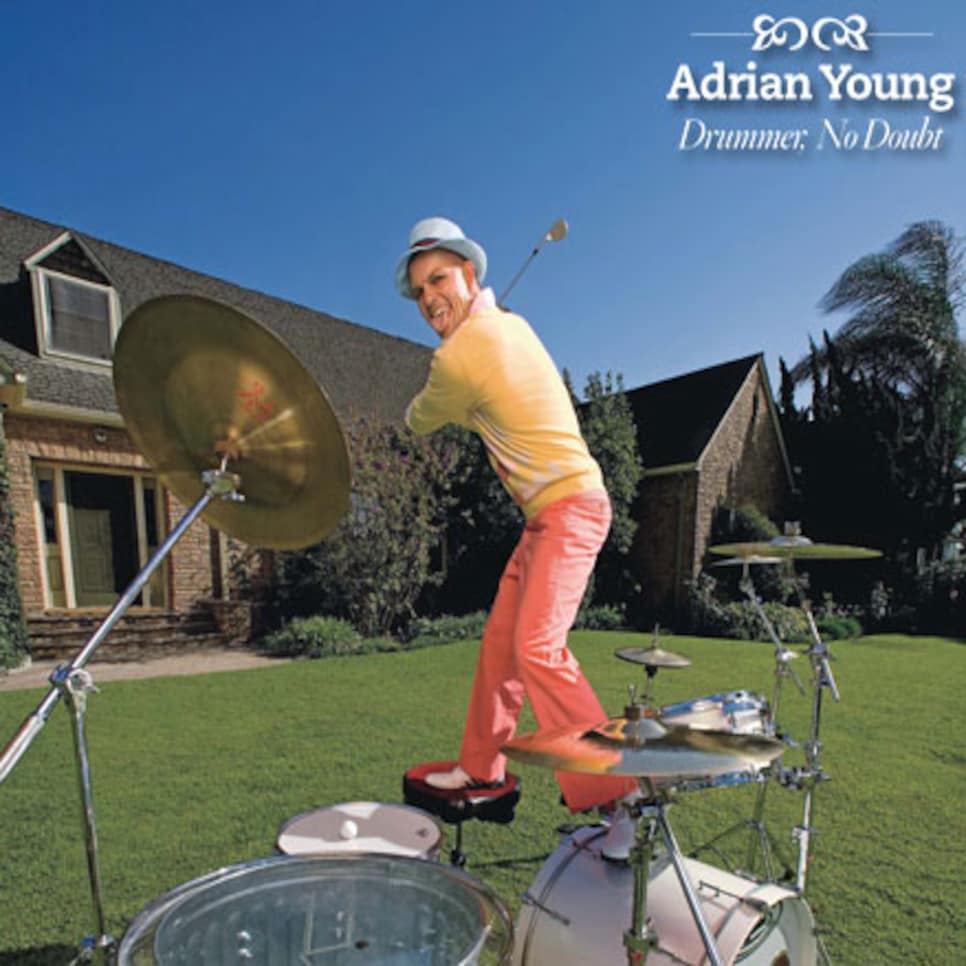 Young at home in Lakewood, California and on stage (below).
Golf and music go together naturally. Sam Snead, a self-taught trumpet player, moved like a melody. Johnny Carson's practice swing and Doc Severinsen's orchestra always finished in sync.
Golf and musicians--particularly rock musicians--are another matter. Rockers are often rambunctious rebels whose uninhibited behavior and id-driven songs are meant to challenge and even change the status quo. Golf is proudly staid and tradition-bound. One group rocks out, the other zones in.
It's logical that a brick wall would exist between the two. So how is it that more rock musicians than ever--not to mention musicians in general--are playing the game? It's a question with many answers, but it took the most extreme event in the life of one of the most extreme frontmen in rock history--Alice Cooper--to dislodge the first brick.
In the early '80s, at the same time he was going on stage draped in a live boa constrictor and chopping up baby dolls, Cooper (born Vincent Furnier) was drinking a quart of whiskey and a half a case of beer a day. "I would vomit blood, and then reach for the bottle," he says. "I was going to die."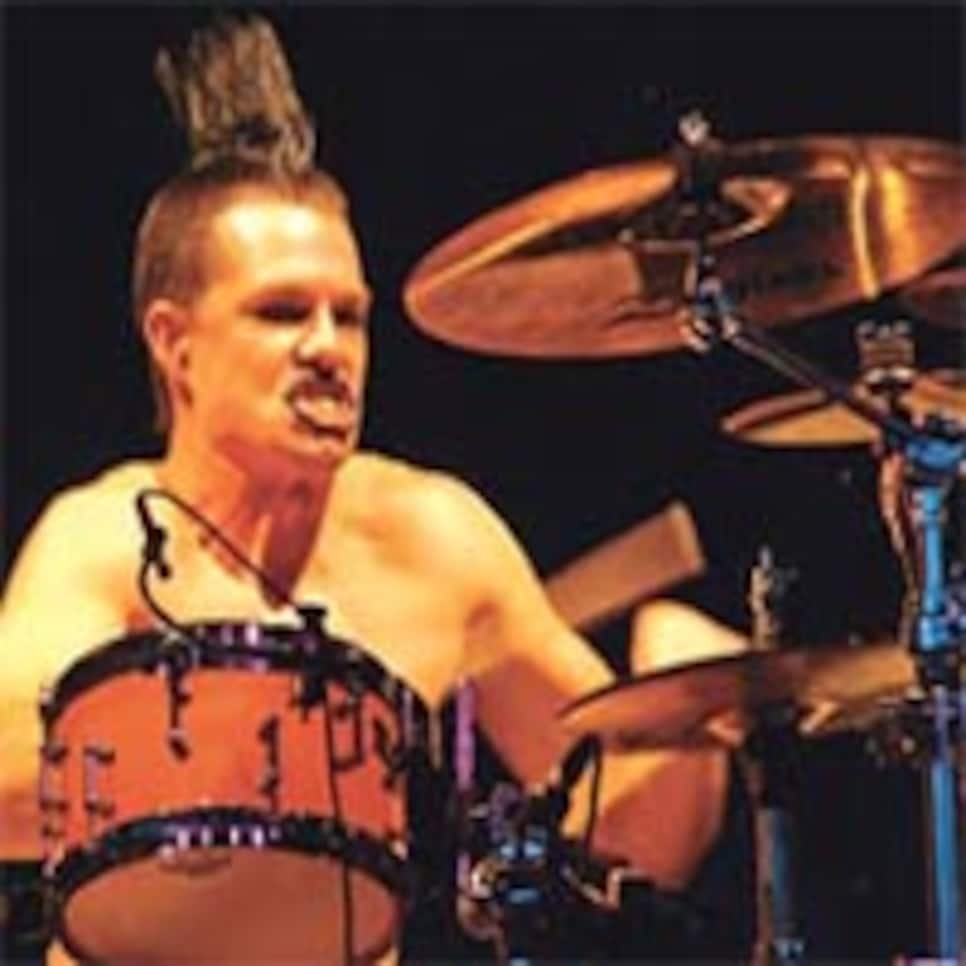 When Cooper emerged from the hospital, he had a plan. Although he had played only a few booze-soaked rounds of golf in his life, he would immerse himself in the game. The first year, he played 36 holes every single day. During the next 24 years, he has remained almost certainly the most avid (and totally sober) celebrity golfer in the world. "I traded one addiction for another," says Cooper. "But golf is the crack of sports. Once I took it seriously, I loved it, and I've never tired of playing. It absolutely saved my life."
"Growing up, Alice Cooper was Beelzebub, the devil, very mysterious, a little scary," says Darius Rucker, lead singer for Hootie and The Blowfish, the hosts of the musician golf-apalooza called Monday After the Masters. "At the same time, to other musicians, he's always been the definition of cool. So here's this guy with a look and musical style that is so foreign to golf, and he's striping it down the middle and on the green, and he looks so happy. It's just like, 'Wow!' It's given every musician permission to play."
A huge admirer of Arnold Palmer, Cooper is proud of his role as Pied Piper. "I guess the juxtaposition gets people's attention," says the shock-rock icon, who is in the process of writing Alice Cooper, Golf Monster: My Twelve Steps to Becoming a Golf Addict. "I'm glad the wall is coming down."
Of course, there was a time when there was no wall. In 1957, Bing Crosby, the founder of the Pebble Beach National Pro-Am, crooned the golf anthem, "Straight Down the Middle." Don Cherry had a successful recording career as a singer while playing in nine Masters, and Jimmy Demaret took any occasion to show off his pipes. Pop giants like Dean Martin, Perry Como, Sammy Davis Jr., Frank Sinatra and Andy Williams were avid golfers, and as the end of the Eisenhower years merged seamlessly with the prime of Palmer, golf, in a Rat Pack sort of way, was cool.
But as rock 'n' roll became the dominant genre in the Age of Aquarius and post-Watergate, golf became an easy symbol of Establishment conformity. Any musical reference to golf was invariably ironic, as when the cover of Devo's 1978 album, "Are We Not Men?" featured a campy portrait of Chi Chi Rodriguez. Among most music fans, golf became decidedly uncool.
Still, some edgy rock 'n' rollers were closet golfers. Neil Young, whose mother was a local amateur champion in Canada, played often, and upon arriving in Los Angeles in 1966 he told record executive Ahmet Ertegun, "I'm a golfer. Can you get me in a country club out here?" Heavy-metal bands Judas Priest and Def Leppard would discreetly play while touring. "It's all part of heavy-metal golf," guitarist Glenn Tipton told Sports Illustrated in 1986. "Usually before teeing it up, a bolt of lightning comes down and scorches the earth: Judas Priest, keep off."
Robby Krieger, guitarist for The Doors, grew up a member at Riviera Country Club and still belongs. "No one really noticed when I played, but they would have noticed Morrison," he says. "Jim was definitely not a golf type."
Nor were the great majority of rockers. Huey Lewis recalls at the 1985 recording session for "We Are the World," having a conversation about a course he had just played when a bemused Bob Dylan interjected, "Are you guys talking about golf? Outrageous."
"At that time, for a lot of years, no record label wanted it known that their rock musician played golf," says Lewis. "Image-wise, the words 'golf' and 'sellout' were pretty much synonymous."
But in 1986, Lewis and his group, The News, released the album "Fore!" featuring the hit "Hip to Be Square." In the early '90s, VH1 commercialized the trend, starting the Fairway to Heaven celebrity tournament that drew on mutual admiration.
"Rock stars want to be pro athletes, and pro athletes want to be rock stars, so they all wanted to play together," says VH1's Rick Krim. "It created a lot of good buzz for golf."
At the same time, Stephen Stills was hanging out with PGA Tour players Payne Stewart, Larry Rinker, Mark O'Meara, Donnie Hammond and Peter Jacobsen, showing them guitar licks while they taught him golf. "Those guys did me such an honor," he says. Adds country-music star Vince Gill: "Musicians and golfers understand each other. We know what it takes to have to perform. We know there's a lot of alone time."
The unofficial golf club of musicians started to become more populous and diverse. Outer-limits performers like Marilyn Manson and Iggy Pop were spotted playing. Celine Dion bought her own golf course, and so did Willie Nelson. Singer Anne Murray said she learned the game on the beaches of Nova Scotia, much as Seve Ballesteros did in Pedrena. According to Graham Nash, even Dylan began to play the odd round at Malibu Country Club. "One funky-looking dude on a golf course," says Nash. ("I swing it like a baseball bat," Dylan told Der Spiegel in 1997, listing his handicap at 17.)
As rockers aged, country clubs were filled with people who had listened to and admired their music. Those who had been on the opposite side of the Cultural Gap began to die off. Conversely, the musicians have generally toned down the craziness. "In the '80s, it was about a six-pack of beer, three shots of tequila and who knows what else, and getting buzzed," says Mick Fleetwood. "I've got war stories, and they were fun, but golf is so not about that for me. It's about balance, a wonderful thing."
Sums up Lewis: "It turns out golf is more fun than what would happen after 1 in the morning."
For rockers still hesitant to venture into golf, there came Tiger Woods.
"Tiger is huge as far as attracting musicians to golf," says Adrian Young, drummer for No Doubt. As a teenager, Young often played at the Heartwell course in Long Beach, where the grade-schooler Woods honed his game. "We'd see this little 10-year-old chipping all the balls in this tight circle. We just thought,* No way.* Guess what?* Way. *Now, I want him to win every week. Mostly it's just watching greatness. Musicians are suckers for a virtuoso."
Johnny Mathis remembers meeting Woods backstage before Tiger's now-historic appearance at age 2 on "The Mike Douglas Show."
"Tiger's an inspiration for anyone who loves their craft," says Mathis, who started playing in his 20s, and now, at 71 and a member at Riviera, plays several times a week. "He has what the great entertainers have: Total concentration to be as good as he can be all the time. He cares little about celebrity. In fact, celebrity gets in the way. He's so busy just trying to learn golf. Musicians really respect that."
It has all gradually transformed some of the world's unlikeliest golfers into Golf Channel-watching, instruction-article-reading golf nerds. Cooper recalls a backstage conversation with recent golf convert Lou Reed. "Lou goes, 'I keep pushing the ball to the right.' I tell him, 'Lighten your right-hand grip so the club will turn over.' He starts practicing this motion, totally into it, and then it sort of hits us at the same time. I mean, could anyone have dreamed 25 years ago, sitting in the Chelsea Hotel, that Lou Reed and Alice Cooper would ever be having that conversation?"
Not that there aren't still elements of culture clash. Vince Neil, lead singer for Mtley Crue, has an annual charity event that he populates with "porno stars, strippers and booze. You know, to get people out." At Blackhawk Country Club in the San Francisco Bay area, Neil drives around in a golf cart modeled on a '57 Chevy. "With flames on the side," he says. "Sometimes you've got to unbutton that top button."
No Doubt's Young, who has played concerts naked and wearing just a G-string, recounts attending the 2005 Masters and watching the final holes on the television screen in the upstairs clubhouse. "I had big, pink hair at the time," he says. "I'm drinking and tipping well, but I also remember having this distinct feeling, I do not belong here."
Conversely, rockers have found charm in golf's courtliness. Dweezil Zappa, son of Frank, remembers playing in the Bob Hope Chrysler Classic with Curtis Strange, who he had been warned could be cold toward amateur partners. "Not only was he really helpful, I got a letter from him a few days later thanking me for the round," says Zappa. "You don't see old-school manners and professionalism like that in the music world. You see it a lot in golf."
Adds Cooper: "The way I look and who I am, if I just came in swearing, with no etiquette, I wouldn't be worthy of respect as a golfer. But I think because I can play pretty well, and because I observe the traditions of the game, the people at the places I play accept me. And I think other musicians have seen that the game is better when you take it seriously."
There are several reasons that golf holds a special appeal to musicians.
First, the often grinding logistics of their lives--the road and late nights--also give them the opportunity to play the best course available wherever they happen to be in the world. Typically rounds will be set up by promoters, but musicians for years have been trading passes to their shows for green fees.
Because they spend so much time indoors among loud, amplified instruments and lots of people, the opportunity to be outside in relative solitude is keenly appreciated. "More cheese, fewer rats," in the words of Huey Lewis. Musicians are particularly attuned to the sound of silence. "Just the quiet of golf is such a pleasure and a welcome escape," says REM bassist Mike Mills. "You get reacquainted with the small noises of nature."
Several musicians mentioned that golf is invigorating before a performance. "It just fills me with fresh air and clears my head," says opera singer Thomas Hampson. "You don't do anything but play golf when you play golf. It's a terrific release because it's complete immersion. I sing better the days I play or at least hit balls."
Like Cooper, a good number of musicians acknowledge that golf is the safest way for them to channel addictive tendencies.
"Probably to be good at anything, but I think especially a musical instrument, you've got to be a little obsessed," says The Doors' Krieger. "Musicians definitely have that tendency, and with our lifestyles, and especially back in the day, it caused a lot of problems with drugs and whatever. Golf is definitely an addiction, but it's one of the few good addictions. It's probably the only reason I'm still alive."
"It's just the way so many of us are," says Cooper. "When I ran track in high school, I wasn't the fastest, but no matter how tired I was, I just kept going. I never had a watch until my mom gave me this Bulova from the 1940s. Everybody complimented me on it, I became a collector, and in two months I had 300 watches. A lot of us have to be very careful what we get addicted to."
Because their craft can't be fully mastered, musicians also tend to be drawn to the difficulty of golf.
"It's the bad shots that keep bringing me back," says saxophonist Branford Marsalis. "I like that thing Hogan said, 'The answers are in the dirt.' It's the same in music, except instead of dirt there's a practice cubicle with a metronome. With both things, you have to be specifically cognizant of your weaknesses, and realize it's going to take years."
Kenny G, No. 1 on the Golf Digest ranking, also believes the harder road brings more rewards. "If I was playing poorly, I used to quit after nine and go to the range," he says. "But what I've learned is that to develop the skill that will hold up in a tournament, you've got to dig deep and keep playing. Quitting after nine will weaken you, so when you need to par the last three holes to win something, you won't have whatever that toughness is. You've got to build that up like a callus."
Not surprisingly, it's the most accomplished musicians/golfers who confess to the most exasperation with the game.
No Doubt's Young, 37, a good player as an adolescent, improved dramatically when he rediscovered the game in earnest eight years ago. His Index fell from double digits to below scratch. After shooting several rounds in the 60s, including a 66 that was a stroke off the course record at Fox Hopyard in East Haddam, Conn., he began to play in mini-tour events and Monday qualifiers for the Nationwide and Canadian Tours. "My goal is to win my club championship and to see if I have any ounce of a chance at the mini-tour level," he says. "My main thing would still be playing music, but I'd like to see how good at golf I can get."
However, he says his progress stalled when he began the process of improving his swing plane. "It's been more difficult to do than I thought," says Young. "But everything about this game gets harder. It's an evil game, full of anguish."
An uninhibited stage performer, Young admits to a darker, much more intense persona on the course. "Golf makes me totally manic, which I've never been about the drums. I get worked up on the golf course. It's not good.
"I've had some mild stage fright, but that first tee in a tournament is way more intense than that. When you go on stage, people are cheering, adrenaline is going, and that's OK, because I can hit the drums as hard as I want. But on the first tee, you're alone, it's quiet, they announce your name, and you can hear your heart thumping. It's scarier in front of 12 people than in front of 20,000."
Putting his game on public display is also difficult for Gill, a lifelong golfer whose Index has been as low as plus-1. A few years ago Gill shot 62 at Graystone, outside Nashville, setting the course record, and he plays often with pros such as John Daly and Loren Roberts.
"I've never been uncomfortable performing with the guitar," says Gill, "but in golf I can feel, OK, Mr. Should Have Been a Pro Golfer, let's see what you can do. At the same time, though I'd never say it out loud, I feel like on a given day I can play with those guys on the tour."
I've had mild stage fright, but that first tee in a tournament is way more intense than that.'-- Adrian Young, drummer, No Doubt
With such high standards, Gill is bedeviled by a quick temper. "There are nights I want to throw my guitar, wondering why it won't come any easier," he says. "But it's not as maddening as golf. Nothing is. In golf, probably the real reason I get mad is just insecurity. You want to prove to people that you're better than you're showing. I went to see a sport psychologist [Dr. Dick Coop] about it, and he had an interesting spin. He said that unlike most people, I live in an unrealistic world, where the adulation is abnormal. He told me, 'I think it's OK for you to beat yourself up a little.' "
It's also likely musicians bring a heightened aesthetic appreciation to golf, as well as a capacity to express it.
"I love playing with Tommy Lee," says Adrian Young. "After he hits a good shot, he'll go, 'Yeah!' really, really loud. I've never seen anything like it."
"Musicians especially understand it's kind of a sacred thing with golf," says Graham Nash, who was introduced to the game by Stephen Stills in the '70s. "As a musician, you're always trying to touch the flame, get closer to perfection. So when you play something and Neil Young looks at you and says, 'That's good,' it's like you've attained a universal truth. And that's what a good golf shot is. At that moment, life was perfect. So, of course, you've got to keep doing it. It's insanely zen."
Despite all the cultural obstacles and political baggage, previously disaffected artists eventually found their way to the game and were captured by its bedrock pleasures: the surroundings, the companionship, the ball flying through the air.
"It's so unbelievably, fantastically ironic that there are so many golf freaks among rock 'n' rollers," says Mick Fleetwood. "And it's wonderful."
"I'm happy so many musicians are playing," says Stills, a member at Bel-Air. "I think it becomes a better game because of us, and better because the new guard in golf has let us in. All that stuff that for a long time had me not interested in playing--the race stuff and the politics--there's a lot less now. Sure, some members still don't want to play with a garrulous guy like me, but basically you find out everyone's the same on the golf course. You know, 'Let's go hit the next shot.' "
Yes, the music world has made golf cooler. After all, more and more of the coolest people play.