The Loop
Topgolf, still growing like crazy, opens in Atlanta
Topgolf, the Dallas-based entertainment company that has rewritten the rules on how to build a driving range, last night opened its 16th facility in the United States, this one in midtown Atlanta. Don't try to tell the folks at Topgolf that golf (or at least hitting balls) isn't booming. Their upscale, neon-lit facilities -- more casino than driving range -- are the rage in every market they enter. The company plans to unveil its flagship site next spring, at the MGM Grand on the Las Vegas Strip, which will cement Topgolf's reputation as an entertainment powerhouse.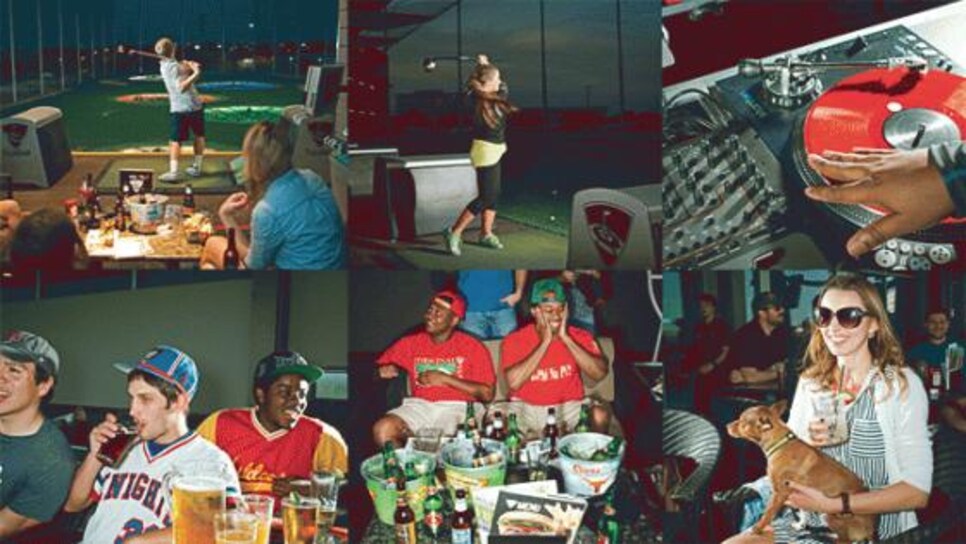 The lively scene at a typical Topgolf. Photo by Brian Finke
Such speedy growth inspired one Topgolf staffer to remark recently: "It feels like we're building an airplane while flying it." To give you an idea of how serious the company is about expanding, consider that in the next three weeks alone they'll open facilities at three locations in addition to Atlanta last night: Centennial, Colorado (outside Denver), Loudoun County, Virginia (near Washington D.C.), and Naperville, Ill. (Chicago area). And two more openings are set for later this year: Houston in October and Virginia Beach in December.
Understandably with all that development, there's a fair bit of learning on the fly, but the people at Topgolf seem to be good learners. What started as a few driving ranges in the U.K., has grown into big business in the U.S. The company built several more-traditional ranges from 2005 to 2010 (Virginia, Texas, Illinois), then came up with the idea to try something different: turn down the lights and turn up the music. What has followed is nothing short of a cultural phenomenon.
It takes only a few minutes at a Topgolf to understand what's at the core of these places: fun. They're not about golf skills, although you can certainly put yours to the test, or about collared shirts and khakis -- you're more likely to see customers hitting balls in skinny jeans and flip-flops. Many of Topgolf's customers have likely never been on a golf course or owned a set of clubs. The concept is simple: Grab your friends, grab your family, and get ready to experience golf in a whole new way.
Topgolf estimates this year they will welcome about 8 million guests at their 22 facilities (including the original three in the U.K.). Perhaps the company's biggest challenge is providing a consistently satisfying experience to so many customers, who often arrive en masse on Friday and Saturday nights. A keyword at the company these days is "flow," or getting people from the front door to the hitting bays in a timely and organized fashion. That's no small task, and wait times can run high.
On a plane from Atlanta to New York recently a woman was overheard saying she and her family went to Topgolf in Alpharetta, Ga., which opened in May 2014. "We had to wait three hours to hit balls, but the food was good and the atmosphere was really fun, so we were OK. And the kids loved it. We even went back the next day."
As long as Topgolf keeps the experience upbeat and fun, its future is as bright as the neon targets out in the range. By the end of 2017, Topgolf executives say they expect to have 50 facilities in operation. So Topgolf is coming to a location near you -- if it hasn't already.