News
The 75 Best Practice Areas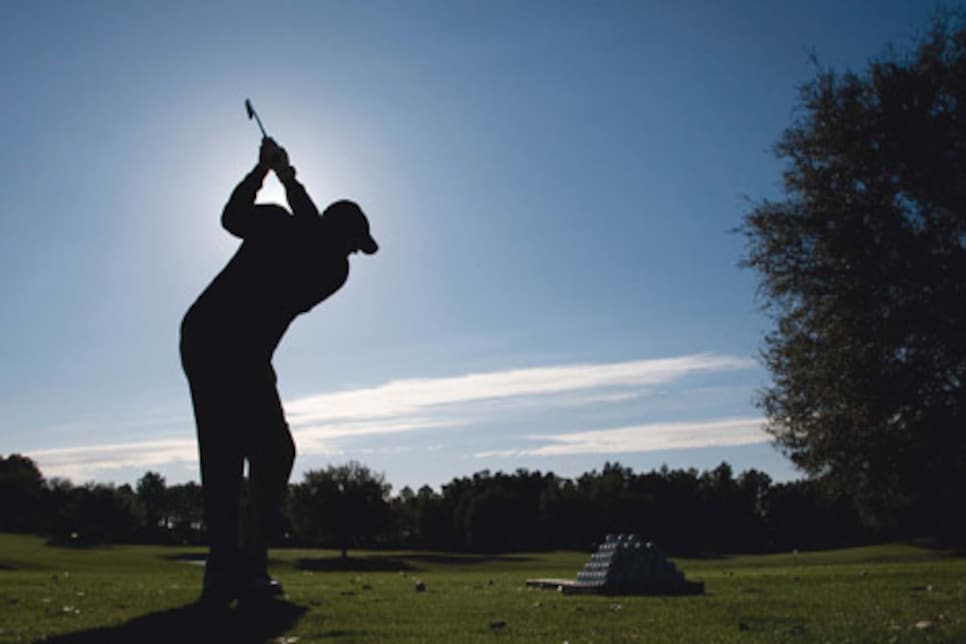 Pound a few balls at an indeterminate target, roll three or four putts, walk briskly to the first tee. For a lot of golfers, this is what passes for "warming up."
Yet these days, many players expect much more from their practice time, and courses are giving it to them: elaborate short-game areas with multiple bunkers and lies, ranges with target greens at laser-calibrated distances, indoor or covered hitting bays, computerized swing analysis and more.
Golf Digest Index honors the art of the great practice area with this issue's ranking of the 75 Best. We created the list by polling Golf Digest's Course Rating panelists, a group of more than 900 avid and highly opinionated players. These facilities not only help you warm up before playing but entice you to get out and practice more.
THE 75 BEST PRACTICE AREAS
Additional Research By Mary Jane McGirr and Topsy Siderowf*
1. PINE VALLEY (N.J.) G.C.
Highlights include a double-sided range and a 10-hole course designed by Tom Fazio. Says one panelist: "You could spend all day practicing."
2. WORLD WOODS G.C. | Brooksville, Fla.
The circular range is a rarity, but the putting green is unlike any other. Covering two acres, it has about 20 feet of elevation change.
3. PINEHURST (N.C.) RESORT & C.C.
Steps from the storied clubhouse sits a two-sided range (Maniac Hill), several short-game stations and a vast putting green.
Wind is usually a factor, so the double-sided range lets you practice from multiple angles. There's also a nine-hole par-3 course.
5. TPC SAWGRASS | Ponte Vedra Beach, Fla.
In a recent poll of 45 tour players, 21 said this was the best range they use all year -- nine votes more than any other facility.
6. WHISPER ROCK G.C. | Scottsdale
Geoff Ogilvy and Aaron Baddeley could practice anywhere. But they've chosen the double-sided range here.
7. MUIRFIELD VILLAGE G.C. | Dublin, Ohio
Jack Nicklaus built this as an homage to Augusta. But he was able to build a better -- and circular -- range.
8. CAVES VALLEY G.C. | Owings Mills, Md.
Pick a target: "You could play a closest-to-the-pin contest with every club in your bag, including driver," says a panelist.
9. DESERT MOUNTAIN CLUB | Scottsdale
Among the highlights: four large ranges, nine bunkers and a dining area with a full menu, bar and indoor-outdoor seating.
10. PGA G.C. | Port St. Lucie, Fla.
With different types of sand imported from all over the world here, you can become a world-class bunker player.
11. SHADOW CREEK | North Las Vegas, Nev.
The range is conveniently located between the locker room and first tee, and there's a seven-acre short-game area.
12. FLINT HILLS NATIONAL G.C. | Andover, Kan.
The 31-acre practice area includes nine realistic target greens and a 386-yard warm-up hole.
__13. PGA WEST | La Quinta, Calif. __
"There's nothing quite like watching balls soar against those beautiful mountains," says a panelist.
14. SEA ISLAND G.C. | St. Simons Island, Ga.
Three 50 Greatest teachers work at the learning center. "For a practice nut, the courses can be an afterthought," says a panelist.
15. KINLOCH G.C. | Manakin-Sabot, Va.
There's a 120-yard wedge area at the back of this double-sided range, with stones marking 10-yard increments.
__16. BERKELEY HALL PLANTATION | Bluffton, S.C. __
"I know members who joined just to use this practice facility," says a panelist. A covered area lets players hit in the rain.
17. THE ALOTIAN CLUB | Roland, Ark.
Whether it's Titleist, Callaway or Nike tour balls; tees that come in three lengths; or bent, Bermuda or zoysia grass, it's about options.
18. THE ESTANCIA CLUB | Scottsdale
The manicured range is close to the first tee and goes slightly downhill -- just enough "so you can see your ball land," says a panelist.
Covering nearly 12 acres, this double-sided range also has three putting greens -- two with undulations and one that's flat.
20. AUGUSTA (GA.) NATIONAL G.C.
All the greats have walked this turf and aimed at these flags. The Par-3 Course is good enough to host a televised tournament.
21. CALUSA PINES G.C. | Naples, Fla.
"It's pristine, with several teeing areas and one of the largest putting greens, cut at about a 12 on the Stimpmeter," says a panelist.
22. THE CLUB AT CARLTON WOODS | The Woodlands, Tex.
Both courses have a double-sided range and a short-game area where you can practice different lies.
23. WHISTLING STRAITS | Haven, Wis.
The site of the 2010 and 2015 PGA championships has four practice tees and a 3,000-square-foot chipping green.
24. CASCATA | Boulder City, Nev.
This scenic practice area, often used by Vegas high rollers, is "immaculate at all times," says a panelist.
25. ORANGE COUNTY NATIONAL | Winter Garden, Fla.
The 360-degree range is so big -- about 42 acres -- it can accommodate demo day at the PGA Merchandise Show.
Small wonder that the practice green at this 2007 U.S. Open site putts just like the real thing: It's connected to the ninth hole.
27. BELFAIR G.C. | Bluffton, S.C.
The range includes an area with fairway bunkers so members can practice working their driver to the left and right, just like on the course.
28. RIO SECCO G.C. | Henderson, Nev.
The range at Butch Harmon's home club is on a hill overlooking the course, with indoor and outdoor practice areas and a 90-yard hole.
29. THE BROADMOOR G.C. | Colorado Springs
Resort guests pay $15 a day for unlimited use of its multitiered range, two chipping areas and three putting greens.
30. BOOT RANCH G.C. | Fredericksburg, Tex.
"Land was not an issue for this club, and the practice facility reflects it," says one panelist. A three-hole practice course is included.
31. LAKE NONA G. & C.C. | Orlando
Ernie Els, Sergio Garcia and Annika Sorenstam all have spent many hours on the double-sided range here.
32. THE OLYMPIC CLUB | San Francisco
The practice area includes the par-3 Cliffs course, where you might see a hang glider passing by.
33. PINE NEEDLES LODGE & G.C. | Southern Pines, N.C.
Home to teaching legend Peggy Kirk Bell, this facility has a four-hole short course and covered hitting areas.
34. MONTEREY PENINSULA C.C. | Pebble Beach
The old 18th hole of its Shore course became part of the new range. "It's massive, with wonderful targets," says a panelist.
35. Southern Highlands | Las Vegas
The club has a huge range and putting greens that "pose a number of putts much tougher than the course does," says a panelist.
36. SHOAL CREEK | Birmingham, Ala.
Its amphitheater-like driving range is close to the first tee and has Double Oak Mountain as a backdrop.
37. THE BEAR'S CLUB | Jupiter, Fla.
A par-3 course, three chipping greens and two indoor teaching bays adjoin this double-sided range designed by Jack Nicklaus.
38. VICTORIA NATIONAL G.C. | Newburgh, Ind.
All 96 players in a recent shotgun event warmed up at once. "That's a big tee box," says a panelist.
39. STANFORD (CALIF.) UNIVERSITY G. CSE.
This L-shape range is wired so players can plug in swing-analysis devices. There are also six short-game practice greens.
40. THE CLUB AT PRONGHORN | Bend, Ore.
The Nicklaus Academy of Golf is here. Four hitting quadrants guarantee there will always be fresh turf.
Site of the FBR Open, its range is double-sided and includes short-game areas, practice bunkers and a large putting green.
42. GRAYHAWK G.C. | Scottsdale
Classic-rock tunes pumping from speakers near the range "let you know that you're here to have fun and enjoy the day," says a panelist.
43. THE MADISON CLUB | La Quinta, Calif.
Range balls are picked up by hand. "They don't want to see any tire tracks, and they don't want any noise," says a panelist.
44. BIGHORN G.C. | Palm Desert, Calif.
Two separate driving ranges and practice areas with Pro V1s top the list of amenities at this club, which has hosted the Skins Game.
"The best practice area that I've ever seen other than at a golf school," says a panelist of the nearly 14-acre site.
46. THE QUARRY AT LA QUINTA (CALIF.)
This club features a terrific 10-hole par-3 course, and there's even an auxiliary practice tee for rare frost delays.
47. FRIAR'S HEAD G.C. | Riverhead, N.Y.
You play one direction for full-swing shots and another for shorter shots. "You'll never get tired of hitting balls," says a panelist.
48. ISLEWORTH C.C. | Windermere, Fla.
Members have the opportunity to practice next to Tiger Woods and other tour pros, who had input on the recent redesign.
49. GRAND CYPRESS | Orlando
A central driving range is accompanied by three practice holes. Designing a practice facility, "this would be the one I would copy," says a panelist.
50. THE VAQUERO CLUB | Westlake, Tex.
The two-sided range accommodates a variety of wind directions. There's also an 8,000-square-foot chipping and putting green.
51. THE BOULDERS CLUB | Scottsdale
Yardages to the target flags are measured daily at this practice facility, which offers a panorama of the Sonoran Desert.
52. GOZZER RANCH G.C. | Coeur d'Alene, Idaho
One way to warm up: a fire by the range. "That was something I hadn't seen before," says a panelist.
53. WHISPERING PINES G.C. | Trinity, Tex.
Take your pick from among a double-sided range with 23 covered bays, a three-hole practice course and an indoor area.
54. REYNOLDS PLANTATION | Greensboro, Ga.
The facilities are so inviting, "I've spontaneously gone out after dinner and hit balls for an hour or so," says a panelist.
55. Sherwood C.C. | Thousand Oaks, Calif.
The main range is flat and in flawless condition, but players can hit from rough and sidehill lies to prepare for a round.
"Obviously Leadbetter's academy is top-notch," says a panelist, "but even the public range and short-game areas are sophisticated."
57. RTJ GOLF TRAIL AT CAPITOL HILL | Prattville, Ala.
This 40-acre circular range is big enough to satisfy the needs of golfers playing three 18-hole courses.
58. PGA NATIONAL RESORT & SPA | Palm Beach Gardens, Fla.
There are five ranges and 10 practice greens. David Leadbetter and Dave Pelz each have a school here.
59. THE RITZ-CARLTON G.C. & SPA | Jupiter, Fla.
A double-sided range is the centerpiece; a short-game facility and a practice green are nearby.
60. RICH HARVEST FARMS | Sugar Grove, Ill.
The 2009 Solheim Cup teams won't be disappointed with this practice facility, which includes two ranges.
61. KARSTEN CREEK | Stillwater, Okla.
The circular range is the practice home for the men's and women's golf teams at Oklahoma State, longtime national powers.
62. BRIGGS RANCH G.C. | San Antonio
Oak trees let members seek shade without sacrificing quality turf. They can also practice bunker shots of up to 150 yards.
63. HUALALAI RESORT | Kailua-Kona, Hawaii
The nine-acre range offers a short-game area and a putting green. There's a complimentary bunker clinic Fridays at 3.
64. SYCAMORE HILLS G.C. | Fort Wayne, Ind.
Its six target greens are mowed twice a week and include defined collars to make them play like real greens.
65. CHAMPIONS G.C. | Houston
This double-sided range has recently had new grass installed. It also has short-game practice areas at each end.
66. THE PRESERVE G.C. | Carmel, Calif.
Six target greens framed by bunkers dot the range, but what players rave about is the view of an 18-acre lake from the top tee.
67. DORAL GOLF RESORT & SPA | Miami
It has more putting greens than courses (five), and in the winter there are 25 instructors at the Jim McLean Golf School.
__68. MOUNTAINTOP G. & LAKE CLUB | Cashiers, N.C. __
A three-tiered range means that finding fresh turf is never a problem. Its target greens are bordered by bunkers.
69. THE CONCESSION G.C. | Bradenton, Fla.
The double-sided range and 7½-acre short-game area lead one panelist to comment: "It has everything."
70. STONE CANYON CLUB | Oro Valley, Ariz.
Boulders on this double-sided range simulate on-course conditions. There is also a par-3 practice hole.
71. OLD PALM G.C. | Palm Beach Gardens
This 33-acre practice area has a par 3, par 4 and par 5. Caddies are present with range finders to measure each target.
72. SOUTHERN HILLS C.C. | Tulsa, Okla.
The dual-ended range lets members hit uphill or downhill to the seven target greens with QuickShot pins for exact yardages.
73. PUMPKIN RIDGE G.C. | North Plains, Ore.
There is an 18-hole putting course that is consistent with the real greens in addition to a double-sided range.
74. COLORADO G.C. | Parker, Colo.
The Short course has nine holes from 70 to 199 yards. The practice area lets players train from uneven lies, deep rough and more.
75. BUTLER NATIONAL G.C. | Oak Brook, Ill.
The driving range is so big it doubles as a polo field. The teaching center has a TrackMan launch monitor and a SAM PuttLab.