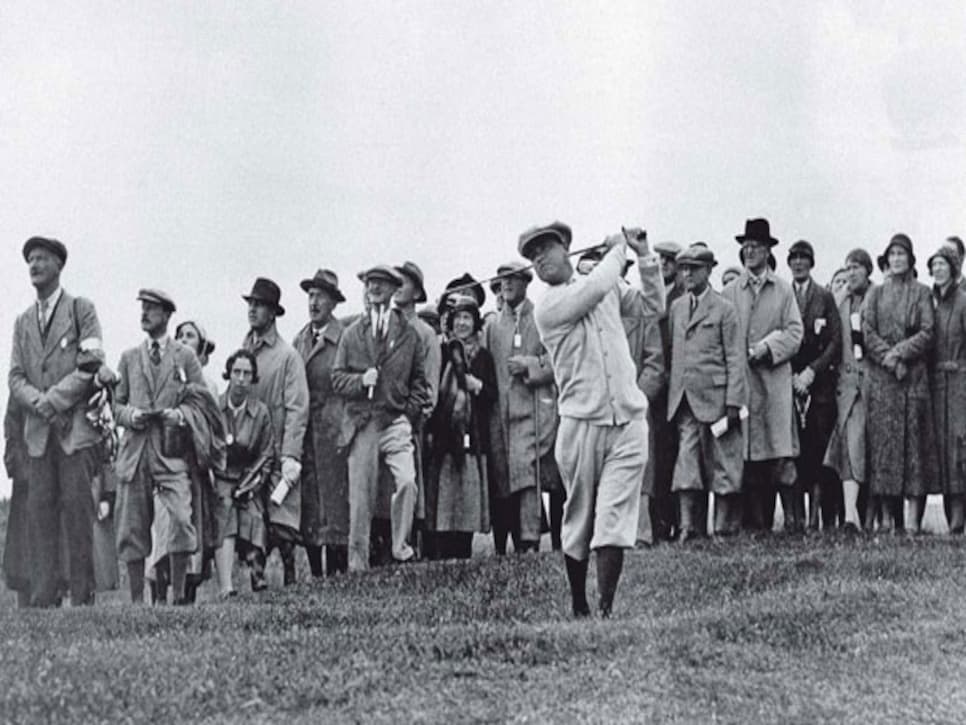 Gene Sarazen (aka The Squire) at the 1932 British Open.
As we saw at the British Open in July, there are cute nicknames being coined for tour players these days -- Louis Oosthuizen, aka Shrek -- but they're short of being classic or timeless, like a Golden Bear. The great nicknames we've grown accustomed to from golf's past have been memorable and longstanding, derived by both player and caddie alike. Nicknames go beyond turning left-hander Phil Mickelson into Lefty or using the truncated form of a proper name, such as Robert Tyre Jones to Bobby. By and large, getting a nickname is a sign of endearment and can indicate a number of things: you're well-liked, you've "made it," and you have a place in golf history as a memorable figure, especially if mention of the nickname immediately brings the real name and face of the person to mind. The best monikers are inspired by a physical, attitudinal or behavioral trait; sometimes you grow into one, like Tiger; sometimes it's insulting, such as Porky; and sometimes you get someone else's name, such as Chi Chi Rodriguez, who stopped using Juan for the name of Chi Chi Flores, a favorite baseball player.
The editors of Golf Digest ranked their top-10 all-time nicknames, plus honorable mentions, which is followed by an expanded list of nicknames created over the last several decades.
The Golden Bear: Jack Nicklaus
The Walrus: Craig Stadler
Boss of the Moss: Loren Roberts
Little Poison: Paul Runyan
Great White Shark: Greg Norman
Champagne Tony: Tony Lema
The Silver Scot: Tommy Armour
The Gilroy Cowboy: George Archer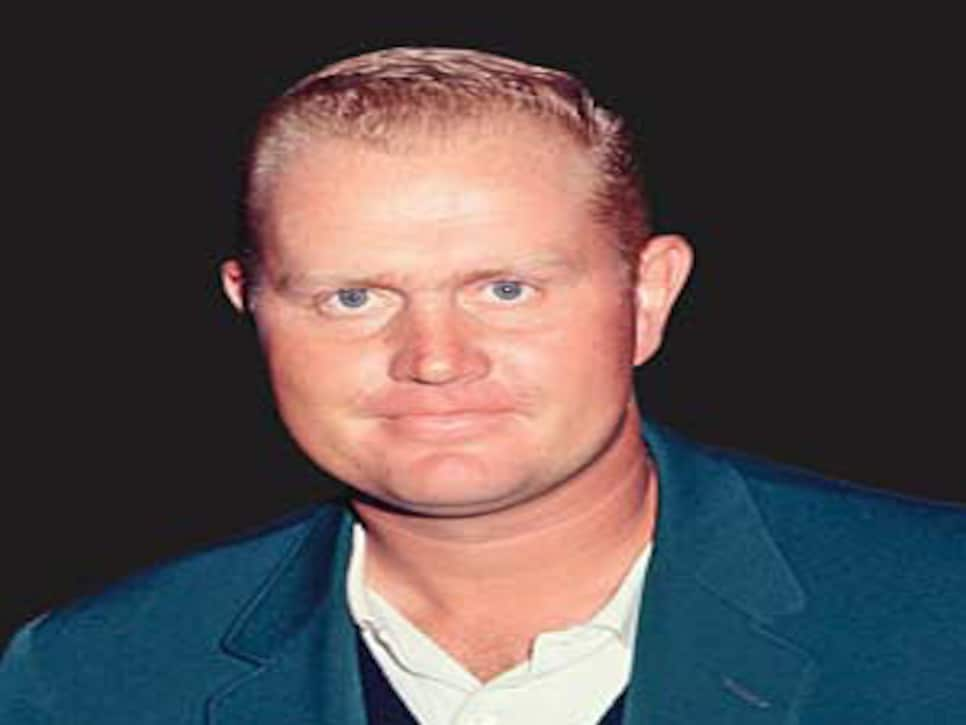 Master list of Golfer Nicknames
George Archer: The Gilroy Cowboy
Tommy Armour: The Silver Scot
Aaron Baddeley: Badds; Dresses
Michael Jancey Baird: Briny
Severiano Ballesteros: Seve
Carl Jerome Barber: Jerry
Miller Barber: Mr. X; Precious
Tommy Bolt: Thunder Bolt; Tempestuous Tommy; Terrible-Tempered Tommy
Julius Boros: Moose; Julie; Jay; Old Man River; The Bull
George Burns III: The Shah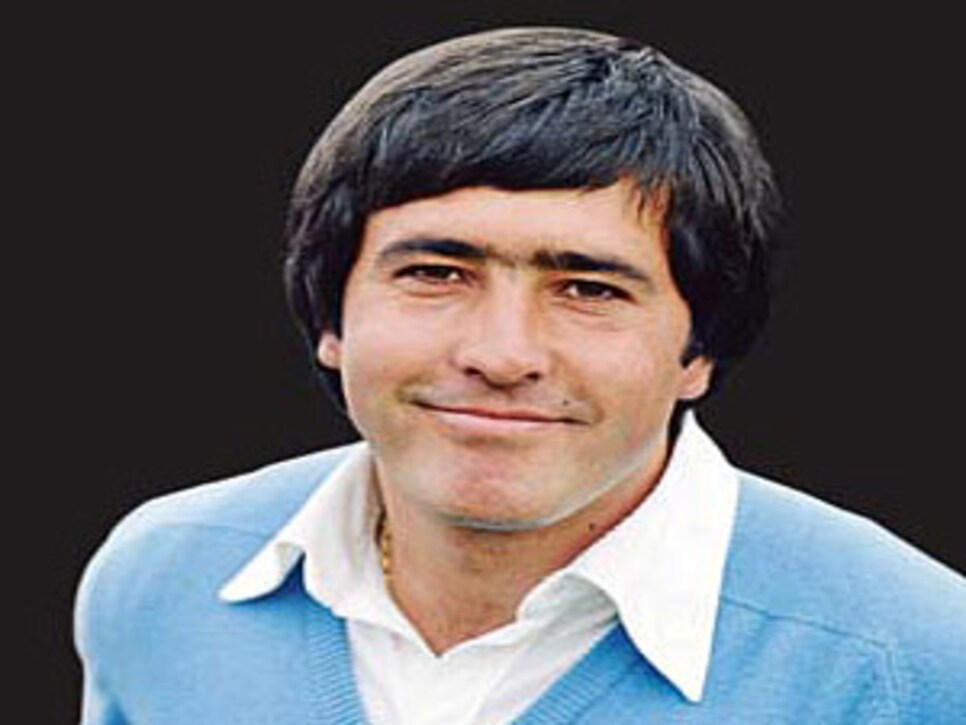 JoAnne Gunderson Carner: The Great Gundy; Big Momma
Billy Casper: Buffalo Bill
Harry Cooper: Light Horse
Henry Cotton: The Maestro
Bruce Crampton: The Iron Man
Paula Creamer: The Pink Panther
Bobby Cruickshank: Wee Bobby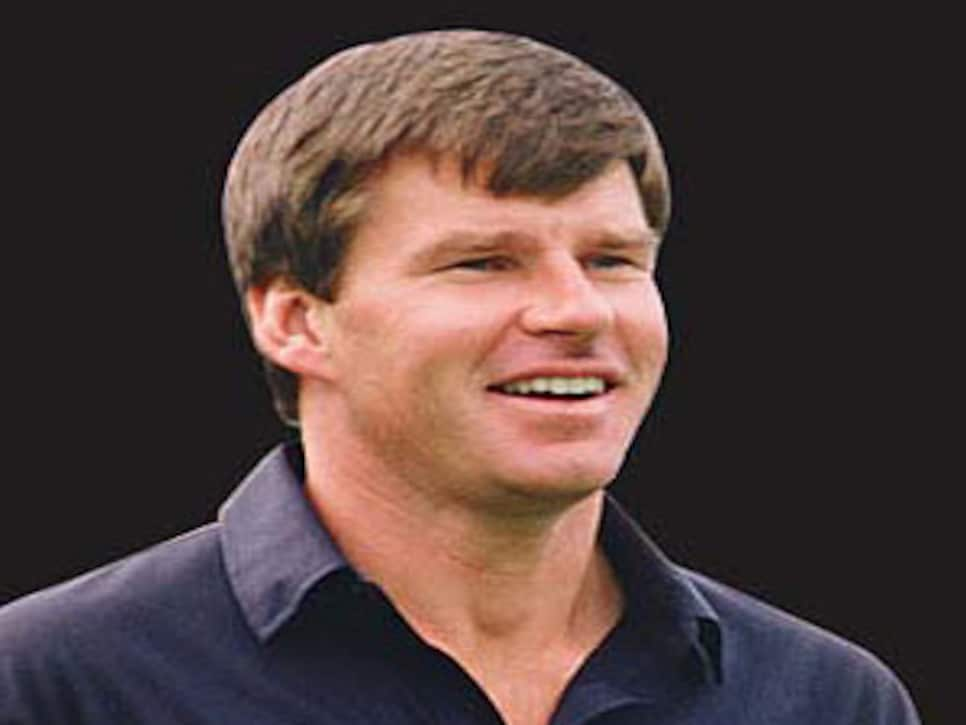 Jimmy Demaret: Sunny Jim; The Singing Texan; Wardrobe; Crooner
Gardner Dickinson: Chicken Hawk
Mike Donald: Stats; Stat-Man
Dave Eichelberger: Berger
Raymond Floyd: Pretty Boy; Raymondo; Tempo Raymondo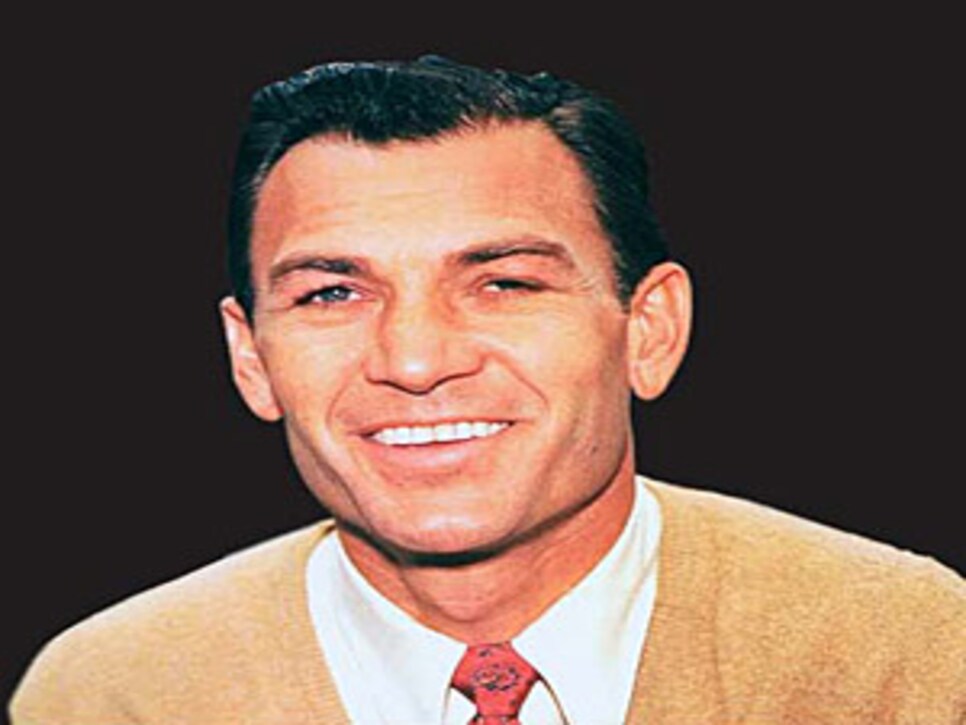 Little Man; Bantam Ben; Blue Blades)
Jim Furyk: T-4; The Grinder
Frank Webb Gardner Jr.: Buddy
Al Geiberger: Skippy; Mr. 59
Wayne Grady: Mate; Grades
Hubert Green: The Doberman
Walter Hagen: The Haig; Sir Walter
Paul Harney: Boston Blackie
Ernie Joe Harrison: E.J.; Dutch
Dudley Hart: Mini Volcano
Morris Hatalsky: Morris the Cat, Mo-Cat
Lionel Hebert: Lionel from Montreal
Ben Hogan: The Hawk; Wee Ice Mon; Little Man; Bantam Ben; Blue Blades
Ryo Ishikawa: Hanikami Oji (Bashful Prince)
Don January: Slim; Tex; Old Bones
Miguel Angel Jimenez: The Mechanic
Robert Tyre Jones: Bobby; Emperor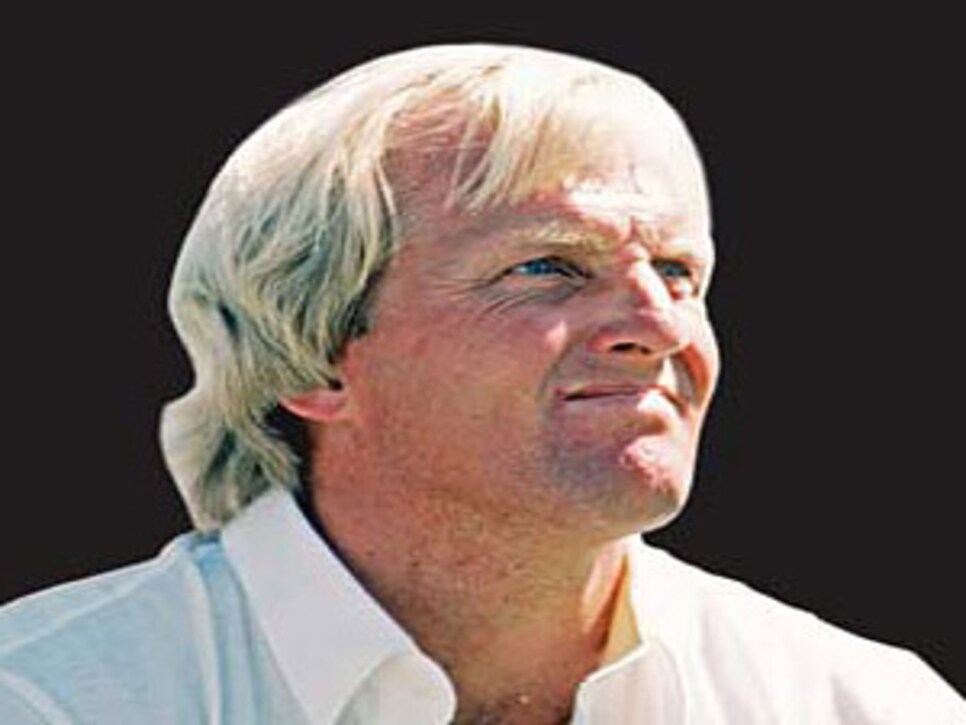 Tom Kite: Mr. Consistency
Robert Landers: The Farmer
Bernhard Langer: Fritzie; The Red Baron
Tony Lema: Champagne Tony
Wayne Levi: Wayne the Drain
Bruce Lietzke: Basset Hound; Leaky
Gene Littler: The Machine
Arthur D'Arcy Locke: Bobby; Muffin
Davis Love III: 3-D; Trip
Alexander Walter Barr Lyle: Sandy
Lloyd Mangrum: Mr. Icicle
Don Massengale: Bugs Bunny
Benson Rayfield McLendon Jr.: B.R.; Mac
Robert Lynn McRoy Jr.: Spike
William Mehlhorn: Wild Bill
Steve Melnyk: Fluffy; Deity
Phil Mickelson: The Thrill; Lefty
Cary Middlecoff: Doc; Cavity
Thomas Morris Sr.: Old Tom
Thomas Morris Jr.: Young Tom; Tommie
Jack Nicklaus: The Golden Bear
Greg Norman: Great White Shark
Christy O'Connor Sr.: Wristy Christy
Jose Maria Olazabal: Chemma
Peter Oosterhuis: Oyster House; Oosty
Arnold Palmer: The King; Arnie; Bull
Henry Picard: The Hershey Hurricane
Gary Player: The Black Knight; Finest; Laddie
William Chesney Reavie: Chez
Jack Renner: The Prince; Prince Valiant
Loren Roberts: Boss of the Moss
Barbara Romack: L'il Tiger
Eduardo Romero: The Big Cat
Paul Runyan: Little Poison
Doug Sanders: Peacock of the Fairways
Charles Sifford: Charley; Little Horse
Vijay Singh: The Big Fijian
Horton Smith: The Joplin Ghost
Sam Snead: Slammin' Sammy; The Slammer; Nude Knob
Mike Souchak: Sooch; Smokey the Bear
Craig Stadler: The Walrus
Payne Stewart: Knickers; Avis
Curtis Strange: Curtis Weird
Mae Louise Suggs: Miss Sluggs
Alvin Clarence Thomas: Titanic Thompson
Peter Thomson: Five Times
Bob Toski: Mighty Mite; Mouse
Lee Trevino: The Merry Mex; Super Mex
Howard Twitty: Tweety-bird
Jerry Lanston Wadkins: Lanny
James Joseph Waldorf Jr.: Duffy
Thomas Brent Weekley: Boo
Tom Weiskopf: The Towering Inferno
Lew Worsham: The Chin; Jaw
Mary Kathryn Wright: Mickey
Mildred Didrikson Zaharias: The Babe
Kermit Zarley: The Pro from the Moon
Frank Urban Zoeller: Fuzzy