Style
The top golf trends you need to know about, as seen at the PGA Show
*All products featured on Golf Digest are independently selected by our editors. However, when you buy something through our retail links, we may earn an affiliate commission.*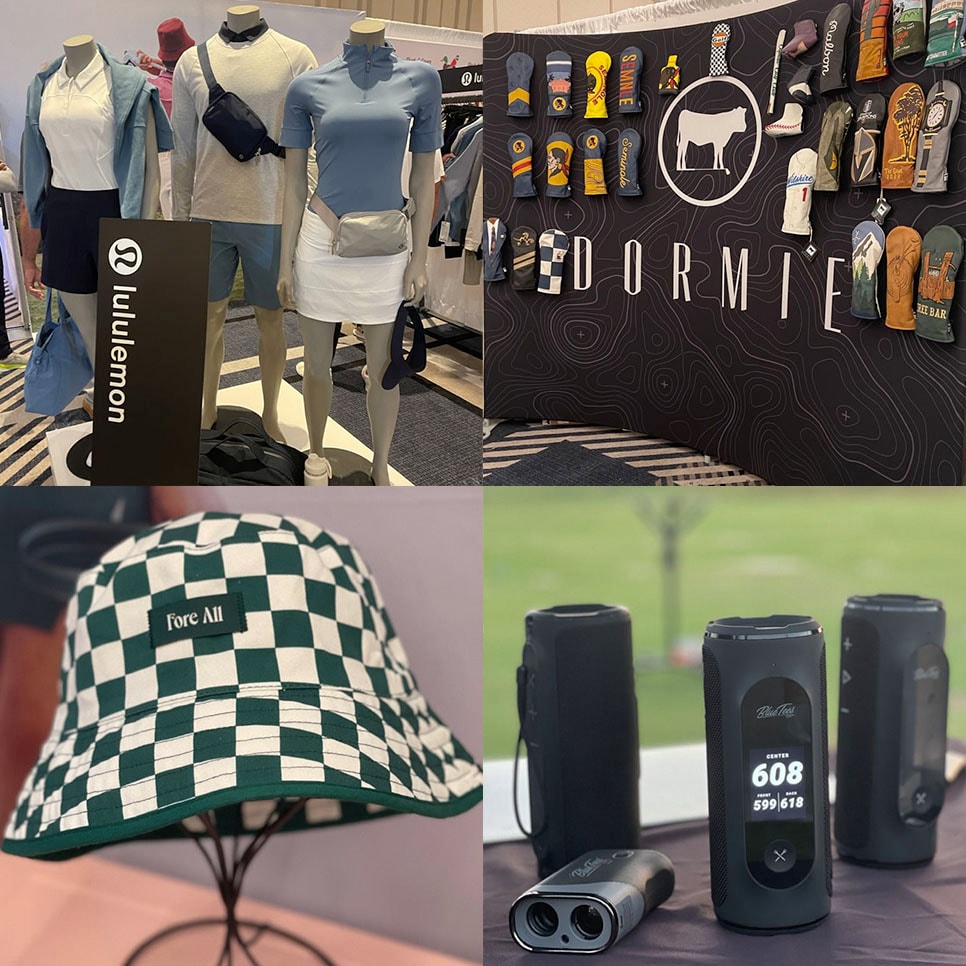 The 2023 PGA Buying & Education Summit is always an exciting time for golf trend watchers. The late summer trade show is an opportunity for golf brands to showcase their offerings and give a sneak peek of what is to come for Spring 2024. This year, the show moved from Las Vegas, where it had been held for several years, to Frisco, Texas—the new home of the PGA of America. The refreshed show featured 166 golf brands at the Omni PGA Frisco Resort, covering all areas of golf product, including men's and women's apparel, golf shoes, accessories, equipment, on-course tech, and more. Here are a few of the top trends that emerged from the show, that you'll want to keep an eye on come fall and spring.
RELATED: Old meets new with adidas' MC80 golf shoe launch, inspired by 1980s footwear styles
Canadian golf brands
With so many great courses in Canada, it should be no surprise that the golf brands of Canada have strong offerings as well. This year in Frisco, there were seven Canadian brands in attendance, representing a wide breadth of golf offerings from apparel to accessories.
Lululemon is among the most recognizable Canadian brands (founded in Vancouver) that has become a golfer staple in recent years. It was the brand's first time on the PGA Show floor, generating a ton of excitement as the athletic brand grows its golf offering for men and women.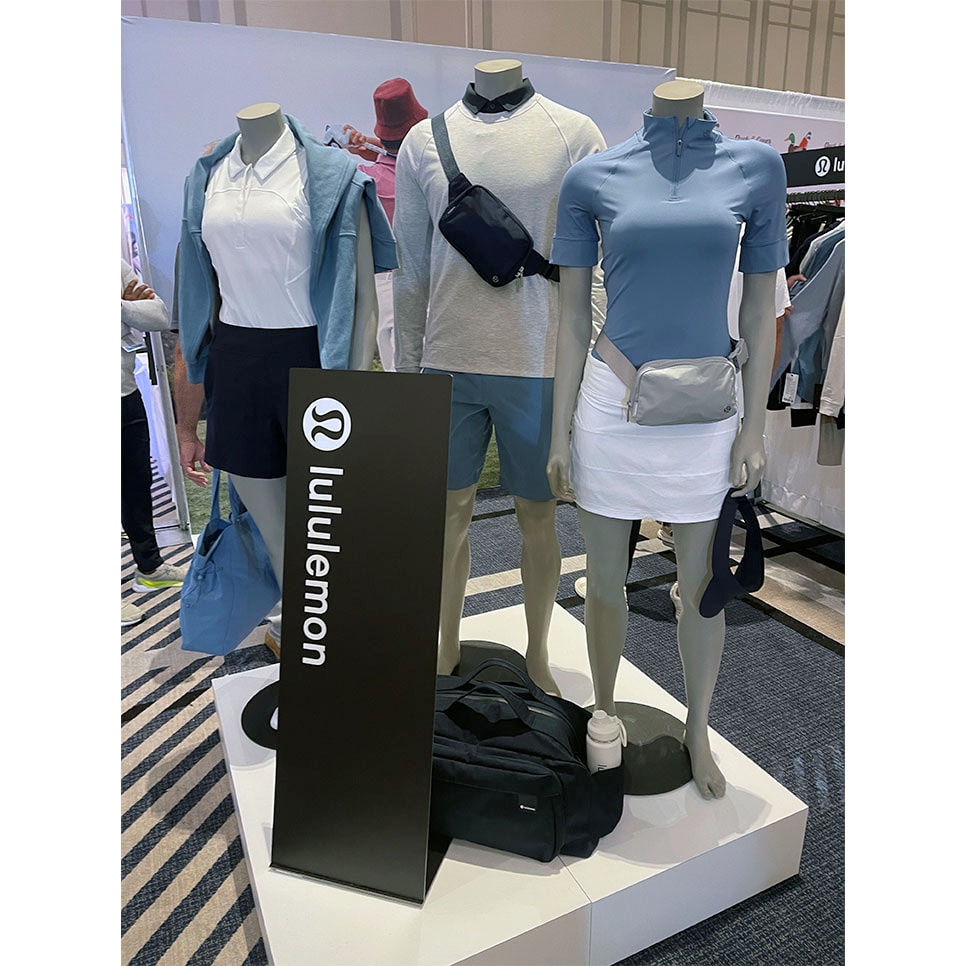 While lululemon's athletic and lifestyle pieces, like the women's Swiftly Tech Short Sleeve Shirts and men's ABC Pants have been popular in golf, the brand's golf-specific pieces were on display in Frisco. It's a newer line for lululemon, with thoughtful golf-specific details in a range of sporty and upscale designs. The women's Warpstreme Multi Pocket High Rise Golf Skort, for example, has a back pocket designed to fit a scorecard, waistband loops to attach a golf glove to and zippered pockets with hidden sleeves to house golf balls and ballmarkers. The high-rise waist adds comfort and coverage without impeding torso mobility during the swing and the hem is slightly longer than the brand's run and tennis skirts.
On the men's side, the Stretch Golf Polo Shirt is similar to the other collared shirts in the line, but with a gusset (extra fabric sewn in to strengthen an area of a garment) at the underarms to add mobility and more abrasion resistant, so it'll last longer through layering and tough swings.
Dormie Workshop has become a mainstay on the PGA Show floor for its creative leather designs and out-of-the-box headcover creations. A family-run brand out of Nova Scotia, Dormie has been in attendance to several PGA Shows since the brand launched in 2014, growing in popularity and expanding its handmade offering exponentially each year.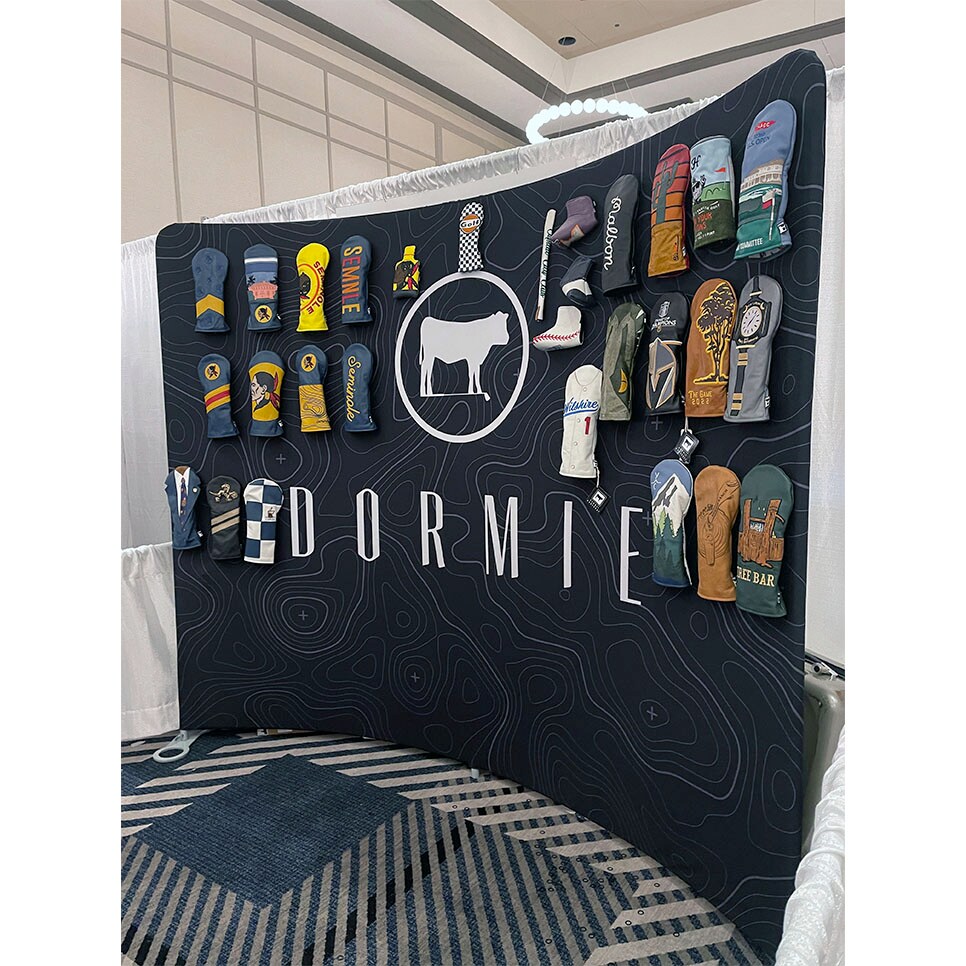 "Our first PGA show was in 2016 and we've been attending every show since," Dormie Workshop co-founder, Todd Bishop said. "From [the previous location of the show in] Vegas to Texas this year, it's a big part of our business and really boosts our visibility as a brand and strengthens our relationships with our partners and customers."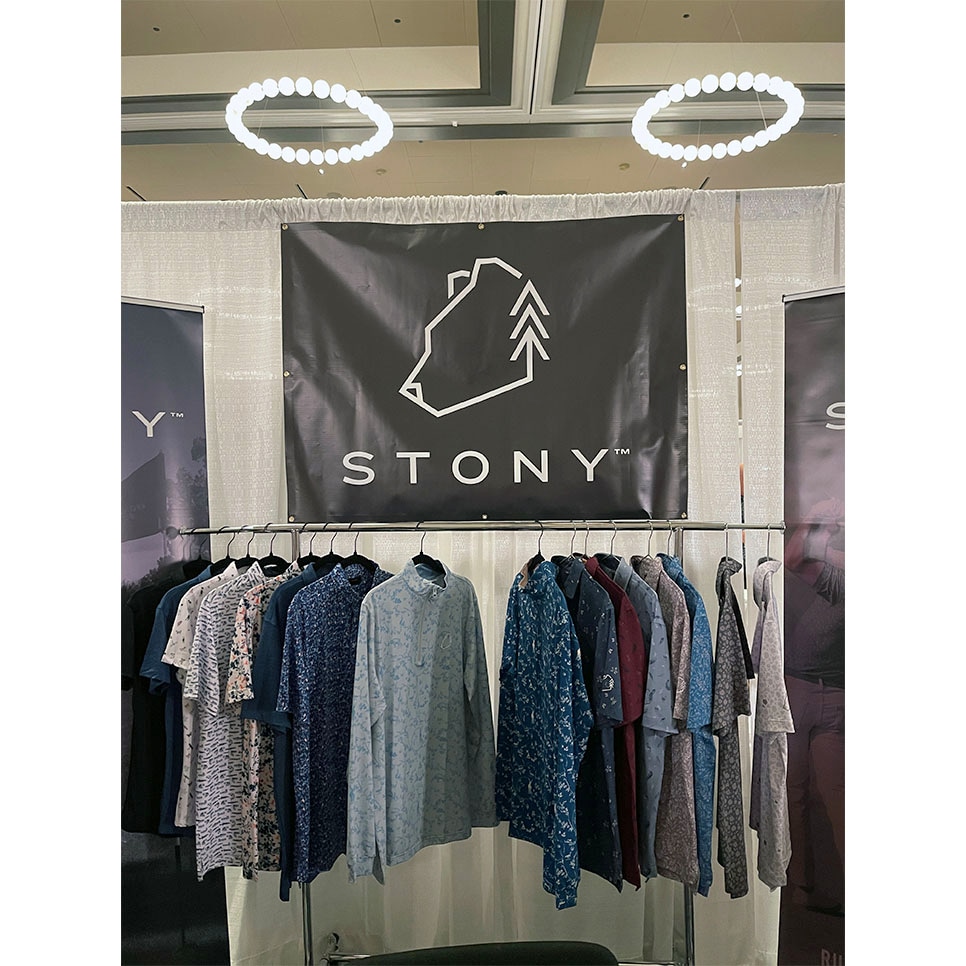 New to the show, golf apparel brand Stony traveled from Thunder Bay, Ontario with designs inspired by the unique landscapes of our northern neighbors. The Muskie Polo, for example, features an allover print of a Muskie fish that many travelers flock to Canada each summer to try and catch. And birdwatchers will appreciate the Barber Polo featuring some familiar Canadian birds on a sophisticated plum-colored background that will shine in fall golf outfits.
Also from Ontario, Levelwear has now been to several PGA Shows in its 35 years of existence. The sports apparel brand has become known for performance-ready golf apparel and reasonably-priced fan gear you'll often see in golf shops and at tournaments.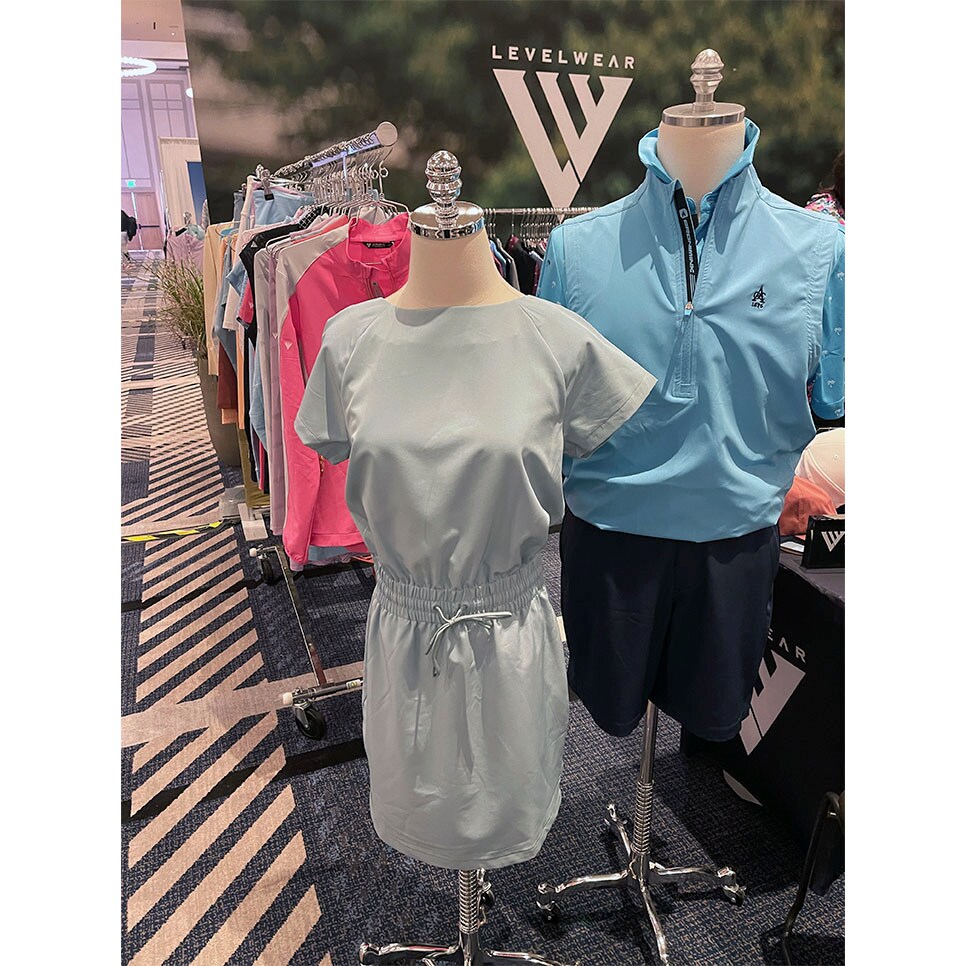 On the women's golf apparel side, Swing Control from Montreal offers stylish pieces with flattering fits and a focus on function. Founded in 2009, the brand has become known for its bold printed pants and skirts with tummy control waistbands. The women's pieces are slimming without sacrificing comfort or mobility with styling that blends country club sophistication with feminine, fashion-forward detailing.
Rounding out the Canadian representation at this year's PGA Show—and showing just how head-to-toe golf product has become—were two men's underwear brands, 2UNDR and BN3th. The two Vancouver brands have seen popularity with golfers looking for athletic and comfortable base layers.
Microprints are here to stay
The trend of tiny, usually repeating prints across golf shirts is not a new design, but it offers a great way for golfers to show some extra personality in a quieter and stylish way. Ditsy floral has been a popular microprint that we've seen in many iterations this year, but expect to see new and unexpected versions of the look through the fall and into early spring golf fashion.
Turtleson, a classic menswear brand known for its deep collection of colorful golf shirts, gave us a new perspective on why microprints have become such a huge part of men's fashion, calling the trend "a new way to express yourself in the post-tie era," and saying designers even use old neck tie catalogs to find inspiration for new designs.
We had our eye on the brand's "pollinators" collection for Spring 2024, featuring bees, butterflies and humming birds stylishly. These pieces won't be available until early next year, but there several nature-inspired prints currently on the Turtleson website to get ahead of the trend.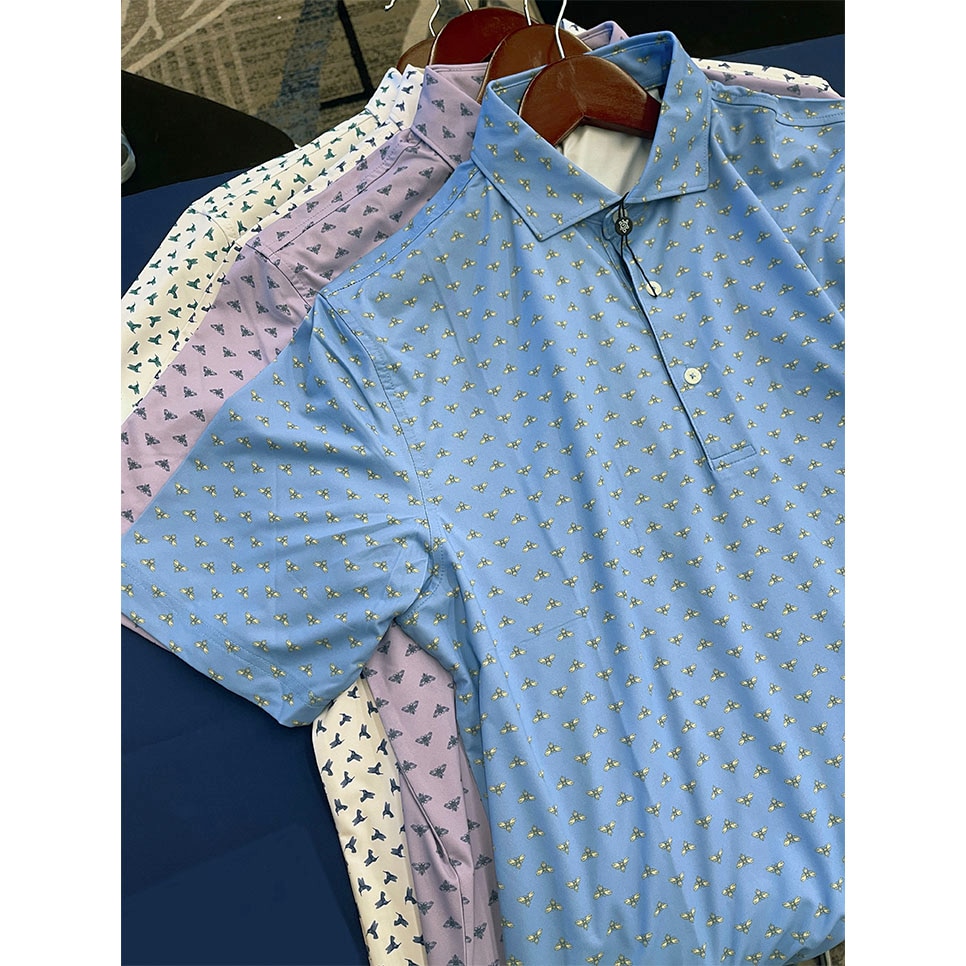 Playing K9
While this may not technically be a golf trend, it was too fun not to mention after we saw it on the show floor. Fashion-forward golf apparel brand Lohla Sport is set to release a cardigan for dogs that pairs with pieces in its women's golf line. It will come in three sizes and the button-closure makes sure that collars and harnesses alike can fit with these doggy sweaters.
Sneaky Joggers
Similar to the rise of hoodies in golf, joggers have become an essential part of any golf apparel collection. Whether you wear them or not, the tapered style has cemented its place in the golf pant world. To compromise with golfers who like the comfort of joggers but are turned off by the athletic elastic look at the ankle, some brands have created what we're informally calling "sneaky joggers," hiding the elastic with a more trouser-like opening at the ankles.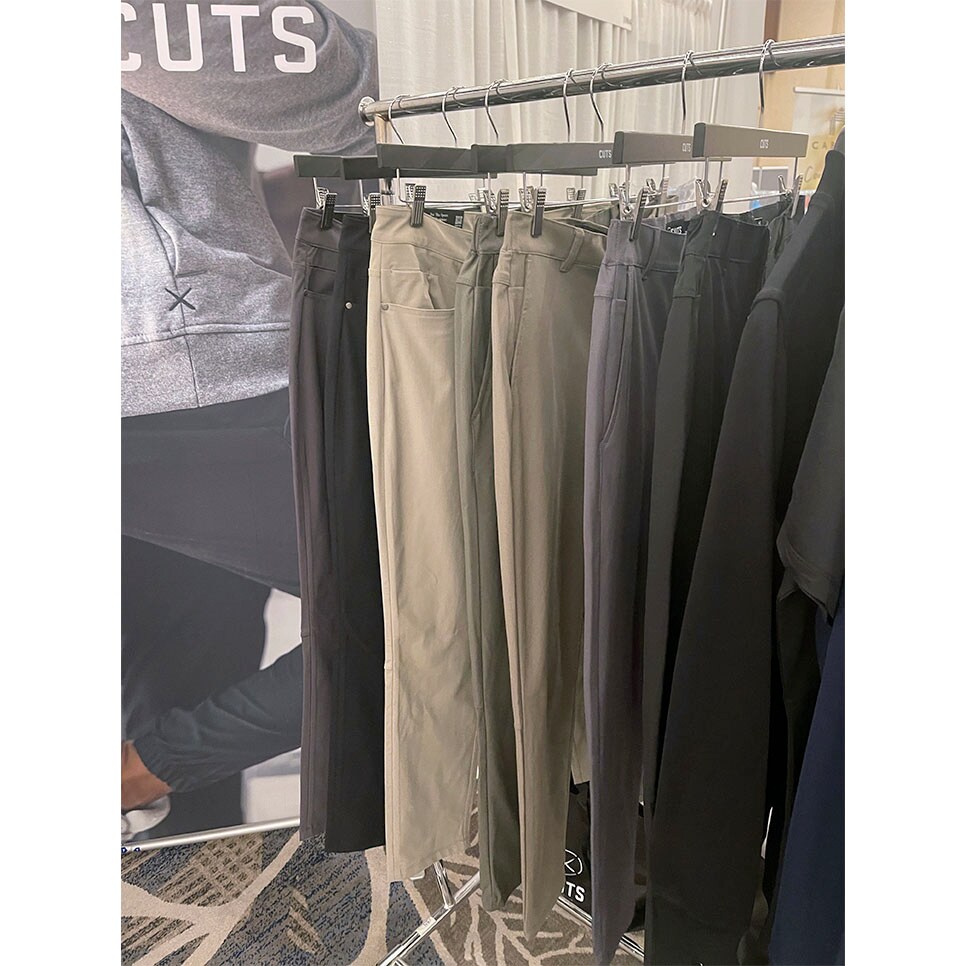 One brand doing this well is Cuts. A brand that has become known for its upscale basics, Cuts was created after the founder was working an office job with a "casual" dress code, but was told his t-shirt was not office appropriate. The brand's tagline is focused on "the sport of business," encouraging wearers to approach their craft, career and passions in a business-like manner in the pursuit of success. The ethos expands to the product offerings that blend athletic performance technology with sophisticated, office-ready designs. The AO Jogger achieves this in two staple colors, navy and black, along with rotating seasonal colors, currently a khaki, gray and two shades of green.
Sneaky jogger designs with hidden elastic closures and the addition of belt loops are a great evolution of the sporty pant for those looking for an upscale version to wear to nicer golf courses and into the office without worrying about looking too casual. Rhone, also in attendance at the show, designed the Resort Jogger as a versatile pant that has belt loops and a five-pocket trouser-like construction, but with a ton of stretch and sporty tapered leg. The menswear brand has become a golfer favorite for its wide offering of athletic and upscale pieces. For those still team elastic-ankle, the Commuter Jogger is a popular piece for the brand with a slightly looser wrap around the ankle and simple styling that adds to its versatility.
Extracurricular also gave us a sneak peek at a new style coming soon, the brand calls the "anti-jogger." It has a loungewear fabric, drawstring at the waist and jogger-like tapering from the knee to the ankle, but with a flat-lay zipped closure at the bottom. The absence of elastic at the ankle gives it a more refined look and makes it a more approachable style for guys avoiding joggers because they don't like the look or feel of the tight closure.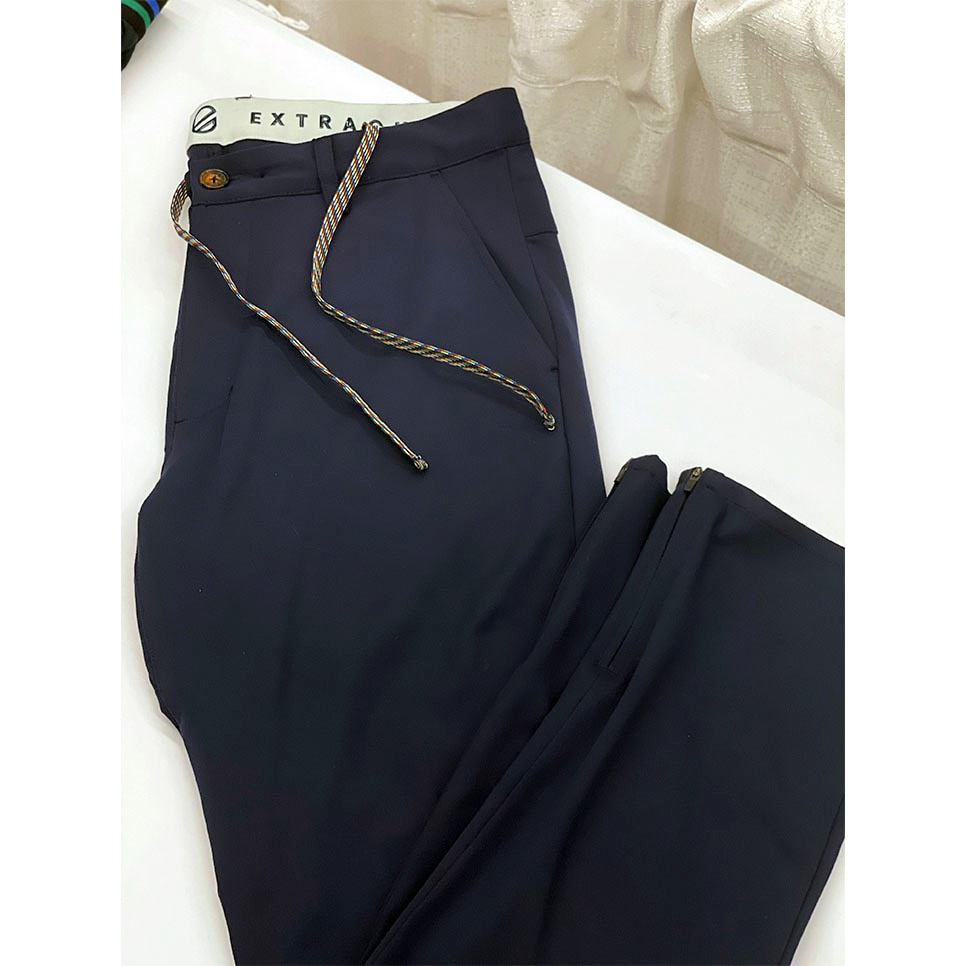 The brand currently has three athletic joggers inline that skew more loungewear and gym wear than golf-appropriate. The new "anti-jogger" is a more trouser-like version of the popular silhouette and is expected to launch early next year. We can't wait to see if brand ambassador Dustin Johnson will wear these on tour, but we think he could pull it off expertly.