'it was fun'
Defending champ Tony Romo daggers last year's American Century Championship runner-up with just seven words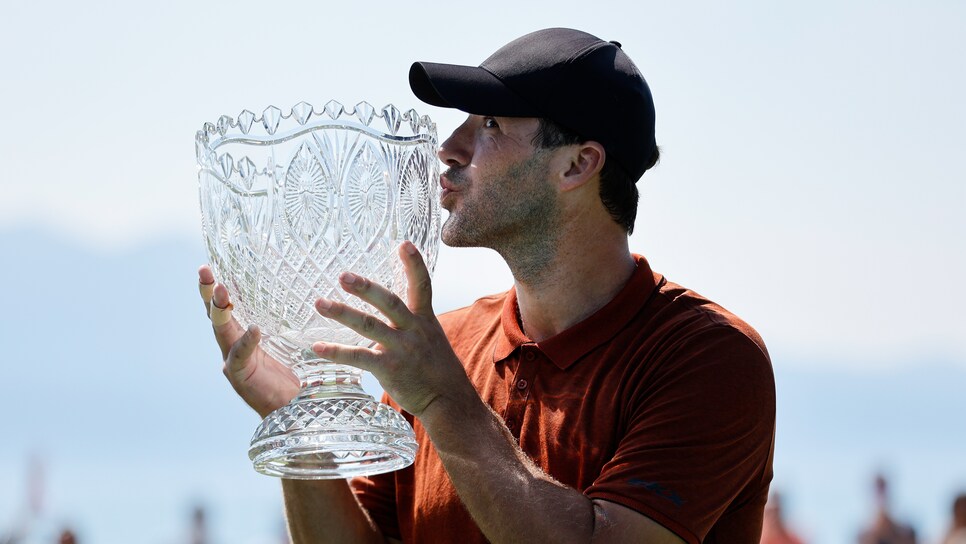 Isaiah Vazquez/Clarkson Creative
Despite a hell of a run as the Dallas Cowboys QB, Tony Romo may be best known now as an NFL commentator. No. 9 breaks down the game of football to millions of people every week on CBS and has become one of the highest-paid color guys in sports in the span of just a few years. Romo seemingly always knows the right thing to say, whether breaking down an out route or delivering a flawless dagger.
Coming off of a playoff victory at last year's American Century Championship, Tony Romo is in peak trash-talk form at Edgewood Tahoe in 2023. It took two extra holes for Romo to beat NHL legend Joe Pavelski and MLB all-star Mark Mulder last summer, and the defending champ wanted to make sure Pavelski remembered who bested him on Thursday.
While in the media room answering some questions before the upcoming tournament, Pavelski recounted last year's close call and how his game is looking at the moment. "I'm just excited to be back," he said. "July comes around, get to play more golf; game starts coming around. Hopefully, I'm in a good enough spot to contend again.
"It was fun to experience a playoff setting," he continued until Romo popped his head into the media room to interject.
"It was fun," last year's champ said. "It sure was fun."
We may never know whether he was waiting for the perfect cue or just passed by at the ideal time, but Romo certainly nailed this retort. He got the entire room to laugh, including Pavelski.
Romo is the clear favorite for the American Century Championship and is looking to win back-to-back for the second time. There's a reason Romo has become an elite analyst in such a short time. He's always aware, whether in the booth or on the golf course.