The Loop
Tony Finau shows off his hops, Greg Norman shows off his abs, Tiger turns 40, and tour pros kick off the new year in style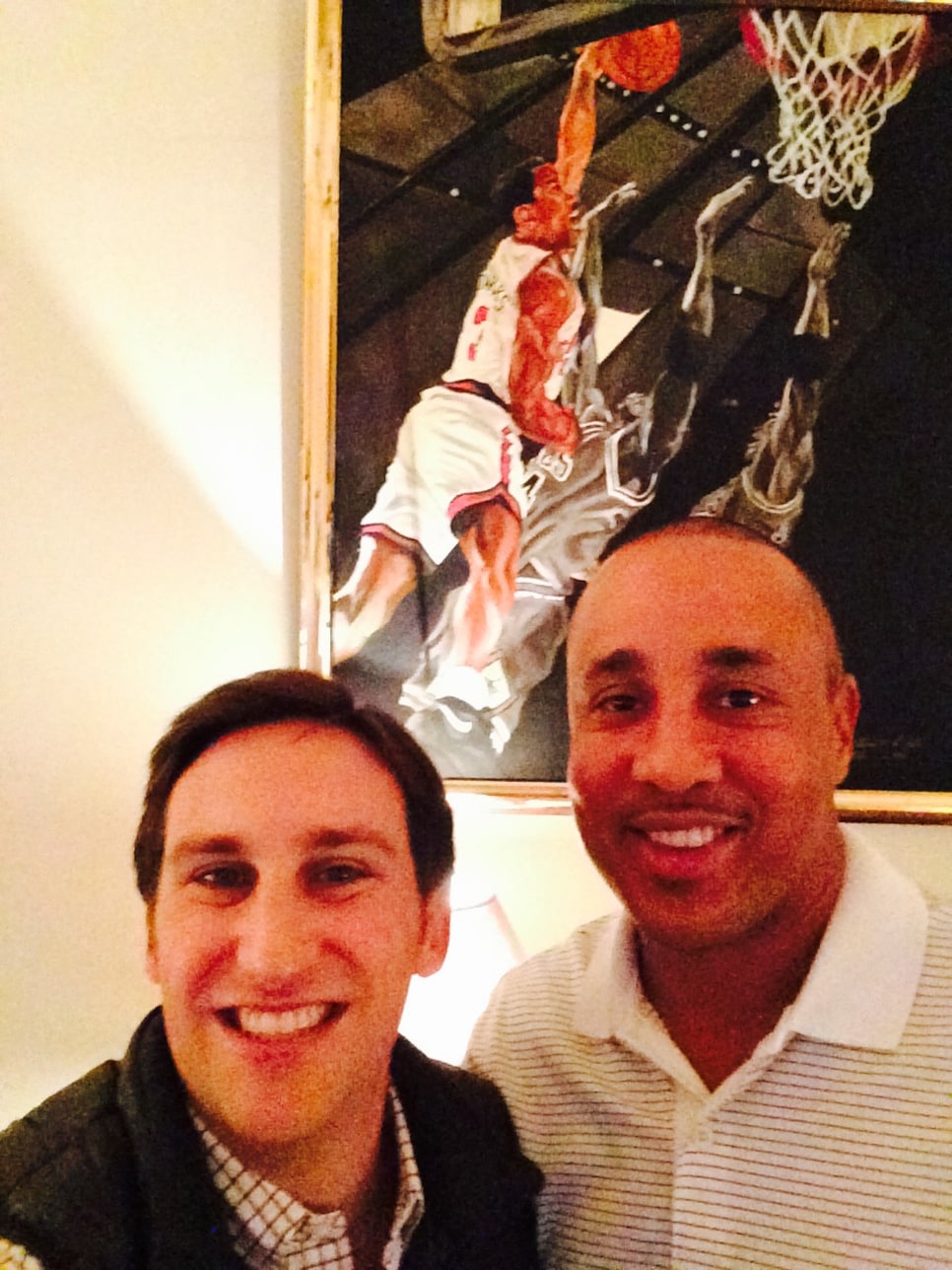 Speaking of moving, this is our inaugural Grind from Golf Digest's new office at One World Trade Center. We'll miss our old office's putting green and Pasta Day Wednesdays (there's a rumor the new cafeteria has a Wing Day!), but we're excited to update you on what's happening in golf and beyond (Translation: WAGs) from a much higher vantage point. So here's to the new year, new experiences, and new pasta.
Tiger's 40th b-day: Despite the circumstances surrounding the 14-time major winner, we were happy this became such a festive occasion. There were many fantastic tributes to Tiger as everyone focused on the positives of Woods' incredible career -- and boy, are there a lot of positives. Personally, I was in charge of our "40 Things That Make Tiger Tiger" and I spent most of the time figuring out what to cut. It could have easily been 140 Things That Make Tiger Tiger, but you know how birthday lists work. On the bright side, when he turns 50, it won't take long to update.
Being in Hawaii: It sure looks like the tour pros playing at Kapalua this week are enjoying themselves, doesn't it?
Maybe someday -- excuse me while I put on another layer to stay warm -- I'll be allowed to cover this important/pivotal/prestigious event on the PGA Tour schedule. (Hint, hint...)
Barack Obama's short game: Speaking of being in Hawaii, the President had quite the golf trip there himself -- and it looks like he's getting better. Check out this walk-off chip-in on No. 18 during one of his rounds, which was made even more entertaining by Obama's reaction:
Too bad this didn't happen four years ago. That would have made for one heck of a campaign ad.
Tony Finau's ups: The young star was in the news early in the week for signing a new endorsement deal with Nike, but we were more impressed with this video of him dunking. It's nothing flashy like the stuff my man John Starks used to do, but Finau dunks off the vertical with no running start.
Donald Trump: We've had people complain that we've had too much Donald Trump coverage of late, but what are we supposed to do when he keeps making golf-related headlines? First, he tries to drum up golfers' support by insisting there will be no more golf if Bernie Sanders is elected (Seriously, he's like a kid running for president of their middle school with some of these claims. "If I'm elected, there will be no more homework!") Then, Samuel L. Jackson comes out and says Trump sent him a bill and made him a dues-paying member at one of his courses. Without telling him. What a guy.
Aces on par-3 courses: On Sunday, a 73-year-old woman who started playing golf just three years ago made two holes-in-one in one round, and celebrated like this: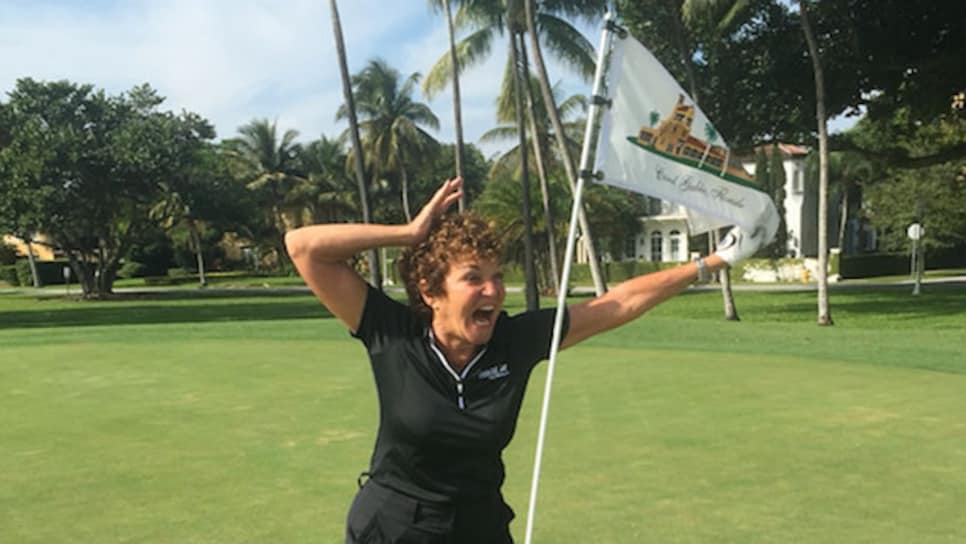 It was misreported that her feat took place on a par-3 course (Granada Golf Course in Coral Gables, Fla. is a nine-hole course), but we're going to use this opportunity to take a stand against aces on par-3 courses anyway. Considering they provide three and a half times the opportunities to make a hole-in-one than a standard course does, they just shouldn't count the same. Maybe three for every one? OK, carry on.
Parsons Xtreme Golf: Talk about making a big splash. This new golf equipment company ratcheted up its tour presence by signing eight tour players, including reigning British Open champ Zach Johnson. He joins a tour staff that already included Anna Rawson, who greeted her new teammates via Twitter:
We love that they have a putter called "Dagger," but it costs $400. And $300 an iron?! Yes, that's $300 PER iron. Anna Rawson or not, that's too rich for our blood.
The PGA Tour is back! Well, the PGA Tour winners from last year are back for the Hyundai Tournament of Champions at Kapalua's Plantation Course. We're in for a treat since it's actually an awesome field for the first time in a few years, and of course, it's the rare opportunity to watch prime time golf.
Random tournament fact: The Plantation Course's most famous hole is its downhill, closing par-5 18th. Naturally, the one time I played the course I didn't get to it because of darkness (another reason for my boss to send me there). Thanks a lot, groups in front of us. Which Presidential candidate is taking the harshest stance against slow play? That's what we want to know.
RANDOM PROP BETS OF THE WEEK
-- There will actually be no more golf if Bernie Sanders is elected President: 1 MILLION-to-1 odds
-- Donald Trump will send me a bill for writing about him: 10-to-1 odds
-- Brandel Chamblee was NOT at Tiger's 40th birthday bash: LOCK
Considering how much I struggle to make solid contact with the golf ball, and the fact that I'm not sure I could even stand up on skates for more than five seconds, this looks impossible:
THIS WEEK IN NATALIE GULBIS BELEN MOZO MAKING US FEEL BAD WITH HER TRAINING
Looks like Belen was busy keeping off the holiday belly.
And we can't overlook Greg Norman, who will turn 61 next month, and gave everyone two tickets to the abs show for the holidays.
THIS WEEK IN PAIGE SPIRANAC BEING PAIGE SPIRANAC
It doesn't appear that "taking a break from social media" is one of Paige's New Year's resolutions. . .
THIS WEEK IN DUSTIN JOHNSON-PAULINA GRETZKY (AND TATUM. . . AND RICKIE FOWLER) PUBLIC DISPLAYS OF AFFECTION
First, Christmas morning:
And then, New Year's Eve:
My wife and I had more of a "Netflix and chill" kind of New Year's Eve (Have you seen "Making A Murderer"?!!!), but it looks like these guys had a good time, too.
Mark Rolfing will make his return to the broadcast booth this week after surviving a cancer scare this summer. "I cannot believe how good it is to hear my voice," said Rolfing, who was diagnosed with a rare form of salivary gland cancer. Welcome back, Mark. . . . Lee Westwood will be heading back to the Masters after finishing 2015 at No. 50 in the Official World Golf Ranking despite being No. 51 both the week before and after. Math! . . . The Secret Tour Pro has become a fixture in the golf world, and his identity remains a mystery despite our best efforts. If you're reading this, STP, please let us know who you are. We promise not to tell anyone. . . . And check out my big Christmas gift from my wife: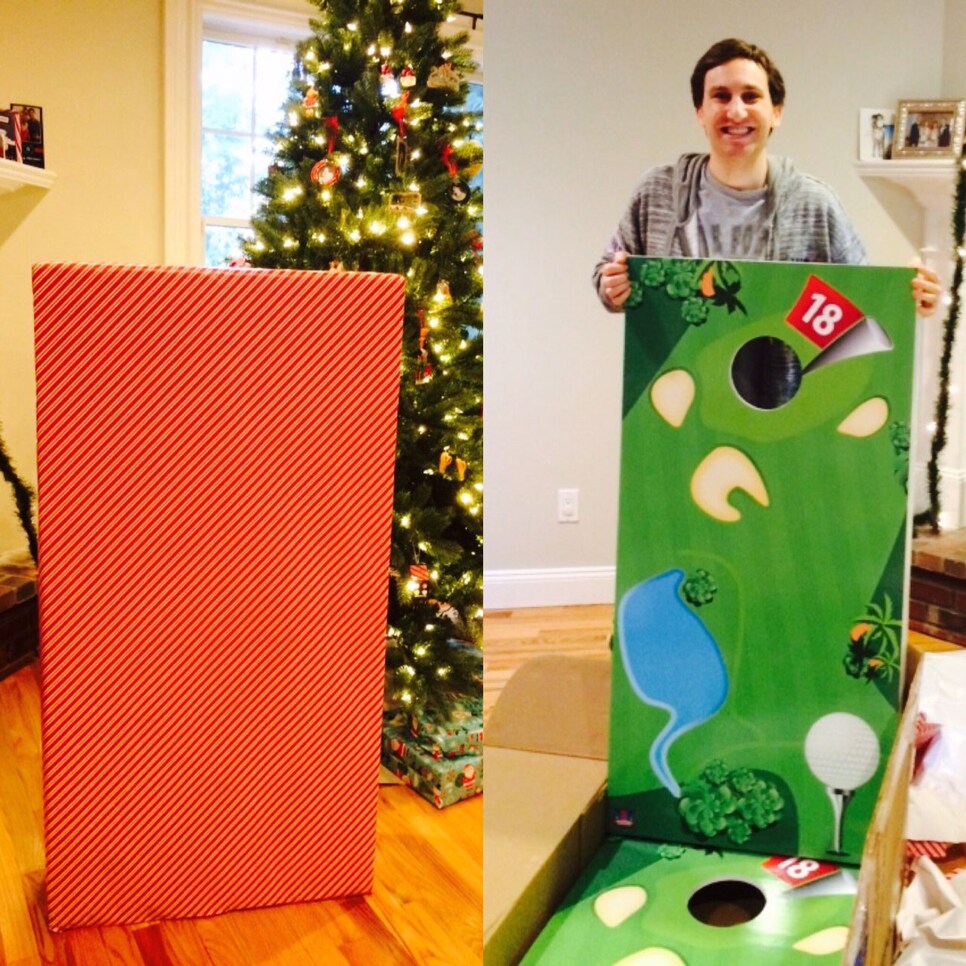 Is that not the most beautiful cornhole board you've ever seen? Look out, Professional Cornhole League! If there ever is such a thing in my lifetime. (Please be a thing in my lifetime.)
RANDOM QUESTIONS TO PONDER
Who is The Secret Tour Pro?
Is Steven Avery really innocent?
When is Wing Day in the new cafeteria?