Tony Finau calmly bounces back and defeats a U.S. match-play nemesis, Thomas Pieters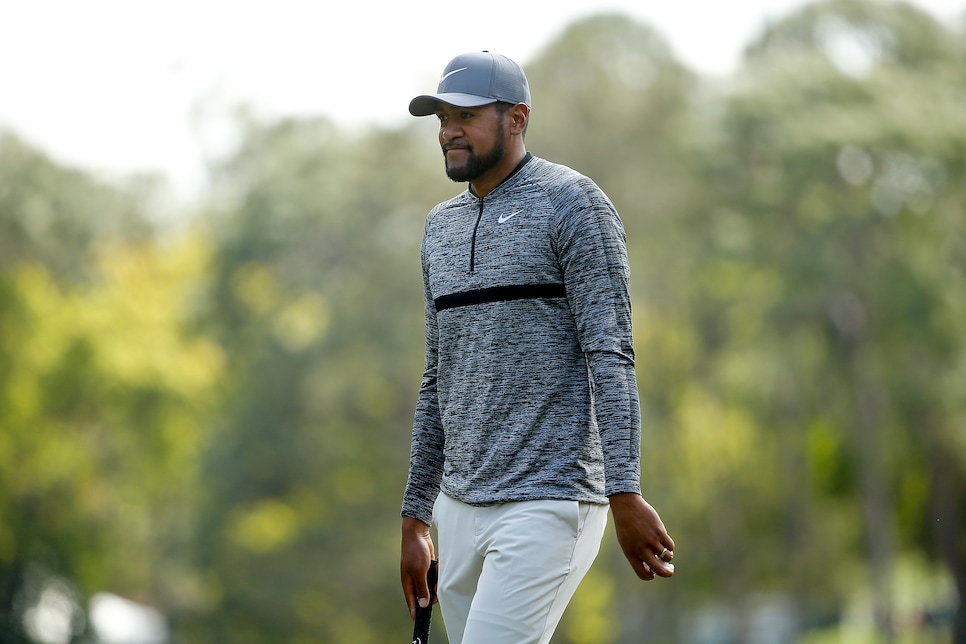 AUSTIN — One of the first two things you notice about Tony Finau, in person, is the way he walks. It can only be described as a slouch, and it has a humanizing effect on someone who is otherwise a physical specimen. The second thing you notice is the length of his arms. Golf is a sport that seems to select for long arms; consider a relatively smaller player like Jordan Spieth has arms that test the tensile strength of his pockets. Even by those standards, and even for a guy who's 6-foot-4, Finau's arms have an otherworldly quality. It makes you wish there was a wingspan stat available somewhere on the PGA Tour's website, because I have a feeling he'd top the list.
In contrast, Thomas Pieters seems perfectly proportioned, and where Finau has a gangly outward quality, Pieters seems to hold everything in reserve. There is something inherently intimidating about the Belgian, despite the fact that he has a very inward demeanor. In a state of calm, there is the suggestion of rage brewing, and in a state of rage, you feel the smallest frisson of fear, though the fury is directed only at himself. He's ice and fire at the same time. It's not surprising that the 26-year-old has had success in match play early in his career, particularly at the Hazeltine Ryder Cup, where he went 4-1 and stood as one of Team Europe's lone bright spots. Nor was it surprising that he went 2 up on Finau after two holes on Wednesday at the WGC-Dell Match Play, and maintained the lead through the early part of front nine, striding his way past the overgrown ravines, the massive homes, the oak trees and Deer Creek.
By the time they reached the 12th hole at Austin Country Club, a downhill par-4 with the gorgeous backdrop of the 360 Bridge set against limestone cliffs, Finau had completely reversed the match and held a 2-up advantage. It threatened to go to 3-up when Pieters hit his second shot into the water (earning ecstatic cheers from the crowd), but Finau committed a cardinal match-play sin by cutting his next shot too close. He watched it find its way into the same hazard—more ecstasy from the crowd, which apparently only desired carnage. Finau lost the hole, and with it the all-important momentum. But he gathered it back with a birdie on 13, and another on 15.
That last bounce back triggered the dormant rage in Pieters, who slammed a ball angrily on the cart path after missing a critical putt on 16, and slammed his iron into the turf on the tee box as he paced toward the 17th green, the match all but over. Smoldering, seething, churning, boiling—all words that come to mind. He left quickly, a 2-and-1 loser in round one, straining with tension, wearing the look of someone who is going to break something the minute he's alone.
Finau, on the other hand, was easy as they come standing near the 18th tee. He didn't consider Pieters' match play record, he said, and he doesn't really play the person anyway. You got the sense that he viewed the capricious format almost as an excuse to throw his hands up, let his fate be decided by the gods, and play aggressive, birdie-seeking golf. Moments later, two spots down from Cameron Smith, he could be seen hitting high, soaring irons on the range.
You are using an unsupported version of Internet Explorer. Please upgrade to Internet Explorer 11 or use a different web browser.