The Loop
Toms rediscovers the magic at Atlanta Athletic Club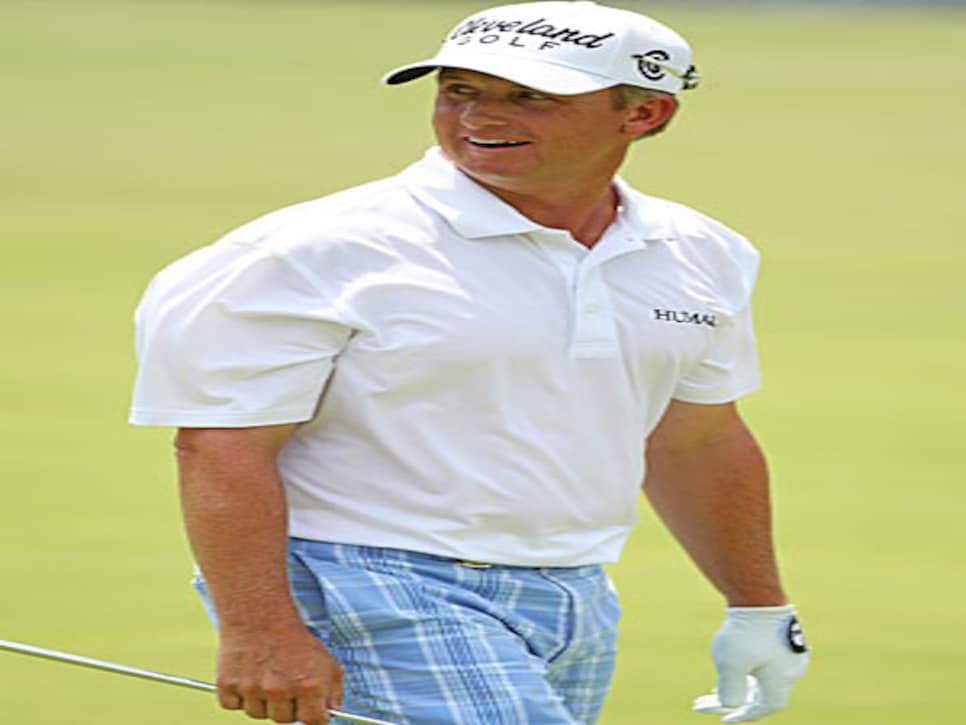 JOHNS CREEK, Ga. -- There was a juncture during his late sprint Saturday at Atlanta Athletic Club when David Toms couldn't help but think back a decade ago, when he conquered this same golf course on the way to winning the 2001 PGA Championship.
No surprise that it came at the par-3 15th, where 10 years ago in the third round his 5-wood shot slammed against the flagstick and into the hole for an ace. A plaque has been placed there to commemorate the shot.
"Maybe halfway through the back nine when I was rolling pretty good after I holed that shot at 14," Toms said about the flickering flashbacks. "And then I walk up to 15 and there's the plaque standing right next to where we were teeing off and people were saying stuff in the crowd about doing it again kind of thing, and you flashback to this time, or this week, 10 years ago. A lot of memories for sure."
Toms, 44, of Shreveport, La., created some more memorable third-round moments at Atlanta AC's Highlands Course when he played his final six holes in 5 under par and sprang up the leaderboard with a 65. The sudden turn of fortune propelled Toms to 2-under 208 and within hailing distance after 54 holes in the year's final major.
A winner earlier this year at the Crowne Plaza Invitational at Colonial, Toms began the day T-59 but will begin the final round in his best position after 54 holes at the PGA since 2008, when he was ninth going into the closing 18. With his second birdie in three days at the menacing par-4 18th -- the hole where he layed up in '01 and made par to beat Phil Mickelson, Toms was T-12 as the leaders teed off and stood to move up farther.
"We'll see what happens this afternoon," said the 13-time PGA Tour winner. "Obviously, it will take a great round tomorrow. That was the goal of the day was to have a good round. I didn't know it was going to be a great round."
He didn't know it would be a great round until he eagled from 40 feet at the par-5 12th hole, that after holing a 25-foot par save at the 11th to keep him at par for the day. Then he rolled in a 12-footer at 13 followed by another miracle shot at 14, a 60-foot bunker blast that found the cup for another birdie.
"You're hoping it's close, and he cans it. It was cool," playing partner Ben Crane said of Toms' bunker shot. "We were just feeding off each other, and it felt great."
Crane, who made his move early in the round, had a rather handsome score himself, a 66, which gave the pair a better ball score of 60.
Toms didn't know if he had another great round in him Sunday, or merely even a good one, but at least he has a chance. And he's got a bit of history in his corner.
"This is not the same golf course I won on; it's a lot more difficult," said Toms, who only returned to competitive golf last week at the WGC-Bridgestone Invitational after withdrawing from the John Deere Classic with a hip injury. "I feel pretty good right now, and my game is in good shape. And I don't know, maybe this golf course is going to be good to me again. We'll see."
(Photo: Andrew Redington/Getty Images)