The Loop
Toms battling through shoulder injury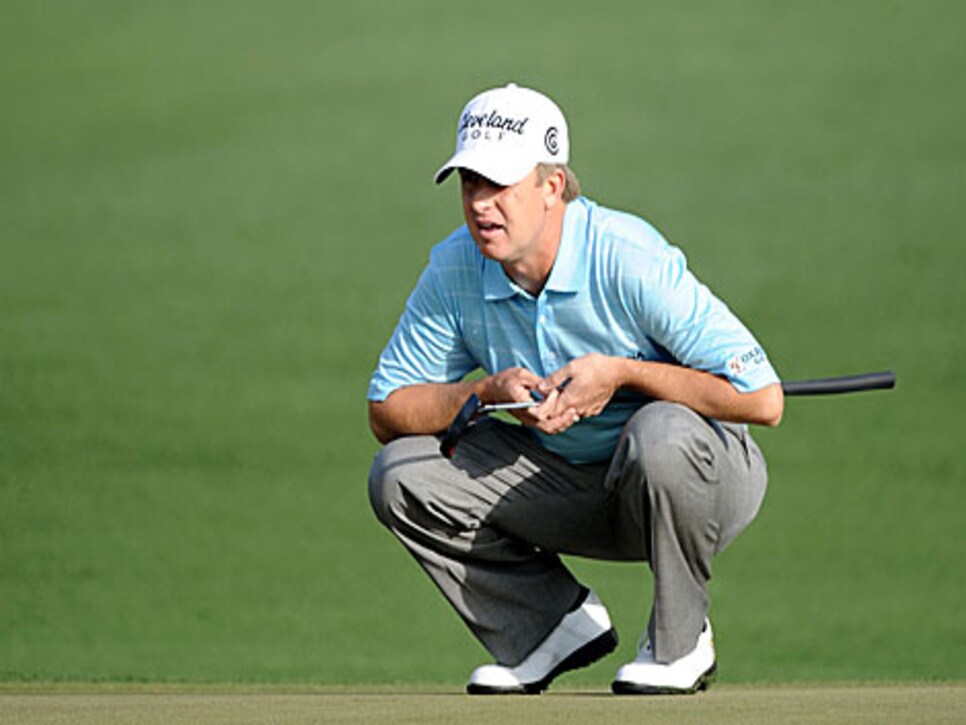 AUGUSTA, Ga. -- David Toms sat down in the interview room at Augusta National GC at 1:35 p.m. EDT Thursday, having just completed a heartening 3-under-par 69 that gave him the clubhouse lead in the 74th Masters Tournament, and he smiled when he looked up and saw eight reporters there to greet him.
"I think I know where all of the media is," he said with his deep southern drawl, smirking.
Yes, well, Tiger Woods was just seven minutes away from his 2010 competitive debut, so there wasn't much interest in what the 43-year-old Louisiana native with the bum shoulder accomplished amid increasingly blustery conditions and darkening skies.
But there should have been. It was quite the round, especially considering that the former PGA champion is putting off rotator cuff surgery in his right shoulder until the fall, and had just received a cortisone shot on Friday to help him get ready for the year's first major. He can't hit the ball hard -- and he couldn't before the surgery -- and he has trouble getting his arm above his head.
But he used his head splendidly in navigating the National.
"You know, it's not the ideal situation from a pain and strength standpoint," said Toms, 43, who hasn't finished better than T-20 in his seven PGA Tour starts this year. "I would hate to have to hang up my golf clubs at this point in the year when I'm exempt for all of the majors and a lot of the tournaments I like to play in May and June, so for now I'm going to put it off."
Toms, who didn't qualify for last year's Masters, finished T-6 in his debut at Augusta in 1998, shooting a 64 in the final round that included a record 29 on his last nine holes. He's never finished lower, though he's had two more top-10s, the most recent a ninth-place finish in '07.
His round on Thursday didn't start promising, but he kept plugging away after a series of lipouts. The key was a birdie-birdie finish to his front nine, the second after a 7-iron to four feet. Another 7-iron at the par-3 12th erased a bogey at 11, and he then ripped off three more birdies before a bogey at 18, which was caused by driving into the fairway bunker left of the fairway.
"I just told myself to be patient, because you can mess up pretty quick trying to be too aggressive, whether it's with your putting or whether it's your iron shots into the green," Toms said.
The early Masters leader board was filled with wily players with a few tree rings on them - guys like Toms or the ageless Tom Watson, who shot 67, seniors Bernhard Langer and Fred Couples, and other 40-somethings like Ernie Els and defending champion Angel Cabrera.
Toms joked that it was merely a product of getting out early, ahead of the wind and the whirlwind of the Woods express. But he knows there is something to local knowledge at Augusta, too.
"Obviously, experience is a big deal," Toms said. "I was on the front nine, and I was lipping out putts and Bernhard was ahead of me making them and was 3â¿¿under par early. It can be done, but you just have to go out there and hit it in the right spot and have uphill putts all day."
Right, hitting good shots matters. So does getting a good shot in the arm -- literally.
(Photo: Harry How/Getty Images)