BMW PGA CHAMPIONSHIP
Tommy Fleetwood shoots 64, leads BMW PGA in first event back since his mother's passing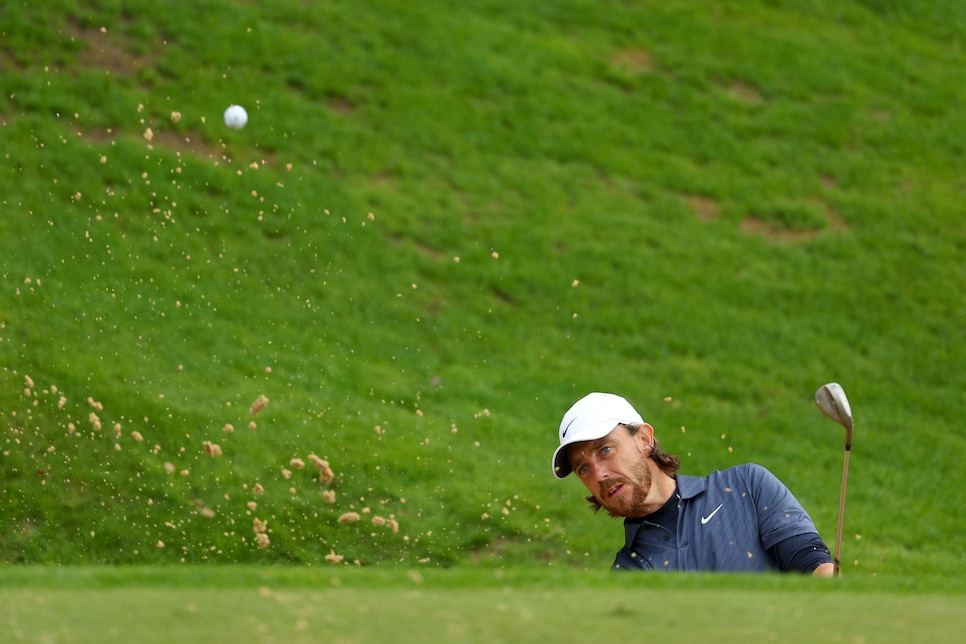 VIRGINIA WATER, England — Seven weeks from one of the worst days of his life, this was a good day for Tommy Fleetwood. Back on tour for the first time since the July 21 death of his mother, the 31-year-old Englishman shot a bogey-free 64 to claim the early lead in the opening round of the BMW PGA Championship at Wentworth. Only two under par standing on the 12th tee, Fleetwood rattled off six birdies in the next seven holes to reach eight under. He is tied with Viktor Hovland and compatriot Andy Sullivan at the top of the leaderboard after Round 1.
It was a remarkable return for a man who understandably skipped the FedEx Cup Playoffs and whose most recent tournament round was the 67 that carried him to a T-4 finish in the Open Championship at St. Andrews.
"After a bit of time away I got into the rhythm of the round pretty quickly," said Fleetwood, ranked No. 29 in the world. "Which was nice. Even though I've not been playing tournaments, I have been playing and practicing. But you never quite know what to expect. It was nice to be out there and get on a run near the end."
Indeed, Fleetwood exceeded all expectations with such a performance, one he completed in the company of close friend, Shane Lowry, who shot 66 himself. The presence and play of the former Open champion were both of benefit to his still-grieving playing partner.
"Shane [Lowry] was playing great," said Fleetwood. "And Justin [Rose] battled … to shoot one over. I have massive respect for how he went about things. Anyone can learn a lot from watching that. So it was a good group to be in. The company certainly helped me."
The eight birdies Fleetwood made surely helped too. As you'd expect after such a layoff, he was unsure what to expect.
"I was a little nervous because I haven't played for a while," he admitted. "It felt like a long time away. I've enjoyed being here this week, getting into the rhythm of a tournament and seeing people. It was never really about the score today. it was just nice to be back in tournament mode. There's a lot of good things coming up so there is a lot to be motivated about. And it was nice to see my dad out there watching this morning. It was the first time in a while for him.
"There is a different flow, a different rhythm to tournaments. And a different pressure and mentality to tournament golf. I guess that's the hardest part. But I hit a brilliant tee shot off the first. It was almost the shot of the day. And I played the first few holes really well. I challenged every part of my game in that stretch. I hit some really nice iron shots. I hit a cracking bunker shot on three. I hit a really good bunker shot on five. And I holed a nice putt on two. So I found my rhythm quickly. It was all going well."
Still, as he willingly conceded, anything is possible from Fleetwood over the next three days. Even after such a score there were aspects of his game requiring attention. On the course, his inability to hit anything other than a right-to-left draw, for example, left him unable to find pins on the right side of the Wentworth greens. And off the course, he could feel a different vibe, one caused by the current and on-going rift between the DP World Tour and the LIV Golf series.
"It is a little different, of course it is," said Fleetwood. "What is really different is that certain people are a little quieter, a bit more sheepish. But I honestly have no problems with anybody. I've had far bigger things going on to bother about where anyone is playing and what they are doing. I'm not saying the LIV tour doesn't have a place in the world. Everyone wants to earn more money. Of course they do. But what they don't have and probably will never have is a story like Oliver Wilson [who last week won for the first time in more than seven years]. I was on the couch crying as I listened to his interview. He is a great story of perseverance. I've watched him struggling on the range. So to see him win was great. LIV will never have that story."
Fleetwood winning the biggest event on the DP World Tour would be hard to beat too.