Courses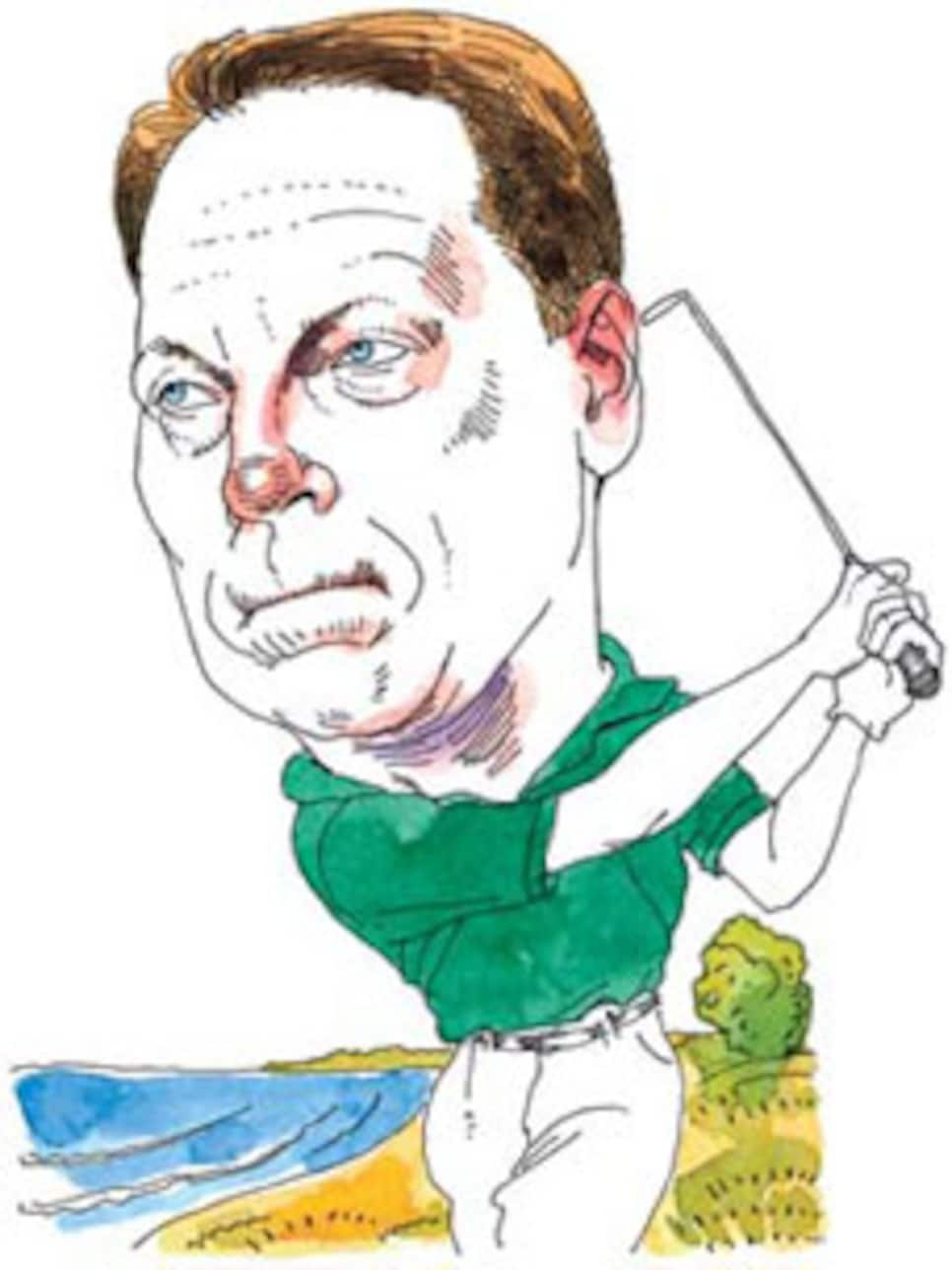 "I just don't get away like most of these good coaches who are good golfers," Tom Izzo says. "My program doesn't recruit for itself."
Tom Izzo, 54, has coached Michigan State's basketball team to five Final Fours and one national championship (2000). He has stories about playing golf with Tiger Woods, meeting with Muhammad Ali and missing out on a chance to play Augusta National. If Izzo were on Jean Van de Velde's bag at the 1999 British Open, he says he would've started breaking clubs.
What was you first memory of golf? My first memory was my Dad taking me to local country club in Iron Mountain, Mich., when I was five, six or seven -- somewhere in there. And then probably from there it was Arnie's Army and Jack Nicklaus.
Were you a bigger Arnie or Jack fan?
Arnie at the time. I think he was a little earlier than Jack and Arnie's Army kind of turned me on.
Do you remember going to a tournament?
No. Where I'm from we barely got to civilization much less a tournament.
What's your current handicap?
It's a 12, but I really think I could get it to a single digit if I played. I just don't get to play enough. I have two young kids. Both of them are just starting to play, so that has helped a little bit, especially my 8-year-old boy.
How many rounds do you play a year?
I probably don't get in 15 rounds a year right now. I love to play. I play in scrambles. I've had a chance to play with Tiger. I just don't play enough.
Tell me about playing with Tiger.
We were in a pro-am at the Buick. They called me to play. I had been on the road for six weeks. I get off on August 1 and I think the tournament was on the 3rd and 4th. I tried to get in some shots at the local range and then I went up there and played with him. I didn't play great. I shot my best round of my life a few years before that when I played with Jay Haas. I think I shot a 75 and I had never shot in the 70s before that. But with Tiger, I just wanted to make sure I didn't kill anybody. There was a big gallery. But Tiger was great. He's a basketball fan. We had played Stanford that year, so we talked about that. He was helpful, good, classy, I'll be honest with you, I was really impressed with Tiger. It was a fun 18 holes. He laughed at himself, ripped himself. I don't know, maybe I got to see a side of him not many people get to see.
It was four or five years ago.
Did he give you any tips?
Oh yeah. He helped me with my putting. He got down, turned his hat around like he does. I missed three putts by an inch, I swear, and they were all long ones because I was never near the hole. And he asked me a good question. He said, "Coach, do you know what I'd do if I missed three putts like that?" He said, "I'd fire my caddie." I said, I think I'll keep you. [Laughs.]
Did he do anything noticeably impressive?
Every drive he hit was impressive to me. One time he hit one two fairways over and into a trap. It got away from him. And he went in there, and he was probably 200 yards away, he hit it out of the trap, over some trees and right onto the green. I said, "What the hell did you hit?" He said, "I don't know. I just grabbed a club. I was so embarrassed." [Laughs.] I loved that. He was great.
I just got back from Northern Michigan and I'm writing about what a golf mecca it is up there. Pick one: Arcadia Bluffs, Forest Dunes or Tullymore.
Oh boy. I've played them all. The one I really love is Crystal Downs.
Is it as good as they say it is?
Yes it is. The views are incredible. It's got the heather. Tullymore was good. Arcadia Bluffs and Crystal Downs to me are the best. I've played Oakland Hills and it's different. But it's hard to beat Arcadia Bluffs and Crystal Downs.
Tell me more about Northern Michigan. Why do you love it so much?
Well, I grew up in Iron Mountain. I lived there most of my life. And after a couple years at my alma mater, Northern Michigan, I came down to Michigan State and worked my way up. But as you know, in this state, there are a ton of golf courses and they're all cut out of the woods in Iron Mountain. And I enjoy change of seasons. From where I'm from and where I'm at now is 400 miles south, so I get five or six more weeks of spring and fall and that's nice. From where I'm from we had 11 months of winter and one month of poor sledding. It was a bitch up there.
Do you ever take a buddies trip?
I've gone down to Florida a couple of times. I played the Bear with some guys. I've gone up to the Traverse City area and played the Legend. I enjoy doing that. I just don't get away like most of these good coaches who are good golfers. The Jim Boeheims of the world. Those guys, their programs are more established for longer periods of time. My program doesn't recruit for itself. And then I spoil these guys and go to those Final Fours and now they think that's part of the regular season. [Laughs.] I tell them, No, no, no, that's the playoffs. That's not part of the regular season.
You've never been to Scotland or Ireland?
Oh no. I've always wanted to do that. I want to go to Scotland in particular. If I had a bucket list, that would be on my bucket list.
Can you relate coaching basketball to managing your golf game?
One thing I enjoy about my job is there are a lot of similarities to a lot of things. We tried this year to go to a Final Four. Our battle cry was, "Focus and finish." And if I think of Tiger Woods, and I see that glare, and when I played with him he was great, but if he wanted to bear down, if there were bombs going off next to him, I'm not sure it would've affected him. He has incredible focus and he's a guy who's able to finish.
In a situation where a golfer is collapsing at the end of a round, a Jean Van de Veldian choke at the British Open several years ago ...
If you were his caddie, how would you coach him through that situation?
Well that's a great question. I think of a free-throw shooter or a three-point shooter who can't make a shot, a pitcher who can't throw a strike . . . I remember John Smoltz went through that. I guess a guy who can't make a putt would be like that, but that meltdown along with the Shark's at the Masters, were some of the greatest in sports -- forget just golf -- watching that I wanted to climb through the TV and tell him to play it safe. How many strokes up was he? And there was one bad shot right after another after another. It wasn't two or three, it seemed like six or eight. So I think if I was his caddie, I would've been more like the guy in "Happy Gilmore". I'd have broken his clubs before I let him take another bad shot.
You said you were at the Masters last year. Was that your first time?
I've been there twice. Just for a day. And I really, really, really enjoyed it.
To someone who has never been there, what would you recommend seeing or doing?
Well, Amen Corner was great.
Did it exceed your expectations?
It did. I loved that whole deal. I love the sandwiches, walking the course, and I'll tell you what else impressed me: putting your chair down and having it be there when you come back. You can't do that in Detroit. [Laughs.] I love tradition. I loved walking by the cottages. In fact, I'm really bummed out. A few years ago I had a chance to play the Monday after the Masters but because I had a recruiting thing I couldn't do it. If I have some regrets in life, that's one of them.
You're offered an all-expenses paid trip to Pinehurst, Pebble or Bandon Dunes -- where do you go?
Oh man. I've been to Pebble Beach but I didn't play the course. I haven't been to Pinehurst. I'd have to say Pebble Beach because of the ocean and everything.
Do you gamble on the golf course?
I'm not into big-time gambling. I do enjoy playing for something. It makes things more interesting. It makes the putts a little tougher. When you don't get to play a ton, you do like some competition.
You guys had another incredible season but lost in the finals. How do you accept losing in basketball and in golf and are there a different set of standards for you?
That's another good question. I'm not a great golfer but I'm a competitive golfer and I think I could be good if I could spend some time on it. This year, losing to North Carolina, I think we got beat by a better team. If I played Tiger Woods I would think I got beat by a better golfer.
Well, one you do as a profession and one you do as a hobby.
Yeah. But I'd like to get more in love with the range. Because practice is important to me in basketball, I just haven't carried that over into golf. I get so little time, I say, 'Gosh, I want to play. I love to play. I love to be out there.' My future goal is to live on a golf course, get up at seven in the morning, or at dusk. Those are the two great times to play. It smells so good out there. God! You're making me want to go play right now, Matt. What the hell do I have this camp for?
What's the strength of your game? Are you long off the tee?
I'm not long off the tee. I'm a good chip and putt guy. Because I'm not long off the tee, I'm pretty consistent. I'm not in trouble very often. If you're not in trouble off the tee and you're not playing real long courses, you can score. I can say I'm a fairly consistent golfer.
Let's talk travel. How do you kill time on a plane?
If it's a short flight, and during the season, I'm either watching film or trying to catch up on sleep. I read a little bit. Especially if I'm taking a longer trip.
One movie for a long flight?
I do have some favorite golf movies. I watch "Happy Gilmore" with my kids, at least, at least, a couple times a week. But I'm a big "Caddyshack" fan too. I love Rodney Dangerfield. I like inspirational movies. I like comedies. I don't like sad movies.
Would you consider yourself an efficient packer?
Yes. Decent. I got my bag, a little running gear. I don't have to pack like an NBA coach with suits and stuff like that. Maybe I pack one suit for a game. During the summer it's easier to pack for me.
As an expert traveler, share Coach Izzo's travel tips with the masses.
[Laughs.] If something goes wrong with me, if I'm a little late, if I miss a game, I miss the whole thing. I'd say if you're flight is at 7:00, get there at 5:30 so that you don't have to waste too much time. Find a way to get there as late as possible but make sure you make your flight.
What's you favorite vacation destination?
My wife is big on some of the resort areas in Mexico. We don't go that much because I do work a lot. I don't get away much. It bums me out. But we enjoy Vegas. We enjoy New York and Chicago. We like to go to plays.
Did I see you performed in a play?
That was unique. That was one of those idiotic things I've done, but it was to raise money for cancer. Thank God it was here. We brought seven Broadway stars to our theater. It was pretty cool. I had to sing, dance and I had lines. I didn't sing much. I called it a U.P. (Upper Peninsula) Rap. I just talked my way through it. I learned a lot about theater people. I was really impressed by their athletic ability. We had someone from the Rockettes. I really enjoyed that. There was a golf scene in the thing. [Laughs.]
We were pretending we were on a golf course, talking about things, and we had a golf cart on stage.
Do you have a favorite restaurant in New York City?
No. I don't. I'm not there enough. I'm not any place enough to have favorites. Food is not one of my favorite things. To go out and have a six-course meal is not relaxing to me. I'd rather go to a play or a sporting event. I'm not one of those guys like Rollie Massimino and have a 12-course meal.
Who's in you ideal foursome, dead or alive?
Tiger would definitely be one. Nicklaus and Palmer would be my other ones. That would be a pretty good foursome.
One course for the rest of your life?
I'd say it would be on the West Coast. It might be Spyglass or Pebble.
Augusta National is No. 1 on your bucket list?
Yeah. I'd like to play it after walking it, seeing the greens, that would be the number one place I'd like to go. Although, going to Europe, I'm not sure the golf would be as good, it's harder to play those courses, but the experience would be right up there.
Phil and Tiger in the final paring, are you pulling for Tiger?
I'm a Tiger Woods fan because I had the chance to play with him. I like Phil Mickelson. There are some very good golfers out there. I like the way Tiger has handled his stardom. I like the way he is, and getting the chance to talk to him a couple of times and play with him for four hours, it's unfair because I haven't had that with a lot of other guys. I follow him. I follow him from the standpoint of what he says. How many times has he made a mistake in an interview? Sometimes it seems too canned but for me it's who he is, what he is and I respect that a lot. I like watching him play, but I enjoy who he is.
A three-foot putt for your life, do you putt it or do you call someone like Tiger to putt it for you?
I'm calling him and I'm betting my whole life on it. [Laughs.] A three-footer? For sure. I think I'd call him if it was a free-throw. I think some guys just know how to win. The year we won it, in 2000, Muhammad Ali lived an hour-and-a-half from here at the time, and he came to a couple of games, and then when we won it he invited our whole team out to his farm. Sitting there with him, seeing a side that not many people get to see, and I look at Tiger, and Magic Johnson is from here, those three guys, to me, all are successful for the same reasons: they're focused guys, they're finish guys, and they're incredibly competitive. And yet they're all pretty classy guys. There's something to be said for that.