News
Tom Watson's Ryder Cup Dilemma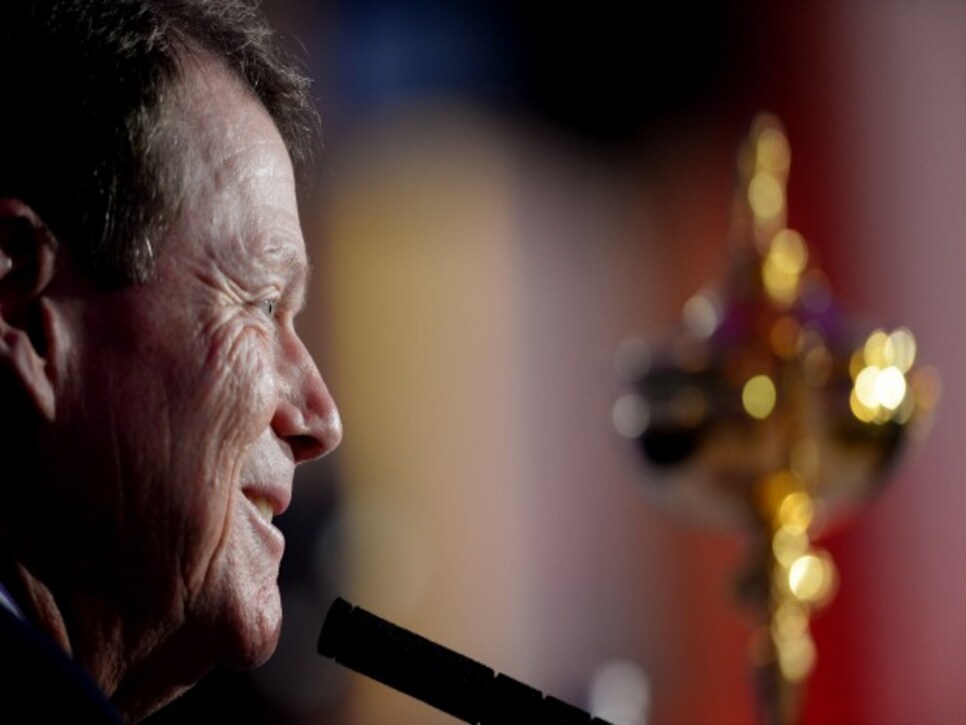 Right now, Tom Watson would have to pick three from Woods, Spieth, Kuchar, Haas, Mahan, Bradley and Snedeker.
When Patrick Reed said he is one of the five best players in the world, there was a ring of truth to his words -- mostly because such a list has about 15 candidates right now.
And that sudden burst of parity is going to make for some interesting decisions when it comes time for Captain Tom Watson to finalize his U.S. Ryder Cup team.
Not only will Watson have some fresh faces to consider for his three wild-card selections -- seven players currently among the top 13 in the race for the nine automatic spots would be Ryder Cup rookies -- he is going to have to think hard about some veterans who are having less than stellar seasons.
For two decades, the American team began with Tiger Woods, Phil Mickelson and Jim Furyk, and was supplemented with a relatively steady cast of supporting characters. But not only are six members of the 2012 team not currently qualified for this year's competition at Gleneagles, five are outside the top 20.
As of now, the nine automatic qualifiers are Jimmy Walker, Dustin Johnson, Bubba Watson, Patrick Reed, Jason Dufner, Mickelson, Harris English, Zach Johnson and Webb Simpson.
Mickelson boasts nine Ryder Cup appearances -- as many as the other eight guys combined. The next four players on the qualifying list -- Ryan Moore, Chris Kirk, Kevin Stadler and Jordan Spieth -- have a combined zero Ryder Cup appearances.
But that's what the three captain's picks are for, right? To fill the gaps?
Yes, but that decision is a real head-scratcher right now.
Medinah team members Matt Kuchar (currently No. 21), Keegan Bradley (29), Brandt Snedeker (30), Woods (35) and Steve Stricker (53) have sketchy resumes as captain's picks right now. Furyk, who has been on all eight teams since 1997, is in the best shape at No. 14. That might be good enough to get him another nod. It might not.
Truthfully, Woods is only a question mark because of his health. If he is ready to go, he'll be on the team.
The veterans of the 2012 loss to Europe currently inside the bubble are the two Johnsons, Bubba, Dufner, Mickelson and Simpson. Those other members of Davis Love III's last squad on the outside looking in have some formidable fresh faces to tangle with.
Speith, who already has a Presidents Cup on his resume at age 20, Russell Henley (18) and Billy Horschel (28) have the time to increase their presence on Captain Watson's radar screen. Reed (4), English (7), Simpson (9), Chris Kirk (11) and Rickie Fowler (22) are other 30 and younger guys in the mix.
The reason so many players -- some of whom won multiple times last year -- find themselves fighting to sneak into the team this year is because of the qualification process. It heavily favors playing well in 2014; prize money earned in the majors is the only thing counted from 2013.
The irony here is that the management team that will sift through the candidates has an average age of 67, more than double the average age of the top 13 players on the qualifying list (31.1).
Captain Tom will be 65 when the Ryder Cup is played Sept. 26-28 while one assistant captain, Raymond Floyd, will be 72 and the other, Andy North, is the spring chicken at 64.
In some ways, that's a good thing; a tragic flaw of many American captains has been their obsession with fairness. They tend to make captain's picks based on the points list and then they tend to try to play everyone a relatively equal amount no matter how they are playing.
European captains traditionally don't seem as handcuffed by these democratic notions. They aren'tt shy about skipping over players not on form and have been extremely clever at hiding weak links when they get to the completion.
Because the geezer guys putting together the U.S. team are so much older than the team they will lead it could very well be that they will make selections less on emotion and more on the cold-hearted reality of what will give the Americans the best chance to bring home the Cup.
This is when we throw out the numbers the Americans don't like to hear.
Europe has won seven of the last nine Ryder Cups and two in a row. The Yanks have not won in Europe since 1993, when Watson was the captain. Those numbers -- more than age or Ryder Cups played -- will have the biggest impact on the decisions made by Watson, Floyd and North. That could be good news for the youngsters in the mix. The guess here is that they will look for the hot hand with a hotter putter when it comes time for the wild-card selections.
This much also seems clear: Tom Watson has a chance to put together a Ryder Cup team that is very different than the ones that have lost the last two competitions. My money is on him to do exactly that.