The Loop
Tom Watson knows how old he is. But he also knows how to succeed at the British Open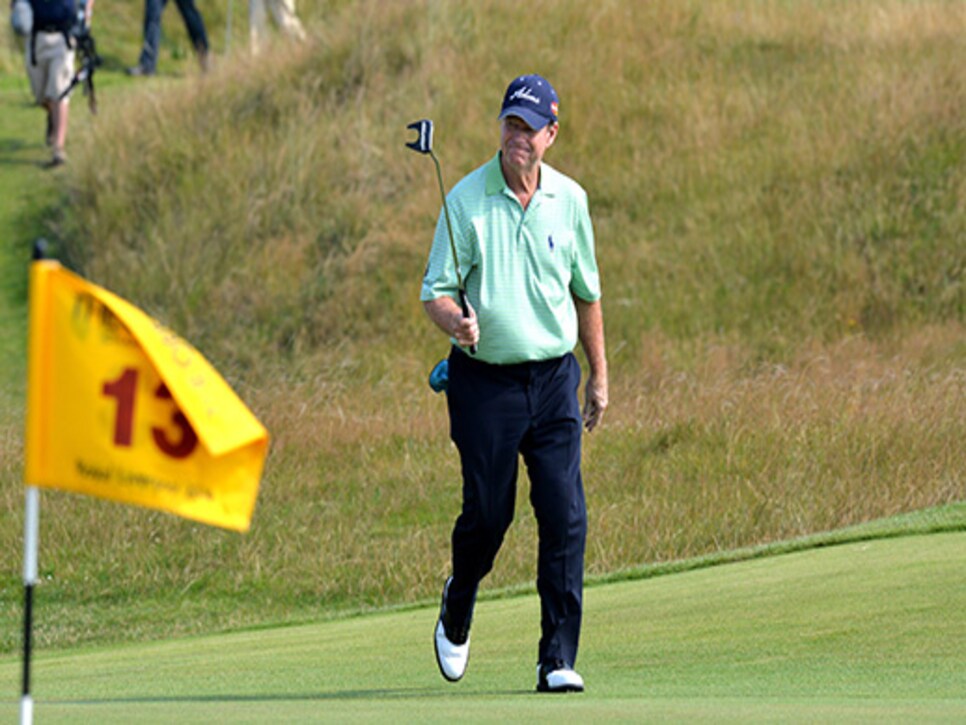 Watson will start Saturday's third round of the British Open as the oldest man to make the cut. The five-time claret jug winner played his final five holes Friday in one under par for a second straight 73, good enough to be among the low 70 and ties at two-over 146 or better. At 64, Watson broke his own record for the oldest player to make the cut in the Open. Two years ago, at 62, he finished T-77 at Royal Lytham & St. Annes.
Since losing to Stewart Cink in a four-hole playoff at Turnberry in 2009 that would have made him the oldest major champion in golf history, Watson has made the cut three of the last five starts. He finished T-22 in 2001 at Royal St. George's.
"I am enjoying it," Watson said with his familiar gap-toothed smile. "I came over here with a purpose to play my best golf and play on the weekend. And let's see what happens on the weekend -- see if the old guy can maybe get it rolling a little bit."
Though busy making preparations for the upcoming Ryder Cup as the U.S. captain, Watson continues to defy odds and conventional wisdom. Earlier this year at the Toshiba Classic at Newport Beach CC Watson beat his age with a second-round 63.
"That's fun to shoot your age when you're my age," he said.
Almost as fun is shooting better than players half his age -- or more. Among the youngsters dismissed from the premises and looking up at Watson's score were Patrick Reed, 2012 U.S. Open winner Webb Simpson and reigning Masters champion Bubba Watson.
The elder Watson made an adjustment in his swing after finding a flaw in his setup Thursday afternoon. Friday's pre-round warm up, he said, was his best of the year. He struggled midway around Royal Liverpool, but he talked to himself after bogeying the par-5 10th hole. "I said, 'I better play some golf, which I did. I hit every fairway and green coming in and made a birdie on 14, and it was a pleasure."
Indeed, Watson still enjoys digging for answers in the dirt. His advantage is knowing where to look. Not many players do. The eight-time major winner doesn't just own his swing, he owns the soul and sinew of his game.
"Today I look back on the round as a very positive round," he said. "I kind of knew what was happening when I hit some shots. It was not very good, but I didn't panic. I was still working on the same things that were still good and building on what I found on the range yesterday. That is something that never changes. You have to go through the process and continue to work on the things that bring you success. And you never stop working on them."
Though Watson said he doesn't think about age when he's playing, he can't ignore the feeling of being old. It is with him for every swing and every step, and nothing can change that. He accepts it, and in some ways he seems to rally around trying to overcome the handicaps that have yet to plague his younger competitors.
He knows something they don't know. He knows himself.
"I do feel old out there, sure," Watson admitted with wistfulness in his voice. "I feel old in comparison to both how I see myself against players I'm playing against now and against how I used to play. How both Darren [Clarke] and Jim [Furyk] hit the ball onto 18 today, the par-5, I can't do that anymore.  I have to play to my capabilities - and I still have some capabilities - and they come out in places like this. Distance off the tee is not the factor. It's where you place the ball and position shots.
"Yeah, I'm hitting longer clubs off the tee than most of the kids are, but I can still find a way to hit it to the area that I need to be in. I know the game I have well enough to do that."
Chances are he'll continue to do that. For Watson, age is just a target number.