News
Tom Watson has a simple solution to combat gains in driving distance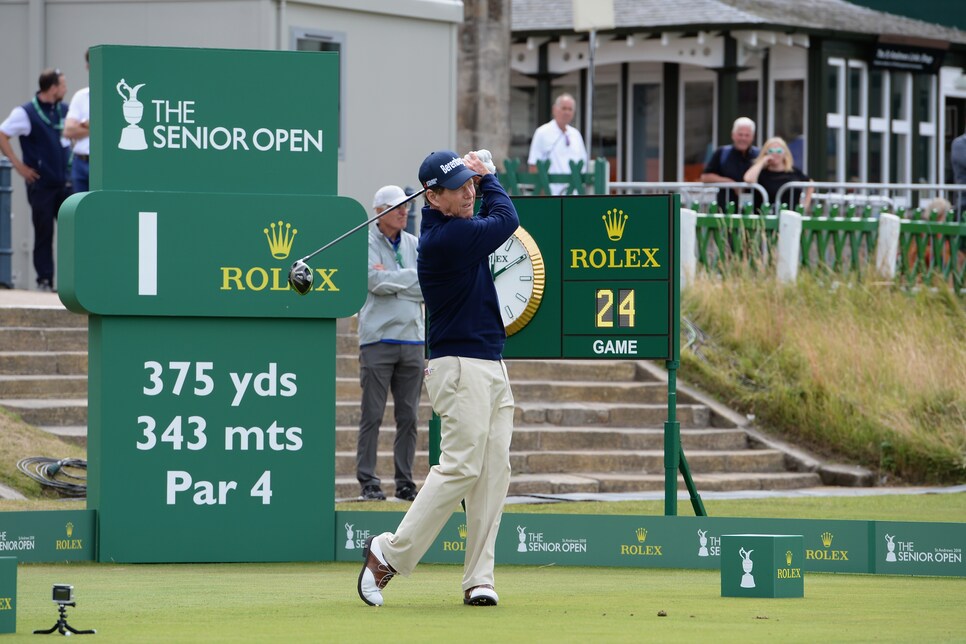 ST. ANDREWS, Scotland — Three years on from his emotional farewell to an Open Championship he had graced for four decades, Tom Watson is back in St. Andrews. The 68-year-old, five times a winner of the game's most historic event, has returned to the Auld Grey Toon in search of a third Senior Open title. It is an occasion for much sentimentality and nostalgia, even if the Old Course is the only Scottish venue on the Open rota where Watson did not hoist the claret jug skyward.
"Ask any golfer what course first comes to mind and it's St. Andrews," he said. "It is recognized around the world as a very special place to be. People make sojourns here from all over the world."
Watson himself has been visiting the East Neuk of Fife since 1978, when he played his first Open at St. Andrews. In that time he has seen many things, including much change on and off the ancient links.
"Every now and then I go over to the cemetery to see Tom Morris Jr.'s grave site," he continued. "And being honored by St. Andrews University several years ago with Arnold Palmer was a very special event. Walking by always evokes some really strong memories.
"Back in '78 there actually wasn't much here in the town. The restaurants pretty much closed down at night. There wasn't a lot going on. Now there's a lot going on and it's fun. But St. Andrews is my favorite venue because the town is right on the 18th hole. At 10 p.m. in 2015, they all came out of the pubs to see some old has-been finish up his Open Championship career. My last four shots were a shank and 3-putts. I hope I do a little bit better this week."
On the course many things have altered just as much over the last 40 years, most notably the location of the tees in relation to the previous greens. Where once golfers stepped off a putting surface onto the next tee, now there is a long walk before teeing-up on the following hole. The explosion in driving distances is behind all those footsteps, of course. But Watson has a solution, for which he credits NBC commentator and former Ryder Cup player David Feherty.
"It's really different here now," Watson said. "Now then we finish, say, the 14th hole the next tee is way back there. But that has to happen and they will move them back even farther. That's just the way that the game is.
"The biggest change in the [professional] game has been the golf ball. You can say players swing faster because they work out and they are stronger. Yeah, that's an element. But when they changed the golf ball in 2001 it was 29 yards different. Let's say you hit drives on 14 holes, that's over 400 extra yards. Add the extra distance you get with the irons and that's maybe another 100 yards. So the course is 500 yards shorter."
And the solution? It is actually one that has been used before. Thirty-five years or so after the world of golf outside the United States switched from the 1.62 inch diameter ball to one 0.06 inches bigger—and so lost maybe 20 yards from drives as a result—Watson and Feherty approve of a repeat.
"You could have one ball for the pros and let the amateurs play with anything they want," Watson said. "Or you could play one ball in major amateur championships, as well as the professional tours. Yeah, we could do that. But I like Feherty's response to it. I was talking to David at the Masters. He said: 'Just make the ball bigger. That will make up the difference in distance.'"