The Loop
Tom Watson and Paul McGinley engage in some friendly sparring during their first press conference
PERTHSHIRE, Scotland -- It was, as you'd expect at this early stage in the biennial proceedings, all very chummy. Although we were spared any LPGA-style "air-hugging," Ryder Cup captains Paul McGinley and Tom Watson were in full diplomatic-mode during the first of many meetings with the assembled press core gathered at Gleneagles for the 40th staging of golf's most eagerly anticipated team event.
Watson, who won four of his five Open titles north of Hadrian's Wall, was in there first with his opening bid for Caledonian hearts and minds.
"Just being in Scotland is very special to me," said the 65-year old Kansan.
Ah, but McGinley was ready for him. In tribute to the grand old man of Scottish golf, the recently departed and already much-missed Bob Torrance, the Irishman told of the aphorism he has had placed on the wall next to the exit door from the home team locker room.
"It's just a simple message," said the 47-year old Dubliner. "Bob used to say this to every player as they left the range to walk to the first tee. He would shake your hand and say: 'Happiest days of your lives.' That's the last thing they will see as they leave the locker room."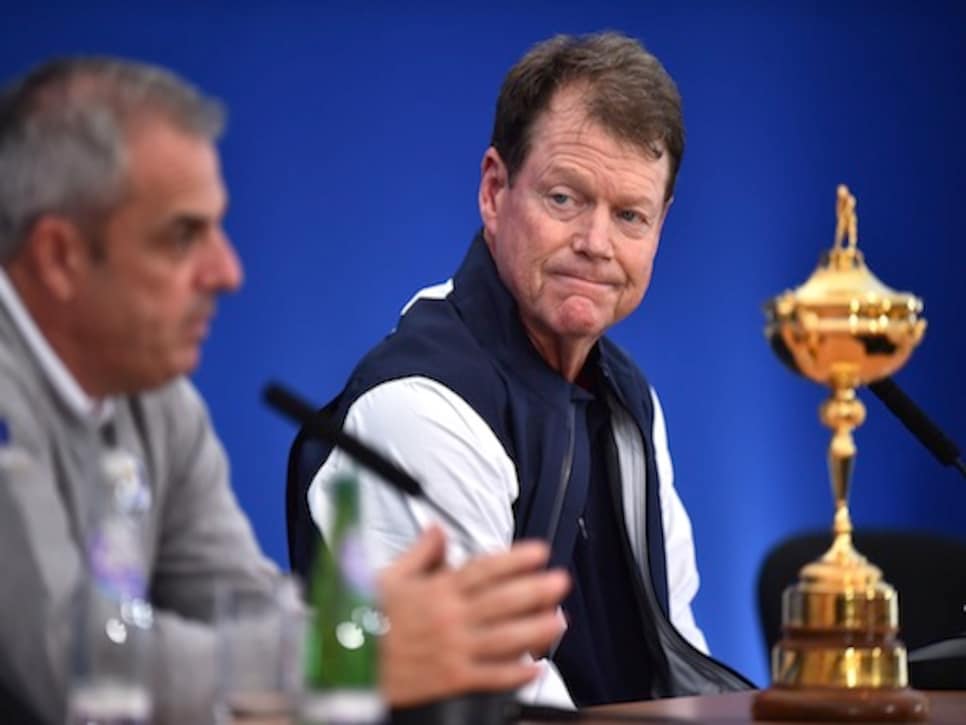 "The crowds here are wonderful," said Watson. "You couldn't be anywhere but Scotland when you're in Scotland. This is a special place. Scotland is where the game of golf was invented. The history of the game here is rich. There is a certain element in me that I feel like I'm part Scottish. I love the game so much.
"Plus, the singing and the cheering is something special. I'll tell our rookies they will feel the electricity. They are going to feel something that they have never felt before."
Not bad. But McGinley was ready with some schmaltz of his own.
"I go to St. Andrews and I can feel the spirituality," he replied. "You know you are somewhere special. There's a just a sense; there's a feeling."
Inevitably, memories of Ryder Cups past came into play. And it is there that McGinley just about edged the contest, although neither man covered himself in glory with their recall of bygone days.
Watson first. Displaying a keen sense of revisionist history, Watson launched into a tale in which he had encouraged Tom Kite not to change his swing before the 1981 matches at Walton Heath. Instead, the Texan should "wait for his body to wake up" post-jetlag.
"And after that," claimed Watson, "Tom went out and won his single 8&7 making ten birdies."
Well, sort of. Kite did make ten birdies in his single at Walton Heath. But that was only good enough to beat Sandy Lyle by 3&2. It was eight years later at The Belfry where the 1992 US Open champion shook hands with Howard Clark on the 11th green.
McGinley's 18-years younger memory was, surprisingly, just about as bad. In relating his experience in his first-ever Ryder Cup match at The Belfry in 2002, the four-time European Tour winner claimed that he and Padraig Harrington had lost to "Payne Stewart and I think it was Jim (Furyk)."
OK. Furyk was there all right. But he was paired that day with Stewart Cink. Close but no cigar.
Ach, call it a draw. It's only Monday.