Instruction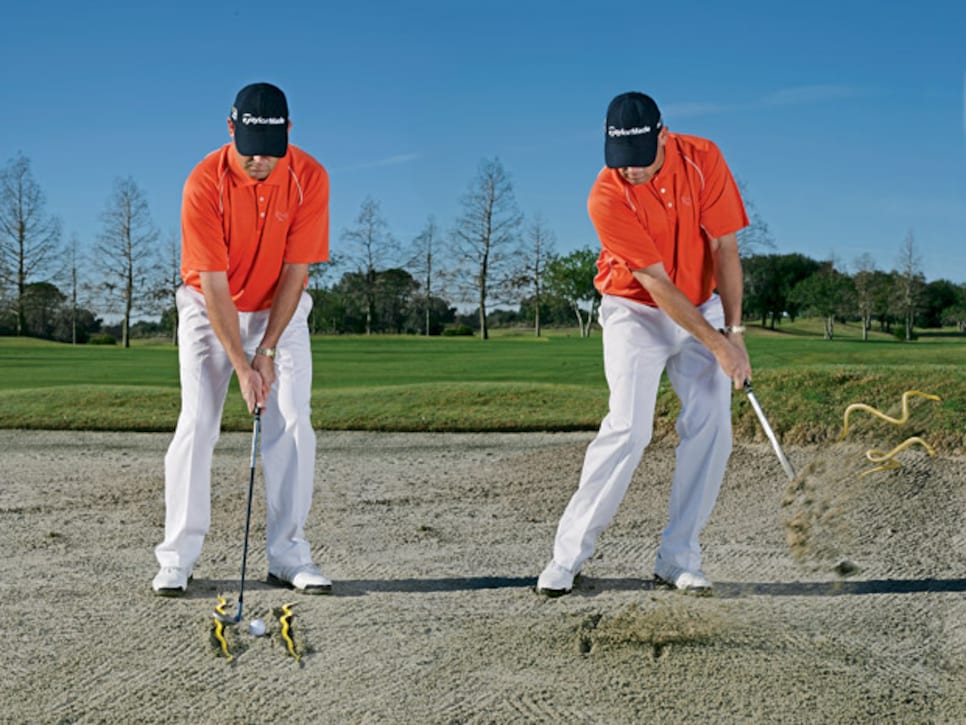 DON'T GET BIT: Draw lines behind and in front of the ball, and imagine them as snakes. Then get 'em outta there.
If you tend to skull the ball out of greenside bunkers, you likely have a reputation with your playing partners. They watch you closely out of self-preservation. Check your spine angle. It just might save someone's life.
Seriously, many golfers hit these shots because they set up with their spine leaning away from the target--like on a driver swing. In the sand, this leads to the club bottoming out too far behind the ball. The farther back the club contacts the sand, the greater your chances of hitting the ball on the upswing and blading it.
My snake drill can help you eliminate these shots. When you practice, scrape a line in the sand a few inches behind the ball and another line a few inches in front (above, left). I tell students to pretend these lines are snakes that you want to knock out of the sand. (People hate snakes almost as much as they hate bunkers.)
Play the ball opposite your front heel, and tilt your spine two inches toward the target. Swing back halfway, and on the downswing try to hit the first snake. If you keep the club moving, you'll catch the second snake, too (above, right). And you'll execute a perfect explosion.