The Loop
Lehman looks to complete unprecedented triple play
SAN FRANCISCO - It's a hat trick that would be a long time coming, if it ever happened again.
With a good performance this week at the Charles Schwab Cup Championship, which begins Thursday at TPC Harding Park, Tom Lehman could put himself in strong position to make some history. Already a three-time winner on the Champions Tour in 2011 - tied with John Cook for the most victories this season - and its leading money winner and Schwab Cup points leader, Lehman could solidify his Player of the Year chances.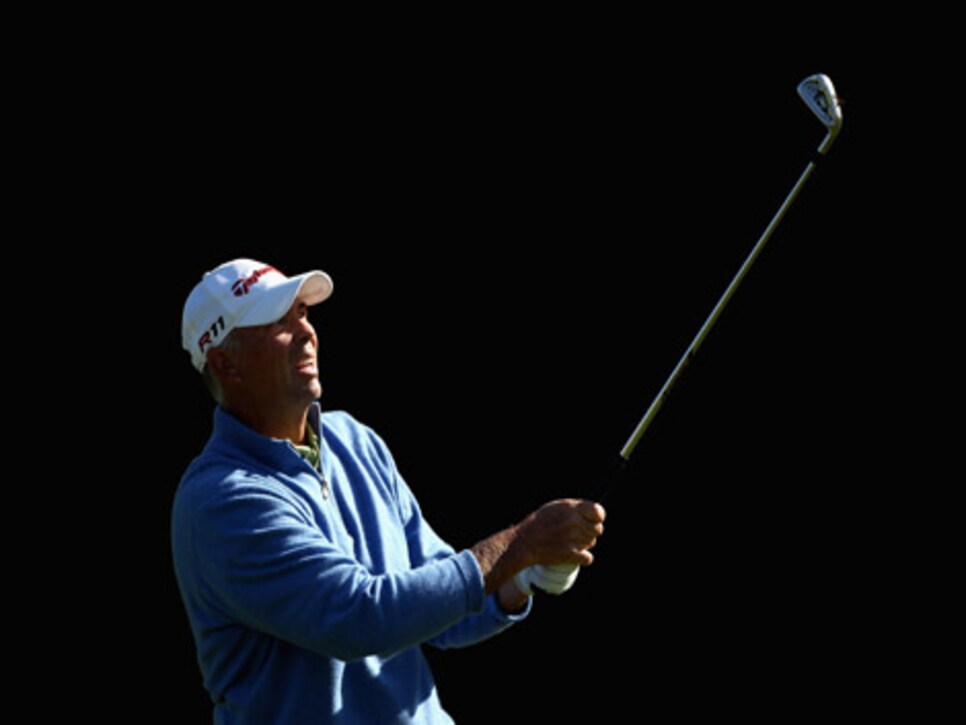 *Lehman was Player of the Year on both the Nationwide Tour and the PGA Tour, in 1991 and '96 respectively. Photo by Getty Images
If the Minnesota native does pick up POY, he would be the first golfer to have been so honored on the Nationwide Tour (it was the Hogan Tour in 1991), PGA Tour (1996) and Champions Tour. "I played the Hogan tour at age 31, when I was player of the year out there," Lehman said Wednesday. "A lot of guys weren't crappy enough to have to play the Hogan tour - they went straight to the PGA Tour because they were actually good. They won't have that opportunity. But of course, it would be a nice thing."
Lehman's chances of winning the $1 million annuity in the Schwab Cup race are pretty good, if the competition's 11-year track record holds. Only once has the player leading the points battle arriving at the season-ending tournament not won the cup. That occurred in 2005, when Tom Watson won the tournament at Sonoma GC and took advantage of triple points awarded that year to overtake leader Dana Quigley.
The same scenario almost happened the following year. Loren Roberts was poised to rally past points leader Jay Haas at Sonoma, but when Roberts missed a short par putt on the 72nd hole, Haas held on to win by 20 points. Two years later Haas won the season title by an even narrower margin, 12 points over Fred Funk.
This year, Lehman has a 382-point lead over second-place Mark Calcavecchia, who along with Peter Senior, John Cook and Russ Cochran have mathematical chances to win. With double points offered (880 to the winner of the $440,000 first prize, 508 for the $254,000 runner-up, etc.) Lehman controls his own destiny to a large degree. If Lehman finishes solo second, none of the other four can win the Schwab Cup even with a victory this week.
There are about a dozen scenarios for what could happen depending on how each member of the factoring quintet plays. Not surprisingly Cochran, fifth on the points list, needs the most help even if he plays the best this week - such as Lehman finishing in a two-way tie for 29th or worse in the 30-man field. Given that Lehman has 19 top-25 finishes in 20 tournaments this year, that's not very likely.
Cook, who is the two-time defending champion looking to become the first to win the tournament three straight times, has a much easier path to make up his 612-point deficit. If Cook wins and Lehman finishes in a two-way tie for fourth or worse, the Schwab Cup goes to Cook. "We all know where we stand," said Cook. "You just have to bring your best game and finish it out."
Calcavecchia could win by being runner-up this week if Lehman finishes in a two-way tie for 12th or worse. "The first couple of days, you just see what happens," Calcavecchia said. "If I have a chance to win on Sunday, I'll pay attention to what Tom is doing and figure out the scenario. I know what needs to happen as of now."
For his part, Lehman also is trying not to get caught up in the permutations. "If Tom Lehman plays the way he's capable of playing, he's going to be a happy guy on Sunday, win or lose," he said. "You can't control what everybody else might do. But I can control what I do. Any time you start thinking about the result before you actually get on the playing field, you're in big trouble. That's what all those 'what ifs' do, they get you thinking about the results."
A year ago, Lehman was limping badly around Harding Park, his arthritic right knee in a great deal of pain. "I was hurting so bad, I didn't even know I could play," Lehman said. Some folks were telling him he was soon headed for a knee replacement, but Lehman discovered - quite by accident - an unorthodox way to ease his discomfort.
"I went skiing," Lehman said, who went on to describe a trip to Steamboat Springs, Colo., last December. "I skied for four days and you get that burn in your quads and everything and it seemed that kind of kick-started my quads and hamstrings and they started working again. I strengthened them some more, and before you know it, my knee didn't hurt anymore. I went there in terrible shape and left feeling like a million bucks. And I've felt good all year."
In a week when Lehman could walk away with that amount of money in the form of the Schwab Cup bonus for his year-long work, it was the perfect description.