News & Tours
Why this tour winner turned down LIV's money for personal freedom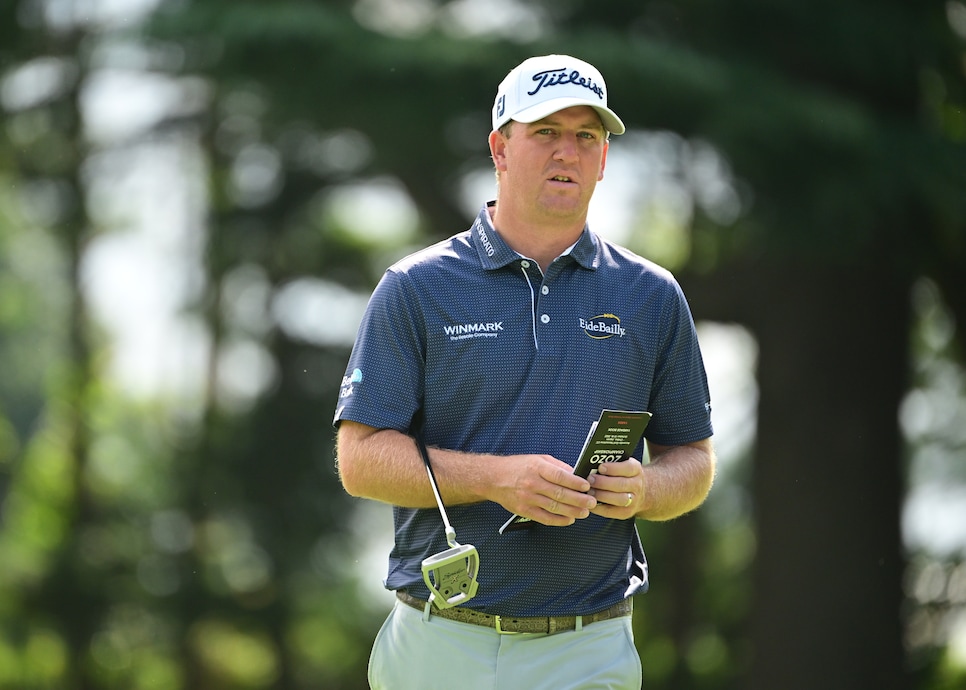 PEBBLE BEACH — Tom Hoge will make his first title defense on tour this week, a juncture that allowed the 33-year-old to discuss the road not taken.
Hoge is coming off a career campaign, one that saw him capture his breakthrough win at the AT&T Pebble Beach Pro-Am en route to finishing 10th on the FedEx Cup standings. Hoge has continued that momentum into the new season, logging five finishes of T-13 or better in the early year, and enters this week at No. 29 in the World Ranking. Nevertheless, as he told the media on Tuesday at Pebble Beach, Hoge doesn't consider himself among the upper echelon of players on tour. When discussing if that made last year's win a pinch-me moment, Hoge's initial response—while one of appreciation and gratitude—was not particularly revealing. "I feel like I've had the potential to be here, but it's taken me so long to get there that I would say I've got a lot better appreciation for it, just like getting into these majors," Hoge said. "You see how many good players there are."
But then Hoge took a slight detour that included an admission about weighing an offer from LIV Golf, and his response gave a glimpse into one man's perspective on the costs that come with defection.
Hoge started by saying he was offered a chance to go to LIV. On why he didn't go, Hoge said what happened at Pebble played a big part. He had just won, and a win on tour bestows certain goodies that he wasn't willing to give up. "I was making the decision a few months afterwards, and there were so many tournaments I've wanted to play in for the first time, tournaments I grew up with—Tour Championship, Maui, those sort of tournaments, and when I went to bed at night, I wasn't ready to give those up," Hoge explained.
When asked how much money was a factor, Hoge acknowledged the weight attached to such a large figure. "The reality is if I trip walking off this stage and hurt my wrist or something that I might never make a dollar again," Hoge said. "You've got insurance for that, but it still isn't the same as making it on the golf course. You almost look at it more for your family and wife and future kids that you almost feel a bit obligated to look at that money and take it.
"It was a hard decision to make, but I'm very happy with where I'm at."
This week's AT&T Pebble Beach Pro-Am coincides with the Saudi International, an event sanctioned by the Asian Tour that is notably sponsored by Saudi Arabia's Public Investment Fund, the primary backer of LIV Golf. A handful of PGA Tour players are playing in the event after receiving conflicting-event releases, so Hoge was asked if it was an opportunity—as the reigning Pebble winner—he wanted to pursue. "I don't know if they ever really cared about me, to be honest with you. I know my place in the game, and I know that I'm not really moving the needle, so to speak," Hoge said. "So certainly not a big draw there. It's an interesting time for golf. Some of those deals that guys have signed you question a little bit, just hearing the numbers that have been floated out there, but I guess it's raised the bar for all of us."
Hoge went on to question some of the numbers he's heard floating around, and said he had some "serious questions" about the financials promised, particularly on the back end of the proposed contracts. Regarding what number would have caused him to change his mind, Hoge said he never got to that point.
It also wouldn't have mattered, because though Hoge hasn't yet earned generational wealth, he has autonomy, and that is something that can't be bought.
"I've always tried to get that next year of status and just keep playing as long as I can. My goal from the start has been to save enough money that whatever the next chapter is that that decision can kind of make a little more flexibility and freedom because money is put aside.
"My ninth year on tour now, I feel like I've—I don't want to say I'm comfortable, but I'm happy where things were and happy if I had to walk away tomorrow that money wouldn't be a driving force in any decisions that I have to make."