The Loop
Tom Doak is designing a reversible golf course, which isn't as crazy as it sounds
Doak is a talented and imaginative golf course designer, but he's the first to admit the idea is as old as The Old Course at St. Andrews, which to this day remains fully playable both in a counterclockwise routing and in a less conventional clockwise one.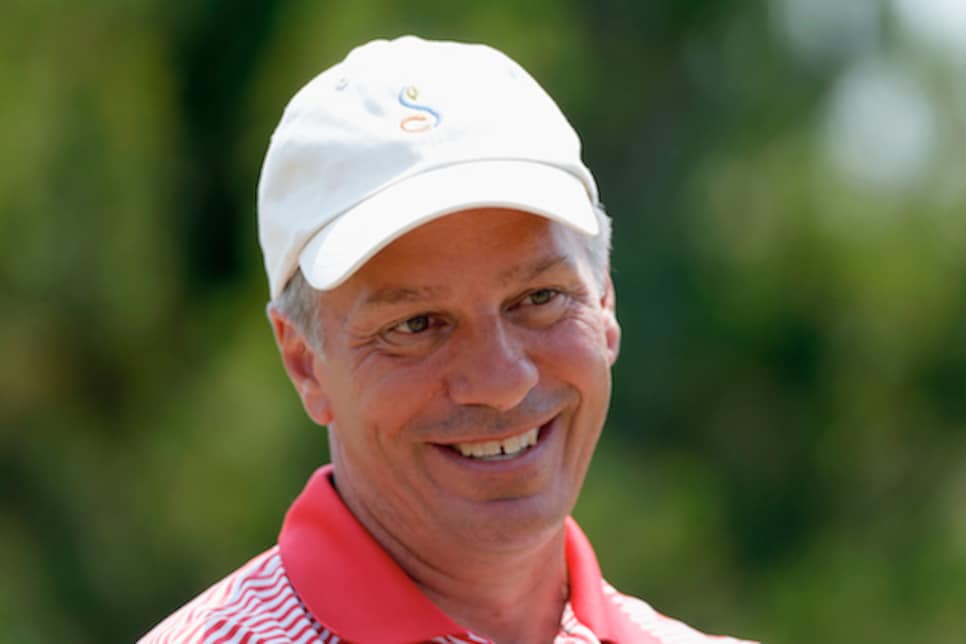 More recently tour pro-turned-course architect Joel Goldstrand established a cottage industry of reversible nine-hole courses for modest-budgeted clubs in the upper Midwest. I wrote about them in a June, 1987 Golf Digest article, "You Go Your Way, I'll Go Mine."  Some of his best are still in business and still work:  Double Eagle Golf Club in Eagle Bend, Minn., Prairie View Community Golf Course in Brooten, Minn., Prairie Ridge Golf Club in Janesville, Minn. and Rivers Edge Golf Club in Manvel, North Dakota.  Within the past dozen years, Goldstrand has added nine-hole reversibles as third nines at New Richmond Golf Club in Wisconsin and Fox Hollow Golf Club in St. Michael, Minn., and for the Dakota Magic Casino in Hankinson, N.D., he created Dakota Winds Golf Club, which consists of a conventional front nine and an reversible back nine, allowing it to be advertised as a 27-hole complex.
Other architects have recently dabbled in reversible courses. Robert Trent Jones Jr. and Bruce Charlton did a reversible nine-hole par-3 as part of the Cragun's Legacy complex in Brainerd, Minn., Tripp Davis did a reversible nine-hole par-3 at Long Cove Ranch GC, Malakoff, Texas and Kipp Schulties did one for the private Harmony Mountain Estate in White Sulphur Springs, West Virginia.
But those are all nine-hole configurations, done primarily to fit a playable 18 within a vest pocket site. Doak's plan is for a full-sized 18, something Forest Dunes general manager says will be the only one of its kind in the world. Well, not really. In 2008, Hale Irwin and Stan Gentry completed Teton Reserve Golf Club in Victor, Idaho, a par 72 of over 7,400 yards from the tips, routed in such a way with flowing corridors that each hole can be played both ways.  The club boasts of not just two routings, but of four, as each nine is a self-contained reversible one.
Never heard of it? That may be because the club was, until recently, mainly private, or because the course opened at a time when only dire situations in golf made headlines or maybe it's because the concept seems mostly a gimmick.
It really isn't a gimmick. Designing a single hole that can be played from opposite directions is a challenge, given topography, hazard placement, green alignment and contouring. Doing it 18 times requires a great deal of skill, particularly if you want golfers to feel like they're playing down a real golf hole and not backwards against the flow of the layout.  The most intriguing aspect of Doak's proposal is that he plans to determine the strategy of one of the routings while having his associate Brian Schneider plot the strategy for the reverse play. Which means golfers could encounter a slightly different thought-process when playing the course a second time.
Still, there has to be a reason to be reversible.  For Goldstrand's projects, it was always lack of space.  For golf architect Gary Baird, 30 years ago at Shishido Kokusai Golf Club in (now Shizu Hills Golf Club) in Japan, it was turfgrass.  Since Japanese courses traditionally had tandem greens, one of bent grass, one of Korai grass, Baird opted to put them at opposite ends of each hole.  But Korai grass fell out of fashion and Baird's two-way design became strictly one-way.
At Forest Dunes, the reason seems to be solely to attract attention.  Which means the biggest obstacle Doak and his client will face with their new project is public acceptance of the concept. What sounds great in theory, what looks great on paper, doesn't always sell well at the box office. The Old Course at St. Andrews plays its clockwise routing only on rare occasions.  Teton Reserve still boasts of the versatility of its flip-flop design but rarely sets it up to be played in reverse order.  Some of Goldstrand's nine-hole reversibles have closed for lack of business.
Personally, I find Doak's project exciting. But I hope one potentially great design doesn't get sacrificed in the effort to create two novel ones.