Courses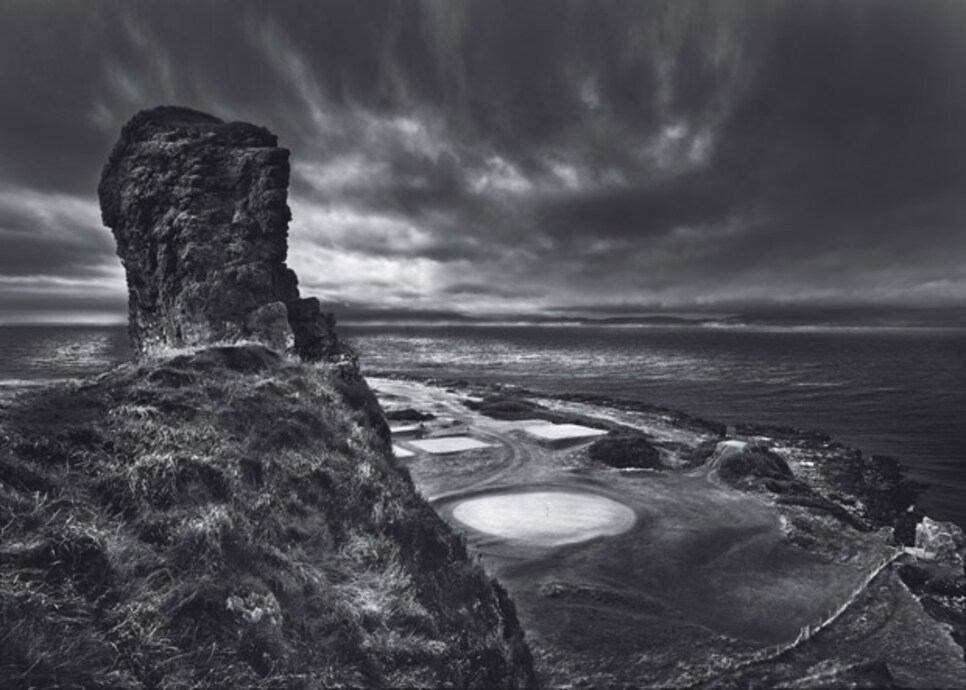 The 146-yard fourth hole, The Shelf, at Shiskine Golf & Tennis Club on the Isle of Arran, with a rock outcrop from the Drumadoon cliffs.
Next to the reproductive urge, man's most powerful impulse is to see the other side of the river, the mountain or the world.
In Scotland, even the Scots—most of them—have never made it to their western isles, especially the Outer Hebrides. (The word "Outer" is a clue. The Inner Hebrides are isolated enough.) Getting there is an expedition. Multiple ferry crossings are involved, as well as a few hops on puddle-jumping airplanes, including one that takes off and lands on a beach.
"What time do the newspapers come in?" the stationmaster at Barra is asked.
"When the tide goes out," he replies.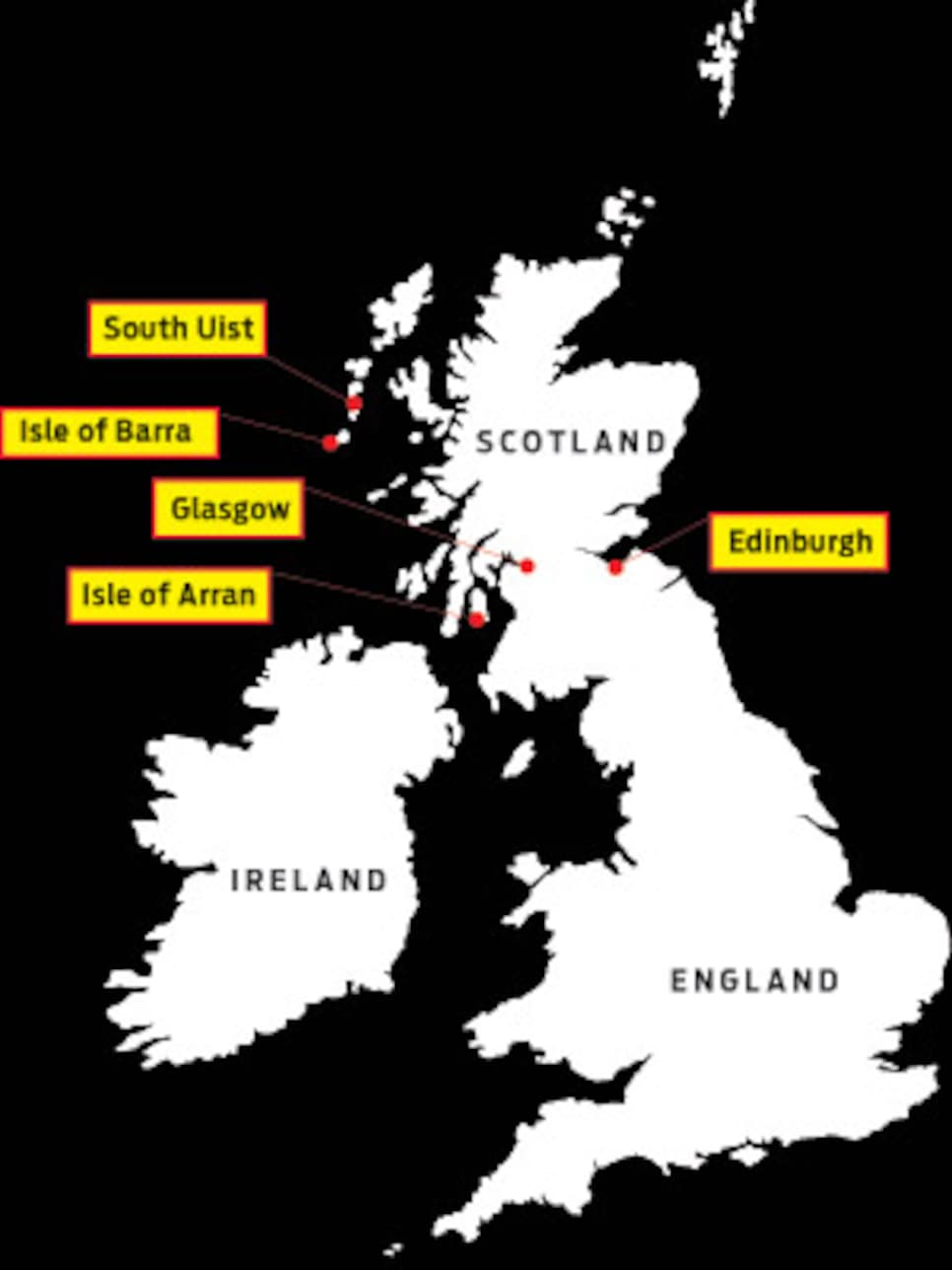 The first rusty ferry loads at Ardrossan on the mainland and drops at Brodick on the Isle of Arran, a 20-minute drive to Blackwaterfoot and the Shiskine Golf & Tennis Club, where rain is pitching down. Like Prestwick when Willie Park won the inaugural Open Championship, Shiskine is a 12-hole course, stretching 2,996 yards to a par of 42. In fact, Park was the designer.
He meant to build an 18-hole track, but shifting sands and a couple of world wars intervened. Ruddy-faced islanders, playing hatless in the rain, are particularly grateful for the uniqueness of a 12-hole layout—"the perfect number, 12," one of them says, "the iron tongue of midnight"—and especially proud of the fourth hole, called The Shelf (146 yards), the ninth, Drumadoon (506-yard par 5), and the 12th, Kilmory (128 yards). The members have more than a right to be both pleased and wet.
The second isle is Islay, the next course Machrie. Its whitewashed clubhouse is as cheerful as a tuberculosis hospital, but a brighter one is on the drawing board. The road to Machrie, like most of the roads all over the archipelago, is a single-lane thoroughfare bulging intermittently with shoulders no wider than Davis Love's.
Motorists compete at being courteous, giving way to each other with little finger signals, and not the familiar kind. No, you go first. No, you.
Machrie is a real golf course full of blind and semi-blind shots that almost require you to play a second day—if only to hawk the golf balls you've already lost—and you don't mind. On the trophy-room wall is a London Times account of a match contested at Machrie on June 14, 1901, between James Braid and John H. Taylor for a prize of 100 pounds sterling. Over 36 holes, Braid beat Taylor, 1 up, and then they went off together on a tour of the local whiskey distilleries, that still require touring, with names like Bowmore, Laphroaig and Ardbeg.
'I'M RENEWED. I HAVE A SOUL AGAIN.'
Norrie T. MacDonald, the cab-driving columnist, has contracted to pick you up at the airport, but he is two hours late. Just about every employee in the tiny terminal fans out in a mobile-phone search party to locate their friend MacDonald. Meanwhile, you pass the time by reading his column in the Stornoway Gazette, titled The 19th Hole.
I don't feel like an old man, okay? I may have a spare tyre around my middle from sitting in a taxi eating Mars bars for a living. So what? I may even have to loosen another notch in the belt after a decent curry (who doesn't?), and I may have to suck in my breath to make my old(er) shirts look like they still fit me. Hey, I still carry my own golf bag, dontcha know. Not like these so-called fit young men who clutter up the fairways these days. I may be a senior, but I'm hardy. I'm tough. I'm durable. And I am, of course, deluding myself. Yet, despite all of the evidence to the coronary, I can't stop thinking of myself as a young golfer.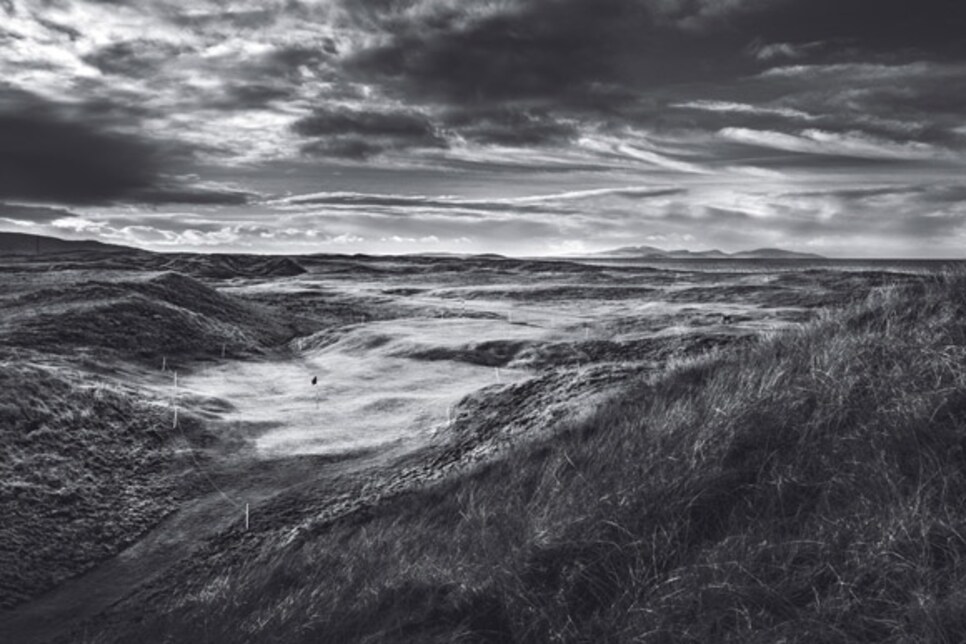 Eventually a cab screeches up, and out pops MacDonald with sleepy eyes and a two-pronged alibi about 6 p.m. to 8 a.m. night shifts and the forgetfulness that comes over a man when his handicap balloons from 6.8 to 8.5. Though the Harris Golf Club (in a region known for its tweed) is 50 miles away, he insists on stopping off at the Stornoway Golf Club first. "Because that's my stamping grounds," he says, "and you have to see her." She's a pretty parkland course, "trickier than she looks," he warrants. "At first glance, you'd think the best players might tear her apart; but, believe me, they never do."
As the taxi nears Harris, just beyond its sibling, Lewis, the terrain grows mountainous, moon-like, before the sun, the sea and the horizon crash into each other and light the sky. Norrie, a friend by this time, pulls over before the final turn, just for a minute.
"I go long periods without believing in much of anything," he says softly, "but every time I see Harris from here, I'm renewed. I have a soul again."
It's a nine-hole course in a setting as lovely as—no, lovelier than—Pebble Beach. Except good drives leave only punch shots of maybe 50 yards to shaggy-carpet greens that almost can't be three-putted. Hugh MacLean, a past captain, and Billy Scott, the current superintendent, are genial playing partners for the short round. "Not everyone can live on an island," Billy says, "but I can. I haven't locked my door in 32 years."
The next ferry, Leverburgh to Berneray, is timed perfectly to catch a crowded bus for a two-hour ride the length of North Uist, across Benbecula and finally the length of South Uist, islands connected by small causeways. The finish line is the Borrodale Hotel at Daliburgh junction, near the Askernish Golf Club.
It began as an Old Tom Morris links some 120 years ago, but the Askernish that has evolved is a rawer, rougher, more natural, more majestic, more magical place than even the most famous links on the mainland, Morris' included. Askernish is a Highland cow with hair in its eyes standing next to Herefords and Guernseys.
The club chairman and major domo is an outsized, outgoing man named Ralph Thompson who also answers to Liar-in-Chief "because," as he says, "until they come here and see for themselves, nobody believes a single word I say."
On a breezy afternoon, under a boiling sky, next to a turgid sea, Thompson and another man never make it past the 11th tee, 191 yards. They just stand there all day laughing, hitting 5-wood shots until every one of their golf balls is lost.
Last stop: Barra. The Eriskay ferry terminal hasn't yet opened. "Just lean your golf clubs against the building," Thompson says, "and we'll go get something to drink—I mean, eat. Don't worry. No one will touch them." As Billy Scott had implied at Harris, there are no thieves on islands.
Joe Macleod, owner of the five-room Heathbank Hotel, meets the Barra ferry and, the following morning, conducts a tour of the nine-hole Barra Golf Club. Built on common grazing land, its greens are fitted with wire corrals to fence out the milling cattle and sheep. A rook flies over (a glossy blackbird with a croaky singing voice, like Rod Stewart's) with what appears to be a golf ball lodged in its beak.
"Did you see that?" Macleod asks.
"I'm not going to tell you if you didn't see it," he says, "because you won't believe me."
A few minutes later, the bird returns empty-beaked. Then, a little while after that, it comes sailing back in the original direction with another ball.
"He does that all day long," Macleod says, laughing, "searching for lost golf balls in the rough. If we could follow him home, we'd probably find a Titleist mountain. [As a matter of fact, the 318-yard, par-4 fourth hole is called Cnoc an Fhithich—which means Raven Hill.] The weird part is that my wife's family are The Crows. That's their Gaelic nickname, anyway. Every time I see him scavenging, I wonder if he's related to my brother-in-law."
The airplane that takes off from the Barra beach, bound for Glasgow, is a 19-seater, about the size of the ship Hugh Conway—"Glory" Conway—boarded in Baskul expecting to go to Peshawar but ending up in Shangri-La. The mood is similar, too.
"And if you have to get out in a hurry," says Trudy, the first officer, "pull the lever marked LIFT." Presumably she means while the plane is on the ground. With seashells crackling under the wheels, it starts out slowly on the dry sand, then speeds up gradually on the wet sand where, the night before, children with rakes and pails dug for cockles. Finally the plane springs into the sky over the ocean and the trip is done.