News
Todd 18 holes away from three-win season, Koepka bounces back and JT provides update on caddie's health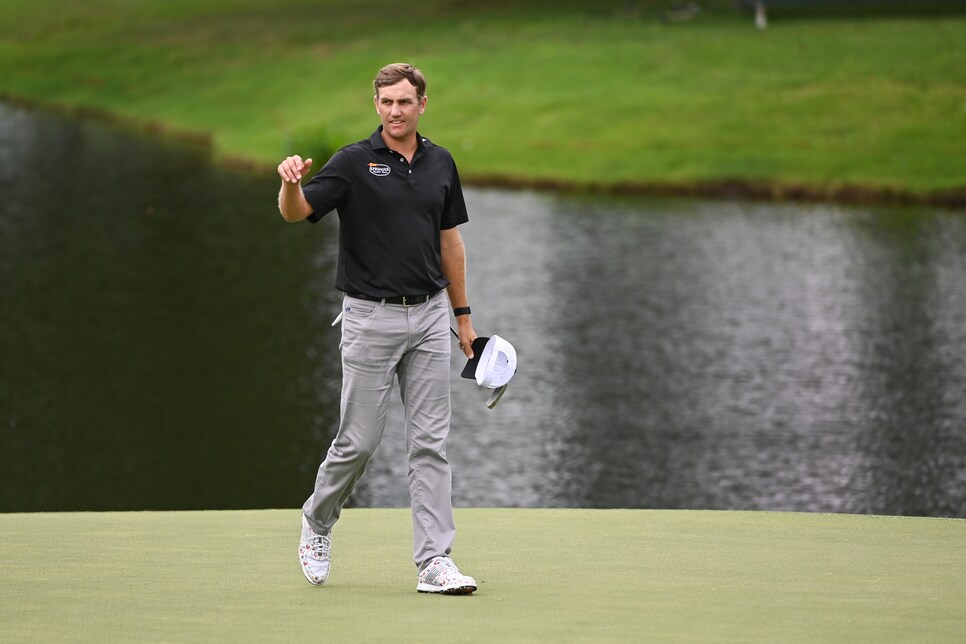 Brendon Todd waves to his playing partners on the 18th green in the third round of the WGC--FedEx St. Jude Invitational.
Ben Jared
Ten months ago Brendon Todd didn't have tour status. He's a round away from becoming the Player of the Year favorite.
Todd survived a four-bogey day thanks to five red figures, turning in a one-under 69 for a one-shot lead into the final round of the WGC-FedEx St. Jude Invitational.
"I'm excited to be in this position and feel like if I can go out there and swing a little better and keep this putting momentum going, I'll be in good shape," Todd said.
That Todd remains up top is a testament to his short game. Already one of the shorter hitters on tour—he ranks 209th out of 216 qualified players in distance this season—the 35-year-old was struggling with his driver Saturday, finding the short stuff just half the time en route to a negative -0.613 strokes gained/off-the-tee mark. The approach performance (-.763 strokes gained) wasn't much better.
"Today was a little more difficult, cooler, a little more moisture out there," Todd said. "The winds were still up and swirling a little bit, so I thought the golf course still yielded great scores. But for me, made it a little more difficult and I was battling my swing a little bit."
Yet Todd gained nearly two-and-half strokes on the field with the flat stick on Saturday, converting four birdies from outside 12 feet. On the week he's up more than nine strokes on the greens over his competition.
"I put in some work with my mental coach on the greens earlier in the week and we just focused on—if I focus on fundamentals, good things will happen," Todd said. "So for me that means staying steady over the ball, staying down on my putts and having good speed. So those are really the keys to putting and it's been working really well for me this week."
It is the fourth time this season Todd will enter Sunday with the lead, converting two of those leads into wins at the Bermuda Championship and Mayakoba Golf Classic last fall. To do so, he'll have to hold off the likes of Ben An, Rickie Fowler, Brooks Koepka and Justin Thomas. Of course, this is a man who battled the yips and contemplated quitting the game. He does not scare easy.
"I think we all, the best players in the world treat each final round like it's just another day and they just go out there and try to execute and stick to their game and let the results fall as they do," Todd said.
The finger appeared to be on the eject button. Brooks Koepka started Saturday with a double at the second and added a bogey at the sixth. Given Koepka was coming off a rough Friday showing, it appeared whatever momentum conjured off of Thursday's 62 was shot.
The lesson, as always: Never doubt Brooks Koepka.
Koepka caught fire Saturday afternoon, logging six birdies in an eight-hole stretch. He stumbled at the 17th but still finished with a 68—37 on the front, 31 on the back— putting him three back of Todd.
Despite the parade of birdies it was a par that saved Koepka's tournament. Koepka's drive on the 13th went into the native area, with his provisional rolling up against a fence. Koepka was able to find his first shot, which was plugged in the heather, thus bestowing a free drop. From there, Koepka muscled out his approach on the dance floor, saving 4.
In one sense, winning doesn't necessarily matter for Koepka on Sunday. He is a man judged on four tournaments, and four tournaments alone. Conversely, he's 30 spots outside the playoffs with 15 days left in the regular season and was coming off a brutal three-tournament stretch (CUT, T-62, CUT). Recapturing that swagger days before his pursuit of a third straight Wanamker Trophy begins is something Koepka, whether he'll admit it or not, needed to happen. And a development that spells trouble for his competition.
It has been tough sledding for Phil Mickelson. In six starts since finishing T-3 at Pebble Beach in February, Mickelson has not logged a top 20 and missed the cut three times. The strokes gained metrics aren't kind, either: 155th in approach, 148th in putting, 115th total. Coupled with his 50th birthday this summer, it was fair to wonder how much gas was left in Lefty's tank.
Plenty, it turns out. Mickelson, beginning his day eight shots back in a tie for 15th, reached as high as third place on Saturday before a taking a par at the par-5 16th and bogey at the 17th. Still, for a guy in desperate need of, well, something, Saturday's 66 was a shot of life.
"I hit a lot of good shots, made a lot of good putts and played really well," Mickelson said. "I let it—you can always look back and you feel like you let a couple go. I wish I would have finished the round off a little better. I wish I had birdied 16 and not bogeyed 17. Those two shots coming down, you've really got to close the round out a little better than I did today. But I hit a lot of good shots in the heart of the round, made seven birdies and really had a good day."
Helping matters are Memphis' friendly confines. Mickelson owns four top-10 finishes at the St. Jude Classic, and earlier in the week called TPC Southwind one of the more underrated tracks on tour. He'll need that home cookin' on Sunday.
"I'm going to have to shoot something really low, probably 63, 64 to have a realistic chance," Mickelson said. "It's certainly out there, I've shot it before."
More importantly, it gives Mickelson—never a man short on confidence—conviction in his game heading into the PGA Championship.
Thomas provides update on caddie
Justin Thomas has Jim (Bones) Mackay on this bag for the next two weeks as his regular loop, Jimmy Johnson, is taking time off for his health. Johnson got overheated at the Memorial a few weeks back and felt his body wasn't up for the task of Memphis and San Francisco. Following his third round, Thomas said Johnson recently underwent a stress test.
"The big thing is he's fine when he's inside and not in the severe heat like that," Thomas said. "The big thing is we're just trying to figure out what it is or if there's something in particular, whether it's some medicine he takes. More often than not it's not something crazy major. It's just like I told him and I think that he's figuring out, it's a lot bigger than caddying. It's about his health. I love Jimmy to death, he's part of the family and I want him over anybody else in the world on my bag for the rest of my careee. But if it means his health, then that's what it is. So that's what he's trying to fix so that he can get himself better first and foremost, and then caddying is just a bonus."
Thomas said they have ruled out coronavirus, and that Johnson has further tests, scans and X-rays scheduled.
"I told him I'll be as helpful or as involved or uninvolved as he wants me to be," Thomas said. "You know, whether he's here this week or not, he's still on the team and I'm still a part of his team as well. So I'm going to do and everybody else on my team is going to do what we can to help, but glad he's home resting right now."
Thomas shot a four-under 66 on Saturday. The FedEx Cup points leader will enter Sunday four back of Todd and will be looking for his third win and ninth top 10 in 14 starts this year.