The Loop
To think, Rory McIlroy might actually have to work for this major
LOUISVILLE, Ky. -- Of all the knocks one might make against Rory McIlroy, "claims major titles in runaway fashion" is one he can live with.
"I sort of don't mind the stereotype of winning majors by big margins," said McIlroy, whose won his first three majors by a combined 18 strokes. "That's a good one to have."
Yet even McIlroy senses he won't have that luxury Sunday at Valhalla, where he holds a one-shot lead over the unheralded Austrian Bernd Wiesberger, and where the likes of Rickie Fowler (two shots off the lead), Phil Mickelson and Jason Day (both three back) lurk just behind.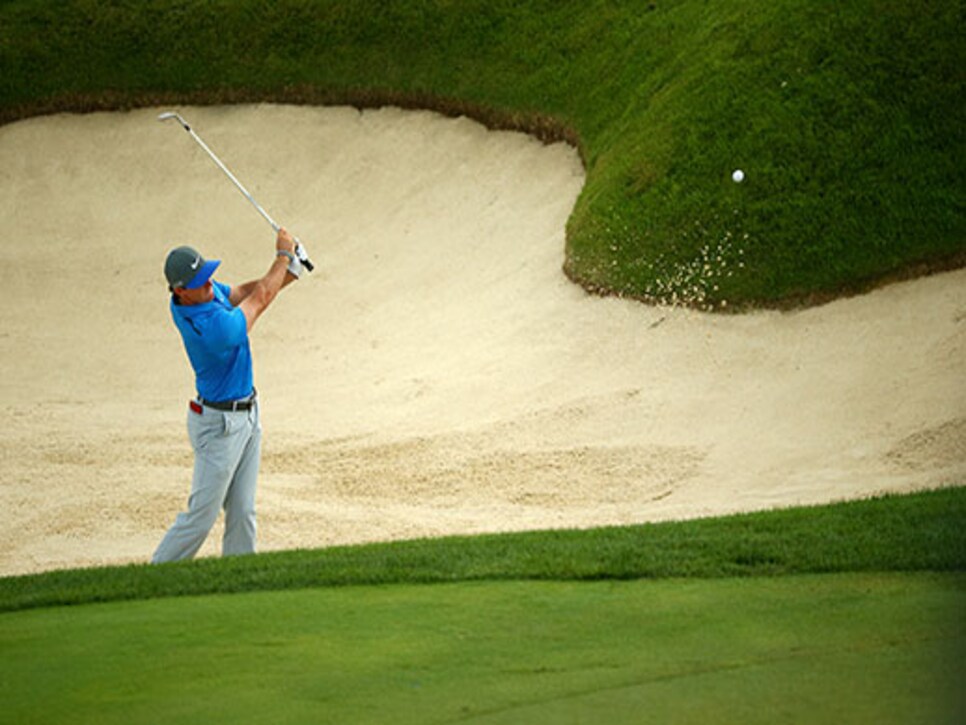 At some point he's going to be forced to sweat, and not just because it's August in Kentucky.
"Tomorrow standing on the first tee is going to feel different than how it felt a month ago at Hoylake, because it's going to be a shootout," McIlroy said. "Guys are going to make birdies, and you know that you're going to have to make birdies as well to try to win."
During wins at Congressional (by eight shots), Kiawah (eight), and Hoylake (two, but it wasn't really that close), McIlroy was so far removed from the pack for most of the final rounds, he was afforded the occasional misstep. Such was the groove that he found himself in those weeks that it never became an issue. But Saturday, before ending the round with another flourish, one could see traces of quickness in McIlroy's swing. It was most notable when he pulled his 3-wood approach out of bounds on the drivable par-4 fourth. Yet, as on several occasions in the third round, he was able to save himself with his wedge and his putter.
It'll be worth watching if the same "miss" appears when pushed on Sunday, whether the pressure is coming from outside or within.
"It's really no different than each day on the PGA Tour where you have to push yourself. You have to push yourself to go low," Mickelson said of what McIlroy will be feeling Sunday. "You can't make the mistakes, but you can't play defensive and conservative. You have to attack."
Granted, unlike that other one-time great front-runner Tiger Woods, McIlroy has never been content to tread water with the lead. That was apparent Saturday, when he birdied three of the last four holes to shoot 67 and move out alone in front of Wiesberger. After his notable back-nine collapse at the Masters in 2011, he's learned a lead is not meant to be maintained, but extended.
"You know, my mindset has stayed the same since that day at Augusta," McIlroy said earlier this week. "If I'm two ahead, I going to try to get to three ahead. . . I'm just going to try to keep the pedal down and get ahead as many as possible. That is my mindset whenever I'm leading the golf tournament."