News
To start, Carnoustie conspicuously absent of teeth
CARNOUSTIE, Scotland -- The half-hour drive from Dundee to Carnoustie shortly after 5 a.m. for Thursday's first round of the Ricoh Women's British Open couldn't have been more beautiful. The sun, seemingly rising out of the North Sea, gave the blanket of fog hugging the gentle hills that roll toward the water's edge an almost mystical glow. There was not a bit of breeze, almost as if the east coast of Scotland had paused to catch its breath before play began. It needn't have bothered.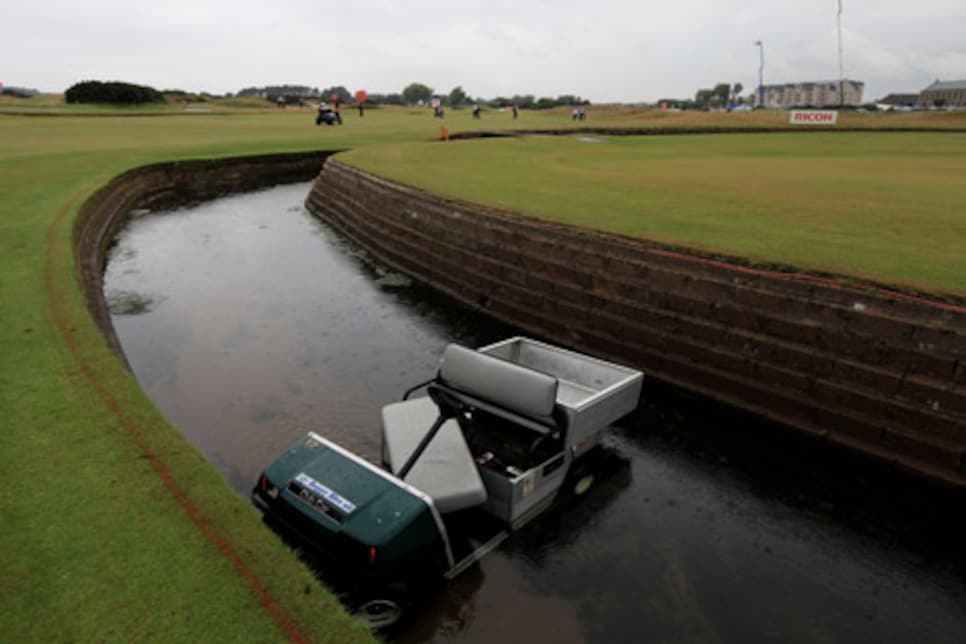 *The hardest part of the 18th hole at Carnoustie? Maybe it's just traversing it in cart.
Photo by David Cannon, Getty Images*
When Caroline Hedwall struck the first ball at 6:30, the local tourist bureau was in hog heaven or, more accurately around here, sheep serenity. The Women's British Open began in glorious weather. And then Scotland happened -- rain followed by more rain, interrupted by periods of rain. But not even that was enough to return a bafflingly benign set-up of Carnoustie into the Carnasty the men have known in their British Open.
Brittany Lincicome, who teed off early and played only a few holes in the wet stuff, birdied 12 and 13, eagled 14 and birdied 17 for an opening 67 capped with an incoming 32.  Given the rain, it seemed unlikely anyone would beat that number, but Meena Lee played her entire round in the rain and still shot 65.
How is that possible? Well, there was no wind to speak of, but just look at the yardages the women are playing this week. Clearly, there was a concern by some that if weather rolled in the course could become embarrassingly difficult.